Billy Bragg and Joe Henry offer a charming embellishment on well-travelled themes
"Shine A Light: Field Recordings From The Great American Railroad"
Release date: 23 September 2016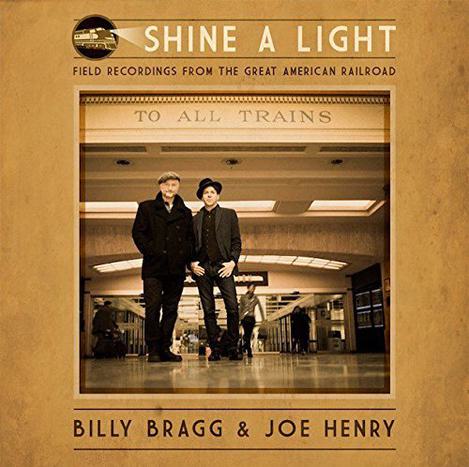 As
Billy Bragg
vividly articulates in the sleeve notes to Mermaid Avenue Vol. II, the second instalment of his excellent turn-of-the 21st century collaborations with Chicago alt-rockers Wilco which set an archive of lyrics by the legendary Woody Guthrie to new music, the Depression-era Okie "captured the awesome majesty of America's scenery and the dry as dust humour of its working folks" by travelling the nation "with a newsman's eye for a story and a collector's ear for a song."
That abiding fascination with the vast open spaces of the USA also fuels Shine A Light: Field Recordings From The Great American Railroad, as the veteran Essex folk-punker this time teams up with Grammy Award-winning songwriter Joe Henry to re-interpret a dozen train-themed roots tracks by Hank Williams, Lead Belly, The Carter Family and more.
An obvious affection for the source material that shone through in that earlier partnership with Jeff Tweedy and co. is central to this new venture too, as Bragg and Henry journeyed by rail from Chicago to Los Angeles recording their versions of these songs at station stops along the route. A romantic enterprise for sure, and one steeped in a distinguished tradition. Having transformed the American West in the post-Civil War era then expanded into the nation's first genuine mass industry, the railway network of the United States holds a unique place in the country's folklore, and in particular the development of its 20th century popular music. No less a figure than a young Robert Zimmerman famously shaped the early legend of his Bob Dylan alter-ego after his departure from Hibbing, Minnesota in 1960 for the emergent Greenwich Village folk scene by mimicking the language of Guthrie and assuming his plucky, boxcar-jumping itinerant persona.
You get a sense that this particular project has been a long time coming for these old pals. Henry produced Bragg's 2013 solo album Tooth & Nail at his home studio in Pasadena, and the duo have apparently been mooting a joint undertaking ever since a Roseanne Cash collaboration was nixed for contractual reasons back in 2010. Furthermore, in his early self-described "chop and clang" guitar playing days, Bragg penned the rambunctious "A13, Trunk Road to the Sea"- a cheeky riposte to the musical mythologizing of the renowned trans-American highway Route 66 and an attempt to demonstrate that Shoeburyness and Southend were as worthy locations to celebrate in verse as St. Louis or San Bernandino. He even introduces his 1991 promo film compilation A Videological Cuddle by describing his tour essentials as comprising "just a guitar and the international train timetables."
Shine A Light is by turns sombre and playful. A bleak tale of raw economic hardship, "The L&N Don't Stop Here Anymore", written by Jean Ritchie and made famous by Johnny Cash recalls the haunting "Youngstown" from Bruce Springsteen's Steinbeck-influenced 1995 LP The Ghost of Tom Joad. Yet it slots quite comfortably alongside "Waiting For A Train", featuring what must be the first known example of Billy Bragg yodelling on record. The latter certainly is not something anyone might have reasonably expected at the time of his earnest early 80s agit-popping "Between The Wars" incarnation, but at this point – like the entire album itself - it feels like an altogether rather charming embellishment.