Aly & AJ's first album in fourteen years brilliantly rounds off a triumphant return
"a touch of the beat gets you up on your feet gets you out and then into the sun"
Release date: 07 May 2021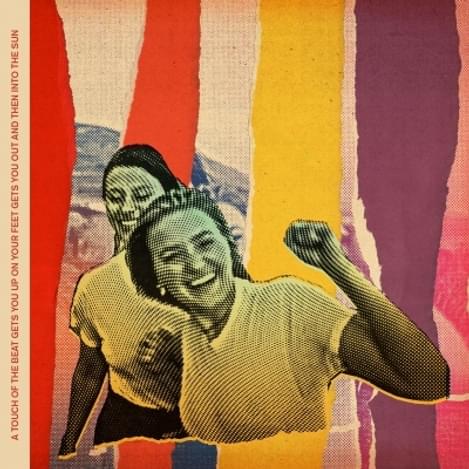 Finding fame as teenagers in the mid-'00s,
Aly & AJ
were a staple of Disney Channel commercial breaks and original movie soundtracks thanks to their deal with the Disney-owned Hollywood Records.
The Californian multi-hyphenate sisters' last full-length release - 2007's Insomniatic, home of their iconic "Potential Breakup Song" - was followed by a decade of near silence from the duo; creative differences led to their departure from their original label, and a rebranded comeback under the moniker 78Violet fell short after a major leak.
It wasn't until 2017 that they finally, properly returned with the aptly-titled Ten Years EP. A gorgeous collection of '80s-indebted synth-pop, the project ushered in a new era for Aly and AJ Michalka: one of absolute autonomy. Another EP and a couple of excellent singles flexed their newfound freedom, with a touch of the beat gets you up on your feet gets you out and then into the sun arriving now as the final statement in this period of their career.
Opening track "Pretty Places" is the perfect manifesto to an album that brims with sun-soaked escapism, peaking on "Paradise"; a white-hot beam of pure, unbridled joy. These songs can be read as romantic love songs or odes to sisterhood and the unique journey they've shared together: "All I need is you / I'll go anywhere / All we got is us now". Darker themes are delved into like loneliness, depression and divorce; "Stomach" is explicitly vulnerable and "Listen!!!" explodes with neglected feeling, but hopeful production and expert sequencing ensure the light at the end of the tunnel is always in sight.
Across a touch of the beat, the duo explore and experiment with their sound far more than they have before, from tinges of disco ("Lost Cause") to the occasional country twang ("Personal Cathedrals") and some left-field electronic in between ("Lucky to Get Him"). At their core, however, they remain unapologetically pop, each track laced with timeless melodies, blissful harmonies and a sweet tooth for love — all showcased best on "Symptom of Your Touch", an exhilarating Carly Rae Jepsen–esque anthem.
There's a youthful exuberance running through a touch of the beat that's hard to replicate. It's the product of the Michalka sisters' hard-earned right to create what is authentically them as they've gradually come more and more into their own with each release. After fourteen long years, Aly & AJ have planted their flag with an exceptional record that rounds off what's been a triumphant return, and is sure to be the beginning of a brilliant new chapter.
Get the Best Fit take on the week in music direct to your inbox every Friday