A Tribe Called Quest's final album is a fitting and poignant farewell
"We Got It From Here... Thank You 4 Your Service"
Release date: 11 November 2016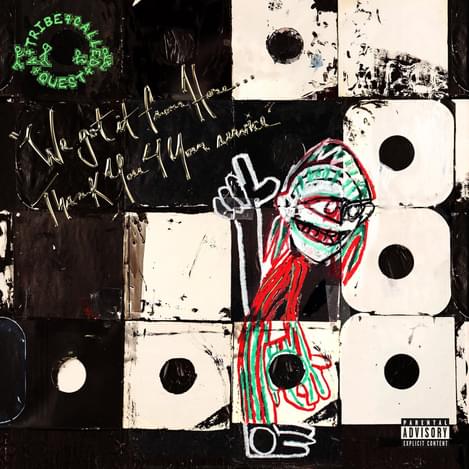 New York City hasn't been the home of hip hop for quite a long time. Where once Eric B. & Rakim, the Beastie Boys and everyone who called themselves a member of the Native Tongues (that's everyone from Jungle Brothers to De La Soul to, of course,
A Tribe Called Quest
) all lived in a musical melting pot, the sound of hip hop has spread.
Be that to Chicago, LA or Atlanta, the idea of hip hop has morphed and sounds changed drastically since when DJ Kool Herc was cutting up funk records. And yet, A Tribe Called Quest have always seemed timeless.
I came to ATCQ relatively late; later than I'd probably care to admit. Spinning The Low End Theory for the first time nearly two decades after its release, my first real foray into the band beyond the singles I'd hear on the radio, felt fresh. It felt like it could've been recorded months before I listened to it. But it also felt like "the missing link". Hip hop, for me, clicked in to place when the frenetic jazz bassline of "Excursions" kicked off the record.
Those early albums were of a time, but still feel so distinctly now; celebrating the history of black culture (jazz in particular) as well as looking forward to its future. More importantly, it was life-affirming music, most of which was down to the interplay between Q-Tip and Phife Dawg. Not to gloss over the masterful mixing of Ali Shaheed Muhammad, but it was their relationship that ultimately defined A Tribe Called Quest - for good and for bad.
They could be smart and dumb, funny and serious; passing the mic like an expert relay duo. They were diametrically opposite people - Q-Tip the straight man to Phife's brash, horny party animal - but made perfect foils for each other. Once they rubbed up against each other, sparks would fly. It was a duo for the ages.
But it would also be the cause of the group's split in 1998 and the arguments that bubbled up again during their 2006 reunion, as documented in Michael Rapaport's excellent Beats, Rhymes & Life: The Travels of A Tribe Called Quest. A few support slots on Kanye's Yeezus tour in 2013 and last year's appearance on The Tonight Show brought back the rumours of a reunion. But the unexpected death of Phife Dawg, aged just 45, earlier this year seemed to put an end to this.
It's something of a miracle, then, that their sixth and final album We Got It From Here… Thank You 4 Your Service even exists; a record they had been working on since that Tonight Show appearance long before Phife's passing. But against all odds, it's here - a comeback album that doesn't rely solely on nostalgia, with something new and altogether timely to say.
Any worries that A Tribe Called Quest might not be able to recapture the magic that made them so important are immediately quashed from the opening bars of the album on "The Space Program" as Q-Tip, Phife and founding member Jarobi White pass the mic like a grenade ready to blow. And, like with D'Angelo's comeback album Black Messiah, We Got It From Here… begins to set itself up as a politically charged record. Recorded before Donald Trump was elected President of the United States, but released shortly after the election, it's never felt more timely. The three MCs rap about how there isn't even any room for black people in space, before Jarobi raps about a "mass unblackening".
As is Quest's way, though, it's not as angry as Black Messiah, instead opting for black humour whilst calling for unity. In that sense, it's perhaps closer to Solange's recent surprise release A Seat At The Table in trying to pick apart the deep-seated racial issues of modern day America. On "The Killing Season" Jarobi raps about the marginalisation of blacks in America: "Been on the wrong team so much / Can't recognise a win". "Conrad Tokyo" even sees Phife sounding truly exasperated with the state of the world, rapping, "Move with the fuckery / Trump and the SNL hilarity / Troublesome times, kid, no time for comedy."
For the most part, however, We Got It From Here… is an album of hope. In amongst the confusion of the state of the world is the earnest belief that things can get better. It's a celebration of life in a dark time, particularly the life of Phife. On "Black Spasmodic", which features Q-Tip trying to emulate Phife himself, he later raps "Through mixing chords and boards and even drum machines / He be saying, 'Ni--a, fuck awards, keep repping Queens.'" Meanwhile, on the heartbreaking "Lost Somebody", telling the tale of Phife, Tip raps, "Despite all the spats and shits cinematically documented / The one thing I appreciate, you and I, we never pretended." "The Donald" also sees the whole crew, including Busta Rhymes (who crops up frequently on the album and sounds as ferocious and exciting as he did back on the verse that made him a name on ATCQ's "Scenario"), reclaim that now much maligned name for Phife AKA Don Juice, whose final verse sees him confidently go down swinging, taking out fake rappers who read from smartphones.
We Got It From Here…, then, marks the close of a chapter; something ATCQ recognise, turning the album into a passing of the torch too. The fantastic "Dis Generation" (which features Busta at full throttle "Bruce Lee-in' ni---s, while you ni---s UFC") sees Q-Tip calling out the likes of Kendrick Lamar, J. Cole et al as "gatekeepers of flow". Kendrick and Anderson .Paak even get the chance to work alongside Quest, which genuinely comes across as an exciting prospect for everyone involved, not just .Paak and Kendrick.
Unlike with previous records, there is no overarching theme to We Got It From Here…, and it can often leave the album feeling a little chaotic. But in the end, A Tribe Called Quest were all about beats, rhymes and life, and this album has that in spades. They may have grown older but their wit and skill with the mic have not eroded. It's a real joy to hear these three men, particularly Q-Tip and Phife, get back to it like old times. And, like with David Bowie's Blackstar, or Leonard Cohen's You Want It Darker, it feels special to hear a legend do what they do best one last time. The call and response of 1991's "Check The Rhime" never felt so true: "You on point, Phife?" "All the time, Tip".
In the end, the Phife-coined title, We Got It From Here… Thank You 4 Your Service, feels apt. The Tribe may be over, but the Quest still continues and it's our job, and the job of the hip hop community at large, to keep that fire that changed the face of hip hop burning.
Get the Best Fit take on the week in music direct to your inbox every Friday