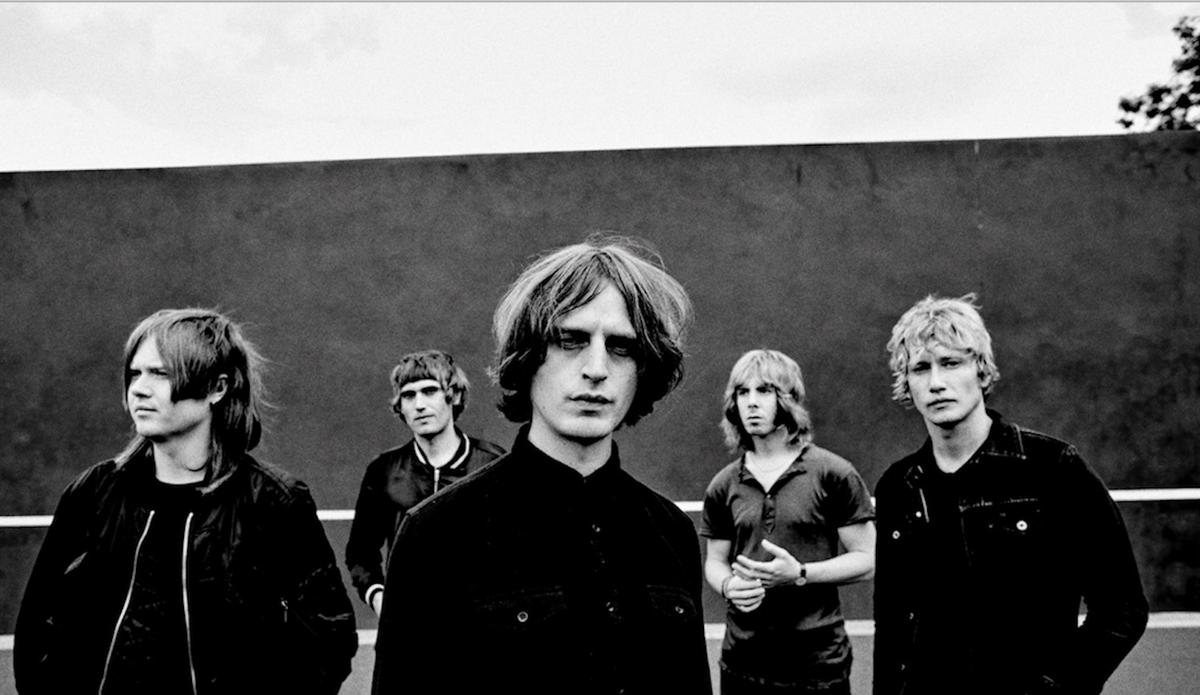 TOY deliver soothing psychedelia on new track "You Make Me Forget Myself"
We catch up with TOY on their forthcoming, largely self-made fourth record, Happy in the Hollow, as they reveal hazy new cut "You Make Me Forget Myself".
Last month moody-psych outfit TOY returned with news of their fourth record Happy in the Hollow.
Having already revealed "The Willo", "Energy", and "Sequence One", TOY have built up a good momentum as they approach the proudest product of their careers so far, and their first album since 2016's Clear Shot.
Today they reveal "You Make Me Forget Myself", which they explain, "has a feeling of estrangement about it. The sound of someone you love who's going away and it doesn't matter."
As they prepare to deliver their fourth album in the new year, we caught up the group to talk about their new track, and their self-produced and mixed record.
BEST FIT: Can you tell us how you came to write "You Make Me Forget Myself"?

Tom Dougall: I remember that the song started to materialise while Max I were still living in the decrepit New Cross house. This is where we recorded the early drafts for many of the songs on the album. It's Panda's (Maxim Barron) lyric and very much a personal song about the end of a relationship. When we came to record the vocals it was clear the he should sing it too. I like that there's some different lead vocalists on this album, it just offers more variation.

For your upcoming record you guys took the reigns on putting the puzzle pieces together - what spurred you to make this decision?

After the touring in support of the last album we started doing lots of home demos, often recording instruments separately and then slowly building each song bit by bit. This involved adding and subtracting many different parts and experimenting with the structures and sounds we created. All the songs went through many different guises during the recording, so in that way they were each like a puzzle to solve. We knew when each puzzle was completed when we could all agree that they sounded just right.

What were the main obstacles you had to overcome while making the new record (if any)?

When we decided to mix this album by ourselves we knew we were going to have to learn a hell of a lot about the whole process. We mixed it in Dan Carey's Studio B, which he very kindly let us use for free. His assistant Alexis gave us a crash course in how to use the desk and then off we went... the only obstacles we came up against were purely technical, but we learnt as we went on and realised there's always a solution to every sound issue.

What would you say is the biggest thing you took away from this album making process?

I think knowing we can make records that sound just as we intend on our own, without necessarily working with a producer is really exciting for us. It just means we don't have to follow the rulebook in any way when we make future albums.

Moving forward, will you guys be taking more control of your own music on future projects?

Yes definitely. There are some producers that would be interesting to collaborate with further down the line l but for now we're just going to continue working in the same way. There's some interesting ideas forming for the next album which are pushing the envelope even further

Aside from putting your new album together, what is the biggest achievement for you guys in 2018?

I think the fact that we had such a good time making it. We sort of locked ourselves away from the world for a large part of the year. We only really saw each other for long periods of time. I think the fact we can do that and enjoy each other's company is unusual.

What are you most looking forward to for next year?

I'm really looking forward to the long UK/European tour which starts 13 February. Every time we go on tour all sorts of madness ensues as we blitz from country to country. It will be great to play all the new songs too!
"You Make Me Forget Myself" is out now. Happy in the Hollow lands 25 January 2019 via Tough Love Records, and is
available to pre-order now
. TOY play London's Village Underground on 20 February 2019 as part of their UK and European tour.
Find out more
.