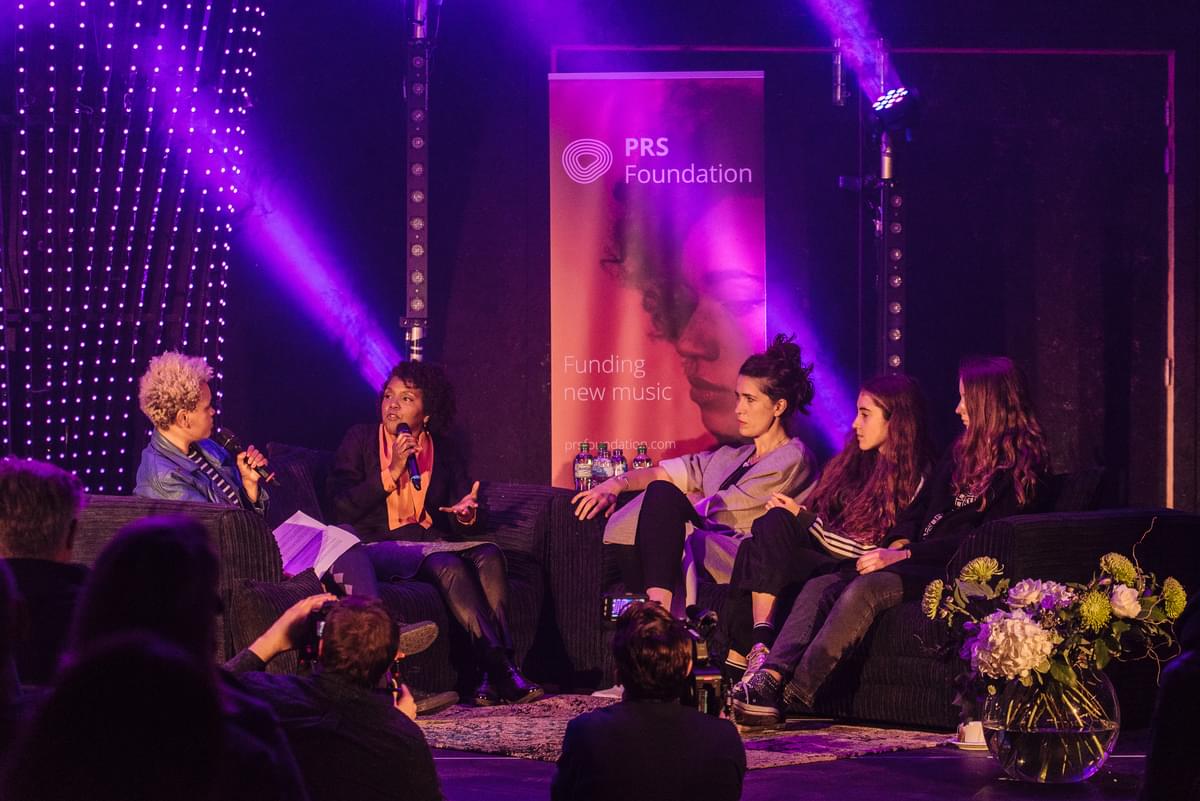 PRS Foundation's Women Make Music Initiative Celebrates 5 Years
Women Make Music is a PRS Foundation initiative that launched in 2011 in response to the low representation of professional female songwriters and composers in the UK. Yesterday it celebrated 5 years of funding female music creatives.
Imogen Heap, Gemma Cairney, ESKA, Carleen Anderson, Let's Eat Grandma and Emily Barker all took part in yesterday's celebrations. Gemma Cairney led a discussion with Let's Eat Grandma, Carleen Anderson and Imogen Heap whilst the audience - made up of those that had received grants in the past - were treated to performances from ESKA, Emily Barker and Imogen Heap herself.
Speaking about how the fund had helped her, Mercury Prize nominated artist ESKA said:
"I was a proud recipient of Women Make Music funding in 2013 and it was a huge catalyst for the creative successes that followed as well as growing in confidence as an artist. With PRSF support, I managed to tour the UK prior to releasing my debut album which was subsequently nominated for a Mercury Prize in 2015. I went on to receive PRSF Momentum funding in 2016 which is currently supporting the creation of my new album. Women Make Music funding gave me the opportunity to work at my career with less 'voices' in the middle. It was definitely the right path for me as an independent musician with ambitions to release my own music. It allowed me to engage with my own voice and work out what exactly it was that I wanted to accomplish and how best to do that on my own terms."
American soul singing legend Carleen Anderson said: "As a PRSF Women Make Music grantee in 2015, I can testify to how it provides a platform that enables women as music composers, arrangers, producers and the like, to be in a position of creative control over how they present themselves and their work in the music industry."
Also speaking at the event was PRS Foundation Cheif Executive Vanessa Reed, who took some time out to tell us about the initiative and how it aimed to address the imbalance that had existed for so long:
"I'm convinced by the importance of targeted initiatives like Women Make Music because it's a proven way of empowering more people to put themselves forward for support and the results of our evaluation demonstrate the huge impact small grants can have on confidence, business development and control of the creative process. By running this fund, we've also been able to raise awareness of the gender gap amongst songwriters and composers which many people were surprised by (women represented only 13% of registered songwriters and composers when we initiated the fund). Increasing that awareness is an important step towards achieving more equality across the industry."
Speaking about the future of Women Make Music, Reed added:
"As for next steps, we're committed to running this fund for the next 5 years by which time we want to have achieved a more equal balance between male and female songwriters and composers across all of our funding programmes. We'll also be growing the impact of our fund in 3 ways - by raising additional funds that will enable us to support even more women, by launching our European project Keychange with 7 partner music festivals in Europe and Canada and by leading a Women Make Music taskforce which will tackle some of the challenges highlighted by our evaluation."
Get the Best Fit take on the week in music direct to your inbox every Friday