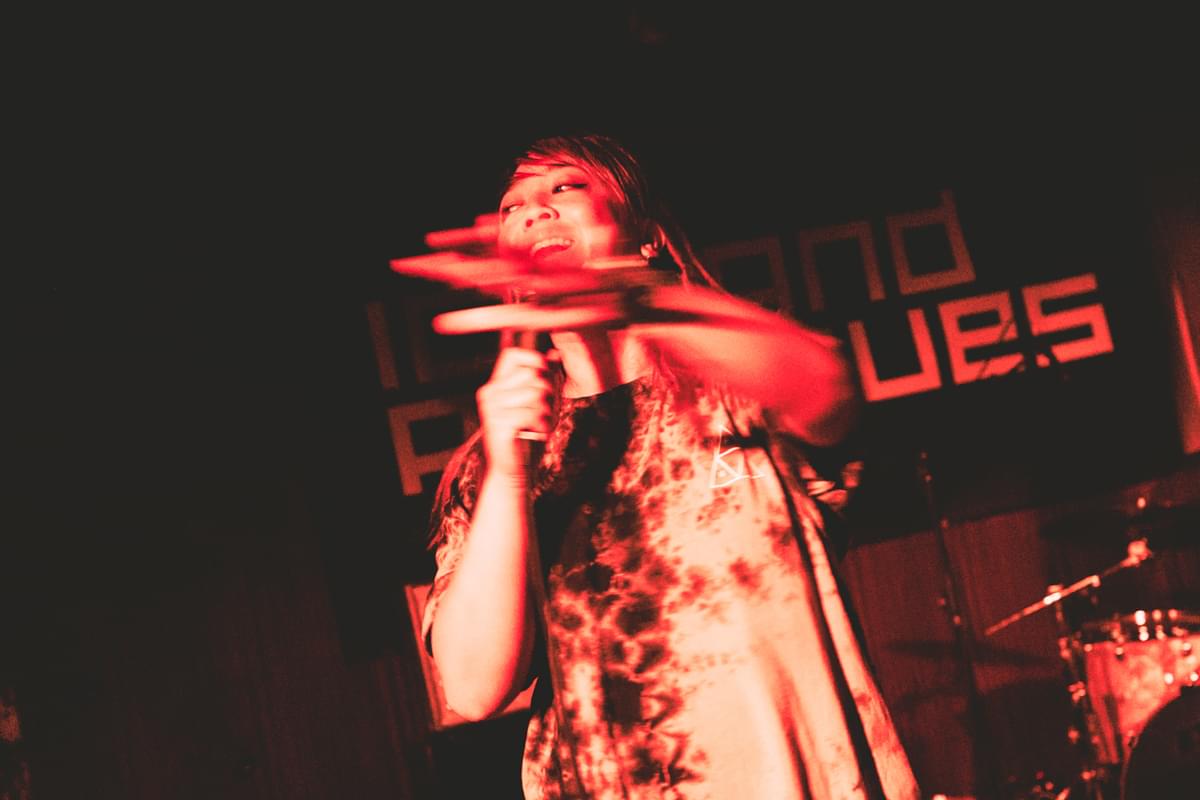 Cell7 brings the roof down at Iceland Airwaves 2019
Self-made heavyweight Icelandic rapper Cell 7 airs her grievances stylishly, rhythmically, enthusiastically, proving to be the sleeper hit on the penultimate night of Iceland Airwaves.
At this point the festival proper has started. Wednesday and Thursday nights of Iceland Airewaves capped off earlier, and many of the festival's heavy hitters had been reserved for the weekend slots. Diving back in, I see the start of Hildur's set as she dedicates a song to her five-year-old self who had aspirations of becoming a succesful artist. "When I grow up I want to be me" the chorus goes.
At Iðnó, the jovial Elín Sif (going by the moniker Elín Hall) plays her dream-like tunes, bidding goodbye to someone for the last time. The song's theme feels eerily reminiscent of her starring role in the harrowing and critically acclaimed drug-fuelled tragedy film Lof mér að falla, in which death is a constant companion. She describes another song, "Upp að mér" ("Up against me") as being "pure sex", and she's not exagerrating; the lyrics paint a picture exceedingly clear about vocalising enjoyment without words and needing to feel close. Elín says she's been playing off-venue shows for the past four years, waiting eagerly to get the chance to perform on the main stage, and she does not squander this opportunity. She feels very much at home on the stage, comfortable and confident, clearly where she wants to be.
Anna Of The North gets the audience dancing to her happy-go-lucky-sounding pop that, like with so much Nordic music, hides a darker side. In her instance, her debut album Lovers sounds upbeat but details a painful process of breakup and leaving behind an old identity. The setlist tonight, however, focuses more on sophomore album Dream Girl, which sounds equally infectiously catchy and upbeat. Anna dances relentlessly through the show, never standing still for more than a hot second. "Lovers" and "Thank me later" in particular prove to be big hits with the crowd.
Daring to look briefly outside before two of the festival headliners play at the art museum, I see a queue of hundreds lining up outside hoping to gain admission. Bouncers quickly bark at me to stay or go and not tarry in the museum's foyer. When Mammút starts, they start shredding. The setlist is primarily composed of songs from their last album, Kinder Versions, which the crowd laps up. Mammút has always been the champion of the unapologetically weird, quirky and creative, never shying away from talking about the sensual and carnal aspects of life. As such, it is not surprising to see couples all over embracing and making out throughout the show.
The band debuts new and incandescent song, "Between the sun and me", as well as get the crowd swooning to the tragic tune of "Salt". The show ends on "Kinder Versions", the Americana-infused banger that marked the beginning of their present phase and style of songwriting.
Hatari have enjoyed an incredibly successful year since last year's Airwaves. It started with the band (fake) breaking up, only to be supposedly forced by their holding company to get back together for the shareholders behind their corporate entity, and to compete in the Eurovision Song Contest, in which they placing tenth. The performance outfit has always had a strong political message; at times it often seemed like little more than a nihilistic mosturing or a fire sermon preached from atop of a soapbox, but it was cemented as being built on solid ground when they defiantly waved the Palestinian flag at the ESC despite strict orders from host country Israel.
The show started with a five-part manifesto being read by a robotic voice to three blue screens of death before the dark and seductive synth pop music started blaring. Their outfits have evolved from fascist BDSM to incorporate far more cyberpunk elements, and the crowd eats up their anti-capitalistic rhetoric, screaningly cheering, and shouting out the lyrics. "Ódýr" asks why we didn't sell ourselves for a higher price; "Tortímandi" describes the familiar terminator whose demise at the hands of we really should have seen coming; "Spillingardans" and "X" describe the corruption at the heart of capitalism and the democratic system, and "Hatrið mun sigra"? You should know by now what that's about.
The band brings Palestinian artist Bashar Murad to the stage to play together "KLEFI / SAMED (صامد)", which evokes a roar of excitement, and then perform new single "Klámstrákur" which sees soft-spoken singer Klemens explore his toxic relationship with porn. The harsh Matthías then screams at him that he's a "porn addict", with Klemens repeating the words confessionally, full of loathing.
Hatari play the role of dom to the crowd, violently opening the eyes of their subs to the hypocrisy of their lives, only for them to beg for more. And then, at the 40-minute mark the band steps off the stage. The crowd pleads for more, and like good a good dom the band lets everyone wait before giving them the release they seek with one final song.
Over at Gamla Bíó, Girl in Red plays unabashed college rock with all the antics that entails, including simple riffs and easily digestible verses. Singer/songwriter Marie Ulven is clearly excited to be playing and gets the crowd jumping, but is unafraid to let the mask drop and talk about anxieties and trying to understand success. She confesses one song blew up on TikTok but she doesn't know how to use the app properly. "I'm only 20 and I'm already stressed about these things."
Down in Hard Rock Cafe's basement, the real hit of the evening starts after midnight. Ragna Kjartansdóttir was one of the pioneers of Icelandic hip-hop, being a founding member of Subterranean, the first real Icelandic rap outfit that was all over the scene in the 90s. Since those early days she moved on to study and work as an audio engineer before staging a comeback as Cell7. Her debut album Cellf was released in 2013, followed up by Is anybody listening earlier this year.
Well, is anybody listening? The answer is a resounding "Yes!" as the basement is packed to the rim and the crowd laps up everything Ragna throws their way. The level of audience engagement is spectacular, with every verse and rhyme eliciting loud woos and cheers, people visibly singing (or at least lip-synching) the lines.
What makes Cell7 so fantastic is not just her high-production tunes, spitfire rhymes or tight live performance, but the context in which they are presented. Every song is littered with references, and they all have a point to make, or a genuine grievance to air. While Icelandic rappers have often traced their lyrical structure to medieval beat poetry, modern Icelandic rap is for the most part materialistic and shallow, and after a performer has been active for a few years that becomes old; who cares about the woes of a 30-year-old white dude who's already made it in life?
Cell7 doesn't piggyback off of either of these legacies, instead exploring her own lived experience, mining themes of alienation and frustration as a woman in a patriarchal society, as a person of colour in an alabaster-white country, and as an individual who after decades on the scene still doesn't get the respect that men a third of her age are instantly awarded.
Bantering with her DJ, she recollects that even when she was overwhelmed with life and taking care of her newborn second child, she still felt compelled to whip up a notebook and write down fresh ideas when she could. "Don't Care" addresses this question of "how to stay current" in a climate with such oversaturation of the rap scene with the simple answer of having to be hard-working because she's "got two mouths to feed". And this hard work pays off, because mom-rap has never sounded so groovy.
This performance hadn't been hyped, hadn't been featured in preview articles or been advertised on the radio, and yet it was the show that by far left the deepest impression. It was radical. It was fearless. It was unmaterialistic and intersectional. And in a year of Airwaves marked by the stark absence of feminist acts like Reykjavíkurdætur, Ragna represented them all.
Ragna is acutely aware that she has stories to tell, and has put in the work to be able to deliver them in style.
Une Misère came in to finish the night, playing songs off of recently-released album Sermon, but at that point the crowd had already started dispersing, gushing about Cell7, and rightly so.
Get the Best Fit take on the week in music direct to your inbox every Friday