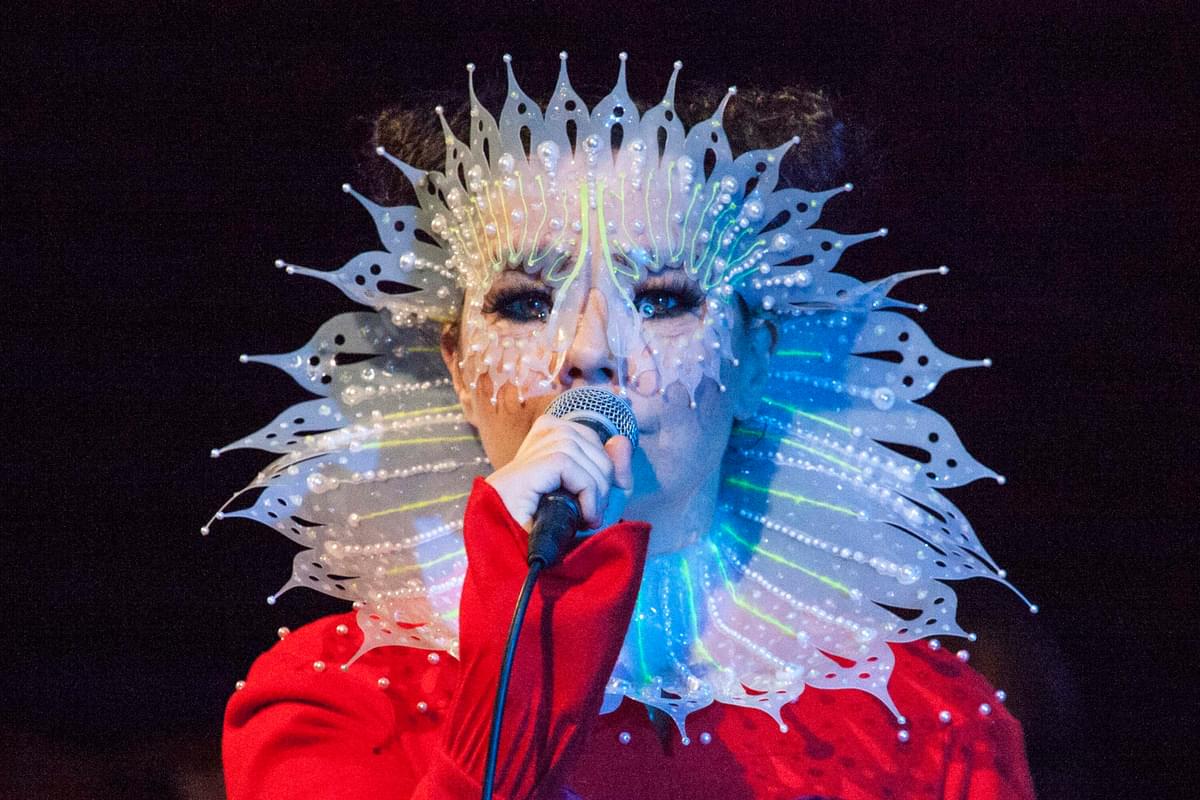 Björk to play three August shows in Iceland with live audiences
Björk has confirmed three orchestra shows taking place in Reykjavík during August, complete with live audiences.
The matinee performances have been announced in association with Iceland Airwaves, and will take place at Reykjavík's Harpa Hall across three dates in August.
Björk's new gigs will also see live audiences in attendance following the coronavirus pandemic.
The 9 August show will see Björk be joined by the Hamrahlíð Choir, while the second show (15 August) will feature strings from the Icelandic Symphony Orchestra. The final show (23 August) will see the Icelandic Symphony Orchestra contribute brass.
The three shows will also be livestreamed online, and will encourage donations to Kvennaathvarfið - a Reykjavík-based women's shelter.
.@bjork will be performing 3 special matinee performances in association with Iceland Airwaves, which will be live-streamed online and raise money for domestic women's charities worldwide.

More information: https://t.co/945NgHUGCh
Register for pre-sale: https://t.co/3JwrgWnMQH pic.twitter.com/CvLkJNfHqQ

— Iceland Airwaves (@icelandairwaves) June 27, 2020
In a statement, Björk writes, "I would like to invite you to some concerts to honour folks who got hit hardest in the coronavirus and the black lives matter movement, and to honour how many icelandic musicians i have worked with through the years. I recorded almost all of my albums with local musicians."
"My input into the feminist fight is to brag about that almost all of those arrangements are by me," continues Björk. "Unfortunately this is something that is almost always ignored when women are arrangers. The concerts will be in the afternoons and will also be streamed live online, where there will be an option to donate to the icelandic women's shelter - which supports women of all origin in Iceland. For those attending in person, after the concert we will be offering food to raise money in support of this charity."
Wrapping up her statement, Björk adds, "The concerts will be "unplugged" or acoustic and performed without beats and electronics. The concerts will be performed with the Icelandic Symphony Orchestra and guests. I feel we are going through extraordinary times, horrifying but also an opportunity to truly change. It is demanded of us that we finally confront all racism, that we learn that lives are more important than profit, and look inside us and finecomb out all our hidden prejudices and privileges. Let´s all humbly learn together, transform."
Björk's shows take place on 9, 15 and 23 August at Reyjkavík's Harpa Hall. Visit
icelandairwaves.is
for more information.
Subscribe for news and competitions