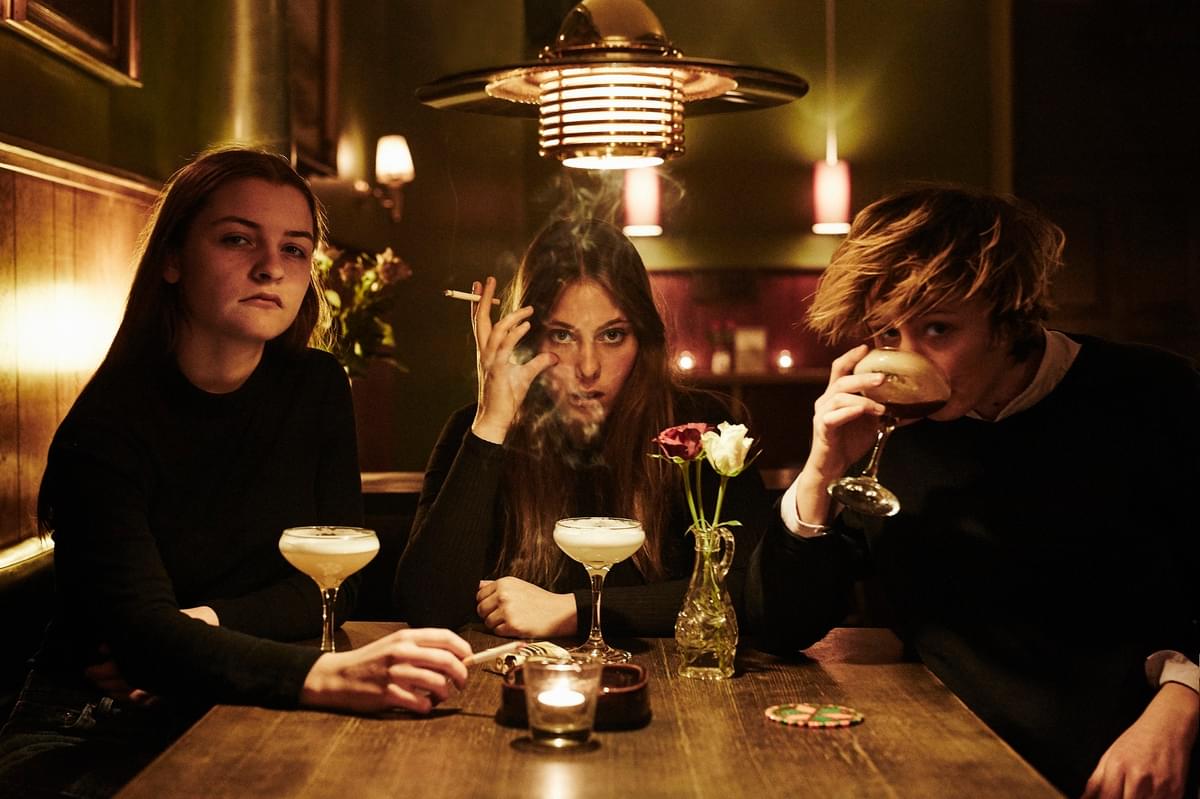 Baby In Vain unveil new single "Low Life" and tell us all about how it came together
Copenhagen-based trio Baby In Vain tell us all about their upcoming debut record and new single "Low Life", which is being shared today.
The latest preview of More Nothing sees Baby In Vain's ferocious rock tones scaled back in favour of hallucinogenic textures, dark post-punk carnage, and sultry sax vibes. It's a different beast than we're used to from the group, but it's certainly still got its fangs - this hypnotises with unnerving, red-lit rhythms and windswept vocal hooks.
Check out "Low Life" below and find out more about it (and More Nothing) in our Q&A after.
BESTFIT: How would you describe your/Baby In Vain's journey to this point?
Bene Pierleoni: Long and full of experience! We released our very first singles four years ago and have played a lot of shows around the world, and have learned a lot from that. Luckily we were patient, and I think releasing our debut album now and not three years ago made it the best it could be.
Lola Hammerich: Long and full of obstacles! But the record is a document of the whole journey. It wouldn't have been what it is if it wasn't for everything we've been through.
How do you feel about the fact your first album is coming out in just a few weeks?
Bene: It's very weird to think about, I can't believe it's happening already. When we finished the album in December, August felt like a very long time to wait, but now it's happening and I can't wait for it to be released and for people to listen to it and to us.
When did you know More Nothing was finished? Are there still bits you'd toy with even now?
Bene: On the last day in the studio we actually finished before time, so we went to celebrate with a dinner in a restaurant with [producer] Rob Ellis. Then of course it had to be mixed and mastered and art work had to be done and everything, but we had played the last note by that point.
How did "Low Life" come together?
Bene: "Low Life" goes way back, it used to be a very riffy kind of rock song, but we always thought that it could be more than "just another rock song". It was hard to complete in the sense that we have three or four different recordings of it, but in the end it felt natural to do it like it is now.
Andrea Thuesen Johansen: An early version was written a long time ago. Back then, it was a trippy, hard-rock kind of song that we were never fully satisfied with. We recorded it the first time about three years ago, but we weren't really happy with the result. We all agreed it was a good song with lots of potential so we tried all kinds of different things to make it work, but none of it seemed to do the job. Even though we came close, we didn't really catch the essence of the song back then. I guess "Low Life" was a song we had to grow into. We had to be three years older and wiser to be able to make it the song it was meant to be. While recording demos for the album, we realized we had to take out the hard rock elements of the song and just let it be as honest and frail as the lyrics suggested. Suddenly it started making sense. In the studio we experimented with the drum sound, synthesizer, pedals we hadn't used before, and it all came together once and for all.

Where does the single sit on the album - does it serve a particular purpose for you?
Andrea: It serves the purpose of reminding us and everyone who listens to our music that we are the band and musicians we are, on account of the human beings we are. One day were are writing a rock anthem, the next day we're writing a song like "Low Life". It's not deliberate. It's a matter of, how our state of mind manifest itself at the time.
Can you tell us what it's about?
Andrea: The song is about a very unhealthy relationship, that a person very close to me was in, back when we wrote the early version of the song. It had a great impact on my life, and I had a really hard time making sense of it all. Writing about it seemed like the obvious thing to do. Looking back on it now, I probably wasn't as reflective as I am today, so the anger and frustrations I felt while it was going on, dominates the lyrics. I'd like to think that had it happened today, I would've been able to explore my emotions and be a little more sensitive and subtle about it.
What sort of themes does More Nothing as an album look at?
Lola: Life.
Was there anything you wish you knew before starting work on the album?
Bene: That it would be a long and hard journey, but thats a long story! The recording with Rob Ellis in Eve Studios part was good, but the time before that was way messy and chaotic.
Did you learn anything important from the process?
Bene: I was just very overwhelmed by how nice and easy to work with both Rob and the two engineers at Eve Studios were. It was a really good process for us to work and record in a residential studio in a little boring town in England.
Did working with Rob Ellis have much of an impact do you think?
Bene: He got the best out of us so that it was a good experience to record and it didn't feel like work or something we were forced to do. We really enjoyed recording the songs and I think Rob was a big part of making the recording environment nice and vibey.
Lola: In terms of recording he made everything way more simple than what we're used to. Most of it is just the three of us playing live. Rob really made us cut the crap and get to the bone of the tracks... it was a much faster and easier process compared to the way we've recorded in the past. We only had 15 days to record the album, so we had to make decisions on the spot.
You've said you want to be "life changing for young people" - in what way?
Bene: For me, being fan of music as a teenager was life changing, and I know it sounds cheesy but it made me feel confident and gave me the energy and inspiration to play music myself. So I want to give that experience to young people and make them believe in themselves, like bands I listened to once, did for me.
How will you achieve this?
Bene: By being who we are, playing music, and spreading the shred.
Which bands were life changing for you and how did they change you?
Bene: Green Day for me, they made me want to play music and gave me the confidence needed to just keep on playing even though family and friends might have been thinking of me as a weirdo or whatever..
Which songs are your favourite to play live?
Bene: I love playing "Transcendent", so much energy and power. "Low Life" is fun as well, in a whole different way of course, but I get to control the synth bass and backing track and it's fun playing along with.
What's next for Baby In Vain?
Bene: World domination.
Lola: World tour.
More Nothing is released 25 August via Partisan.
Get the Best Fit take on the week in music direct to your inbox every Friday