"I used to love Sesame Street and I remember replaying this one song", she told Best Fit. "I don't know why I loved it so much [but] I remember trying to memorise the lyrics and remember what he was saying. There's a video of me singing that song. The earliest musical memory for me is the Sesame Street soundtrack!"
Cara grew up in Brampton, just outside of Toronto. It wasn't a place with any distinct music scene and it was only later she'd realise what was happening just down the road in the big city. "The population is pretty large in Brampton but it doesn't seem like there's many people living there," she explained to Best Fit. "There is a downtown part but it's not really 'downtown'.
"Brampton is very big melting pot of different things so it's not like we have our own music scene so much. I guess the Toronto hip-hop scene has this very dark, chilled sound that I was never really aware of. "
While Cara's parents were a formidable influence on her - playing The Beatles and Queen during car journeys - it was finding Amy Winehouse that really changed her life. "Amy was the first artist I discovered that I felt was my own. It was a music video on Much, which is like the Canadian version of MTV. My mom actually called me into the room and said 'Look at this girl, I think you'll like her.'"
"I went online and found her and bought her albums. I know that's not really that old school but for me it was something new at the time."
While Cara's path to signing to a label and making it onto the BBC's annual Sound Of… list has been well documented, the 19-year-old singer-songwriter feels that the YouTube route she took simply sped things up for her: "I mean I'd like to think that I would found another way but I really don't know," she says. "It was fate maybe. I don't know if I'd have come to where I am this soon."
"I loved writing as a kid - poetry, stories, I loved writing short fiction," Cara adds. "I knew how to write but not to put it into melody and fit it into a three-minute song that was catchy and good and made sense. I was pretty shy though when I started writing lyrics. It really took [singer/songwriter and producer] Sebastian Kole and other people to get that from me and take it out of me.
"I had to get rid of the shyness and learn how to get the sentences to make sense in the song. It's really just like a short story but in a more condensed version that repeats. It's so crazy...once you know the way to do it you just apply it to your own life and put in your own flavour...[but] looking back I wish I'd said certain things. I wish I'd spoke online sooner.
"Even as a kid I had opportunities to perform on talent shows and I never did. Learning that and knowing that means the next album will be different."
Cara references the sometimes rough ride that YouTube talent gets from commenters: "These people are just trolls. Sometimes I laugh at it, sometimes it's like a punch in the face but you have to keep going. The comments are so absurd, so mean, so random: She's so ugly, she's so unattractive, she's so average looking!
"It's mostly on my looks because I'm female. But there's always 500 comments that are amazing and you just try and focus on that."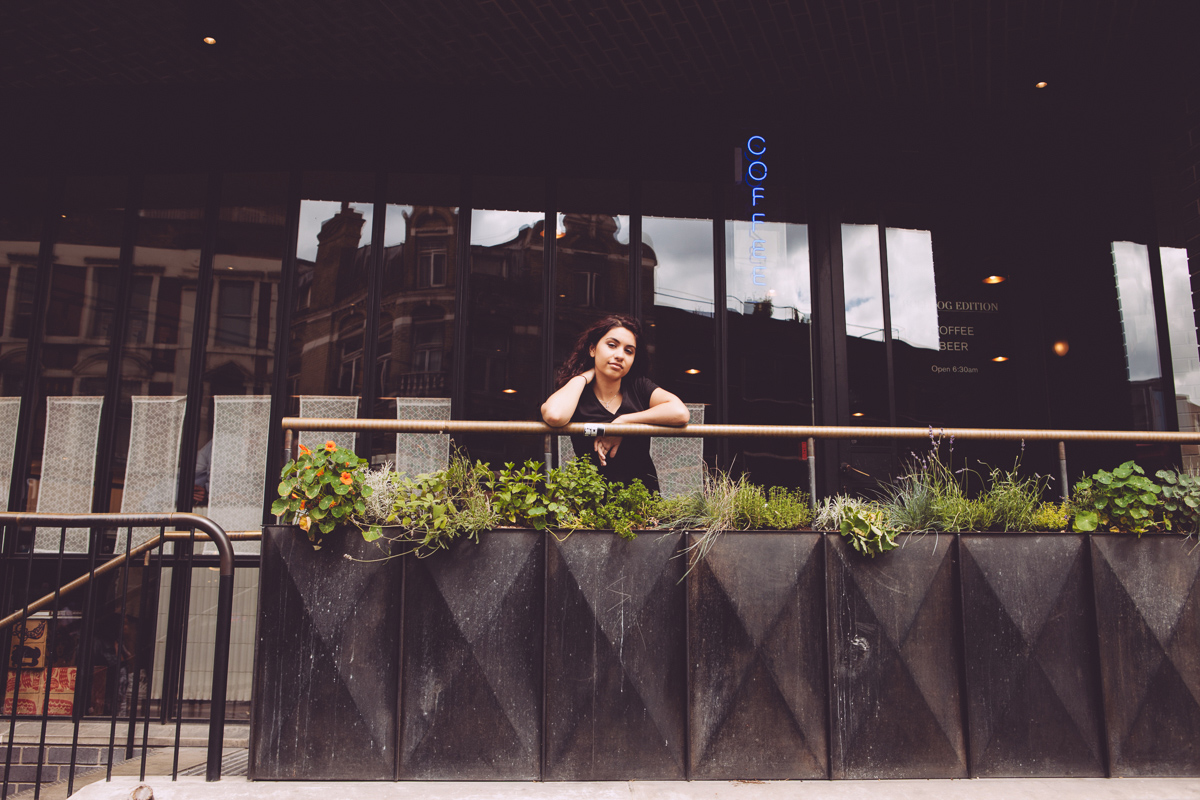 The Def Jam-signed artist also praised her label-mate Frank Ocean: "I really love Frank. He makes visual lyrics. His songs are all visual. I'm trying to get to listen to the new record but Def Jam says he doesn't share anything with them until it's finished so..."
Know-It-All by Alessia Cara is released in the UK on 11 March and "Here" is released this week. She returns to the UK for live dates next month including a sold out show at Electric Brixton in London on 23 March.