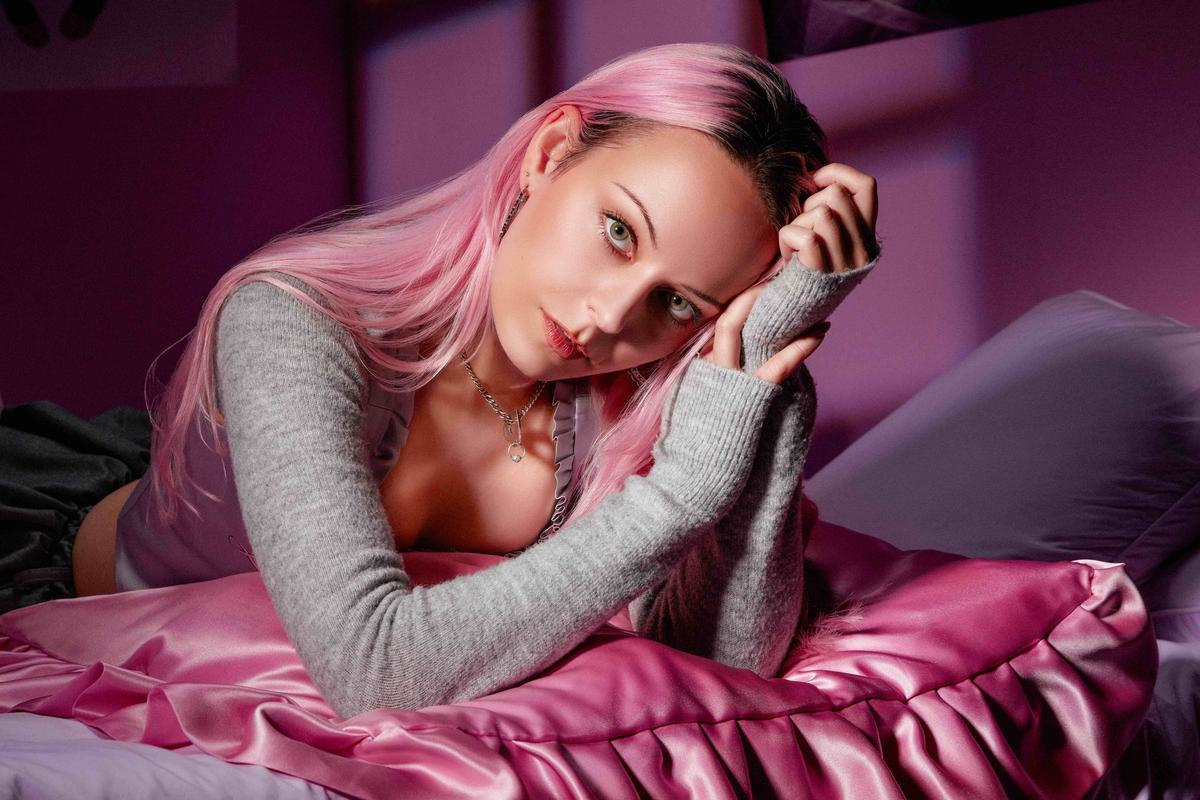 Hannah Diamond addresses similarities with Zara Larsson artwork for her new single, "Poster Girl"
Yesterday evening, Hannah Diamond revealed the artwork for her brand new single "Poster Girl", which received backlash from Zara Larsson, in regards to similarities to her third studio album of the same name which was released in 2021.

The track, which was co-written with Oscar Pollock of Sundara Karma, officially had its release today (14 September) and is the fourth single to be taken from her forthcoming second album, Picture Perfect.
Speaking about "Poster Girl," Hannah shares, "This song is for everyone who has ever wished they could be more like the poster girl on their wall. It's about questioning that shiny image and wondering whether their life really is as perfect as it seems, or if they're more similar to you than you could ever imagine…"
After the artwork was posted, some Zara Larsson fans were quick to notice similarities between Diamond's forthcoming single, and Larsson's 2021 album, Picture Perfect. Not too long after this, Diamond shared a statement explaining the aesthetic behind "Picture Perfect", noting that she acknowledges the overlap between their work, and "there is no joy to be found in using someone else's experience to create art and the last thing I'd ever want is to make Zara or any other artist feel like something had been taken from them."
Zara Larsson of all people thinking Hannah Diamond, one of the most influential artists in pc music both visually and sonically, is copying her is kinda comedic like bsjfjdj she's had this aesthetic for a decade now pic.twitter.com/qUfPRb54lu

— trashmagiq (@trashmagiq) September 13, 2023
"My new album is about exploring girlhood and its varying expressions in pop culture. It has resulted in me expressing and unearthing new parts of my personality for the first time to my audience but mostly, it's been about unpacking all the elements of my music and photography career since 2013 that have led me to where I am now. It is a celebration of the work I have made that has influenced so much of the visual aesthetics of the world of underground and mainstream pop today," she continued.

"The images that myself and my peers at PC Music made were pioneering (thank you dazed & its nice that!) and have since been disseminated through popular culture and influenced an entirely new era of pop music and trends in visual aesthetics. Those things that embrace what used to be seen as plastic, inauthentic, too commercial, too camp or kitsch, shiny retouched perfect pictures."
She adds that her bedroom is central to her practice as an artist; an intimate self portrait. "The visuals for my new album are a call back to the visuals I made at the very start of my career because I wanted this album to feel like a 360 moment. I'm the same girl in the same bedroom but I've grown up."
Zara Larsson responds to Hannah Diamond. pic.twitter.com/D6H3sy7EDV

— Pop Crave (@PopCrave) September 13, 2023
Upon reading Diamond's statement explaining that she was in-fact a pioneer of that aesthetic, Larsson issues her own statement acknowledging that whilst she "wasn't invested in [Diamond's] artistry and creative work", she can understand that her collaborators must have been inspired by her.

"When I first saw it felt really really sad, because this was one of the first shoots that I planned out myself in my friends bedroom so I felt extremely proud and excited about it. I wanted to capture what it felt like for me growing up while looking at all the pictures on my wall hoping I'd one day be on someone else's wall as a singer. Or the duality of being just a girl while also trying to be being a perfect performer. I think the girlhood bedroom experience is a beautiful and universal thing. Like, didn't we all just dream about being pop stars in our bedrooms as kids?," she wrote.
"Anyways, now when I've done my research I can see that even though I didn't have you on my mood board, the photographers that I've looked up to and had on it most likely, surly definitely, did! And that's what art is about at the end of the day."
Following on from her critically-acclaimed 2019 full-length debut Reflections, which solidified Hannah Diamond's popstar persona across the cultural digiscape, Perfect Picture – produced by David Gamson (Kesha, Chaka Khan, Charli XCX) – sees her straddle the line between the mainstream and the underground.
Picture Perfect is set for release on 6 October via PC Music.