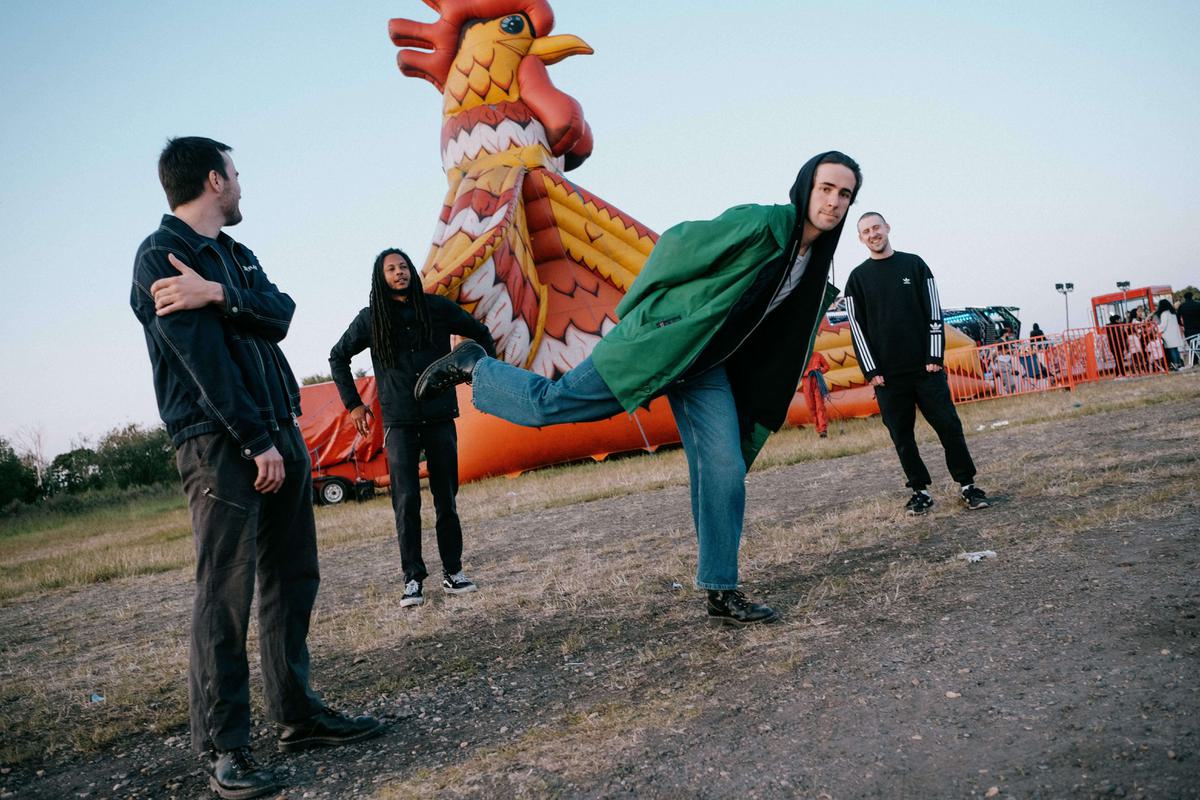 Folly Group announce their debut album, Down There!
East London's So Young Records signees Folly Group have announced details of their debut album, Down There!. The news is accompanied by the release of borderless single and album opener "Big Ground".
Following an acclaimed 2021 debut EP, Awake And Hungry, and its follow-up in last year's Human And Kind, Folly Group's debut album arrives on the heels of the band's critically acclaimed return with "Strange Neighbour" last month and their packed-out tour with Brooklyn five-piece Geese, who are signed to Partisan Records.
Speaking on the themes behind "Big Ground", guitarist/vocalist Louis Milburn, says: "The basic concept of this song is life filling you with so much anxiety and dread that you would rather you didn't exist at all - you'd rather be swallowed by the ground. In a way it's sort of celebrating this fact, because once you know this deep down inside you can start to let go of these anxieties because after a while you face so many that they start to matter less."
Folly Group collaboratively self-produced Down There!, working with a shifting cast of instruments courtesy of Milburn's day-job. "I work at a place that buys and sells equipment, so this stuff constantly moves through" he explains. "We might have a vintage Roland in, so we'll use it for some songs. Two weeks later the band will say 'can we do that again?' but it'll be gone – sold to someone with actual money."
Down There! is thorough in its exploration of being a young adult in this country: covering mental health, physical health, financial pressures, turbulent friendships, and more. Its lyrics are split between drummer/vocalist Sean Harper and Milbern, who – despite their respectively more abstract and literal styles – deal with shared themes of "disenfranchisement, dejection, anxiety and financial ruin," Harper explains. "For every personal step forward, an off-the-cuff decision by a politician we'll never meet puts us two steps back – a lot of the time we're basically furious."

This is illustrated in the 3D cave network on the cover: it features ten points, lifted from a map of the ten most important places in London to the record's creation. "They're represented as a cave, as a visual metaphor for feeling under the weight of the world," he continues.
The band tie many of these feelings to the realities of being a young musician, which they have to balance with full-time jobs. "We don't have enough time to do this band, but we do it anyway. We make enormous sacrifices in areas of our lives, out of blind faith that we're right to be doing this." This underscores the feeling that Down There! is – despite its themes – a triumphant album. Its committed creation and honest lyricism speak to the group's shared self-belief and determination. "The mere fact that it exists is a victory."
Tracklist:
Big Ground
I'll Do What I Can
Bright Night
East Flat Crows
Strange Neighbour
Freeze
Pressure Pad
Nest
New Feature
Frame