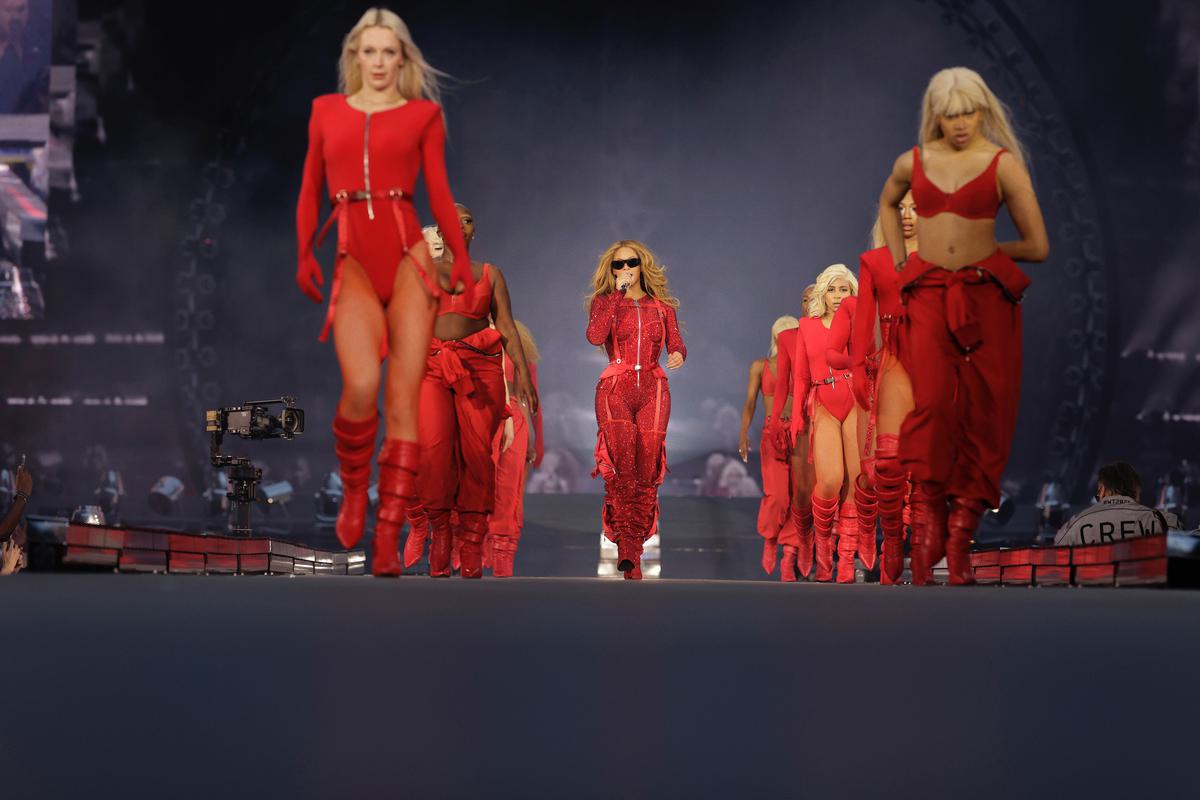 Beyoncé crowns Houston winners of the mute challenge during a surprise run
Throughout Beyoncé's Renaissance tour, she's created a competition for the Beyhive across the world, on who is able to stay quiet for longer during the 'mute' challenge.
During the song "Energy" which features on the 2022 album Renaissance, Beyoncé goes completely silent after singing the line, "Big wave in the room, the crowd gon' move / Look around, everybody on mute." The challenge is for concertgoers to be as quiet as possible until the song continues.
From the beginning of the tour in Sweden, through to its North American leg which now sees Beyoncé in her home stage of Texas, the crowds have been increasingly getting better at the challenge in order to win Beyoncé's approval. Until this past weekend, it was widely accepted that Atlanta were the winners of the 'mute' challenge, but it appears that Houston, Texas has taken the crowd, and have the approval from Queen Bey, herself.

Footage from the second of two nights at NRG Stadium in Houston shows Beyoncé trick the crowd into a surprise challenge, to which they passed with flying colours. You can see the surprise on Beyoncé's face as her mouth drops and she says: "Y'all won that one".
for those in comments thinking there was need for a redo pic.twitter.com/Abdi9jR6DW

— milagros freakum (@miracleleshai) September 26, 2023
In the comments of the post, fans have mentioned that because the challenge didn't take place during the actual song, that it doesn't count, which led to another fan posting footage from when Beyoncé was performing "Energy", to prove that they were worthy rivals.
Whilst the 'mute' challenge is generally quite light-hearted, and the competition between fans has been mostly healthy, footage has surfaced of a man being punched for not abiding by the rules.
As everyone around him goes silent, the man lets out a "woo". You can hear people around hushing him, and as the camera pans around, you can see a woman to the left of him hitting him for ruining the moment.

not somebody finally got whacked for not going mute- pic.twitter.com/5pKhVI4Y4v

— danny (@beyoncegarden) September 25, 2023
The Renaissance tour is set to end this Sunday on 1 October. Perhaps Beyoncé will reveal who the true winner of the mute challenge is following the tour's ending.