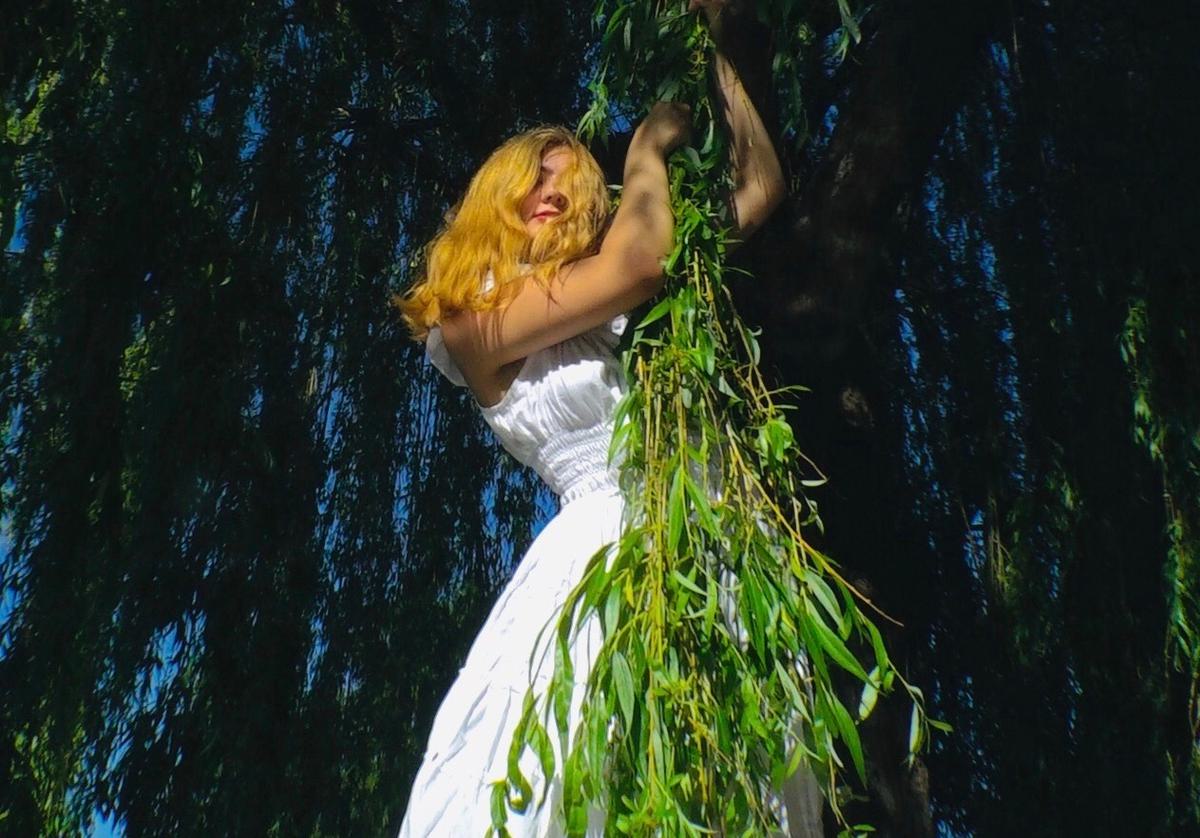 Eaves Wilder's "Won't You Be Happy" is the euphoric post-lockdown guitar anthem we need
Eaves Wilder wrote her debut single on the first day of lockdown and then anonymously emailed legendary Blur producer Stephen Street who agreed to mix the track remotely.
As musical origin stories go, it's one of the strongest in recent years and a gut punch to anyone whose biggest achievement these last months was banana bread.
The 16-year old North Londoner found inspiration for the lush and involving "Won't You Be Happy" from The Pretenders and Blur. "I was nearly asleep at about 2am, and had the 'Bahdabahhhh' melody stuck in my head," she tells me. "I'd just been reading Chrissie Hynde's autobiography, so I originally thought, 'Oh shit, that's a nice Pretenders melody' - and then I realised it was my Pretenders melody!"
A love of Blur's debut record Leisure led to the Stephen Street connection. "The simple shoegaze psychedelic feel-good stuff was what was getting me through [lockdown]," she explains, "so I made that the aim: to just have something you would wanna dance to, like Leisure."
Spurred on to contact the Blur producer, she emailed him anonymously. Street got back in touch the very same day and asked her to send over the stems of the song. "I love him because he always does everything he can in production to prevent the listener from becoming bored," Wilder explains. "There's always something coming in or dropping out, guitar lines running over the top, or backing vocals and harmonies, and that's always something especially in this song, that I try to do."
Raised on a diet of Hannah Montana, Camp Rock and High School Musical, Wilder learned how to play the piano from watching YouTube tutorials and by the age of eight was writing her first songs. "I knew all teenagers had to be musicians and sing songs and go out with either Zac Efron or a Jonas Brother but I couldn't work out how I could make that happen for me", she jokes.
She first found her inspiration from classic songwriting: Motown, Carole King, Billy Joel and The Beatles. "The Beatles will always be my favourite band of all time," she tells me. "I learnt to play by going through their song book, googling what the chords were, and playing the melodies by ear. Paul is the best one, obviously, but George's All Things Must Pass is my favourite album of all time. I have a Beatles calendar. This month is Ringo."
She hit her teens and discovered Britpop, and then pivoted into punk, Riot Grrl, the Slits and Huggy Bear. "I love the whole Riot Grrl thing: reclaiming your childhood, and not feeling like you have to appeal to men. It helped me to lean into how 'little girl-ish' my voice sounds, which I had always slathered in reverb, and dodgy EQing, to cover up before. Listening to bands like The Sundays, My Bloody Valentine and the Cocteau Twins made me realise how much I love listening to sweet female vocals, and made me embrace how childish my voice naturally is. And obviously I love shoe-gaze and jangle-pop."
"Won't You Be Happy" is a fully fledged post-corona anthem, told from the perspective of Widler and her friends trying to help each other get through the lockdown. "A friend told me that having cold showers helps, which I put in the lyrics," she explains, "and that eating banana boosts serotonin, but the chorus is about what we'll do to celebrate when the pandemic is finally, totally over: 'Think of the noise / When we go outside.'"
Before COVID-19 hit, Wilder was in fact working in a Soho record store but now spends almost all her time in her bedroom/studio; her gear sits amongst pictures of George Harrison, Graham Coxon, Kathleen Hanna and Paul McCartney "The room has the strongest WIFI signal," she explains. "I think it hits this side of the house first, so when I'm in my room using it, I'm stealing it from everyone else. I also have the ashes of my two dead pet rats in here, in a box. Rats are a legitimately good pet: they're like small puppies. They used to climb up inside my hoodie whilst I played the piano. RIP Ringo and Bingo."
She's written two albums under lockdown but hasn't played live yet: "My long-term plan is that Gorillaz eventually recruit me to be a real-life Noodle and I live my Noodle life as Noodle," she tells me. What does she want to inspire with her music? "For teenage girls to listen and feel it helps - or at least makes them feel less lonely. I spent ages having no female musicians to look up to that weren't a sob story. I don't want to be a hot mess, or a train wreck - cos I literally just spend most days in my room doing weird things.
"I would love to do what Courtney Love and Justine Frischmann did for me - which is give me a space where I could see strong women who just love music, playing on their own terms. But with less heroin involved, hopefully."