- Photo by Howard Melnyczuk
Brother-sister bands don't come a lot cooler than Wild Belle and, although "cool" might not be particularly on-trend terminology, their style embraces the sound of an era when it certainly was.
The Chicago-based duo are beginning to make entirely justified, tie-dye infused ripples in a sometimes all-too monochrome new music pond; you just have to look at the cover of their 'It's Too Late' EP to see said ripples providing pillows for a deadpan Natalie and saxophone wielding Elliot.
Wild Belle's music offers a blend of unmistakable reggae with the aforementioned saxophone and intelligent rhythms from jazz, 'stir it up' with some rock 'n' roll and a dash of pop, and you are beginning to put together a recipe that can describe the work of this funky family affair. Thorough professionalism and enjoyment in live performance, a quite brilliant new video and complete security in a relative niche they've found, make Wild Belle as eye-catching now as they deserve to be in 2013.
We caught up with the siblings to talk inspiration, composition and Garage Band, before their eagerly anticipated Birthdays show, on a rather important day for a fellow-Chicagoan…
I guess we should start with the theme of the day – the election. How are you guys feeling?
Elliot: We're so happy, excited and relieved. Eric woke me up this morning, 'Dude Obama won!'
A genuinely thrilled smile sneaks through Elliot's serious beard.
Natalie: We couldn't stay up 'cause we flew over this morning, but I woke up and I was honestly scared…
Elliot: When we found out, we all started singing this song where the chorus is like, "OBAMA!"
Natalie: It's like, 'Barak Obama, Barak Obama!'
Natalie jives to the syncopated rhythm of the entirely different, but nonetheless excitable, rendition of the celebratory song.
I think the whole world is slightly relieved. Moving away from politics… What got you guys started in music? What inspired you to form Wild Belle?
Elliot: We both grew up with music. Mum and Dad were both musicians. Mum played jazz piano, and Natalie has always been an amazing singer, since she was like 4 years old, so it was only a matter of time before we tried to collaborate more officially. We played in bands before, Natalie played keyboards.
Was that a similar sound to what you're producing now?
Elliot: Not really, it was different, but Natalie's been writing songs for a long time and she's a great producer in her own right.
How does the writing process work for you?
Elliot: It comes from lots of different places. Natalie does a lot of stuff on Garage Band.
Natalie: It's very easy. I know it extremely well. But I just got a new computer, my old one crashed 'cause it was too heavy with information, and I lost a lot of my old Garage Band stuff. And the new Garage Band isn't same as the old Garage Band.
Elliot: It doesn't have that old sound!
What's the matter with it?
Natalie: I got a smaller computer and the internal mic doesn't work in the same way. All the sound going in, it's literally going in through a smaller microphone so there's all this hissing?
The Garage Band conversation tails-off; the hissing hasn't affected the Wild Belle we have access to. Back to inspirations etc.
What kind of music do you listen to?
Elliot: I've always been really into jazz, playing the sax, so Coltrane, which branched out to Sun Ra.
Natalie: Coltrane is very spiritual. He takes you on a journey when you listen to him. Elliot turned me onto Coltrane, Miles Davis, Sun Ra – I really took a liking to Miles Davis. He was on a soundtrack for a French movie called 'Flight of the Scaffolding' or something? I can't say what it was actually called in French!? Elliot turned me onto that stuff; I love Miles Davis, he's obsessed with Coltrane. This morning I was listening to Sun Ra – he's pretty.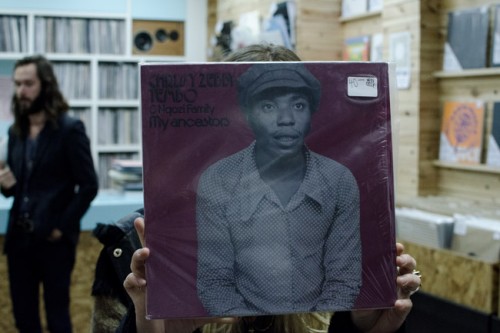 Photo by Howard Melnyczuk
So jazz is clearly a major influence for Wild Belle. But what about your reggae sound?
Elliot: …Oh yeah reggae!
Natalie: I love Bob Marley. He's amazing.
Elliot: We love the Soul Jazz label and all the Studio One compilations are amazing. Jackie Mittoo, Delroy Wilson.
Natalie: While we were in Jamaica we went to Studio One; it's sort of on hold right now in terms of production. They're not recording many artists. They just can't afford it.
Elliot: They're fixing up their soundboard.
Natalie: Renovating.
Is Studio One somewhere you'd like to record? How did you find Jamaica?
Elliot: It's really amazing – we just shot a music video down there with Melina Matsoukas.
Natalie: Melina is really amazing, she's phenomenal to work with. When we went to Studio One they had all these old records for like cheap you know? You can't get them like that in the States.
So what about an album to follow the EP?
Elliot: The record has been done for a long time. Before we started talking to labels we had it all done. We recorded it all ourselves in Michigan.
Do you think that's a good way of doing it?
Elliot: It means you can approach every aspect of the record in your own way. We know what we like and we know how we want to sound. We just ended up feeling like that was the safest way of entering a world that we weren't too familiar with.
Natalie: What do you mean?
Elliot: There are just so many new people, and it's a much broader world. We're used to doing it by ourselves.
Natalie: We prefer doing it on our own, as much as we love the help. We can stay central and true to ourselves.
Is there a through-line or story to the album?
Natalie: Yeah, there is. The record is called 'Isles' and we sort of think of each song as its own island. There is a story. There are different sounds on different tracks but everything makes sense together because they all come from the same place.
How would you describe your live shows?
Natalie: They're just fun! We love performing live. It's different experience every time.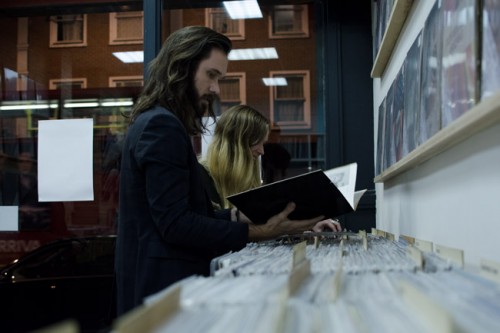 Photo by Howard Melnyczuk
And you're playing the legendary 100 Club next week? How are you feeling about that?
Elliot: We've never been to the 100 Club. But it's really the space that matters. People don't always know that. We've been on tour, sometimes playing in front of 4,000 people, sometimes 12, so we try and do something different each time. There's a lot of energy that comes from playing in front of a lot of excited people, but you can get really great energy in an intimate setting as well, like we're playing at a friend's apartment tonight. We just try and do our thing every night and it gets more solid.
Where else has the tour taken you?
Natalie: We did a sort of half tour around the U.S – back and forth on the East Coast.
Elliot: And San Francisco for one show. Natalie made a tour video – it's really good fun.
How about your sound? There's not a lot like it around at the moment. Has it evolved to suit the times?
Natalie: I guess it's just kind of like, you have a seed and small things, and you want it to be a full plant. In the studio we're not thinking what's relevant to anybody other than the people around us. We'll use synth on some songs, then some things they only made 500 of, like Chamberlin Ssrings. I'm sure they made a couple of thousand maybe? It's a very fragile instrument. Each song has its own emotional connection, so we try to cater for that emotional need, more than needing the sound to be a something that's relevant or irrelevant.
Having happily received an invitation to the "friend's apartment" gig, we wander across the road for some impromptu photos in a Dalston record store. The short shoot serves to finalise what was picked up in our earlier conversation: the siblings' completely relaxed attitude and a genuine love of music. Walking away, I turn to catch Elliot and Natalie enthusiastically rummaging through the shops extensive collection of 'ska' records – I think they may have even made a purchase.