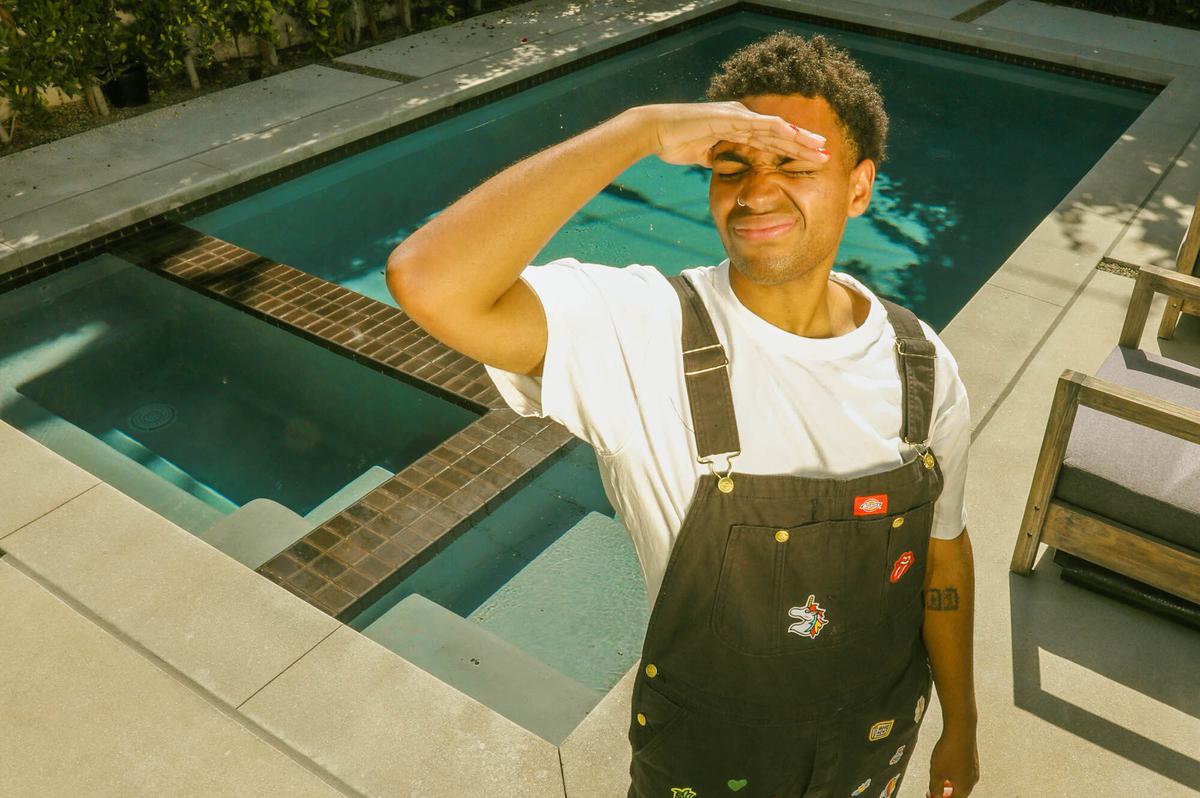 Unusual Demont returns with spirited new single "Maybe Not"
Wisconsin-born, LA-based performer Unusual Demont is back with his first single of 2022, and one of his most joyful releases to date, "Maybe Not". It follows on from the release of Demont's debut project HUES, in September of last year.
Unusual Demont, otherwise known as Demontcea Howard, was surrounded by music from an early age, supported by his grandfather who was a key part of Curtis Mayfield's touring set-up. As a teenager, he was part of the music collective Unusual Past with his friends Keiwon Caldwell (AlmightyK) and Gavino Gatica (Gavin-O). As their interest in music began to wane, Demont's only intensified and he was inspired by the work of artists such as Tyler, The Creator and Frank Ocean to record music and release it online (some of which you can still find if you dig hard enough!).
After recording seven projects worth of material and releasing three independently, Demont decided to commit himself to the cause and re-launched his career with a new debut single "Amber" in January of last year. Nine months later, he released HUES, which went on to garner acclaim and support from some of music media's biggest names. Now back to reaffirm his place in the culture, "Maybe Not" is Demont's attempt to kickstart the second chapter of what he hopes will be a long and fruitful career.
"Maybe Not" opens with a playful piano line before exploding into life with the introduction of Demont's breezy vocal line. Booming bass underlines the first verse, before Demont's trademark rap-style second verse brings a pause to the track's vibrant background. "Maybe you the one / or maybe not" the singer reflects, as he considers whether love is worth his time, or if it's better just to let it drift by.
""Maybe Not" is actually a song that I've had for a while but it didn't feel like the right time to release it until now," Unusual Demont explains of the track. "I made it around 2020 with the same idea I had creating HUES. - which is simply - songs that make you feel good. However, this one always stood apart from the rest of that project to me. Not only instrumentally (provided by the Stoic beats), but it's energy as well."
"From the booming 808s to the light almost-music-box sound that plays the main chords, it was, for lack of better words, "too fun" to fit in with the rest" he adds, "That said, timing is everything, especially with change, and "Maybe Not" is the perfect preparation/transition into the new world I'm inviting you into with my next releases. A world that feels like your favourite summer memory all the time. I hope you enjoy this invitation."