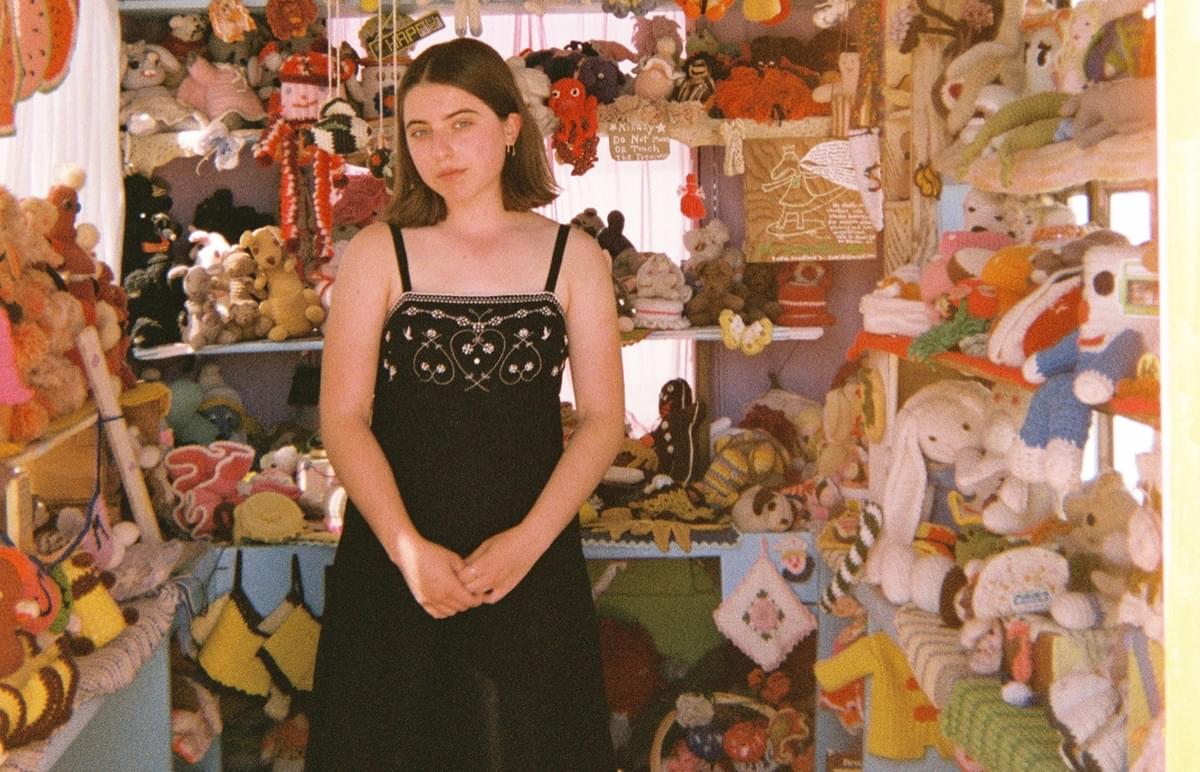 Sofia Wolfson marries upbeat guitars with frustrated putdowns on new single "Party Favors"
Los Angeles songsmith Sofia Wolfson has dropped "Party Favors", a sonic trip through vintage singer/songwriter tones and fresh guitar pop.
The track, performed by Wolfson alongside Adam Gunther and Jorge Balbi (Sharon Van Etten), is the latest taste of an exciting new talent and it arrives as she prepares to play Best Fit's new music festival in a week's time.
With 2019's Adulting EP (which features the superb "Nothing's Real" and was made with Phoebe Bridgers collaborator Marshall Vore) Wolfson marked herself as an artist to keep close tabs on, and as she delivers "Party Favors" she sets herself apart from a tight pack of New Americana songwriters with panache. It's a warm escape flush with upbeat, chiming riffs and a chorus stuffed with frustrated putdowns.
"This song was recorded around the time of my last EP, but immediately had a different energy to it. I knew I wanted to release it separately," Wolfson says of her first release of 2020. "I wrote it while I was going to college in Boston when everything I was writing at that time was incredibly sad and slow and I needed to change it up a bit. I've always loved songs that sonically seem to be giving off one mood, while lyrically depicting another."
Check out "Party Favors" below, and get to know more about Wolfson and what to expect at her upcoming Best Fit show afterwards.
Could you introduce yourself for us please?
My name is Sofia Wolfson. I'm a 20-year-old singer/songwriter born and raised in Los Angeles.
What do you try to do with your music and how do you achieve this?
I use songwriting as a mechanism to express and cope with things that are difficult to say. When I play live, I hope that someone listening maybe relates to a song and feels heard and understood.
Can you tell us what musical and non-musical influences have shaped your sound?
I grew up on a lot of classics like The Beatles, The Band, and Joni Mitchell. Once I started to develop my own taste, I was influenced by bands and artists like Blake Mills, Wilco, Big Thief, just to name a few... a lot of guitar and songwriting-centered music. These days I find myself really inspired by people like Caroline Polachek, Aldous Harding, Alex G, Hand Habits, and more. Non-musically, I draw inspiration from short story writers. I grew up loving Raymond Carver, which led me to be an English Major in school. Short stories taught me how to capture a small moment in a song.
If you had to invent a genre for your music, what would it be called?
One time at a show someone else on the bill said me and my bassist sounded "chunky," so I'll have to go with: sad girl alt. folk chunk-core.
When and where is the perfect time and place to listen to your music?
Good question. I'd say either that tranquil moment when you're exhausted, driving home from work and the sun is setting over a city, OR laying in bed when you're feeling really frustrated or angry with someone. I know those are pretty different.
What should people expect from your Five Day Forecast show?
I'll be playing songs off my EP Adulting, as well as new songs I've been trying out at live shows...
What are you working on now/next?
Hoping to record my next project this year!
Wolfson plays our new music festival, the Five Day Forecast, on 15 January at London's Lexington alongside Frances Quinlan, Katy J Pearson, and Harrison Whitford.
Tickets are on sale now
.
Get the Best Fit take on the week in music direct to your inbox every Friday