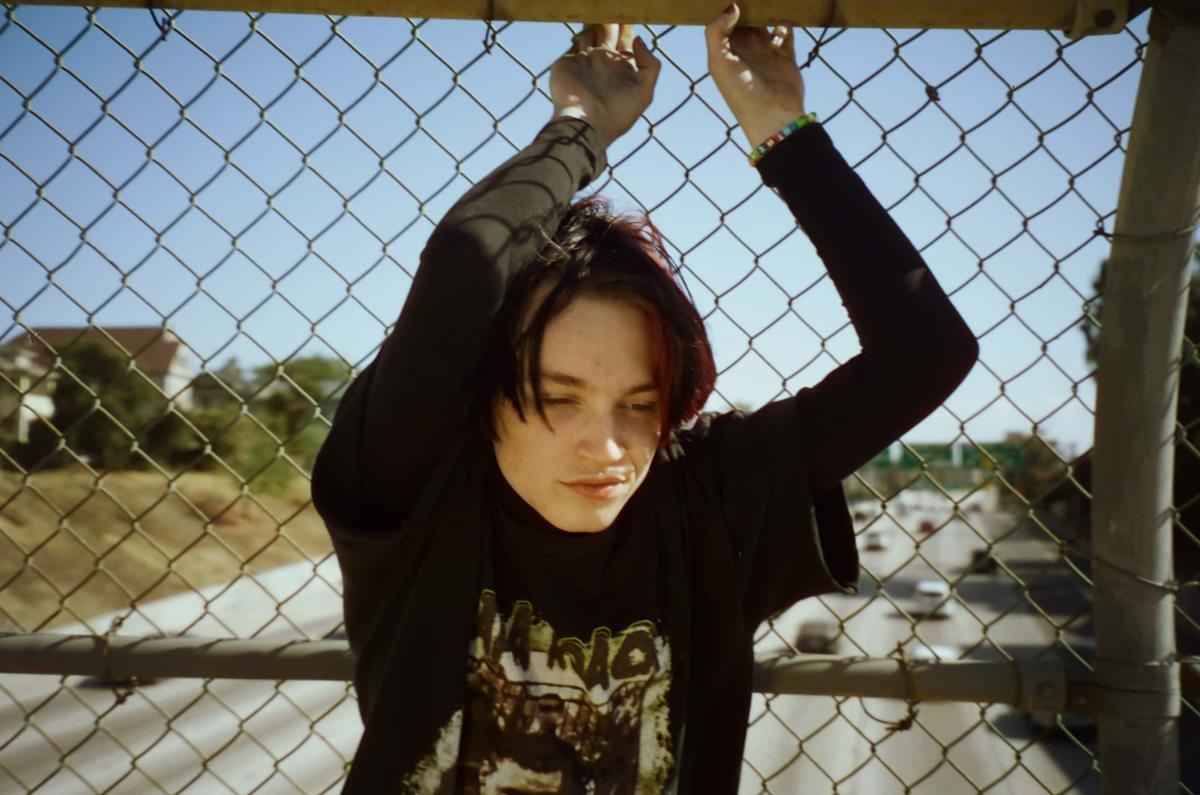 Phoebe Bridgers adds DIY indie prodigy Scruffpuppie to the Saddest Factory roster
The prolific Scruffpuppie - aka 20-year-old singer and songwriter JJ Shurbet - has become the fourth signing to the Phoebe Bridgers-run label imprint Saddest Factory today, with the release of "Assignment Song".
Scruffpuppie joins Charlie Hickey, Claud and Muna on what's shaping up to be one of the most exciting rosters of any artist-run imprint - but JJ's journey to Saddest Factory comes after a short life filled with as many personal challenges as artistic successes.
Growing up a queer kid in Paris, Texas - a small town of just over 25,000 people once known as the most racist place in America - wasn't easy for JJ. "I always had a really hard time in school", she tells Best Fit. "I never made good grades, I was always getting in trouble with my teachers and parents, and while it wasn't very hard to make friends I couldn't really help but feel outcasted." Homophobia and transphobia were rampant among her peers and family and exploring her identity within the formative years of her life was tough.
Raised in a Christian home, JJ remembers singing as soon as she could speak, although she didn't pick up a guitar until she was six. "At that time I would lay the instrument flat in my lap and hit the strings and thought it sounded so cool," she recall. Taught some chords by her mom, she penned a Christian worship song called "Lord I Want More Of You" at the age of seven. "I didn't really know what else I could write about," she tells me, but she would also cover songs her parents showed her from the likes of The Decemberists and Bon Iver.
JJ didn't start writing music seriously until relocating to Georgia in her teens. "I was dealing with a lot of heartache from moving," she explains. "That's when I first realized I could use music as an outlet to express my emotions. I remember driving through Georgia, about to cross the state line, I was listening to a song called 'The Story I Heard' by Blind Pilot, and I remember the feeling I got in my heart when the vocalist yelled a lyric was so euphoric, it was the first time I had felt emotion like that from music. I knew right there that I needed to write more."
Uploading her performances to YouTube since she was nine, JJ's had an audience for her music from the very start, and her passionate fanbase took shape as she came of age. It's a community that's helped her keep going and provided some of the validation she didn't have growing up and coming to terms with who she is: "Seeing through the comments how people related to what I wrote, I realized not only did I have an outlet to express my own emotions, but I had the ability to make people feel less alone," she confirms. "This inspired me to keep writing, and keeping helping people who felt alone, like I did." The confidence she's gained has been channelled back into the music of Scruffpuppie: "It's a message to everybody, addressed to no-one," she explains. "My music is dead focused on making you feel, no matter who you are or what you've experienced."
In true DIY style, JJ's first release Zombie Boy collected two years worth of early recordings while her second long-player Never Coming Home dropped late last year and saw her add a little more polish to her sound. Racking up more than 600,000 followers on YouTube and tens of millions of streams on Spotify, her hook up with Saddest Factory came via Marshall Vore, Phoebe Bridgers' co-writer (he penned half the tracks on Punisher and Stranger in the Alps) and the drummer in her band.
The pair worked together on "Asssignment Song", a document of JJ's journey into sobriety, released the today, which also marks one year clean for JJ. "During the beginning of Covid I was a mess," she explains. "I was doing drugs every day and night, and barely writing music ever." Admitting herself to a three-month stint in rehab at the end of last summer, she worked hard on coming to terms with her addiction. "It was the first time I'd been truly sober in years, so I was actually allowing myself to figure out who I am, without any outside influence. It was a really eye opening experience.
"I also rediscovered my ability to write without using speed and that was an unreal feeling. I discovered I am a better person without drugs, and I am extremely thankful for that experience."
The demo for "Assignment Song" was written during rehab, as an 'assignment' from one of JJ's counsellors. Posting it to YouTube, and buoyed on by the fan response, she reworked with track with Vore and new verses and choruses were added earlier this year, informed by the insight of seven months without pills and hard drugs. "I felt so free and happy writing and performing this song," JJ says.
"She's very unique in my life," Marshall Vore tells Best Fit over email. "She lives on Planet JJ and Dischord servers. We would have entire explicit conversations about work stuff and she either wouldn't remember or just didn't hear it. Then would show up the next day with a completely different agenda. I honestly loved that, it made every day different and new."
The pair first met through Vore's manager and, instantly intrigued her music and story, they got together for a session. "She showed up and she was basically like, 'so I have this song let's record it. 'I was confused because I thought we were going to write something. I paused for a minute and just thought… 'okay cool let's record this song.'
"We didn't spend long on it at all, and between her and I we played and recorded everything in about 3 or 4 hours. I made a bounce of it, texted it over and thought it was fun, but that I would probably never hear about it again simply because that's just how a lot of these kinds of sessions go."
But JJ had a gut feeling about Vore, wanted to work with him on the follow up to Never Coming Home, and the pair spent two months writing and recording together. They found common ground bonding over Radiohead, SZA and 100 Gecs, while Vore was impressed by her raw, emotional and prolific approach to songwriting. "She's not precious about her own self myth," he tells us. "In fact she's not precious about the material either. She will make a song almost every single day and text it to me or put it on Soundcloud. There are no delusions of grandeur. She's not a songwriter as a vehicle to be a cool big famous person; she's an artist because she can't help it. Cant help but wake up every day and make something. That creates music that is serious but never crosses the line of pretentiousness… [she] has a way of feeling profound things while also feeling casual."
"Assignment Song" glides along with a melodic scuzz that hits the sweet spot between melancholy and hope, driven by tenderly reflective lyrics ("We need to know that we can ask for help / so we don't fall again"). "It was the song Marshall and I were most excited about on the record," JJ tells us. Meeting Phoebe Bridgers through Vore, JJ was sold on her vision for Saddest Factory, and their work with other artists on the label. "It felt like a family, whereas a lot of other labels I spoke to felt more robotic," she says.
Bridgers too also found a kindred spirit in JJ: "[Her] writing is both referential of all the emo music I love, and yet, entirely new," she explains. "I recognize the world I know in it, but it's off center. It's like she's filtering everything through raw emotion, throwing some distortion on it all, and handing it back to us so we can feel something for a second."
Bridgers will also appear on a future Scruffpuppie track; the two have already recorded together. "Working with her was unreal," says JJ. "I remember listening to her sing my song in Marshall's studio and kind of just being in shock that all of this was happening to me. I was ecstatic, and beyond grateful to be there and to be experiencing that."
JJ's productivity has also led to the side project Grimtweakr, a result of experimenting much more with production than with songwriting "It's less serious", she explains. "I wanted a separate alias for these songs because I didn't think the majority of my fanbase would enjoy that side of my music, but I had a lot of fun making it, and I still do. I have a plethora of unreleased Grimtweakr music that I'm still adding to, and I'd like to release it all eventually, but I'm not sure when."
Beyond that, she dreams of collaborating with the likes of Justin Vernon, who remains a huge influence on her upcoming long-player for Saddest Factory: "I've always looked up to Justin Vernon, so having a song with them would be indescribable. For now though, she's inspired by the community of largely LGBTQ+ artists surrounding her, who help provide both confidence and growth: "People such as Carpetgarden, Cmten, 111nightshift, Postcardnowhere, and many many more people who I consider great friends... individuals who have helped me feel a lot more comfortable expressing myself in my identity, which I value a lot," she says. "Also being able to make music with these people has been more fun than I can explain.
"I want to be an inspiration to people like me," she adds. "To people who want to help people feel less alone, and who find joy in doing so."
Get the Best Fit take on the week in music direct to your inbox every Friday