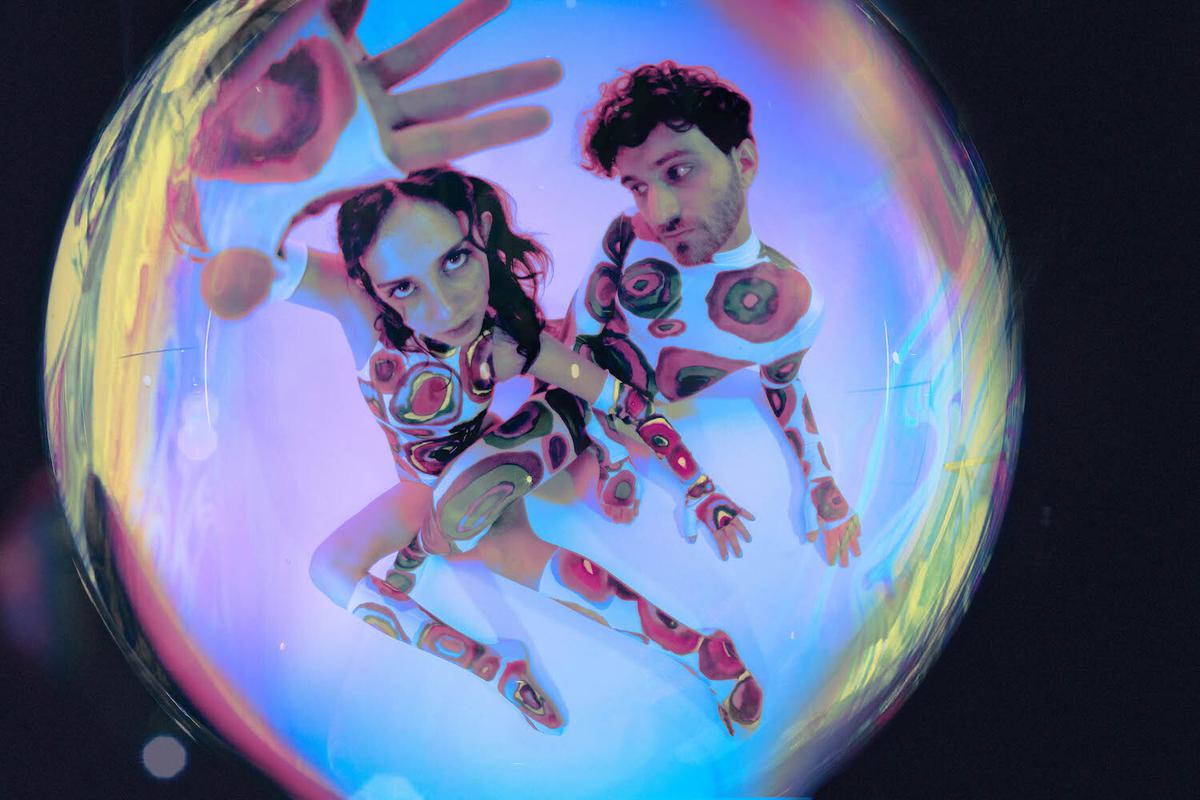 Magdalena Bay reflect on mental health and isolation on "Chaeri"
Los Angeles-based electro indie pop duo Magdalena Bay make decisive statement with lead single "Chaeri" from the group's debut LP Mercurial World, due out in October.
Reckoning with the pandemic for Mica Tenenbaum and Matthew Lewin started at first with cancelled tours and endless isolation, but the duo behind Luminelle-signed Magdalena Bay are back in a big way with the propulsive "Chaeri". The pulsing and relentlessly energetic lead single foreshadows big things from the duo's awaited debut LP Mercurial World. Tenenbaum and Lewin released their EP A Little Rhythm and a Wicked Feeling on a rather ominous date right on the verge of global shutdowns (13 March 2020) before their sold-out tours with Kero Kero Bonito and Yumi Zouma were cancelled.
The fact that "Chaeri" is such a massive track - one that begs to be listened to in a crowded venue under strobe lights - is a fitting return to form. Like other artists who set deeply emotional lyrics above immense electro dance beats (Robyn comes to mind), there's more at play than just another club banger.
"'Chaeri' muses on mental health, friendship, loneliness and control," Magdalena Bay explain. "It's about the walls we put up and the walls we should tear down for the sake of authentic connection." These themes should resonate with anyone feeling isolated during the pandemic, to say the least.
With "Chaeri", you're entering a world entirely of the group's creation, one they developed through a distinctive and very of-the-moment digital presence: a true mercurial world.
The forthcoming album's Y2K-inspired website will strike a chord with anyone who meticulously built a MySpace page or an AIM away message years ago. That the aesthetic still resonates, even as design has become less cluttered than ever before, is a callback to simpler times.
The enchanting video accompanying the song is a throwback-tinged, dark and immersive visual treat in and of itself. It sees the duo at times wearing retro stonewashed jeans and chunky white sneakers, filming late-night infomercial-style tapings on an old camcorder and dashing around a Matrix-esque room awash with green light.
It's a fitting introduction into the "mercurial world" that Magdalena Bay have created, one whose fliers cover the walls in a scene from the music video for "Chaeri." In one moment in the video, Tenenbaum is plugged into a mass of thick black wires, not unlike the constant churn of scrolling through endless streams of content.
But it's the music that helps the listener (and, one might imagine) the duo break free from those chains. The track ends on a somewhat hopeful note, as Tenenbaum implores the listener to "Let it come alive / Let it grow," a way of moving on from painful past relationships and perhaps, the exhausting present day.