Produced by Diego from The Parrots, "Role Model" is a furious, gut-punching jolt of a track from the New York-based duo who only released their first demo last March. Brainfreeze came together when NYC-born drummer and co-vocalist Zoë Brecher met guitarist Villar, who was studying in the US, away from her native Madrid. 
Brecher cut her teeth in jazz and funk bands as a teenager before spending two years with Brooklyn outfit Total Slacker. She's also been drumming for Oberhofer since last summer. "I started taking drum lessons when I was nine," she tells Best Fit. "I liked how much of a presence the drums have in a band. As a shy girl growing up, it really helped me make some friends!" 
Raised on a diet of classic rock and what she calls "typical parent music" (James Taylor, Paul Simon), Brecher's tastes eventually found her embarcing the likes of Blink 182. "They remain to this day, my favorite band of all time. No shame," she explains.
Meanwhile Villar was growing up a continent away and listening to "old school" Avril Lavigne. "We really are a bit behind in music in Spain," she says, "so I feel like I don't have that background in music culture that Zoë has and I'm extremely jealous. Zoë actually showed me the whole indie underground scene that was going on when we met."
They claim they wanted to be in a band together ever since they started dating. "It was so complicated," explains Villar. "We lived in different places, we were in the middle of a long distance relationship. When we finally moved in together in NYC, we spent a lot of time figuring shit out so we didn't really have time to sit down and play."
"For our two year anniversary Zoë got me a guitar," Villar says. "A fucking guitar. I bought her a balloon and she got me a guitar...[and] we started looking for gigs even before we had a setlist worth of songs."
They originally started out playing shows around Manhattan. "It really is different to the Brooklyn scene," Brecher explains. "We got way happier once we started playing in Brooklyn. People were so much more receptive to what we were doing and would actually dance. But of course there are thousands of bands. it's cool that you meet so many people trying to do what you're trying to do. but also scary. it's like a big family of starving artists."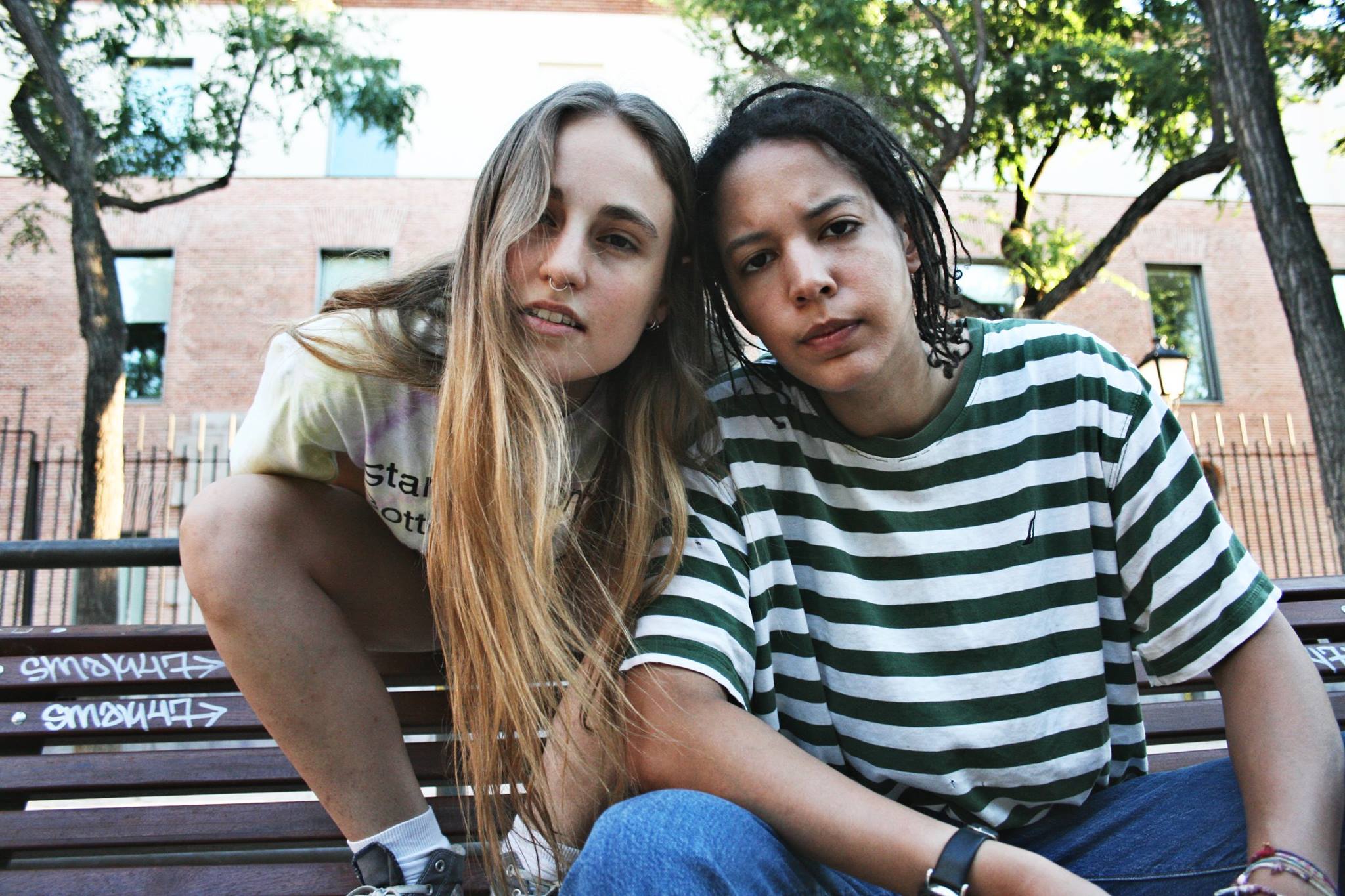 They cite The Replacements, Pavement and Nirvana as the biggest influences for the Brainfreeze sound. Villar says: "We're a grunge rock band. We want people to get sweaty and mosh at our shows. That's our goal."
"Role Model" came about as a mistake when Villar "fucked up the chords" on another of the band's songs and Brecher started singing over the progression. "I came up with this melody and the hook 'role model'," says Brecher. "It's definitely the most on­-the-­spot thing we've ever created which I think is why we both like it so much. We didn't overthink anything." They recorded a rough version on their iphone which they played to The Parrots' Diego during a holiday in Villar's native Madrid. "We've always wanted to record with Diego," she explains. "We called him up and he was down to do it the next day. We went to a practice space - he brought in all his equipment (he carried his fucking imac on its huge cage) and he recorded it. Alex from The Parrots also came to the room in the end of the session and we asked him to yell a line with Zoë [at 48 seconds in]."
"He immediately got the vibe right. He just got it, so he did his thing and we're so happy about it. This is the most happy we've ever been with a song."
Brecher and Villar have plans to put out a video for "Role Model" and say they're heading to SXSW next month for some (unofficial) shows. "We just want to play a festival really badly," says Villar. "We both get really nervous before playing - it's just the two of us so there's a lot of space to fill. We think we're pretty similar on stage, energetic, fun, we try to entertain. The feedback we get the most is that you can tell we're in love when we perform."
Brecher adds: "We have the same intonations and pauses and everything because we've been together so long. And people notice it which I think enhances the experience for us but also our audience as well. We just want people to have fun!"