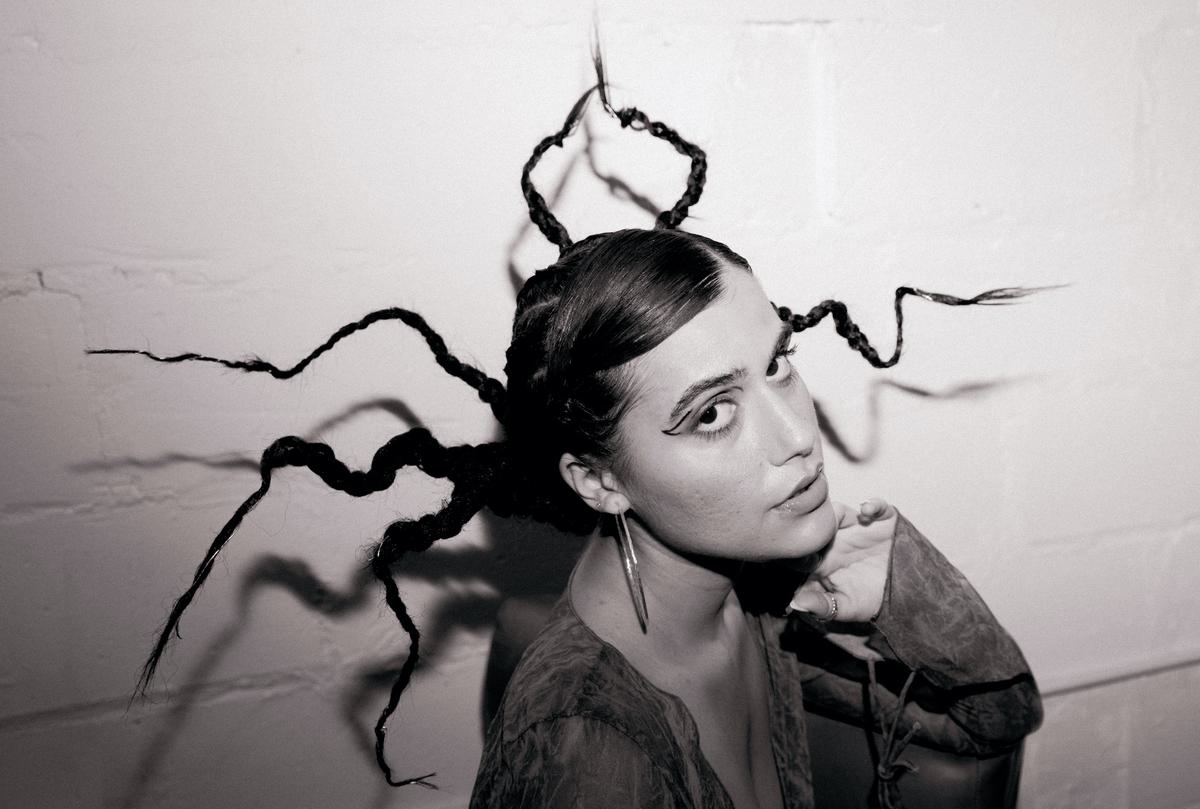 Lana Lubany explores the corrupting power of creative comfort in "SOLD"
London-based Alt-pop songwriter Lana Lubany flourishes on the release of her gorgeous new single "SOLD", her first with Beatnik Creative; the early home of both Arlo Parks and Miso Extra.
Opening with a floating Lana Lubany vocal turn, the track quickly oscillates, its use of traditional middle eastern instrumentation accompanying Arabic lyrics before breaking down into an electronic Finneas-esque chorus which is reminiscent of some of Billie Eilish's most successful early singles. The track accentuates the songwriter's dual influences and an unnerving ability to blend styles and textures to her will, meshing motifs that oftentimes feel unfitting into something beautiful and greater than the sum of their two parts.
Based in London but with American-Palestinian descendants, Lubany merges middle eastern influences with more Western ideals, her blend of Arabic and English lyrics telling the story of an artist searching for their true selves, unsure of where to turn and unwilling to let go of an even small piece of herself.
Growing up as a Palestinian in Israel, she's fluent in Arabic, English and Hebrew and has utilized all three across her work to ensure equilibrium with self and art. "SOLD" jumps out from the off as one of the most fascinating and enchanting pop singles of the year so far, it comes with it the potential to normalise the use of more left-field production influences, and potentially introduce a new dawn of middle-eastern sounds and textures to Western pop.
""SOLD" is about falling prey to that persuasive voice in your head that stops you from making the right decisions" Lubany explains of the track, "It tempts you into creating a ruthless cycle of repetition and regret, where your comfort zone is your safety, but your safety is your danger zone. You've had a taste of luck in the past, and it was comfortable, so you try different shortcuts and start losing and doubting yourself in the process."
"SOLD" follows up Lubany's previous, self-released single "THE SNAKE" which amassed widespread support on TikTok, with the sound viewed over 13 million times on the app and Instagram alone, as well as racking up over 6 million streams on Spotify. Both singles were created in collaboration with producer Ben Thomson, their partnership allowing Lubany the structure to develop and incubate her unique blend of infectious pop melodies and thoughtful lyrical dexterity.
Both tracks are set to feature on Lana's upcoming debut project with Beatnik, entitled THE HOLY LAND, which Lana describes as a creative exploration through the journey of self-discovery, with each track included representing a different stage of the journey through life and self. "It's about internal battles. I wanted to call it 'THE HOLY LAND' because I personally ended up finding my identity in my roots, but it could be anybody's hold land. It can be whatever you find sacred and wherever you end up finding yourself."
Writing across three languages from a very young age, Lubany has crafted her early sound in no small part thanks to years of singing on stage as a child. Still, in the early stages of her career, she has already performed in venues worldwide and has sung to audiences including President Obama and the Pope, to name but a few. There's little to no doubt that Lana Lubany is a voice for the ages, and an artist looking to break beyond the influences of music and to make the world the more blended reality of her dreams.