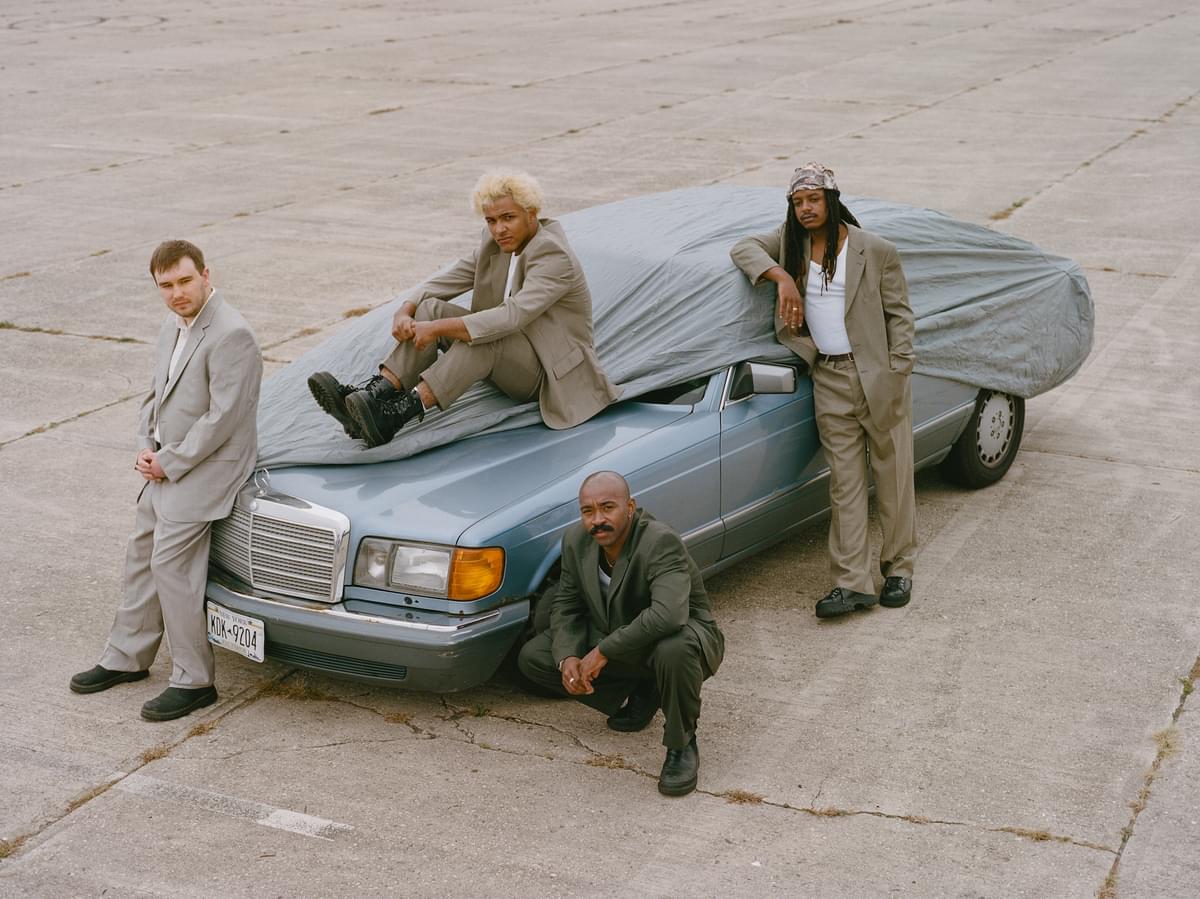 Enumclaw unpick egotism on roaring new single "2002"
Almost a year since the release of their self-recorded debut EP, Tacoma Washington four-piece rock outfit Enumclaw return with "2002", a track written off the back of a panic attack experienced by band leader Aramis Johnson.
Enumclaw - composed of brothers Aramis and Eli and friends Nathan and Ladaniel - was formed months before the debut project, when they bumped into one another in DIY hip-hop clubs across Washington state. Bonding over their shared love of Drake, Nirvana and 90's R&B and undeterred by their inability to play instruments, the foursome quickly rose to prominence both at home and abroad; their untethered grasp of hard-rock sonics and grunge-infused sonics giving listeners across the world something real to cling to during times of deep uncertainty.
"2002" is Enumclaw's most personal track to date and offers the perfect introduction to a band unafraid of being the rules of genre in defence of booming choruses and thunderous hysteria. "2002 was inspired by a really mean text and panic," lead-member Aramis explains of the track. "I think sonically and lyrically it's a big step up from what people heard on the demo. When we were about to shoot the "Fast N All" video someone called me a narcissist and it made me have a panic attack," he continues of the song's inspiration.
"Once I calmed down I wrote "2002" kinda trying to be sarcastic about how I wake up every day and try to be the worst possible human." It comes with confidence too, as he jokes how the track is "...already platinum. I think we're gonna recoup the whole advance off "2002"."
"Most of the music we make is open to interpretation," drummer Ladaniel adds. "At the end of the day, I'm more than happy knowing we made the listener feel something at all. People should expect Enumclaw to keep trying our best to make good music."
"2002" is the first single from Enumclaw to be released on Luminelle Recordings (Hana Vu, Magdalena Bay), a label founded as part of a collaboration with Texan music blog Gorilla vs. Bear Teams with Fat Possum Records House Arrest distribution. The track is accompanied by a music video offering ironic commentary on narcissism, directed by John Peterson.
With a hectic touring schedule, as well as the band's upcoming debut album, slated for the remainder of the year, "2002" is the start of something very special for a band born to break free.
"2002" is out now via Luminelle Recordings. Find
Enumclaw on Instagram
and catch them live at The Shacklewell Arms on 5th May.
Get the Best Fit take on the week in music direct to your inbox every Friday