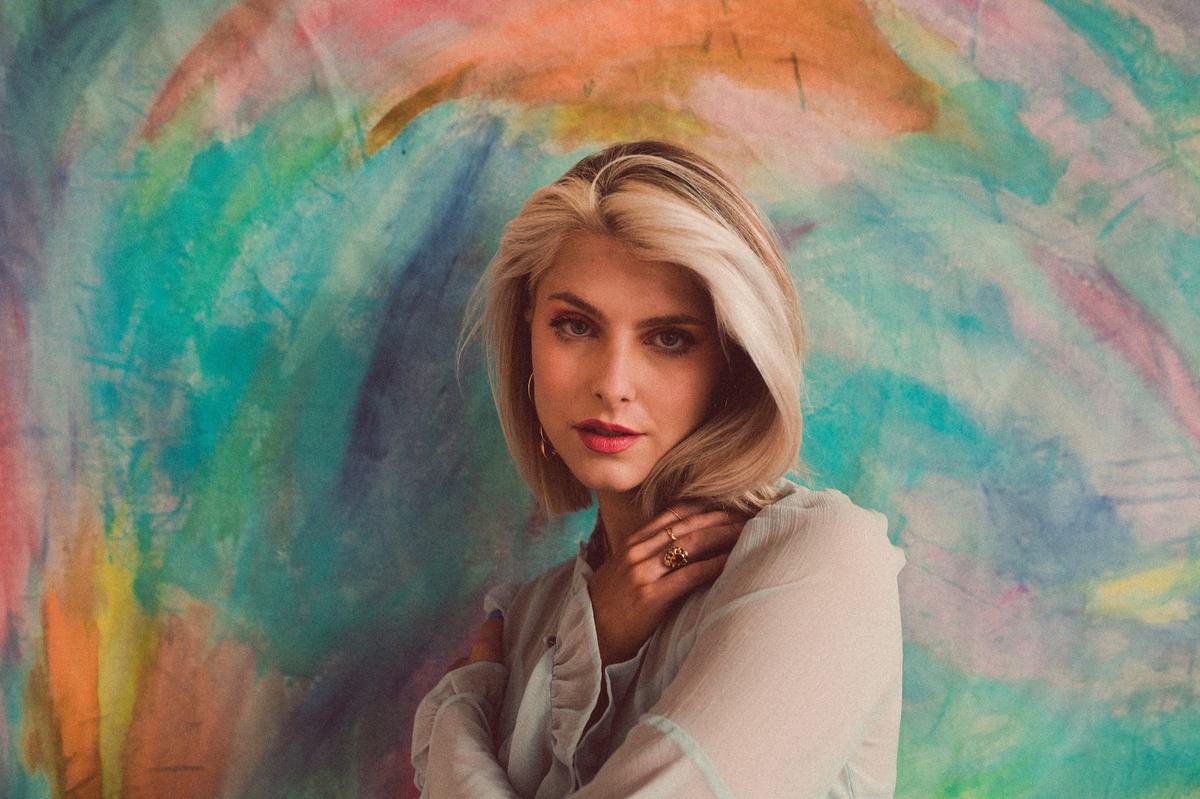 Alex Amor teaches a lesson in romantics on the brooding "Bad Tattoo"
With love in both her name and her heart, Glaswegian newbie Alex Amor bares all on achingly confessional new single, "Bad Tattoo".
When a tattoo needle hums to a halt, the pain stops almost immediately — but the mark left behind endures. That is tattooing, and that is intimacy. It's a concept that imbues the tender new single from Glaswegian indie-pop starlet Alex Amor, whose earnest prose and intricate, spiralling refrains have been leaving their own lasting mark on listeners.
Written with Manchester indie-folk coven The Deep Blue who also lend backing vocals to the track, "Bad Tattoo" is a swirling, crystalline account of the aftermath of a relationship turned sour. Via rich lap steel sections and dreamlike retro pop beats, we are taken on a passage from youthful infatuation to inescapable demise, stopping to smell the flowers along the way.
""Bad Tattoo" was written about a time when I wanted to forget someone," Alex explains. "They kept making unwanted appearances in my thoughts across the day: while I was walking home, doing chores, lying in bed awake at night. I find it bizarre how it's much easier to forget the good times but impossible to forget the bad. It seems that our worst memories are stored somewhere deep inside of us and as much as I wanted to erase this person from my head, they persisted on my skin like a bad tattoo. Like one of those drunken tattoos you get in Ibiza at 3am and regret for the rest of your life."
While music always enriched her life, Alex's compulsion toward creativity first led her to art school in Dublin where she studied textile design. Experimenting with tailored simplicity and bold patterns, it inspired a fascination that would endure as she continued to wrestle between the pull of her two deepest passions.
In January of 2018, Alex would return to London with only music on her mind, transforming the cupboard under her parent's stairs into a makeshift recording studio. It was here she would undergo a metamorphosis of sorts; dedicating months to solely writing and recording while revelling in the divine power of creation over consumption. It spurred a catalyst of momentum which followed her as she relocated alone to the capital and began to sculpt her debut EP, Love Language.
Galvanized by big city living but still armed with her Glaswegian candour, Alex has released a steady stream of tantalizing, sophisto-pop bangers ever since. Touching on the complexities and heights of human relations, the restlessness of youth, and the inevitable demise of a relationship when both sides recognise they do not align, they chronicle her odyssey through early adulthood with all the voguish fuzz of labelmates WOOZE and Khartoum. A sonic bible for youngsters navigating blossoming connections.
Now fresh off the road from supporting fellow indie wunderkind Thomas Headon on his recent UK tour, Amor has teamed up with producers including Karma Kid (Poppy Ajudha, Shygirl) and Gianluca Buccellati to begin work on her second EP The Art Of Letting Go, the latter known particularly for his work on Arlo Parks' Grammy-nominated album Collapsed In Sunbeams.
Adorned with sublime musical collaborators and a newfound conviction of mind, it represents a shift in focus and a determination to look ahead to the future: "The Art of Letting Go is a collection of songs dedicated to the universal theme of letting go", Alex explains. "Letting go of the past, people who hold us back and the things that no longer serve us in life. It's about getting out of your own way, choosing what's best for ourselves and surrendering to the moment, taking each day as it comes. My intention for this project is to help people feel uplifted, more at ease and inspire them to find their own ways of letting go."
"Bad Tattoo" is out now, with the new EP
The Art Of Letting Go
set for release on 14 October via Young Poet. Find
Alex Amor on Instagram
.