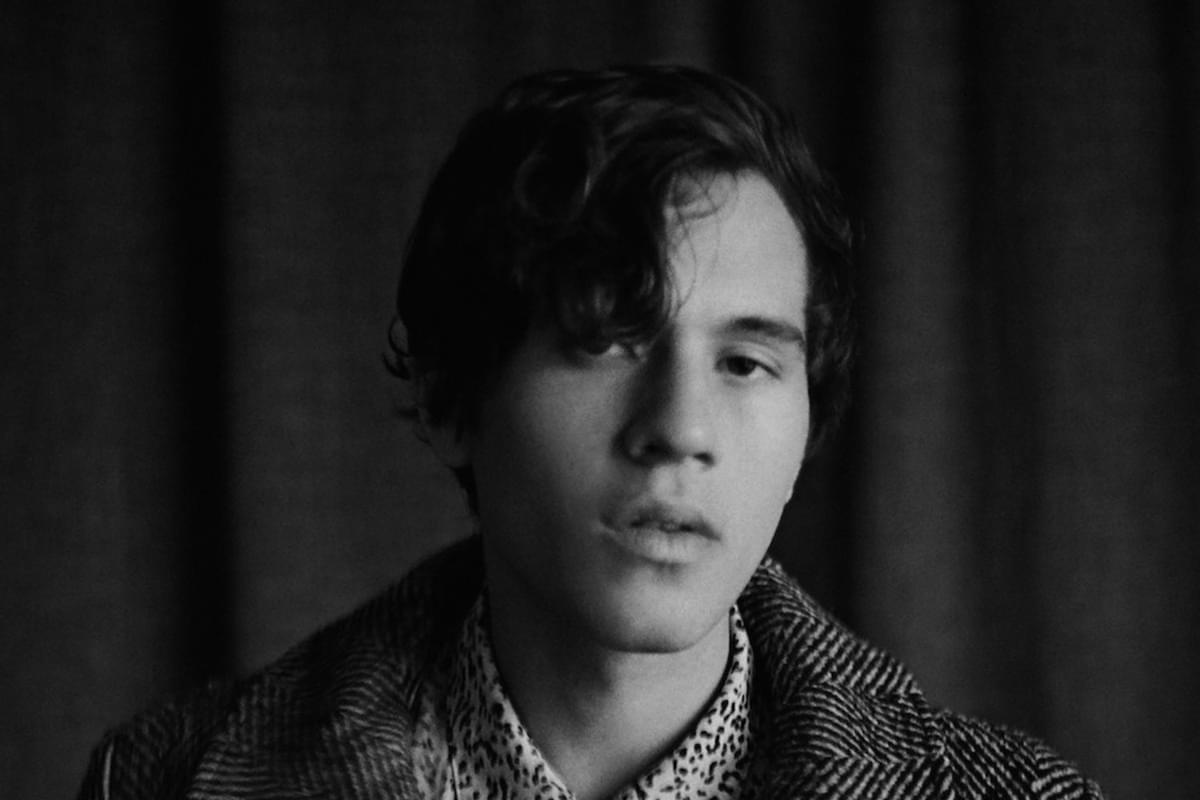 Track By Track: Oberhofer on Chronovision
16 October 2015, 17:58
Brooklyn indie rocker Brad Oberhofer spent a long time crafting the follow up to 2012's Time Capsules II, returning this month with Chronovision, an explosive melee of punky riffs, streamlined guitars, and personal memories.
'Chronovision' is supposedly "a high-concentration dose of pure memory", your entire life whizzing by in an instantaneous rush of sensory overload. From his picturesque childhood in Tacoma, Washington, to immense trauma - "It's really scary to try and wake up a dead person" - everything in Oberhofer's life has been condensed into a blistering 12-track anthology. Love, loss, despair, ecstasy, family, friends, fear, excitement, nature, drugs, dogs, and cookies; an autobiography in sonic form.
Here Oberhofer talks about how the tracks came to fruition.
1. Chronovision
I recorded roughly 60 or 70 Violin (Molly Fletcher) and Cello (Christine Kruta) tracks at my apartment in Greenpoint, Brooklyn and about 20-30 viola (Max Keyes) tracks at my friends studio in Tacoma, WA (Uptone). Max was actually interviewing me for a school project when I discovered he had viola skills, so I asked him to play on the record.
2. Nevena
This song was mostly recorded at my apartment in Bushwick, but I added some parts to it with Kevin Augunas and Gavin Paddock at Fairfax in LA (Formerly known as Sound City). The melody (also in "Chronovision") got stuck in my head after I had to say goodbye to my friend Nevena while on tour.
3. Together/Never
I had this melody floating around my head for a long time and then bought a lot of caffeinated beverages and pulled an all-nighter writing/recording around it at my studio in Bushwick. I recorded most of it at Strange Weather Studio with Daniel Schlett, and some overdubs at Electric Lady with Ben Baptie.
4. Memory Remains
I had the idea for the chorus of this song stuck in my head the night before I left to re-re-re-record the last four songs to complete the album. I was coming up with random Ideas with Ben Roth (a highly inventive/most excellent guitarist) and we completed the song together.
5. Someone Take Me Home
I recorded maybe four versions of this song before completing it with Kevin Augunas at Fairfax in LA. Distortion.
6. Sea of Dreams
I wrote the main idea one night while thinking about how much I miss my grandma, and how sometimes I vividly remember her smile, and that if she were alive now she would be laughing. I had been emailing with my friend, Andrew Loog Oldham, who is a sage and has very extensive knowledge of how to write a good song, and I sent him the idea. He made suggestions of sections I should add and subtract, and I did so. I think the whistling is too loud but whatever.
7. Ballroom Floor
I recorded most of the parts for this at my apartment in Bushwick and we added drums, bass, and some guitars while recording with Phil Ek at Avast studio in Seattle. We had an incredible time there.
8. White Horse/Black River
This song is partially about a dream Jack Kerouac had and about a song my Mom and her two sisters wrote and sang together at my grandmother's funeral in the rain in Chicago. I wrote it while I was living alone in a house in Narrowsburg, NY in the Catskills, in the snow, and was very afraid of the ghosts/spirits that may or may not have lived there.
9. Me 4 Me
I was in a good mood when I wrote this one. I recorded it at Strange Weather Studio with Daniel Schlett and had an amazing time recording it.
10. Sun Halo
I recorded this almost entirely at Fairfax Recordings with Kevin Augunas. I wrote it about a week before flying out to record there last summer. Kevin played upright bass and I recorded my friend Molly Fletcher playing the violin parts at my apartment in Greenpoint.
11. What You Know
We recorded this one live as a band (Ben Roth, Dylan Treleven, Pete Sustarsic, Collin Caulfield). Pete recorded a lot of the drums at double speed and we slowed down the tape.
12. Listen To Everyone
I recorded this on a cassette at my apartment in Greenpoint. Words I live by.
Oberhofer's Chronovision is out now on Glassnote.
Get the Best Fit take on the week in music direct to your inbox every Friday