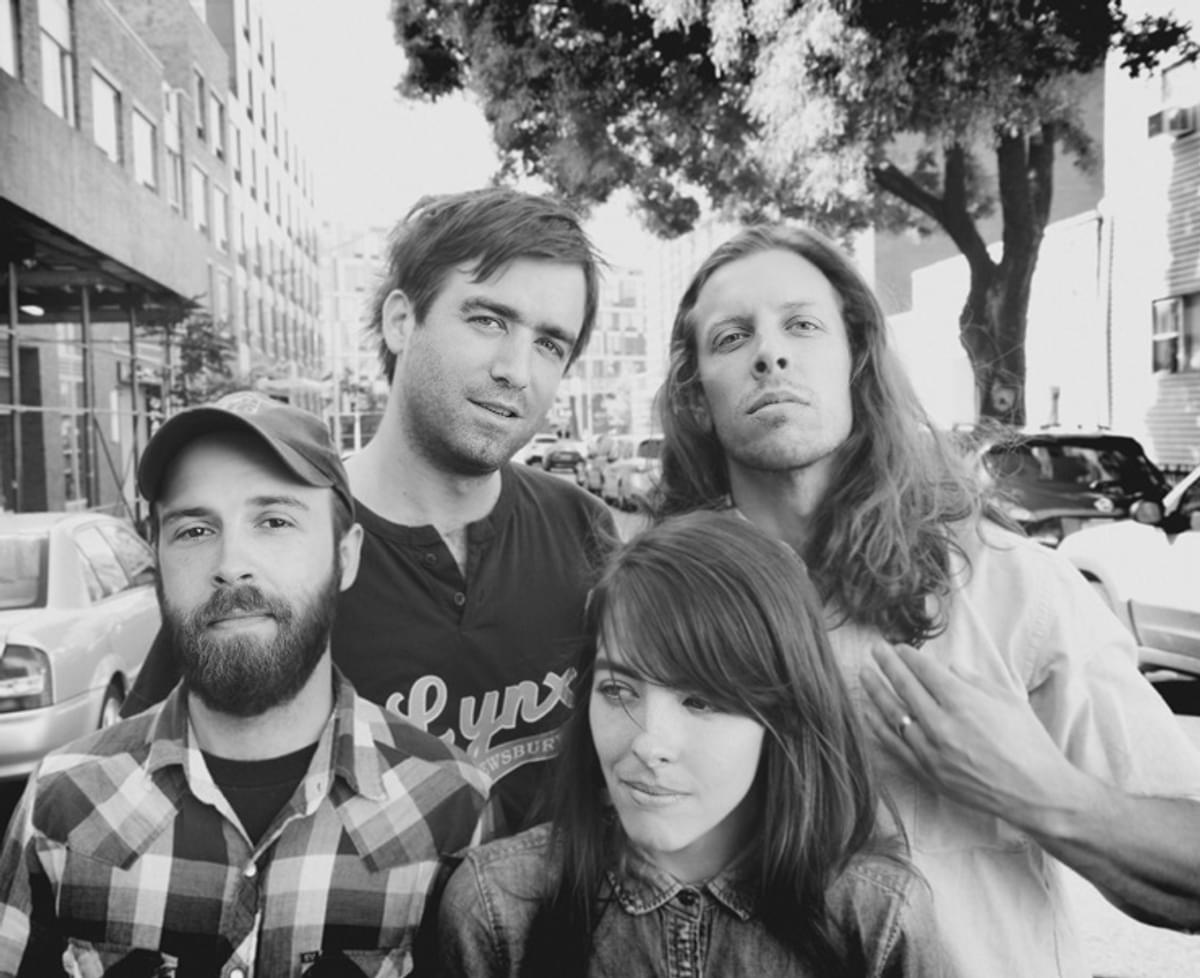 Track By Track: Hop Along on Painted Shut
01 May 2015, 14:00
Making the world safe for "guitar music", Best Fit is proud to offer a UK exclusive first listen to Hop Along's sophomore LP, Painted Shut, along with insights from the Philadelphia quartet on its songs.
As Philly originals in a burgeoning Indie Rock scene featuring The War On Drugs, Kurt Vile, and transplants including the Crutchfield sisters (Swearin' and Waxahatchee) and Girlpool, Hop Along embodies what The City of Brotherly Love's musicians have sought out and love from its scene. Free from the crowded one-upsmanship of larger scenes, Hop Along bears not an ounce of pretense or embellishment across Painted Shut's ten track indictment of how pockmarked the real world is.
In our review of the album, Jessica Goodman points out, "Scathing though it may be, Painted Shut is entirely relatable…but behind every tightly honed riff lies a bubbling sense of optimism, and these songs are as resonant as they come." Each chiming chord, snare drum crack, and gritty Frances Quinlan shout is soaked in life's ugly and beautiful kinetic energy.
Check out the band's commentary and stream the album below.
The Knock
This song changed a number of times. Once we got to the studio, we weren't quite satisfied with the chorus and ended up rewriting it just before recording. In regards to it's subject: the question of faith will always be a conflicted one.
Buddy In The Parade
I read that [turn of the 20th century jazzman] Buddy Bolden's band would close the set with a song called "Get Out of Here and Go on Home." I think that's one of the best titles I've ever heard. I wish I could have heard the song.
Horseshoe Crabs
I heard "Tumble in the Wind" while I was painting a friend's living room and I thought it was the most beautiful song I'd heard in years. I didn't know who [1960s folk singer] Jackson C. Frank was, had never even heard his name mentioned anywhere. When I read about his life it stuck with me. A sad, but massive and packed life. I started writing this song before I knew of him, I changed it after I heard him sing.
Waitress
We wanted to lead the album with this track, it's about the familiar faces you get to see when you live in Philadelphia. Occasionally, I have a very strong feeling about instruments that need to be on a song. For "Young and Happy," [from 2012's Get Disowned] it was a steel drum. For this song, it was a sitar. Luckily, John had an electric one handy.
Happy To See Me
Once, I got to see the bats fly out from underneath the Congress Ave bridge in Austin [Texas]. I almost feel like this whole song came out of that experience. I'm also guilty of jogging through a cemetery.
Texas Funeral
An older man once actually told me "I'm not worried about it, it's not going to happen to me in my lifetime," when we were talking about the state of the planet (I think I had asked him why he didn't recycle). He had kids too, which made his statement pretty unsettling. I think it's the pervasive attitude of a lot of people today. I was also watching Hud, and thinking about what Paul Newman's character would be like when he got old and had some kids. I think he'd probably have that same attitude, that defensive "I did what I had to do" crock of shit. A whole lot of people just want to be rich. They still have to die like everybody else.
Powerful Man
When I was a freshman in college in Baltimore, maybe a month or two in, I was walking to the dining hall one evening with my friend. We were passing by an elementary school when we saw a grown man had a little boy pressed up against a red car, and he was striking him about the head. I can't imagine the child was more than 10 years old. I stared at them, I had never seen an adult hit a child like that. The little boy looked at me and his father said, "Don't look at her, she's not gonna help you." He was completely unaffected, unthreatened by our presence. There was nobody else on the street. We walked on silently. It's the most horrible thing I've ever done. Sometimes you see a part of yourself and you're just not ready to know what kind of person you are when you get scared.
I Saw My Twin
A song about a real Waffle House and a real waitress. The usual fear of small towns looms heavy in this one. Fun fact: the mention of West Virginia is in reference to the 2014 Elk River chemical spill.
Well-Dressed
I've said it once and I'll say it again: our society wasn't built with most people in mind.
Sister Cities
We were conflicted about closing with this one but it's just so appropriate. It's a triumphant song.
Painted Shut is out 4 May on Saddle Creek. Stream the album in full below.
Get the Best Fit take on the week in music direct to your inbox every Friday