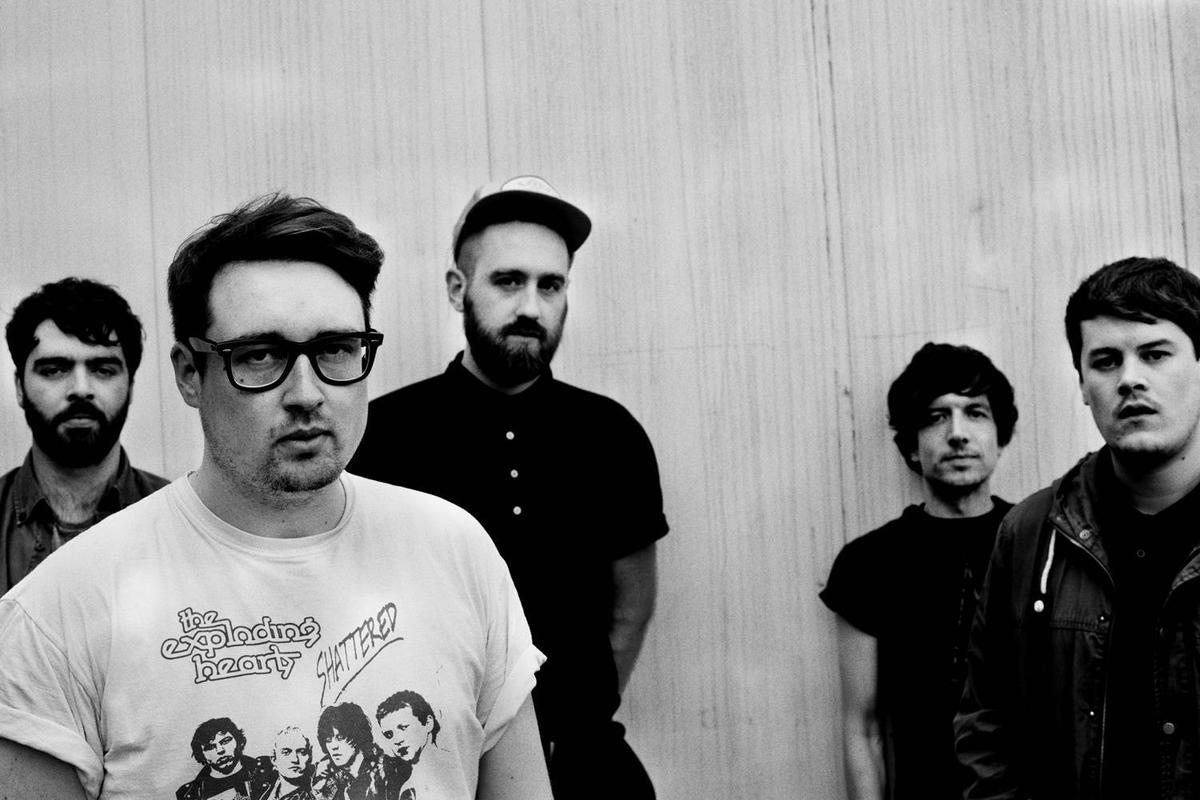 Hookworms take us track-by-track through new album The Hum
11 November 2014, 09:00
How do you follow one of the most vital, exciting, critically lauded records of record times? Turns out if you're Leeds-based five piece Hookworms - with no trouble at all.
Their sophomore effort, The Hum, combines their raging, visceral approach to drone, noise and psych (to pick just three genres) with a sharper approach to leaner, more direct songwriting, with thrilling result. We named it our Album of the Week, and we're chuffed to have a full insight into the making of the record from the bass-wielding MB.
Plug in your headphones, and give an hour of your day to this record.
The Impasse
I think this was the first track we wrote with the album in mind, and it was clear straight away that it would open up the record. We were feeling a bit contrary and wanted this album to start in a very different way to the last one, which was a slow build for the first 3 or 4 minutes, and so this bursts out of the gates, a bit of a line in the sand. Easily the most aggressive thing we've ever done, and closest to the punk/hardcore roots that a couple of us have. I think that deep down we knew that this would separate the wheat from the chaff; if this track is too much for you, we're probably not your band.
On Leaving
This followed The Impasse pretty quickly, and it wasn't long before we'd stitched them together like they are on the record, and they've stayed the same ever since. It's felt very strange any time we've had to start playing On Leaving from nothing. The instrumental of this song always felt very minimal and garage-y, I think we were aiming for something along the lines of the Stooges or maybe Eddy Current Suppression Ring with the primitive, two note riff, but once all the vocals and overdubs were laid down it really morphed into a fully-formed pop nugget.
iv
We recorded this live during one of our demo sessions at the studio, everyone sat round on the floor like hippies playing with pedals and feedback. It just so happened that it was in the same key as On Leaving and they worked nicely together when we came round to talking about the sequencing of the record. We're all big fans of drone and loop music, stuff like William Basinski, Grouper, Oneohtrix Point Never etc., and it's important to us that we keep that element running through all of our music, even the more poppy or garage-y stuff. We realised more than ever that if the general pace of the 'songs' this time round was to be more upbeat then there was even more need for the respite of these interludes. A lot of thought goes into the ebb and flow of our records; we want our albums to be listened to as one big piece rather than individual songs, which can occasionally throw up some issues when single tracks go up for streaming or radio play.
Radio Tokyo
This song was originally released on 7" for the Too Pure singles club last May. We actually wrote and recorded it before Pearl Mystic had even been released, so this is easily the oldest track on The Hum. We really enjoyed playing it live, and quickly worked out that it's more fun playing something like this over the slower jams, so it subsequently became a bit of a springboard for writing the rest of the LP. Saying that, we were already quite far along with the album before we decided to re-record Radio Tokyo, but it was obvious that it fit in really well with the aesthetic of what we'd worked on so far.
Beginners
This is probably my favourite song at the moment, both on the album and to play live. It was a total ballache to finish though. You always read bands talking about one song on an album that won't click, and this was definitely it. We worked on the structure for months and months until it finally started to make sense, but definitely almost gave up on it a few times. It began life as an attempt at an 'on-the-one' soul stomper with the drums and bass, but ended up being nicknamed "Stereolab" in the practice room because of the MS-20 and SH-101 bubbling underneath the track. On reflection, when I listen back to it now I actually think it has a bit more in common with some of our friends and contemporaries like Vision Fortune, Tense Men, Cold Pumas etc. We wanted it to be really linear, something that builds and builds in layers sonically, like a track off Drum's Not Dead or Sound of Silver.
v
We knew that we wanted Beginners to fade out, and Off Screen to fade in, so there was a need to bridge that gap. We had invested in a few synths between this album and the last, and there's a lot of that going on in these interludes. It's something that interests me greatly, and hopefully we can expand on it in the future. For me, a lot of the more interesting music in the UK at the moment is being made with synths and electronics.
Off Screen
This was originally going to be one of two slow jams on the album. The other was left out right at the very last moment and has ended up going on a bonus 7" that comes with some limited copies of the album. We realised that we didn't have to stick every single idea we had on the album, and that a bit of restraint was not necessarily a bad thing – a lot of our favourite records barely scrape the 30/40 minute mark, so we had no issues with it being slightly shorter than the last LP. At one point we talked about making The Hum exactly the same length as the last record for a laugh – fucking idiots. The middle section of this song was one of the most fun parts of the album to record, lots of a musique concrète and treated piano. We wanted it to be like something off Yankee Hotel Foxtrot, though I doubt Wilco are the first reference point for everyone when they hear our music...
vi
MJ's love of the band Emeralds and the arpeggiator on his Juno show through on this interlude, well spiritual. We wanted this to be really soothing to juxtapose the start of the next track which opens up with these big Oh Sees-y garage chords.
Retreat
Similarly to The Impasse, we wanted the end of this record to be the polar opposite of the last one. The final track on Pearl Mystic had this long drone fade out, coming out of a pretty dreamy, stripped-back lullaby, so we wanted this one to go out with a bang and end dead. It has this 'race for the finish' feeling to it, building up to a euphoric finale. I'd say this was probably the poppiest number on the record next to On Leaving, and where our undying love for the first Modern Lovers LP shows through the most. Sam's guitar sound towards the end of this track is my favourite on the record, so woozy. I remember being really excited watching him record that part. In fact, his playing on this song is great right from the start. It gets kind of hidden by the other instruments, but he's playing this great Neil Young/Keith Richards lick for the first half of the song. My guitar hero.
The Hum is out now on Weird World. Purchase it here.