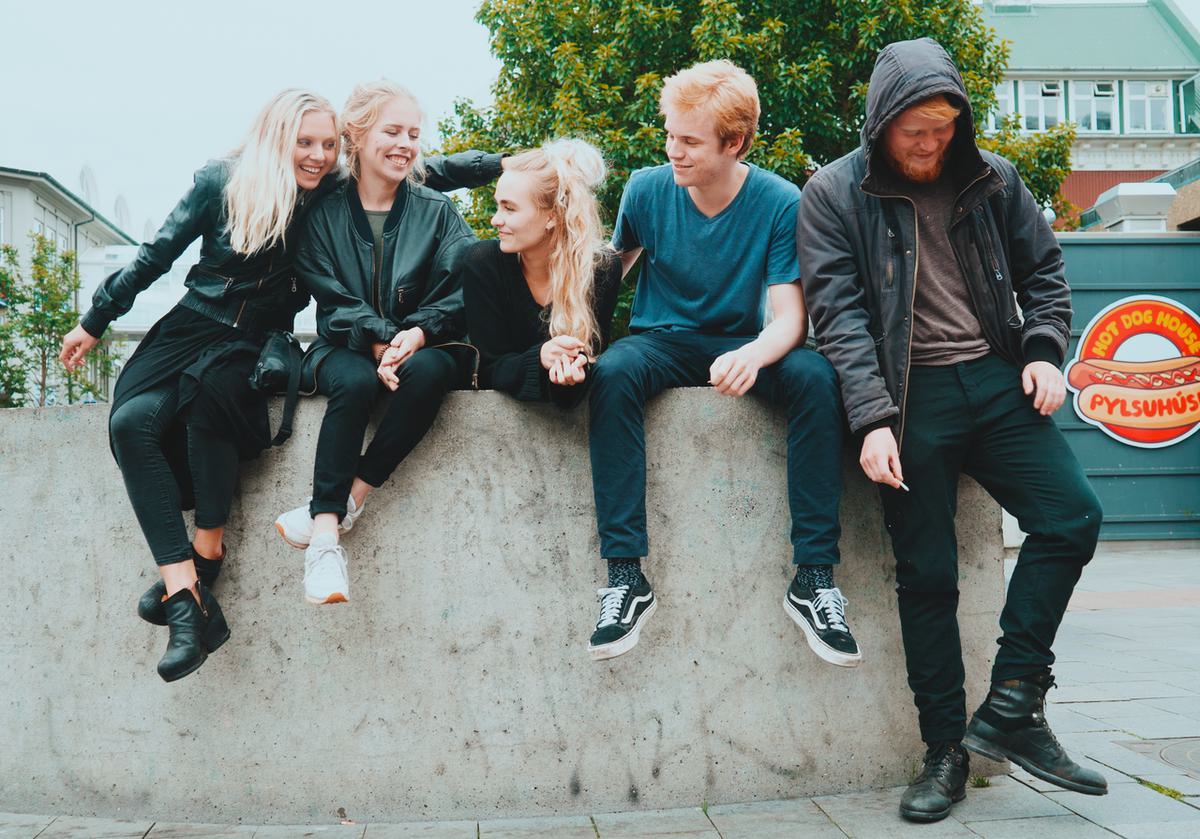 Track By Track: Hórmónar on their eponymous EP
16 May 2017, 14:00
It starts with the rhythmic sound of a tire rim being beaten with a hammer. A long and deep bass line thumps along for a while before a solemn and gritty voice spouts poetic lyrics. The three instruments start building up pressure and growing in intensity until the guitar and drums join in at the 90 second mark and the soft humming turns into howling screams, with the instrumentals following suit.
This is Hórmónar, a dynamic five-piece Icelandic feminist post-punk outfit. Ever since winning the 2016 Músiktilraunir—Iceland's annual battle of the bands competition—Hórmónar has been quietly at work building their reputation as one of Iceland's most dynamic live performers. Meeting with the gleeful yet critical singer Brynhildur Karlsdóttir at a downtown Reykjavík café, she says they're hard at work on their debut LP and preparing for the coming festival season.
Brynhildur is from Garðabær, one of Iceland's most conservative towns, and she's spent the better part of her life rebelling from one cause to another. She says it all started when she was voted the cutest students by her peers in tenth grade; from that moment she set out to destroy that title at all costs. "It was my mission in life, to be anything but cute," she says laughingly. "So I had this identity crisis, cut my hair short, and tried to stand out from the crowd."
Now her rebellion comes in the form of being the frontperson of a feminist punk band, and lending her deep voice and witty songwriting skills to Hórmónar. The name of the band is a feminist statement in itself, being a composite of two Icelandic words hormónar (hormones) and hóra (whore), inspired by Iceland's SlutWalk movement. "Being called a whore is pretty shameful," she says, "and I guess this is our attempt at deconstructing the word and removing the shame from it."
"It was my mission in life, to be anything but cute...so I cut my hair short, and tried to stand out from the crowd."
Another statement from the band is their reliance on only two bass strings. "Before we signed up for Músíktilraunir, we had this bass that was missing one string," Brynhildur explains, "and then another string snapped. I guess we were too lazy to go get new strings, so Urður, our bassist, became so incredibly proficient with those two strings that it kind of became our thing. We're all musical, but none of us have been received proper education and we don't know the same scales as other people, so it's a statement of ours to not need more than two strings to make good music. Why complicate things when they work out so well as is?"
While the band has gotten a lot of attention from international guests at festivals such as Secret Solstice and Iceland Airwaves, Brynhildur says she won't take a page out of fellow Músiktilraunir alumni Mammút's switch from Icelandic lyrics to English. "What I like about Icelandic, and the reason I don't trust myself to write lyrics in English is that it's incredibly easy to sound cliché and melodramatic in English. The beautiful thing about Icelandic is that it's such a draconian language, and I really appreciate being able to express emotions in this harsh and sharp tongue."
As previously mentioned, Hórmónar is working on their LP, but they've already released their eponymous debut EP, which was recorded at the renowned Sundlaugin Studios. Below, Brynhildur guides us through each of the tracks.
"This song is really ambiguous, and I think each band member has their own definition, but it has something to do with a process and tension that builds up under the surface. There's conflict between the self and these feelings, these thoughts, and then the song builds up to these feelings becoming visible and taking over before eventually becoming a part of you, or getting the upper hand."
"As an alcoholic, I can't drink or imbibe drugs without causing harm to myself, and the song describes that feeling for me. You could project it onto your own personal demon where a thought surfaces that you try resisting, but will eventually lose out to. It's not necessarily about being weak to this feeling, or urge, or addiction, but that it infects your core and changes you permanently. The last verse is about accepting and coming to terms with something you have no control over."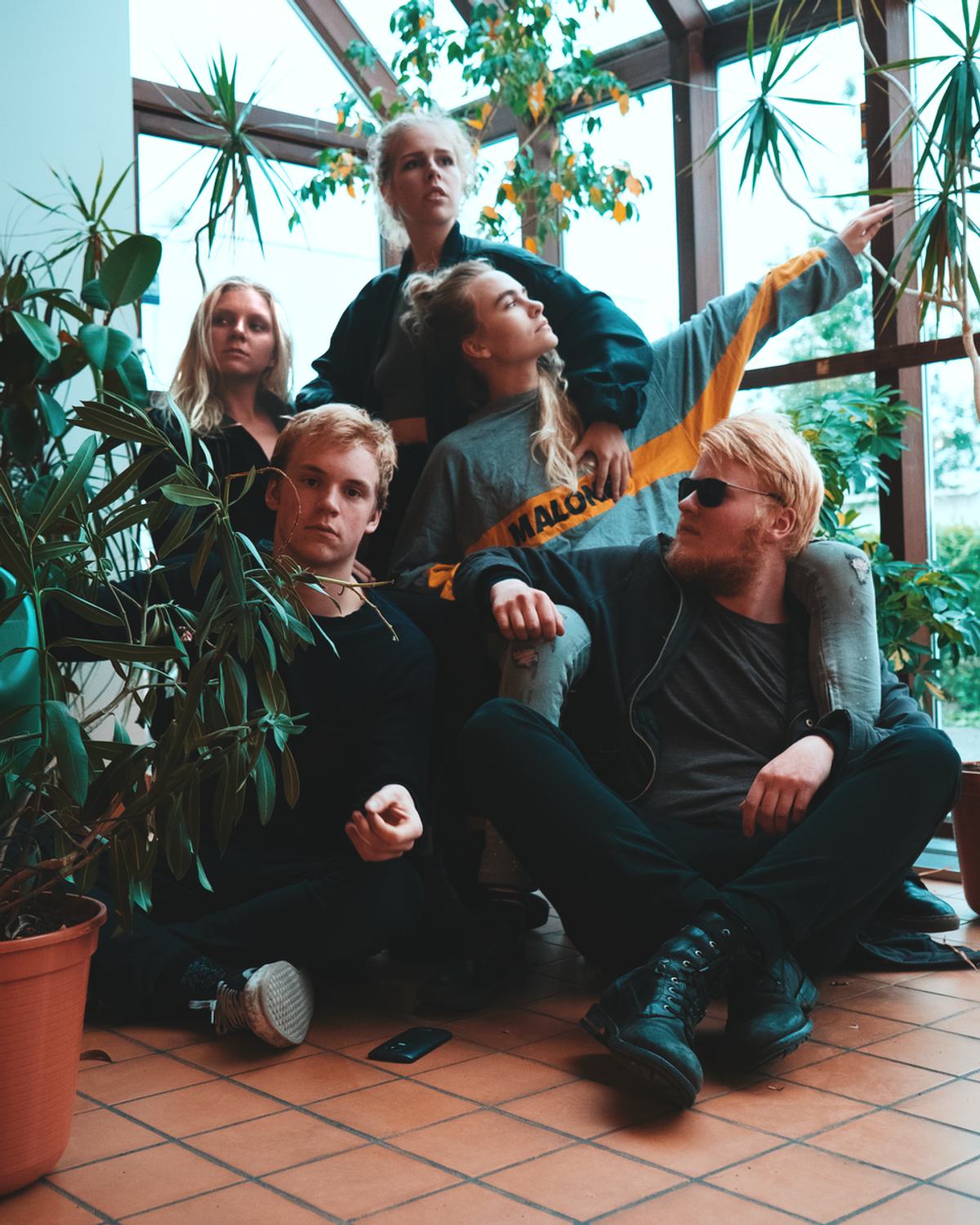 "Often when someone sings about female sexuality, they either use euphemisms or make it super seductive for the listener. It really blows my mind that in this day and age it's provocative to admit women are sexual beings with needs and desires just like men. I knew as much when I wrote it, but at the same time I want to normalise it."
"The song is about sexual frustration, about not reaching climax, which I'm unfortunately sure a lot of women sympathise with. In my case the song is not directed at any one former lover, but [laughs] at quite a few. I hope though that it's becoming less fashionable for men to be suh selfish lovers, because I'm sick of having to be like: 'Oh well, is that it? I guess I'll go home and masturbate...'"
"I don't advertise it, but this is my love song. The instrumentals had come together before the lyrics were written, so I had been singing and screaming something nonsensical at rehearsals until the words just came to me. I was in the middle of this on and off again relationship, and I was very preoccupied with the thought of how hard it was to let go of this connection, how it was bordering on an obsession. When you've broken up and gotten back together so many times, you never know if this is the final breakup or not. I had these incredibly strong feelings for this boy, and I thought he was wonderful in every way, but he had stopped having any meaning for me and turned into this toxic fix for me when I felt bad. We'd start talking and try to reconnect this mess of tangled wires between us, but it turned into one of the strongest addictions I've felt, to always be in such turmoil. The love burned even hotter because we knew we'd break up soon enough."
"I think it's quite common, being in a destructive relationship where neither party means to be bad, but you've already destroyed something that at one point could have been beautiful, but is now just a distant memory. You try repeatedly to rekindle the embers, but there's nothing left but ashen remains."
"I hadn't decided how open I was going to be in this interview, and I've never spoken publicly about this song, but you absolutely nailed what it's about in your Airwaves writeup: it's a song about post traumatic stress disorder that came about after a sexual assault. The first two verses are about my trauma, while the second two are lifted from a poem from Jaroslav Hašek's The Good Soldier Švejk that describes a young Mary the Virgin falling asleep for a moment, and then waking up when the deed was done. It's basically saying Jesus's conception was rape. And then, here I am a young woman in 2017 with the same story. It's strange how so little has changed in that time."