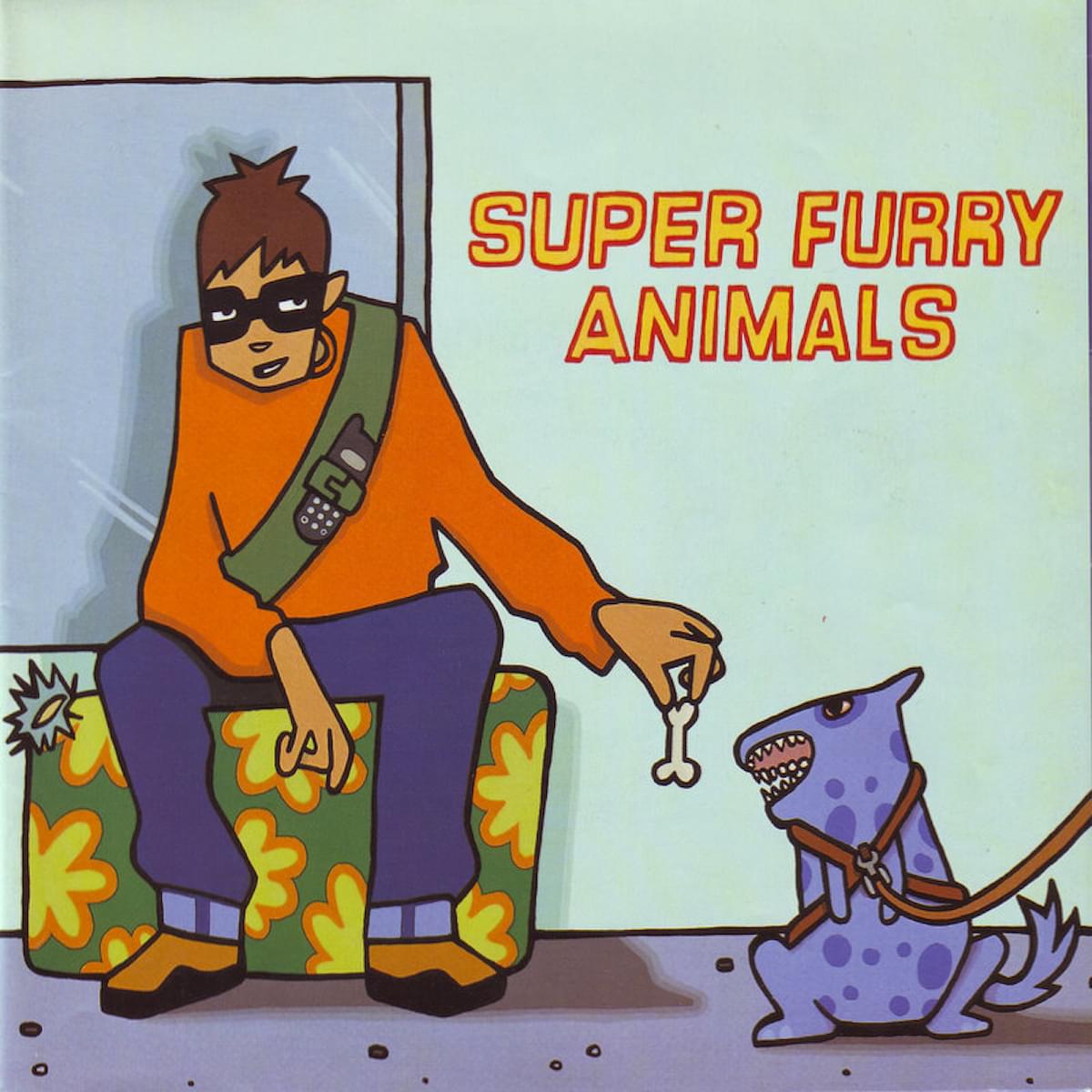 Pete Fowler on the art of Super Furry Animals' Radiator
27 July 2017, 14:00
From fax orders for 50ft tall inflatable bears, to the influence of sinister Japanese art – the artist who created the visual world of Radiator recounts his experience.
I can't remember who it was who called me from Creation Records, probably their marketing manager at the time, but the shout to work with Super Furry Animals came out of the blue.
It started with a well-known Welsh journalist, broadcaster and friend of mine, Bethan Elfyn, writing about me, my art and my move to London in a free newspaper that went around the pubs, clubs and shops of Cardiff. One of my pieces was on the cover and it just so happened that the band had picked up a copy and liked what they saw. So, the phone rang.
The label bought me a train ticket to Liverpool, where I met the band for the first time as they started putting the finishing touches to Radiator at Parr Street Studios. I walked in as they were playing back the mariachi horns section of "Demons" and vividly recall Daf, the drummer, barefoot in the studio eating a big, cooked breakfast. At midnight. This was it, rock and roll!
Everyone was aware of Super Furry Animals and I, like a lot of people, loved what they did, so it was exciting to be considering the prospect of working with them. I'd done some record sleeves before, mainly some 12" records, but never part of a campaign. With the Furries we were talking about the album cover for Radiator, plus four singles and any merchandise and other promotional materials that came with it, so I had to get it right. The band sent me away with a bunch of demo mixes and song titles and said: "If you find any inspiration in that lot, great, but if not, you can do what you want", which was equally great as it was scary.
I'd been to Japan a couple of times by this point and was playing around with that sort of imagery. The band, before meeting me, had actually assumed that I was Japanese and were surprised when I turned out to be from Cardiff. That influence started coming out, but it was actually the band that directed the first single sleeve, "Hermann ♥'s Pauline" with Gruff having a vision of a baby Albert Einstein in a gold chain. That was the first single done, which meant moving on to the album sleeve and other tracks (with working titles like "Half Man/Half Fox"), which the band largely left me to. Gruff also made suggestions for some of the illustrations on the inner sleeve based on his lyrical inspirations, which is where Valentine Strasser and the Electric Mistress come in.
The artwork evolved, as did the song titles. "Play It Cool" came to me as 'Influenced by Influenza' and the sleeve originally had a bear-man facing off a strange apparition in an opposing window, but as I worked through the idea – specifically thinking of the sinister undertones of Japanese art – it became two bears, an evil one becoming a reflection of the good one, and the sleeve for Radiator was born. It eventually took on a life of its own and I've seen the bears tattooed on many people in the 20 years that have passed.
The Furries had bought a tank a year or so before, so I knew something brilliantly strange would be in the pipeline and, sure enough, Creation called me again to say they'd found a company to make the bears into 50ft inflatables. They actually managed to do it from the drawings, and they towered over to huge, homecoming gigs in Cardiff and Bangor (with the 'good' one constantly deflating to let 'evil' triumph), but then we started work on stage props, like inflatable mobile phones and characters.
In their own way Super Furry Animals are great show men, but the characters we developed – and have done since – seemed to almost become part of the band, take some of the attention off them and let the music do the talking.
The 20th anniversary re-issue of Super Furry Animals' Radiator is out on Friday 28 July via BMG.
Information here
.
Get the Best Fit take on the week in music direct to your inbox every Friday