It's not so much that it requires isolation. Even with company, cycling often lends itself to solitude. For my longest and most recent trip I cycled across North America, half with a good friend, and half alone. The first night I camped on my own, hidden in a forest by the road, I clutched a knife close to my head as I struggled to quiet my imagination. By the next night it was easier, each time my fears allayed by the magic of repetition. Left to my own devices from the Badlands onwards I would often cycle 120 miles a day - gigantic shadows spilling out either side of me to bookend the long summer dawn to dusk. I was stretching myself to the limits of what I could do alone - the journey became meditative and often trance-like in my exhaustion.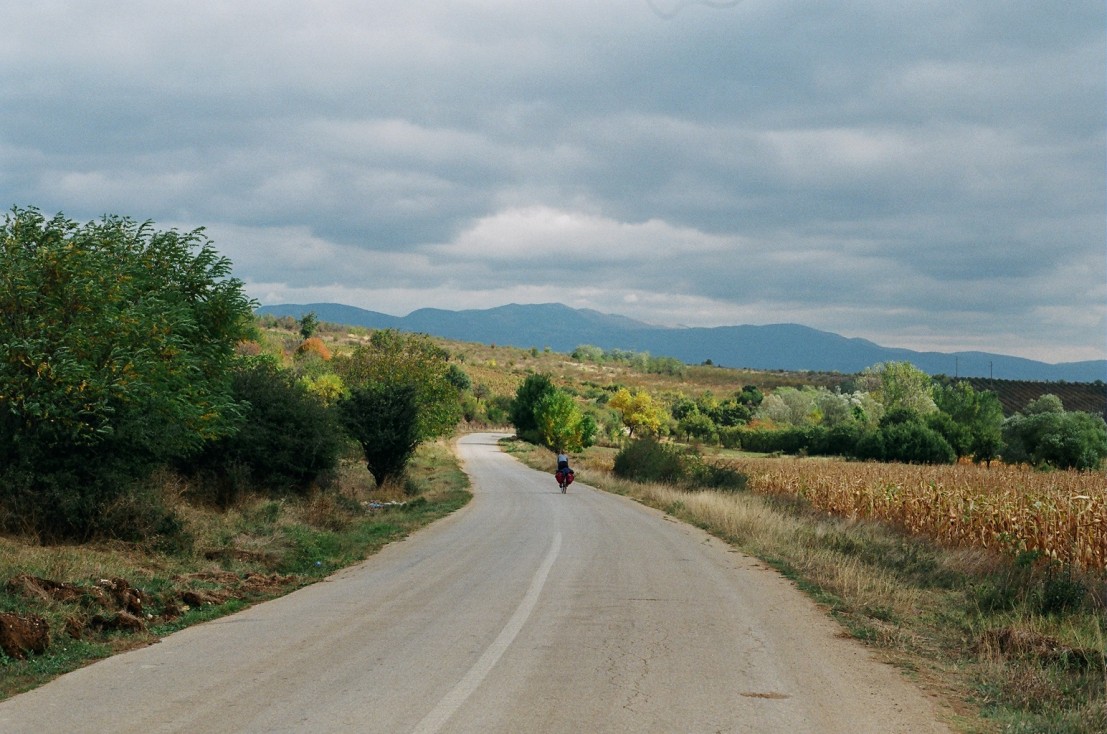 Before I embark on a trip I'm always overcome by complete and utter dread, it feels so precarious to be out in the world on two flimsy wheels, sleeping in a tent for long stretches of time with no real idea of what that will look like. But the minute I start, my breath sets into an easy rhythm. I start to think about my little dot on the map and the distance I'll cover, and a familiar feeling sets in that I only then realise I've been missing, and chasing. I'm reconnected to a part of myself I don't have access to in everyday life, a literal and metaphorical road that I'm revisiting over and over, first as a teenager, and then into my adulthood with a shifting line-up of friends - each journey longer and further from home.
Every day holds the promise of familiar rituals, repeated day in and day out as our increasingly muscled bodies are fired towards our chosen dot on the map - Florence, Berlin, Istanbul, New York. Making coffee on a stove, packing and unpacking panniers, planning the day's route and searching out food and swimming-spots. As evening sets in we scan the map for woodland, duck down the edges of fields and search along river banks for a good place to discretely pitch a tent. We build fires where possible, make food, and roll into sleep by the same rhythm of our day, the horizon sinking into the ground, only to wake and repeat.
Sometimes it feels as though you're moving through the landscape like a ghost, skirting around the edges of places, of other peoples' lives, floating through at dawn to the chorus of birds and wheels on tarmac, never staying anywhere long enough to make an impression or leave a trace. Other times, the best times, you come across worlds and interactions you would never encounter were you to travel by any other means. Camping out under the stars with a sixty year old woman, traversing the country on horseback for the best part of a decade for instance; or riding through the suburbs of Detroit at sunset as the sky burns red, valet parking and Saturday night black-tie replaced with crumbling buildings and meadows in the city's downtown, realising that the numberless house you've been directed to has no number precisely because it's the only one left on the block.
I can't count the number of times I've been offered a bed, a meal, a ride when a bike fails or a road is just too impassable. A retired couple in Italy treated us to a feast of homemade delicacies and an cosy attic to sleep in, a concerned farmer drove her tractor out to the church we were camped next to in Wyoming to rescue us from flash floods and tornadoes, a Serbian man we met on a train (a rare treat!) took us in, and woke us at 5am to eat fried eggs and pickles, drink bitter strong coffee and a large glass of sherry before starting our day.
Often it's not blissful. The industrial parks on the outskirts of towns that you can't skip through, head down on a busy road when there's no other option, pushing into the wind when it takes a great deal of effort even to go downhill; or being chased by growling farm-dogs, snapping at your heels, excited by the glean of your shimmering spokes. But it's all part of tracing every inch of the journey, feeling the shifting climate on your skin, and being so completely in your body for a long stretch of time. It feels empowering to be moving to my destination solely by the propulsion of my own body; to have food move straight to my limbs like fuel to a car, and to have everything I need, my small home and wagon on my person as I move.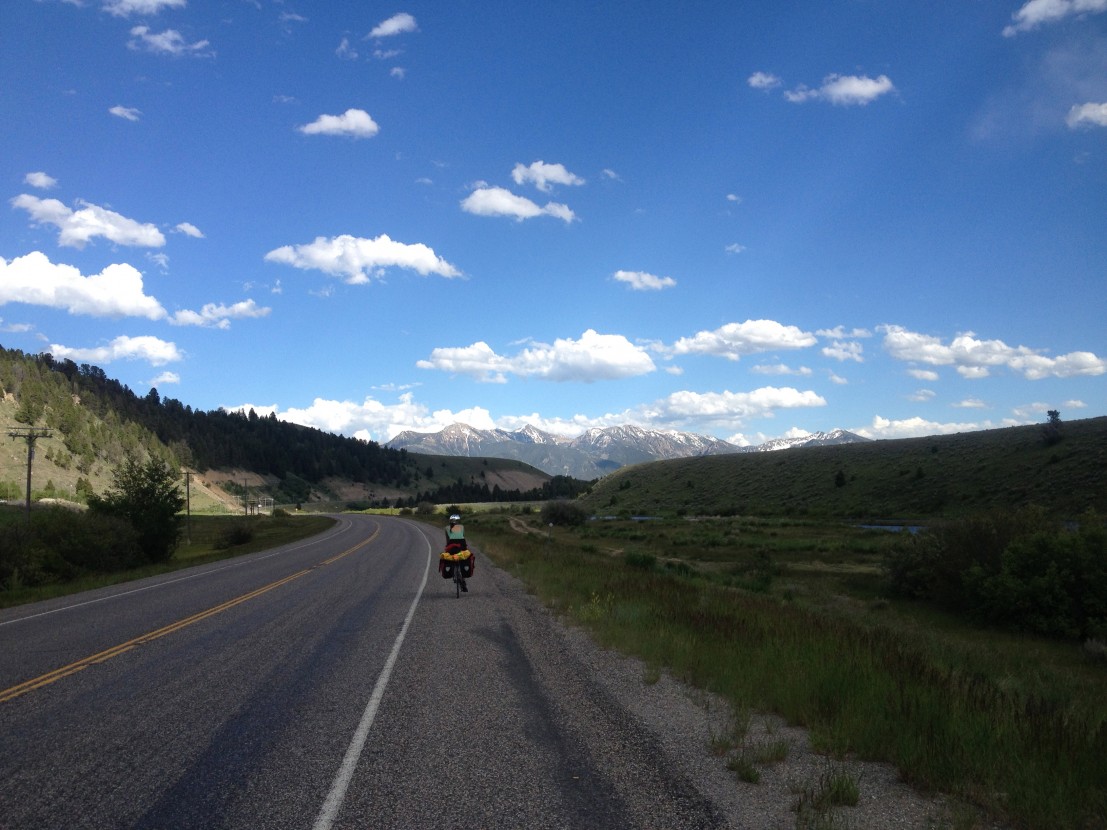 I was alone and in Wisconsin when I saw a bear, stationed in the road a few metres ahead of me, staring right at me. We held each other's gaze for a few moments, I could hear her breath, feel her heat - or so I probably imagined - and take stock of her large and powerful frame, before she walked into the woods, graceful and in no hurry, instantly forgetting me whilst her image was seared into my memory.
Through all of these journeys I think I am trying to reconnect with some kind of wildness in myself, stripped to my most basic needs, disconnected from the clutter of life and settled into the expanse of solitude and my physical body.
When I try to access that now I often think of that bear, standing on a manmade road surrounded by woods, peaceful and calm, focussed on immediate needs and desires, and I can see it all: the land I've covered, across mountains and boarders, the human connections I've made and the disasters I've navigated - but I can't really grasp it till I'm in it again.