Whether it's the "sophomore slump" or a "statistical regression towards the mean", when it comes to the expectations placed upon a writer, the story goes something like this: you spend your whole life building up to your breakthrough debut, and then you get a single year or so to conjure up and put together the next one, otherwise known as that most infamous of anxious beasts, the Difficult Second Album.
Expectation in combination with a fear of failure and a lack of ideas are all thrown into the anxiety pot that's stirred by well-meaning bystanders and friends enquiring, "how's it going…?'
I released my own debut album as The Anchoress, Confessions of Romance Novelist, back in 2016 and spent much of the following two and a half years playing it, promoting it, and touring with Simple Minds and Manic Street Preachers, as well as co-writing and engineering on other studio projects - a diary so full that suddenly nearly two years had disappeared in the blink of an eye. The album was well received critically speaking and I actually managed to achieve the practically unheard of (these days) feat of recouping on my small advance from the independent label who'd put it out. I won a Prog Award for Best Newcomer, was nominated for the Welsh Music Prize, won HMV's Welsh Album of the Year, and was namechecked by The Guardian for their Critics Albums of the Year. I was being invited to collaborate with my childhood idols and playing huge live shows. All in all you couldn't have asked for a better campaign from which to launch a musical career.
Then, like clockwork, the comments started coming in late 2018: "So how's the second album coming along?". Let me start by saying that until people began the sympathetic sighing and loaded questions, it hadn't even crossed my mind that I was about to undertake a Herculean task. Some of my favourite albums fall under the category of seriously successful sophomores (and yes I do hate the Americanism) - Fiona Apple's When The Pawn…, Carole King's Tapestry, Radiohead's The Bends, Nirvana's Nevermind. So why all the expectation of imminent failure to deliver a follow up? Where has this cultural assumption come from that second albums can never live up to the hype of the first? Why do so many bands struggle to deliver on the promise of their first? And how can you avoid the pitfalls of second album syndrome?
The novelist Helen Callaghan has spoken with great insight about her own experience of writing the follow up to her bestselling debut: "I found it increasingly hard to write the next", she says, "because the stakes for failure had just shot up. What if the first book was just lucky, a stroke of lightning out of a clear blue sky that can't be replicated or depended upon?". Callaghan frames her self doubt in light of Clanes and Innes' Imposter Syndrome - the name put to the "psychological pattern in which an individual doubts their skills, talents or accomplishments and has a persistent internalized fear of being exposed as a fraud". Success becomes a poisoned chalice to the anxious mind: What if it was just a fluke? What if there's a magic combination I can't recapture? Callaghan's top tip to topple this mindset? Throw yourself back into your "amateur" frame of mind: "you have to get in touch again with the things that made you do it in the first place", she says.
Simple, right?
But replicating the protracted creation of my debut album - made in snatches of studio downtime across several years while I finished my PhD and worked simultaneous jobs - wasn't even an option for me. I was a full-time touring member of Simple Minds by 2015 and was spending a huge percentage on the year on the road, on a plane, or in empty hotel rooms waiting for soundcheck or a decent wifi connection. If I was going to throw myself back into an "amateur" frame of mind, I was going to have to get creative in a very different way this time around.
I have been lucky in one respect - I've never approached the task of songwriting as something that I wait to have visited upon me in a mythical moment of "divine inspiration". For me, the craft of the songwriter is in the habit formed of constantly topping up your ideas jar with overheard phrases or well-turned quotes, little noodles for verses or choruses, and a clear sense of what you want to convey. I'm always accumulating reams of iPhone notes and keep a handwritten journal to jot down ideas for song titles and opening lines so I never feel the burden of the dreaded writer's block looming before I enter the studio. For me, songwriting is a job like bricklaying or building a house: a cumulative process of turning up each day and slowly putting the work in.
Fate had also dealt me a dark hand of a few years of unhappy personal circumstances loaded with the death of my father and experiencing baby loss. I found myself in the midst of such deep grief and sadness that I had more material, emotionally speaking, than any one person could need to draw on for a lifetime of songwriting. While my personal trials often left me feeling as uncreative as you can get when you can barely haul yourself out of bed, when I was away on tour, I made sure that I always carried a mini recording rig in my suitcase so that days off could be spent editing in Pro Tools or laying down BVs in hotel rooms in makeshift vocal booths draped over table lamps.
If you had peered over my shoulder during any of the many flights I had to take during 2018-19, you would see me diligently comping drum takes or pianos mid-air whilst others devoured the latest movies or novels. I confess, I used work as something I could throw myself into to avoid confronting the emotional impact of my ongoing experience of grief and loss.
Work was the constant in an ever-changing chaotic personal landscape, the friend that did not let me down when I turned to something to distract myself during the many nights of insomnia. In its own way, the act of writing also proved to be an unexpected form of processing for me. There's a quote on the inside of the new album from Proust that talks about the healing nature of making art in the midst of loss: "Ideas come to us as the successors of griefs, and griefs, at the moment they change into ideas, lose some part of their power to injure the heart". In the process of translating pain into the "ideas" that are at the heart of any creative process, I found I could gain a small amount of distance and thus something of the opiate-like quality that making music can bring.
There was also something comforting in taking on the mantle of sole producer on the second album - I didn't have to wait to be in an actual room with anyone else to get on with things. I was solely in charge of delivering the goods and making the decisions. No need to confer or bounce ideas around. The intervening years between my debut had been spent in numerous studios editing audio and capturing recordings for other artists and bands. This was paying off ten-fold now that I was out on my own and expected to deliver something just as intricate and complex as my debut album had offered the listener. But I didn't feel intimidated by this expectation (as some have suggested I might, or should). I've always thrived under pressure and any suggestion that I'm not able to do something only makes me more indignant to surpass everyone else's lower expectations of me. Just as I was told by my school that there was "no way" I would get a place at the university I would eventually spend seven years at, and just as I watched all my musical friends fall by the wayside as they gave up on their dreams of being professional musicians for a steady income, I have always stubbornly refused to give up on anything I have set my mind to. Can you practice the art of tenacity? I'm not sure, but I'd highly recommend it to anyone facing down a difficult follow-up. And anyone suggesting that I couldn't meet the high standards set by my debut was going to get short shrift in my internal monologue. There's nothing quite like those that expect you to fail to spur you on.
"Perhaps the second album syndrome is something visited more upon the traditional all-male guitar band who are more likely to succumb to the dreaded album-promo-tour cycle with nothing but each other for company or inspiration."
While many spend their entire lives accumulating material for their debut release, the follow-up can seem like an enormous mountain to climb if you are starting from nothing. Again, I think I co-opted some of the techniques I had learnt in academia while I was doing my PhD as a tool to overcome any sense of feeling overwhelmed at the task ahead. When I was facing down a 100,000 word thesis I merely set myself a daily word count to aim for. At first I focused on the first chapter as the goal in sight, and slowly built it, piece by piece, rather than fixate on what seemed like an unfeasible amount of words to conjure up. As John Steinbeck has said, "ideas are like rabbits. You get a couple and learn how to handle them, and pretty soon you have a dozen".
This was pretty much how I approached the writing and recording of the second album too: focusing at first on one single song - the opener "Let It Hurt", written on the piano in my hallway, which in turn triggered an idea for a second, "All Farewells Should Be Sudden" (about how the different religions conceive of death). This then led to me digging out an older unfinished draft of a song that had meant to end up on the debut ("The Heart Is A Lonesome Hunter"). Pretty soon I was halfway there and a clear organising concept was beginning to make itself known that threaded together through the words and music.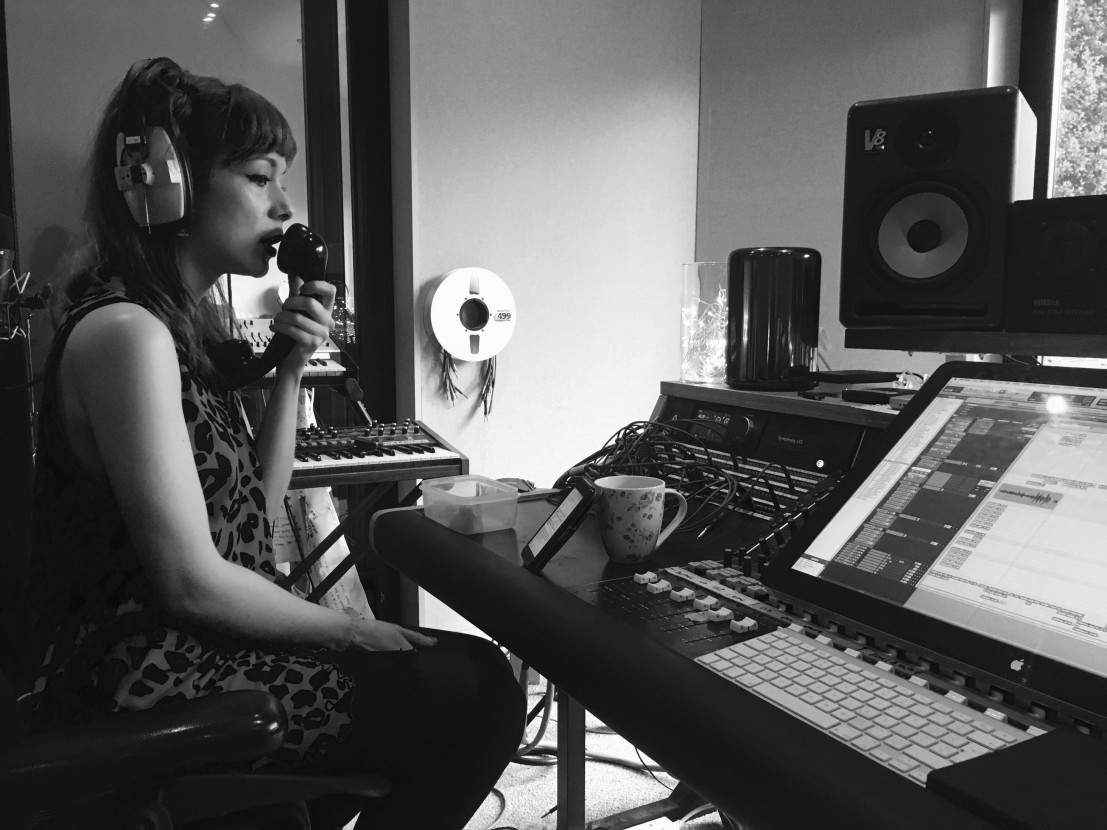 Maybe my lack of trepidation around my follow up has been in part that so many of the women I have admired in music have strode forth on their second albums to seize their autonomy and make more interesting and expansive albums than their debuts when they have taken the reins for themselves. The history of modern music is littered with such examples: Supposed Former Infatuation Junkie, Alanis Morrisette's follow up to the to the 33 million selling Jagged Little Pill, sold less than a sixth of the copies but pursued way more interesting ground musically and lyrically speaking. Similarly, whereas Björk's Debut (1993) was produced almost entirely by Nellee Hooper, she herself took the creative helm for Post, with co-producers Hooper, 808 State's Graham Massey, and Tricky only lending a hand - a combination that resulted in a genre-defying, lyrically vulnerable masterpiece of a follow-up.
Perhaps the second album syndrome is something visited more upon the traditional all-male guitar band who are more likely to succumb to the dreaded album-promo-tour cycle with nothing but each other for company or inspiration. As Dorian Lynskey noted in his 2003 piece on the DSAS, "when much of that time is spent shuttling from airport to hotel… telling earnest interviewers from Berlin to Bangkok exactly how you came up with your band name, it can become even harder to retain a sense of perspective." He notes that Radiohead and Blur were the only two bands to turn their "tour-bus traumas" to their advantage creatively speaking on their second albums. There's certainly something to recommend the life of the solo artist who is never reliant upon band interpersonal dynamics to conjure up the creative magic. As I always say, the upside of being a solo artist is you can't break up with yourself!
If I have learnt any overarching lessons from having successfully faced down the task of making a second album, they are a blueprint for anyone who needs to continuously refill their creative battery or who relies upon their art to survive: don't wait for inspiration to strike - put the preparatory work in every day and you'll have ample starting blocks to build upon. While no one can control the reception of what you make, I stand by the notion that if you make work that excites and interests YOU, then chances are you creating something that will excite other people. As the late, great David Bowie said: "Always go a little further into the water than you feel you're capable of being in. Go a little bit out of your depth. And when you don't feel that your feet are quite touching the bottom, you're just about in the right place to do something exciting."
The Anchoress' second album, The Art of Losing is released on 12 March via Kscope on CD, 2LP and limited edition 3CD hardback book