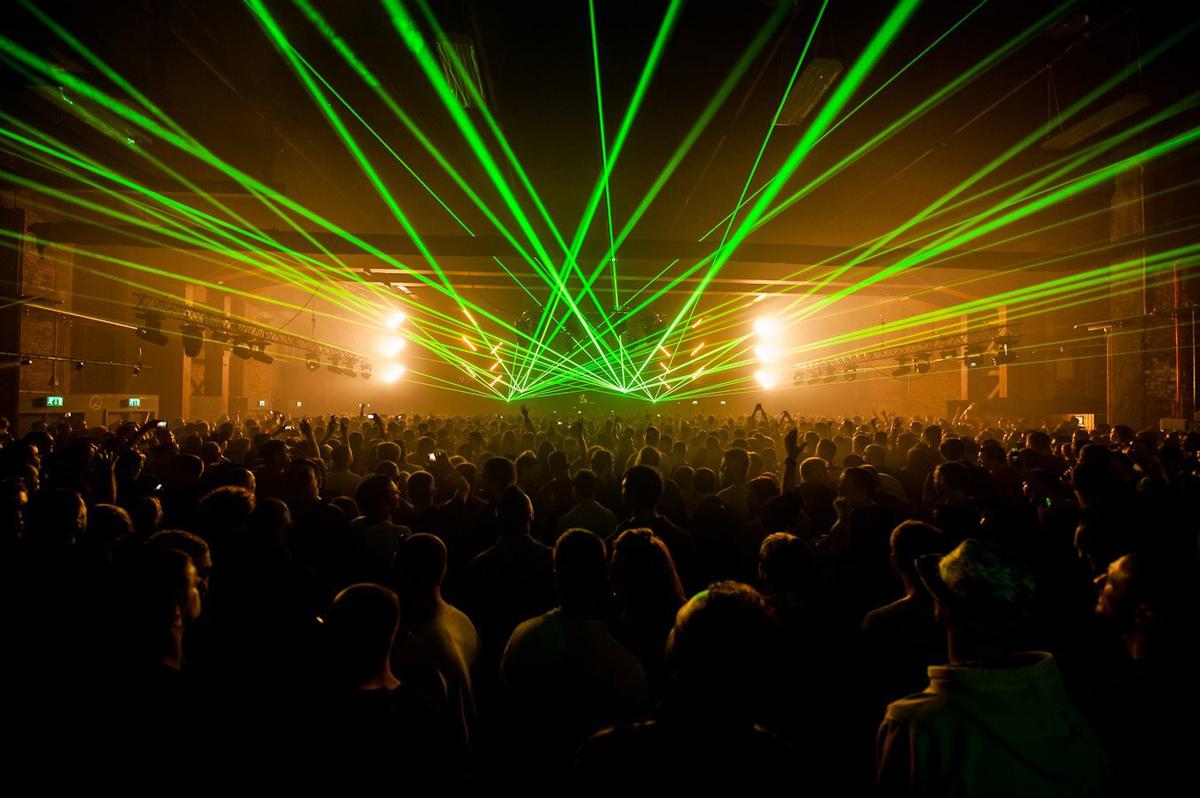 Don't Look Back in Anger
26 August 2014, 10:00
Manchester's legendary Warehouse Project is returning to the subterranean venue that both fans and founders think of as its spiritual home: Store Street.
The one-time air raid shelter under Manchester's Piccadilly station, was home to the Warehouse Project for five years between 2007 and 2011. Past Project-goers will remember queuing under the dank, damp railway arches before descending into the club's industrial, stripped back rooms, a no-frills temple to music, akin that holiest of all temples: the late, great Hacienda.
Next month it opens its doors once again for an epic one-year residency, with a line-up featuring James Blake, Duke Dumont, A$AP Mob, Chase & Status and Caribou.
But it's not just a stellar on-stage cast that has won the Warehouse Project such a loyal following – it was voted into the top 30 clubs in the whole world by DJ magazine earlier this year - it's the hard graft of a close-knit and music-mad team behind the scenes, which goes on long after the hangovers and tinnitus have (finally) worn off, that keeps the punters coming back for more.
"It'll be my fourth season now and we've got a great little family here," says Oli Hackett, promotions manager. "Everyone has their own area they head up, but we all chip in when things start getting a little hectic."
Back at Store Street, with a strictly limited capacity – resulting in less than half the number of available tickets than the last few years, and a two-per-person ticket rule – and an ever-increasing profile following last years' collaboration with Boiler Room, the coming season looks set to be more hectic than ever.
Damian Simon, artist liaison operations manager, agrees: "We're still a relatively small team. Everyone gets on with their roles but we all help each other out when needed; we're all like a family, with plenty of music always playing."
Perhaps fittingly, for something described as being "like a family", the Warehouse Project began with a chance meeting of future co-founders Sam Kandel and Sacha Lord-Marchionne [photographed above], outside Sam's mum's house. "We met in 2000, when we opened Sankeys," says Sacha. (Sacha and Sam were part of the revival of legendary Manchester club, Sankeys, in 2000). "It was outside Sam's mum's house, which was a bit weird as I only lived around the corner. It turned out that we both grew up in the same area. Our paths must have crossed, but this was the first time we met. It was love at first sight."
And thus a bromance blossomed. In 2003 the boys put on a warehouse party in Boddingtons Brewery, a location made famous in the nineties as the film-set of 24 Hour Party People and a brew made famous by the dulcet tones of Melanie Sykes. "It was a blank canvas and felt like something special was happening," Sacha remembers. "I think it was that which planted the Warehouse Project seed."
They stuck with Sankeys for a few more years but both called time on it in 2006, when boredom and frustration set in. "At the time, we felt like Sankeys had explored all possibilities," says Sacha. "The same four walls, week in, week out. It was becoming a job as opposed to something we enjoyed." They went on to book more events at Boddingtons under their new banner, the Warehouse Project – "We were only ever supposed to put on a couple of parties but Sam got carried away and booked 24!" – and saw 120,000 clubbers come through the doors.
The club's September – New Year's concept, as opposed to simply opening every weekend, was untrodden ground: "We took all of our experiences from Sankeys, shredded them and started again. Warehouse Project was exactly as it says - a project - almost an experiment," says Sacha. "No one expected it to work, we had doubt ourselves. Everything was resting on it, even our houses. Thinking back it was a bit of a mental move; it was certainly a tipping point in both of our lives."
Despite its success the venue, located right by the infamous Strangeways prison, proved not so popular with the Governor next door (you try running a calm prison with a rave on the other side of the walls every weekend) so eventually they had to move on, and this is where Store Street entered the picture.
These early years at Boddingtons and Store Street are when many of the current team – or should that be family - first met.
Seb Matthes, the Project's resident photographer, moved to the UK just two weeks before the first ever Boddingtons event. "My idea was to get a ticket - Public Enemy were headlining - go down, fight my way to the front row and shoot all night," he says. "I called the Warehouse Project office on the Monday and asked for an access all areas pass and free drinks in exchange for the photos. At first they thought I was taking the piss, but here we are now: it all worked out."
Damian has fond memories of Store Street: "I spent a lot of time there as a customer when I first moved to Manchester - It was one of the main reasons why I decided to actually move here. I formed friendships with some of my best friends on that dancefloor."
"So many friendships were made there," adds Sacha. "We even had a marriage!"
But ultimately it's all about the music, and the party. "I've partied and photographed in many places all over Europe and have seen loads of clubs," says photographer Seb. "But nothing comes close to what we have with the Warehouse Project in Manchester. The variety of DJs, established or not, live acts and the special ones - Die Antwoord, anyone? – we've had on our stage is just something I haven't seen anywhere else. And Modeselektor always throw a great party, never a letdown. My favourite moments have been seeing the really young artists play the back rooms, giving it everything, and then watching them grow over the years."
Sacha treasures the memories of those times, but is also somewhat baffled at how they muddled through: "It was all a bit of a blur, we were like rabbits in the headlights," remembers Sacha. "3,000 people every Friday and Saturday for three months. What happened? We were just two kids from Cheshire, probably expected to become doctors or accountants, but no, all of a sudden, we were running the biggest dance events in the country.
"I think those days were possibly simpler, maybe due to our naivety. But then it was just Warehouse Project. Now we also have Parklife, Hideout, Unknown, Kendal Calling, plus other interests. Come to think about it, what on earth did we do outside the Warehouse Project season? I seem to remember we both played a lot of footy directly outside the office, to the amusement and confusion of other surrounding offices."
But the Project's path hasn't just been packed out events and office football: last September 30 year-old clubber Nick Bonnie died after taking ecstasy at the club, in its latest venue, Victoria Warehouse. Several others were left critically ill and hospitalised.
The team's response to this tragedy has been impressive, they have increased the number of plain-clothed security staff and introduced a testing-on-the-spot system: drugs that have been confiscated or dropped into the amnesty box on arrival are analysed immediately using a testing kit. If anything particularly dangerous comes up (it is believed Bonnie died because the ecstasy he took was cut with high levels of an E-substitute called PMA) clubbers can be warned there and then that such substances are circulating the crowd. Sacha and his team have been praised by local police for their innovative approach. As co-founder Sam Kendal said at the time: "I think everybody appreciates the spirit of our message, which is that when you go out, please be responsible."
The latest venue itself – Victoria Warehouse – has caused issues. "We really haven't enjoyed the last two years. Up until then it was all about creativity, but at our last venue, we really had issues with the landlord," Sacha remembers. "All of a sudden, this Mike Baldwin-esque landlord decided he was part of the music industry. It was an embarrassment. A man of let's say 'late years' flaunting around, dressed like a 20 year-old, hanging around with kids? It was the first and last time we will experience the 'Dad Dance' at the Warehouse Project."
Dad dancing aside, the team had run-ins with their Victoria Warehouse landlord over everything from décor to poison pen letters – "We also discovered they were distributing vexatious letters about the Warehouse Project, which they have now admitted to. We just had to stand there smiling, it was the most bizarre situation ever," – which makes the return to Store Street an even happier occasion.
"After two years at Victoria Warehouse, I'm ready to go back and see the place with fresh eyes," says photographer Seb. "I can't wait and have some ideas I want to make happen. Keep your eyes peeled."
Sacha says his favourite memory of Store Street is "probably the day we decided we were moving back there, just for the one year residency. There were cheers in the office. After our last couple of years it was such a relief to be going back to where we class as home. With it being just one year, I think people will be quiet emotional. If you haven't been to Store Street before expect something special. It's intimate, you feel part of it - almost as if you are on stage with the artist."
Damian can't wait to share Store Street with party-goers who've not yet experienced it: "It is the spiritual home for the Warehouse Project and I'm very excited to watch others see it and party there for the first time."
"Of all the venues around the world that I've ever been to – parties, events, raves," promises Oli, "Store Street is the one." High acclaim, but if anyone should know anything about throwing a party, it's these guys.
The Warehouse Project runs from 27 September with 24 nights running over twelve weeks and features the likes of Caribou & Four Tet (31 October), James Blake (8 November), Gold Panda & Mount Kimbie (21 November), Richie Hawtin (22 November), Maya Jane Coles (29 November), The Chemical Brothers (5 December) and Jon Hopkins & Jamie XX (12 December). Find out more about the full line-up at thewarehouseproject.com.