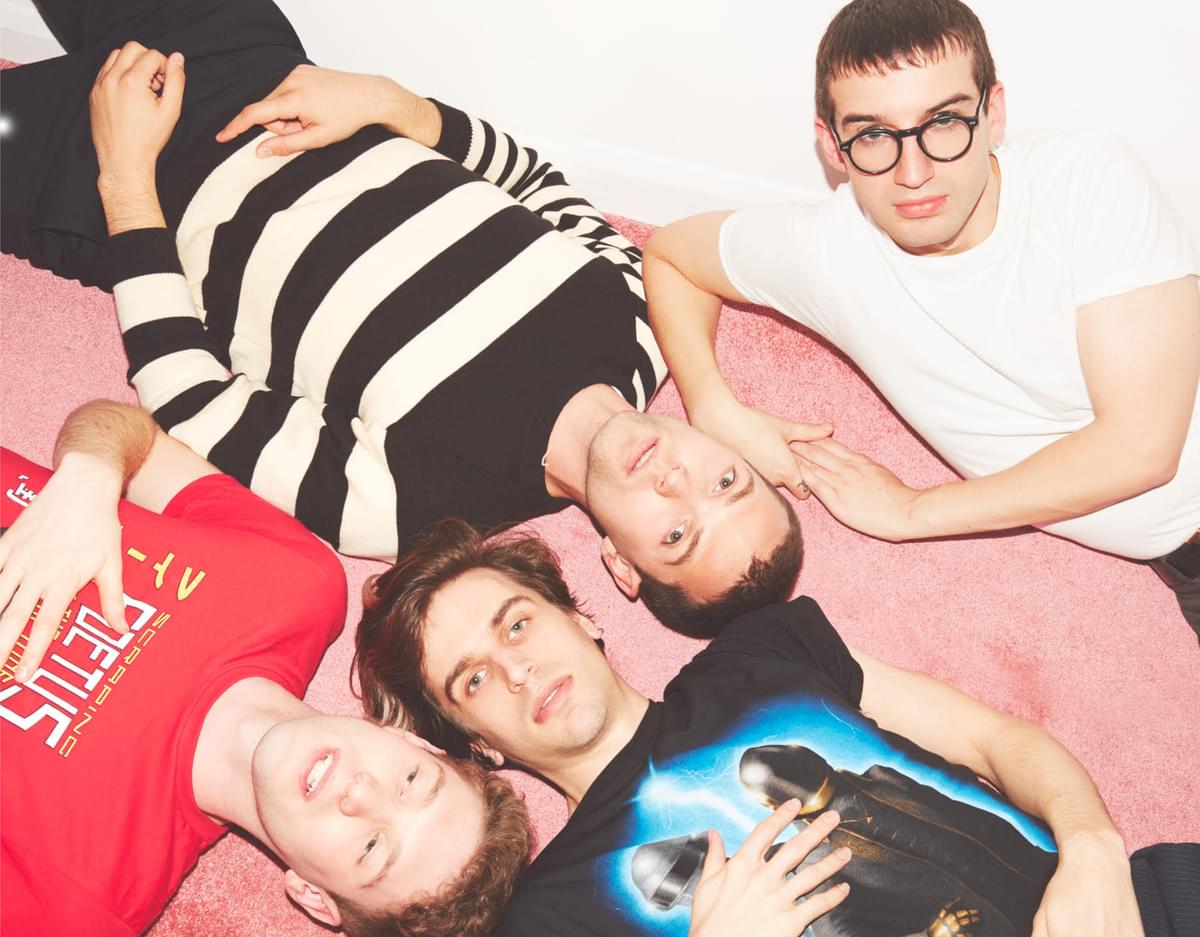 The Curious Case of Spector
08 March 2018, 08:00
Spector's first record in three years sees the group returning to basics and finding their truth again - but they certainly aren't here to try and save guitar music, they tell Elly Watson.
"In some ways, I think that we're a band who's lived its path backwards." Spector frontman Fred Macpherson tells me over coffee. "A lot of bands start with some truth and then it gets diluted and they end up as this sort of commercial joke version of themselves, and I think we began as that and we're now trying to work it back to some truth."
"Some bands start with a minimal true aesthetic which is the sound of them playing and end up with these big producers getting paid to make it sound like a stadium. We were trying to make it sound like a stadium and we've realised now that the only way to make it work in venues that aren't stadiums is to peel away these layers and, in doing so, every time we peel away a layer we're getting closer to what's good about us, or at least what makes us good enough to keep continuing. If there was a band doing the same thing as us but much better I'd be like 'Okay, we don't need to exist,' and I wouldn't say we need to exist but I think there's a valid case for our existence."
Taking it back to the beginning of their Benjamin Button-esque tale, Spector - made up of vocalist Macpherson, bassist Thomas Shickle, guitarist Jed Cullen and Danny Blandy - first got together back in 2011. Already a veteran of the capital's indie scene, Macpherson had fronted bands Les Incompétents and Ox.Eagle.Lion.Man respectively during the mid-'00s before deciding to form Spector. Playing their first gigs at Efes Snooker Club in East London, the hype around the group rose quickly resulting in them signing with Fiction Records and scoring a nomination for BBC's Sound of 2012 poll.
Dropping their debut record Enjoy It While It Lasts that same year, the London-based indie outfit were hailed with critical acclaim for the LP's irresistible songwriting and witty wordplay. They followed this up with 2015's Moth Boys which saw them not only a change their lineup following the departure of their founding fifth member Chris Burman but also change their sound, experimenting more with synths and electronics. But along the way the band lost who they were.
"[Writing an album] creates, like, an artificial weight that isn't really there but you think of it as being there, like 'oh this has to fulfil this and this has to show that we're this' and you kind of lose touch." Macpherson explains. "That genuinely happened on our second album. You just lose touch with what you're trying to achieve. Even though I love that album - mostly - the process of making it turned into a real - for lack of a better word - circle-jerk.
"Basically it felt like preparing a really big house party and worrying about it for weeks on end and wanting to make sure that we had all the right booze and a nice little area outside to go and smoke and plastic over the carpets and taken our duvets off the beds and we were preparing for what we thought was going to be the best party and then in the end no one came."
The band were weighed down by major label pressure and big budgets paying for people weren't necessarily on the same musical wavelength. What powered them through times of uncertainty was the unwavering response from their fanbase: "I feel like the music of the second album made a lot more sense when there were people listening to it, and at gigs it really came alive," says Macpherson. "I think a lot of the intellectual or cerebral approach we might have to music, you realise that that doesn't hold much weight compared to emotional responses to the music. That's what strengthens songs, that's what makes them come alive and that's what makes them stay alive. There's a reason why we play certain songs in our sets now that we have been since 2011, it's because of the energy that people poured into those songs. It's kept those songs alive. They become like the guiding lights. […] Getting people's responses to music, that is something worth following, rather than 'oh, I've got this new riff on this new whatever,' that all gets lost in time and all that's left is whether people care about them in their life and what position they hold."
"It was like pulling teeth getting songs like 'All The Sad Young Men' finished. We went through so many versions that by the end we were like 'well is what's left there the husk of what was a once great song or actually is it kind of the template where all the gaps can be filled in with everyone else's experiences?' The amount of weight that feels like it's been attached to that song since we started playing it live, it's an honour to play it in a way because it feels like it's connecting to people way beyond our experience of what we put into the music and lyrics of it."
"I feel like we got our status upgraded just because of how long we've been around...stuff that we've been playing for a long time, has been crystallised and elevated" - Fred Machperson
A week before we meet, the band play a sold-out show at London's OMeara and the number of people singing along to every single word proves how people connect to their music. "Friends come [to our gigs] and they laugh along like 'why are there those hundred kids at the front going crazy?' as if they're stooges that we've paid to be there. We're definitely not above paying stooges to sing along but it's come to a point where we don't have to which is great." Macpherson smiles. "To be truly honest with you, we're in a band that some of our friends and contemporaries, because we're from London and we're cynical, a lot of people very close to us don't take what we do very seriously. We have to kind of go along with the idea that we don't take it very seriously even though it takes hours and years of time and we pour over it constantly and we're constantly grinding to try and get anything good done and then people come and friends come and they're like laughing like 'what's all that about?' and we're like 'haha, yeah, what's it all about?'
"It's like living a double life and it's really fucking exhausting, but it's good because it means we can simultaneously have this private life of being in a band that people actually like but we could never admit that. It has to be dressed up as this kind of wink wink nudge nudge thing and actually I think our gigs are less like that than ever. It's like a really raw musical lyrical thing where it's actually quite bullshit free."
The Omera show marked the band's live return; I tell Macpherson about overhearing them being described as "indie legends" during their set and he laughs. "I feel like we got our status upgraded just because of how long we've been around! Most bands by this time would have done about four albums by now but I think the fact that we've made music quite slowly has raised the level of the individual songs. Our discography to career ratio is balanced on less music over a longer time, so I think it means that certain songs, especially ones like 'Never Fade Away' or 'Chevy Thunder', stuff that we've been playing for a long time, has been crystallised and elevated."
"It's hard to describe the loyalty that people have shown us without it sounding patronising to them. I feel like we owe them because it's very easy for bands to disappear after their second album. Either the people aren't there or they can't look themselves in the eye with a guitar over their shoulder aged 28." He laughs. "This music comes alive in those places. It's odd for us, it's re-energising. […] It's like the sword in the stone or something. I don't know, it's this weird energy, but that's exciting for us. It's hard to explain that because I don't think it's just us, I don't think we contain that special thing but I think there's a grain there that connects with people, mainly at gigs, or sometimes you see it in people's messages to us. The impact that our music has had on their lives or during difficult times, that seems really crazy to me, that it could ever accompany people during those times, but the fact that it does, it's great to see our songs grow and do those things."
The impact that their previous material has had is evident in their "legend" status. Together for almost a decade, Spector are synonymous with the same UK scene that produced the likes of Peace and The Vaccines. Carving their unique appeal through the charming cynicism within their songs, the band's anthemic and intelligent choruses has cemented them as a beloved voice of that musical movement.
Their desire to produce further emotive music is behind this week's Ex-Directory EP, which, in Macpherson's own words, presents "more honest moments." Consisting of four tracks - "Untitled in D", "Fine Not Fine", "Local International" and "Wild Guess" - the record sees the band taking on elements that they've struggled with in the past and attacking them with a new found vigour. A demonstration of how the group have continually improved, it sees the quartet present a mature and striking new version of themselves, while calling back the Spector charm of their first record that initially drove them into the spotlight. "This time I think we wanted to be a bit more present." Macpherson explains. "We wanted to do something that wasn't just the logical step from our second album but something that maybe had some similarities with our first album as well. I think we'd spent a long time running away from our first album and that style that's kind of stupid or just indie rock in the traditional Killers-y sense. I think we thought that it was toxic for a while then we realised it's actually something we're good at!"
"When people ask questions about British guitar music....how can you even ask this question because what are you really talking about? There's not much there and so to throw another record into the fray is a bit like pissing in the wind!" - Fred Macpherson
Releasing "Untitled in D" as the first taster last year, it's a welcome return after three years with no new music. "The whole release of it - other than finding out that it was actually in the key of A, thanks Dutch Uncles for pointing that out on Twitter - felt like such a triumph to us." Macpherson says. "It was one of the first times we'd done a recording session and that didn't quite work out and we were very honest about it not quite working out, we didn't try and fudge something just to get it out. We took a couple of L's on it and realised we needed to make it so we needed to be proud of the song. I'd written it and Jed took [the guitar riff] and turned it into a real riff and it felt like we were a bit more mature with the process, even though it's not our most mature song, and kind of had to do a lot of the heavy lifting ourselves. There wasn't necessarily a big team of people helping to get it from A to B, and even just finishing one song, which shouldn't be that tough, just turned into a bit of a saga but by the end getting it out and at the gig it being one of the songs that went down the best, it felt really energising."
"It's been a while so I think we're just re-finding our energy for the music and it's a weird thing when you get older and you have less of that thing where it's easy to have confidence based in not much when you're younger. The part of maturing is feeling like you have to earn your confidence or justify it with some quality, so to be able to do something that you can be proud of that people seem to like it's like 'ah, maybe this wasn't too strange-a-thing in the first place.' We want to make music that is clear enough to be understood on the first or second listen, but also be really good, and I think we're getting there. I think we'll get there more but yeah it's good. The mood in the camp is hesitantly positive. I think we've upgraded from positively hesitant in the last year or so…"
Re-igniting the indie-rock sound, are Spector joining the never-ending list of British bands returning to "save" guitar music? It's a label the group are more than little adverse to: "When people ask questions about British guitar music it's like firstly how can you even ask this question because what are you really talking about?" Macpherson wonders. "There's not much there and so to throw another record into the fray is a bit like pissing in the wind. I think we're all completely aware that 'guitar music' as any sense of cultural or political force is so beyond redemption because how could young people take influence from something that they see - not even their dad but - their grandad liking? […] I don't think we're beyond making music that's capable of making change but I just get sad when I see bands who feel like by replicating the tropes and poses of music past that they can somehow plug into the same thing. You may as well be a covers band, and that's definitely something that we've suffered from before but it's also something that we've played with."
"We're in a constant circle that we're trying to break out of and the good thing about us as a band is that we respect each other's creativity. Even if we're in the middle of a, I won't say whirlwind, but a light breeze, and everyone walking past us is like 'what are these guys up to? What a load of idiots', we care about what each other makes and our energy and our enjoyment of what we write creates the energy to make more music. I think now more than ever in our career, I feel hungry to make more music and confident that we will."
"It's weird to be five or six, almost seven, years into your career and be having better reactions than at the beginning." - Fred Machpherson
Already with more music ready to go, this year will see the band release several EPs as opposed to another album. A welcome sight for those who've somehow powered through both three year gaps in-between Spector's releases. "[We] tried to write what would exist as one album and then started doing bits of recording and it took until about now to get some stuff that we were happy with, so we thought if we waited until we had twelve tracks we were happy with it could take another year or something.
"So that and trying to work out how to build our relationship with our fans by putting out music more regularly, and not even our fans but just keeping ourselves sane by putting out music more regularly rather than once every couple of years. We came up with this idea of doing EPs - I say 'came up with', it's not like it's this new idea that needs coming up with - but we're trying to find a way to put music out more often so I guess the idea being that smaller increments of music more often rather than a band who kind of has bursts of energy every few years and then disappears and gets lost in their own ego of making an album."
Steering clear from the struggles they faced in the past, if Spector's career path has Benjamin Button-ed, it's now manifested into an excitable young child full of energy and promise, something which is evident in the refuelled passion of not only the band but also those who love them. "It's weird to be five or six, almost seven, years into your career and be having better reactions than at the beginning." Macpherson smiles. "It's quite heartwarming. I feel like if it wasn't for that we would've been one of those bands that by this point, or way before, would've been like 'nah', and that's what keeps it exciting […] Now we need to see if we can make more music and get it out more and enjoy it more. I think it could be a fun few more years." We couldn't agree more.
The Ex-Directory EP is out on 9 March.
Get the Best Fit take on the week in music direct to your inbox every Friday