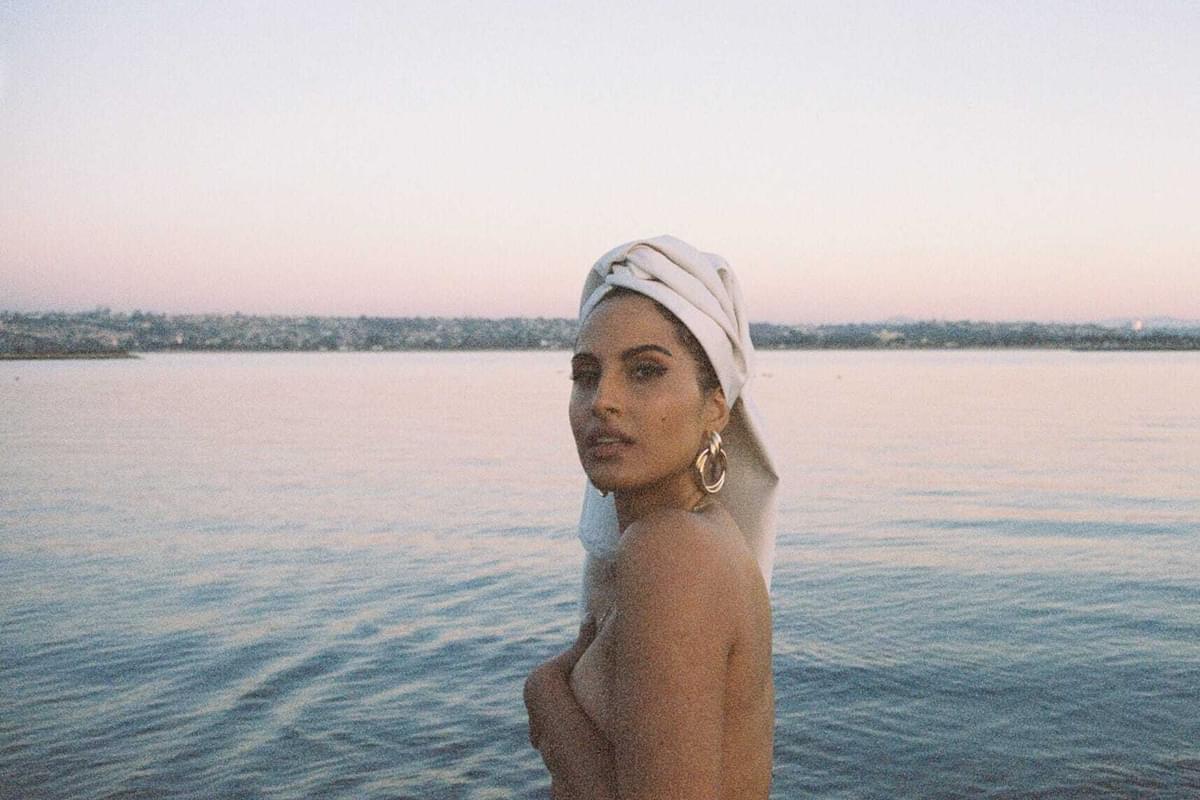 Peace by piece
03 December 2019, 11:00
Returning from Paris - the city linked to her break-up, Iranian/Swedish singer and songwriter Snoh Aalegra tells Clare O'Shea about navigating modern love and the necessity of self-care.
Joy. Pain. Love. Loss. The emotions are palpable on Snoh Aalegra's sophomore album Ugh, those feels again, a record spilling over with retro charm, honeyed vocals and sincere lyricism.
When we speak, the Swedish-Iranian artist is in the middle of touring the new album. She has just completed her second UK and European headline tour, a noticeably bigger production than her first. "It was crazy this time, way bigger rooms and venues obviously - more than double the size," the vocalist and songwriter marvels, "It was very grand." Despite the larger audiences and venues, those shows retained the intimate feel of earlier tours: "It felt like a whole big family! Everybody was singing along, it was so cool."
Whether recounting tales of late-night doughnut runs with Prince or sending out posts to her 380 thousand-plus Instagram followers, Aalegra seems every bit the Hollywood star. While she's perfected the glamorous aesthetic and allure of such icons, she remains resolutely down-to-earth - a feat she credits to her team: "I'm surrounded by family, my team is my family too." "My cousin, she's my manager; No I.D. [Aalegra's producer] is her husband; we're all family for real. They make sure I keep it real." It's clear Aalegra has intentionally surrounded herself with people who both care about her and are willing to call her out when necessary. She points out how easily artists can fall prey to the trappings of fame and success: "I've noticed something very interesting. You see artists get successful and they change and all that, but I've realised why they change. It doesn't start with the artist, it changes because everybody around us changes, everybody starts treating you different. That creates crazy ego boosts."
For Aalegra, inauthenticity is simply intolerable. "Why are people changing and all of a sudden trying to be extra nice, becoming these 'yes' figures? That's really dangerous. It's all about having people around you who are the same with you, who treat you the same as before." This grounded mentality is particularly impressive considering Aalegra was just thirteen years-old when she entered a development deal with Sony Music Sweden. She shrugs: "Everybody's different, you know? It depends on your character and how old you are when you 'make it' in music. It's easier to fall into things when you make it at sixteen, obviously it's not gonna be easy. I'm an adult, I know who I am, I'm not a teenager - so my character won't be that affected by all of this."
Aalegra's first exposure to independent artistry came through her much-publicised friendship with her mentor Prince. She admits that he was the one who convinced her to leave her major label contract with Sony Music the second time, as an adult. Having entered predatory contracts with various labels that left her feeling powerless and despondent, Aalegra ultimately vowed to remain an independent artist. "I would never sign to a label again, I would only do distribution. Right now I'm signed to AWAL [Artists Without A Label; Kobalt's distribution arm] for distribution but otherwise I'm independent." I ask whether being independent is a freeing experience or if she sometimes wishes she had more security. "No, I absolutely think it's better to be independent," she insists. "There's actually no security being with a major label, I feel like they can do more damage sometimes. There's so many people with opinions who want to tell you what to do. It makes me cringe, honestly."
In fact, Aalegra feels that her current distribution arrangement provides the best of both worlds: "The only one that makes the creative decisions is me - and my core team, literally me and my creative partners. That's it, nobody has anything to say. They can just help distribute - that's it!" By staying independent, Aalegra has maintained total control of the creative process, perfecting her distinctive R&B and soul. Her music has been praised for its unique, retro style, winning her commercial synchronisations and inspiring high-profile rappers. In particular, Aalegra's track "Nothing Burns Like The Cold" (which utilises the heavily-sampled "Ike's Rap II" by Isaac Hayes) has been used in Apple iPhone commercials, while Drake sampled her track "TIME" on his 2017 mixtape More Life. Notwithstanding her already impressive career, Aalegra continues to aspire to the timeless appeal of artists she grew up listening to: from Aretha Franklin and Whitney Houston to Stevie Wonder, Michael Jackson and Lauryn Hill. "I've never followed trends with my music but you can't know if it will stand the test of time," she muses. "I hope in a few years they'll still be listening."
Aalegra was born and raised in Enköping, near Stockholm in Sweden, where much of her family still live today. While her Persian heritage has played a big role in her life experiences, her last visit to Persia [Iran] took place when she was seven-years-old. As a result, Sweden has remained the closest representation of 'home' for Aalegra, despite her currently being based in Los Angeles. For many musicians, going on tour often means leaving loved ones back home for months at a time; for Aalegra, this is an everyday experience. "It's very hard sometimes, because I see my family maybe twice a year, or three times if I'm lucky," she admits. "It does create a lot of anxiety for me when I think about how much time I'm missing out. I wish I could have everybody in the same place. Thank god for group chat and FaceTime so you can keep in touch and you're still so close."
Unusually, international tours have actually given Aalegra the chance to spend more time with her family in Sweden: "The more I grow as an artist, the more opportunities I get to perform around the world. Luckily I get to play more [shows] around Europe!" In September of this year, Aalegra managed to capitalise on these circumstances to create an unforgettable memory at her show in London. "I actually flew in my family for the show, they were all here! That was super special and I'm very grateful for that, creating this little experience and memory that we all share. That show at the [O2] Shepherds Bush Empire was the biggest one I've ever done: 2,000 people. It was cool that my family got to be there to see me do that." Although Aalegra's career growth takes a more organic trajectory as an independent artist, it's certainly consistent, as she points out: "The London venue last year was the same size as this year's Paris show!" As we discuss the two shows, Aalegra nevertheless shows appreciation for that sense of togetherness a smaller venue provides. "We had some great visuals and the venue was cool too, very intimate; it was really cool that you were there to see it," she recalls, before adding: "The next concerts will be bigger!"
The majority of Aalegra's music is completely autobiographical, a gorgeous, intimate expression of her thoughts and feelings - or 'feels', natch. This honesty is far from accidental, as the 31 year-old artist will readily admit: "Every word, every sentence in my songs, it has a story behind it. It's all real." As such, Aalegra's 2019 album Ugh, those feels again delves into her internal world following a break-up - specifically, a break-up involving the protagonist of her previous record FEELS. While Ugh… includes many moments of sadness and regret, there are just as many instances of hope, joy and that elusive 'moving on'.
The first full track, 'I Want You Around', is especially important to Aalegra, consolidating her feelings about loved ones, romances and music into one. "I was just trying to get out all my feelings and my love for the people in my life in that song," she explains. It may seem like a beautifully-simple love song from the outset but there are in fact many layers to the track, not least numerous references to Stevie Wonder. "When I was writing 'I Want You Around' I also wanted to picture Stevie Wonder, one of my biggest heroes", Aalegra shares, pointing out the lyrical references to his album Innervisions and the songs "Rocket Love" and "Higher Ground".
With a magical poeticism, Aalegra manages to bring very relatable experiences of love and attraction to life in her music. While her fans might not collaborate with John Mayer or feature in the glossy pages of Vogue Italia, we all know the excitement of new love. "I wrote 'I Want You Around' when I was single but I was seeing somebody," she says. "That song is about when you just meet somebody and you have these butterflies in your stomach where you just wanna see them -- but you don't know what's gonna happen or if you're going to end up together." With a wry laugh, Aalegra brings those heady experiences back down to earth: "We did not ever end up being together… it became a situationship."
The term 'situationship', which entered the relationship lexicon in the past five years or so, means a situational relationship. It's an often-undefined, -uncommitted form of dating that feels like a relationship - but isn't. "Situationship" is also the name of a single Aalegra premiered in August, before dropping the album Ugh… later that month. Revealing the story behind the track, she shares: "I feel like everyone has been in a situationship. It's funny, I've only experienced it once, that's why I wrote a song about it. In a relationship I'm an all-or-nothing person but this time it was something that just happened." Despite early warning signs, Aalegra continued with the arrangement; "I knew early that we were never gonna be a couple, it was never gonna last, why are we seeing each other? We like each other but we should stop, you know? This is not gonna work. But then we didn't stop, you know, we were stupid. Then it got messy and we had a situationship." She's quick to add, inscrutably: "We cool now, we're not enemies! … I'm enemies with all my exes."
As suggested by its title, Aalegra's latest album Ugh, those feels again is a continuation of sorts of her 2017 debut FEELS. Although this continuation unsurprisingly includes having lots of feelings, it also involves connections between particular tracks. "On the title track of my last album, I'm talking about how it's the 'second night in Paris' and how I'm performing yet he's not there. Paris is my favourite city in the world but we broke up there and he ruined Paris for me," she confesses. "That's also why I sing 'Paris don't feel the same' in [the track] 'Charleville 9200, Pt. II', we literally broke up in Paris." She pauses. "It's funny because the show you came to last week -- that was the first time I've been to Paris since that break-up one-and-a-half years ago. It was so nice to come back and create a new memory."
After Aalegra left her home country of Sweden, other cities (besides Paris) have had the chance to win her heart. "I lived in London on and off for 3 to 4 years. Then I moved to L.A. about 5 years ago and I've been there ever since." Of course L.A. came with its own challenges, not least that it held memories of the man whom she'd broken up with in Paris: "I'd known this person since I moved to L.A. so it was weird to go back and realise it also didn't feel the same. Now I have to create my own L.A." Since then, Aalegra's been doing exactly that, embracing opportunities around her as well as looking inward to understand herself better. "I asked myself, like, let me analyse why I'm attracting the wrong people in my life. That's why I took a break." She stresses the importance of doing this in order to move on from unhealthy or unsuitable relationships. "I think anyone breaking up should do the same - work on yourself for a little bit and change how you feel inside of yourself, then you're gonna attract the right people. You're gonna miss him in a few days, don't fall for it! Take his number off your phone too."
So where's Aalegra at right now with love? Is she actively searching or does today's dating world put her off with its situationships, dating apps and 'swipe culture'? "I would never go on a dating app, it's just not for me. I think it's enough that you have people sliding in your DMs, even that is too much." Perhaps remembering her incredible popularity on Instagram, she reasons "I think there's pros and cons with everything, with social media and how things are now." Interestingly, given how personal and specific certain tracks are, not all of Ugh… is based on actual events or people. In fact, two tracks on the album are actually a product of Aalegra imagining her ideal relationship. She explains passionately: "When I was writing [tracks] 'Whoa' and 'Someone Like You', I started visualising my somebody, my dream person, The One. I was visualising somebody who makes me feel invincible, who would understand me and really lift me up. When love is at its ultimate - that state of euphoria when somebody just makes you feel so good and you find that perfect match. It felt so good, so positive to write it. I was just being super open about it…" She's optimistic: "Who knows, he may show up!"
Growing up, Aalegra was inspired by the world of film and the music that accompanied a scene's special moments. Whilst working on her first EP Don't Explain, she took this influence further, describing her music as 'cinematic soul'. It would be easy to paint Aalegra's life with the same sepia glow, a fairytale story starring its own stunning lead. In reality, Aalegra was bullied throughout her school years, often the subject of racialised verbal abuse from her classmates. "Being bullied at school left deep marks on me," she says. "It affected my confidence, my whole life. I've had to work on it ever since and I'm still working on it." Bullying is typically viewed as something that only happens between school children who haven't learnt the errors of their ways yet - Aalegra points out that this isn't the case: "Bullying is not just between kids, it continues in your adulthood. I'm often reminded that everywhere people are bullying each other and it's just so wrong."
While Aalegra has thrived since, the memories of being bullied have stayed with her into adulthood. "I've become way stronger and more secure in myself but whenever I hear about kids getting bullied it really triggers something in me, I get really upset. It's an issue that's very close to my heart." She believes the best way to address this is to speak to children when they're young. "People don't understand how hurtful words can be and how they can affect you forever," she insists. "For me, it's really important to highlight that early on with kids and their parents and make sure it's part of the curriculum. It's important to talk because bullying is so serious - kids are taking their own lives because of it." Is Aalegra planning to get involved in starting this conversation in schools? "I would definitely want to do some outreach around bullying, it's very important to me. I'll find the time to do it, to go to schools and talk to kids. As a Middle-Eastern singer too, I've been thinking about how important it would be - to be a role model in that way."
As a child of Middle-Eastern descent, Aalegra was instantly viewed as 'different' in Sweden. She addresses the misconception that all Scandinavian people are 100% egalitarian: "I think racism exists everywhere in the world. A lot of people may think that Sweden is such a calm little safe place but we have high crime rates there too. We lived in the suburbs in Stockholm - it's the hood there as well, you know, a lot of crime going on." She qualifies: "It's probably a lot safer than other places but… these things happen everywhere." After moving to the U.S. and settling in L.A., she experienced a subtler but nonetheless invasive form of prejudice. "Racism is a mind-fuck for sure, especially being a double immigrant [like me]. I'm Iranian-born, raised in Sweden and I moved to L.A. where you're constantly being judged by where you're from and what you look like. Even though it's super multi-cultural there, I'm always struggling with what is really home for me." Ultimately, Aalegra has sought to find a 'home' within herself: "I try to accept that maybe home is not a place but it's just where I feel safe, where I feel loved, where I have the people that I love: that's home."
It's one thing when a friend, peer or fan recommends your music to people they know. It's a whole other ballgame when LeBron James shouts you out to his 53 million Instagram followers... "I'm in a really good, positive place; it's a good frequency I'm in," Aalegra confirms. "I feel like people I admire - like you mentioned, LeBron James - people are discovering me, they appreciate the music." In August 2019, the legendary basketball player and philanthropist shared a clip of him listening to Aalegra's tracks "Whoa" and "Be Careful" whilst getting a trim. That must have been a big moment for her? "That's all I really want, for people to appreciate my art," she agrees. "It's a good feeling - the more the merrier! I'll just keep making music my own way and we'll see, hopefully more and more people will discover it."
For another artist, that kind of praise and attention from a celebrity might make them egotistical. Instead, Aalegra subscribes to the Swedish concept of 'Jantelagen': the belief that no one person is better than anyone else. She attributes this humble attitude to her Swedish upbringing: "You're generally shaped by your mindset, the people you grew up with, it's a natural thing that happens to everybody. You can adapt to your environment but I'm never gonna be fully American." Nevertheless, Aalegra has worked hard to overcome some of the challenges this mindset brought while navigating her career: "I've definitely got thicker skin now, I'm more used to everything. I know how to manoeuvre, I've found my place in a way. Things aren't as personal as they used to be. It's a tough industry and you can really get walked over if you let them [do that]. It's not for the weak people."
When it comes to her own music, Aalegra undoubtedly wears her heart on her sleeve. As her voice sweeps faultlessly over lush melodies, she sculpts a magical world where scenes of infatuation, lust and love unfold. She emphasises the difficulties a creative person faces when publishing their work - essentially putting their most personal, soul-baring work up for critique. "You make this music for yourself but once it's out you become even more vulnerable," she explains. "You allow people to criticise you; it's out there for everyone to have an opinion on." That said, Aalegra appears to have made her peace with this dichotomy: "I only make music for people who love music and appreciate it. It doesn't really matter because if they don't like my music, there's so much other music for them to listen to!" She continues passionately, explaining the deeper meaning behind this bittersweet lesson. "Life is so short. If we keep listening to every bitter person who says we can't do something, what is the point?! They're just saying it because they wasted all of their dreams… There's always that one person - they're okay with you being successful as long as you're not more successful than them. It's a real thing to deal with."
Snoh Aalegra isn't new to the music industry, nor to the challenges artists face while making their living within its confines. She's not a Disney Channel graduate, a YouTube Vlogger-turned-singer, a TV talent show winner or an overnight sensation (though many talented artists may be). In reality, Aalegra has been working in the industry in one form or another for eighteen years - with the battle scars to show for it. "Self-care isn't fun but it's necessary," she insists, reflecting on her previous label deals, heartbreak and personal tragedies. In spite of it all, Aalegra has flourished, growing stronger and more determined with each knockback. What lessons has she learnt along the way? "Honestly, after [the break-up] I kept myself super busy. I was working harder than ever and it kinda paid off," she says. "So I would recommend to anyone going through a break-up - focus on yourself and what you love the most and give 100% without letting that person distract you."
As her new album continues to earn playlist spots, celebrity shout-outs, sold-out shows and legions of new fans, for once it seems all these feels might be the good kind. "Just for once, do it for you - 100%, just give it all", Aalegra concludes. "That's what I did with this album and now I can always feel like, damn, I did that. I gave it my all and this is what happens when you focus for real, great things can happen."
-Ugh, those feels again is out now via Artium
Subscribe for news and competitions