"Personally, whenever I see a name, I immediately think, 'oh, that's going to be that kind of music.' But I feel like with RYD - it's a bit ambiguous. It could be anything." For the producer and songwriter, it's also a way of creating an alter-ego separate to his everyday self: "It's another version of me, so to speak. Not the one that wouldn't say these kinds of things in normal day. It would feel weird if I were saying 'this is exactly and everything that I am.' It's my emotional side."
With little to latch onto in terms of preconceived ideas, a new listener is left to enter into RYD's soundscape refreshingly free of expectation. What meets the ear is mellow, ambient transporting, with an electronic underpinning that propels it forward. The emotional intensity and introspective nature of the material draws you in. Downie digs deep into his own feelings in a way most are afraid to, and emerges with nuggets of lyric beauty that convey a universal wisdom beyond his '90s-beginning years. The echoing line on "I See U": "All my walls are made of brittle warning signs," for me, being a case in point. "I'm hoping that it will be relatable," Downie explains. "I am talking about things that everyone goes through, just in a different way. It's a slower take on pop music."
His self-titled debut album, out early next year, follows his 2017 Now There's Nowhere EP both sonically and thematically: "My EP was very much about this one particular person that I was trying to get over." A year on, dealing with this broken-down relationship still permeates his sound and lyric sensibilities, but with an increasing sense of detachment: "It's the same kind of theme, the same kind of self-therapy I guess. But it's more talking about it in retrospect. It's a bit of closure to me. It's mainly about heartbreak, getting over it and distancing yourself from those kinds of situations. And making sure they don't happen again."
Serving as a form of catharsis, creating music has allowed Downie to process his feelings, reappears in this album with a greater sense of resilience and positivity about the future, such as on his already-released single: "There are optimistic parts to it, like 'I See U' - that's the end of everything, when after all that heartbreak, you meet someone who actually understands you and what you've gone through." The combination of ethereal sounds, beats and stark honesty has been a winning one and the hope is no doubt for the album to also follow the EP in terms of success: it garnered over 1 million streams on Spotify since its release.
RYD's unique sound is rooted in an amalgamation of Downie's diverse musical influences. As a youngster, he was classically trained at his all-boys school at the behest of his parents who, although weren't musicians, had both played instruments themselves. "I played the clarinet," Downie tells me, slightly reluctantly, from the sofa of a hidden-gem of a trendy cafe in Covent Garden. "To grade eight. I kind of didn't like it because it was forced upon me." Though he admits in retrospect, he is glad he did: "I'm thankful now. Looking back I know so much about theory. It was also just a really good lesson in life, on discipline and self-control - you have to spend so much time just working it out and perfecting little bits despite it being very frustrating. But I could see the work pays off in the end because I did get to a very good level."
It wasn't until later in his teens however that he truly embraced playing and creating music: "I didn't really get into it until I took up guitar when I was 15 or 16. And then it felt like it was my choice. Because I chose it. I was really into hard rock - AC/DC, Black Sabbath - I loved it because I felt like I was being rebellious. I was just really into strong guitar, good electric guitar and distortion. So I took some lessons and that's how I got into songwriting."
While he moved firmly away from classical, his knowledge helped inform his writing: "We spent a lot of time looking at classical composers. When I come to write my own stuff, it's a lot more simple than that but it makes it easier to understand where to go next in terms of harmonies, tonality and structure." He also traces his influence back to the 80s singer-songwriters he admired - "I was really into Jackson Browne and Crosby, Stills and Nash, their harmonies and their songwriting" - '90s pop - "Like Destiny's Child ,which has loads of layers of vocals. I love that kind of production so I do that a lot with my music" - as well as R&B, such as Timbaland, The Neptunes, Missy Elliot, jazz, hip hop and folk.
"I started to sing everything in falsetto because I thought it sounded more sincere. It's something I wanted to reflect in my music because it's quite emotional and personal."
He was particularly heavily informed by two of his favourite artists. Firstly, fellow London indie rockers Bombay Bicycle Club and the vocals of Jack Steadman: "What really got me into acoustic music was Bombay Bicycle Club. I was really into their second album - I loved it. Jack Steadman's vocals are just so timid and vulnerable and he created such a connection between the music and the listener. It gave me hope that I could do that kind of thing with my music."
Secondly, Justin Vernon, helped shape his own vocal identity: "I used to sing a lot in my kind of chest voice. But I never really felt like that was distinctive enough," Downie explains. "I listened to a lot of Bon Iver when I was growing up and he had a big influence on me, in particular his falsetto range. I started to sing everything in falsetto because I thought it sounded more sincere. It's something I wanted to reflect in my music because it's quite emotional and personal." The final piece of the puzzle came on studying music production at university: "I only really got into electronic music three or four years ago, the likes of Four Tet and Taurus. That's when I really got into beat making. And that's how my music kind of ended up how it is."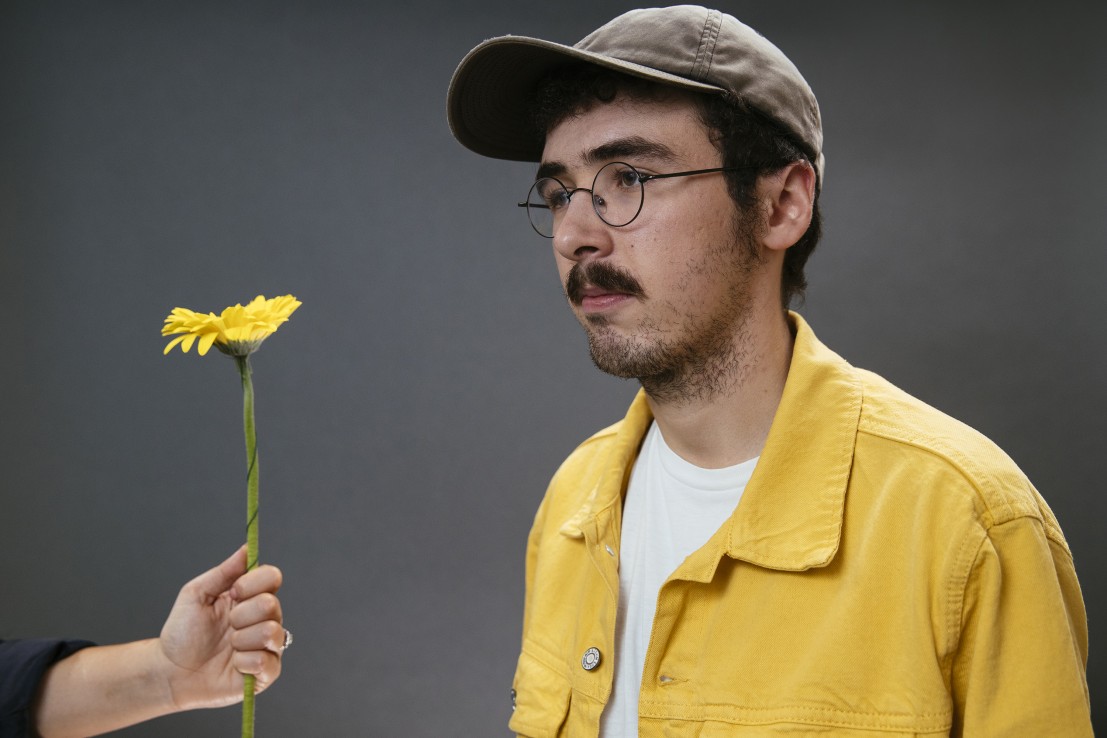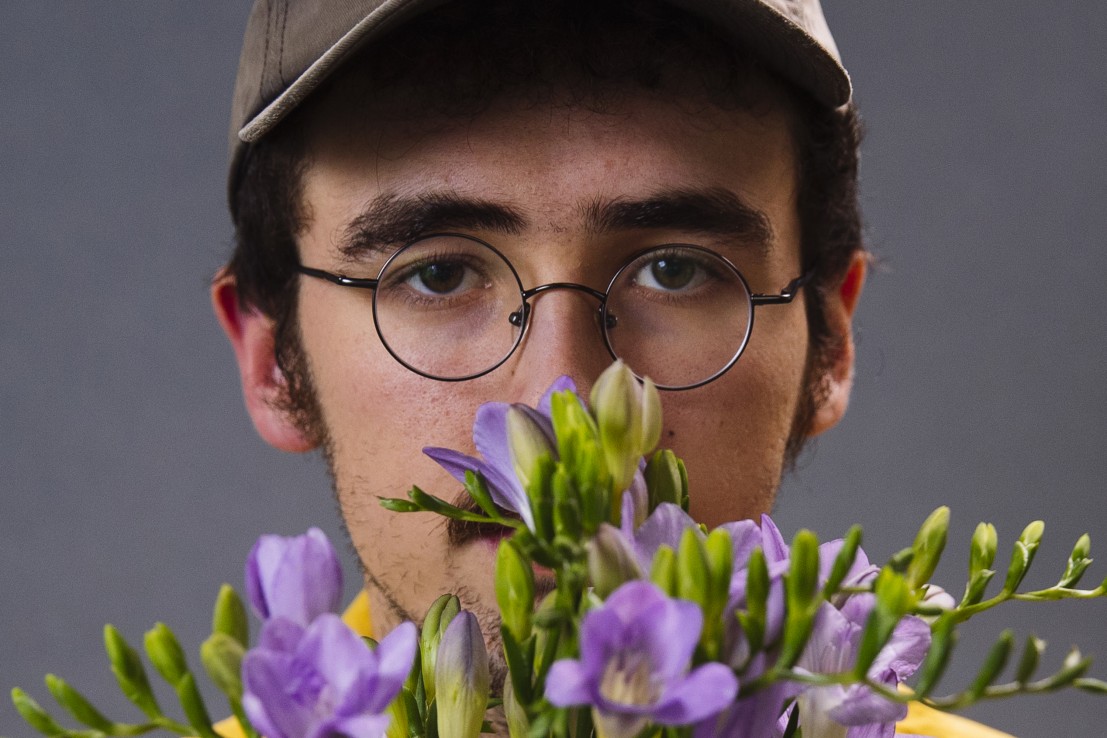 The culmination came in writing song "Work It Out", about avoiding confrontation to spare oneself from grief. He created in just a single day of recording, coming about as an urgent, musical stream-of-consciousness: "That song was the first one that had a really deep meaning to me. It wasn't something I had really talked about before but had been bothering me and I just knew I needed to write it. It just came so easily and really quickly. That's what I'd always wanted my music to sound like. Its formed the base of my sound ever since."
A further key artist for Downie is Brian Eno, whose Music for Airports inspired a whole further follow-up record to RYD, with each track reimagined in its style: "Brian Eno was the first person to properly introduce me to ambient, atmospheric music, with his Music for Airports album, which is one of my favourite albums of all time," Downie says. "My manager and I have a shared love for that album so I had an idea to make my songs into the mood and palette that Brian Eno uses in that album. It gives an interlude between the songs and a further perspective." The "airport version" of "I See U" has already been released with the rest to follow.
Born and raised in Camden, he may have only been a wee nipper in the days the likes of Amy Winehouse were knocking about the place but he has nevertheless benefitted from immersion in its rich music heritage: "London in general is such a culture-filled city and there are so many opportunities to indulge in that side of things. Camden itself has got so many gig venues and big bands play there all the time so it really is an inspirational place to grow up." The range of venues alone remains impressive: "For example, you have Underworld, which has heavy metal and then Electric Ballroom which is very indie." His ultimate favourite, and where he would one day like to play, is the iconic Roundhouse: "I love the Roundhouse because it's my local venue and it's just a great place to see people. It's got a really nice ambience and acoustics. My music I think would do really well in that kind of room rather than, say, a massive arena."
He's also seen the area transform in that time. While we decry the frustrating tide of gentrification that engulfs much of London or its formerly creative hubs become caricatures of the vibrant communities they once were, there's no denying Camden still holds something special in terms of music culture. In truth, London a city that is always in flux and change and renewal can be as fundamental to what makes it a hotbed for creative talent as holding onto its heritage. Where the action happens becomes cyclical rather than linear improvement. Things disappear and reappear elsewhere, as Downie notes: "The other end of Camden is getting cooler now - like by Koko, the Mornington Crescent end. That's where the people who are not tourists tend to go."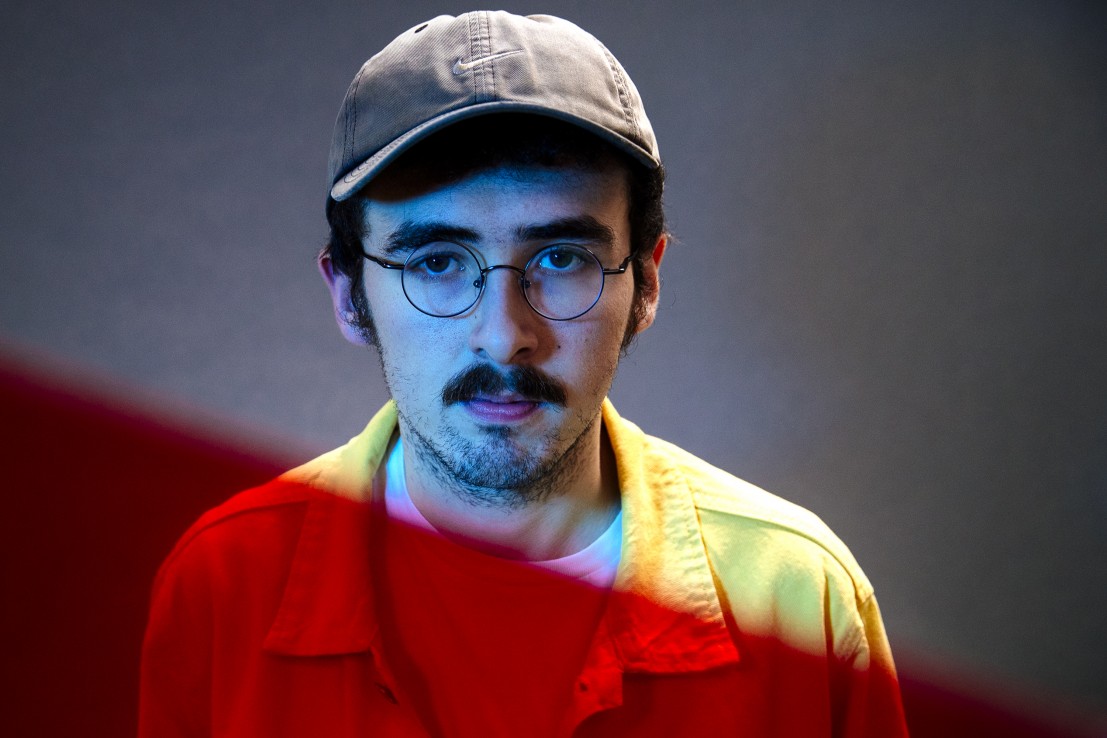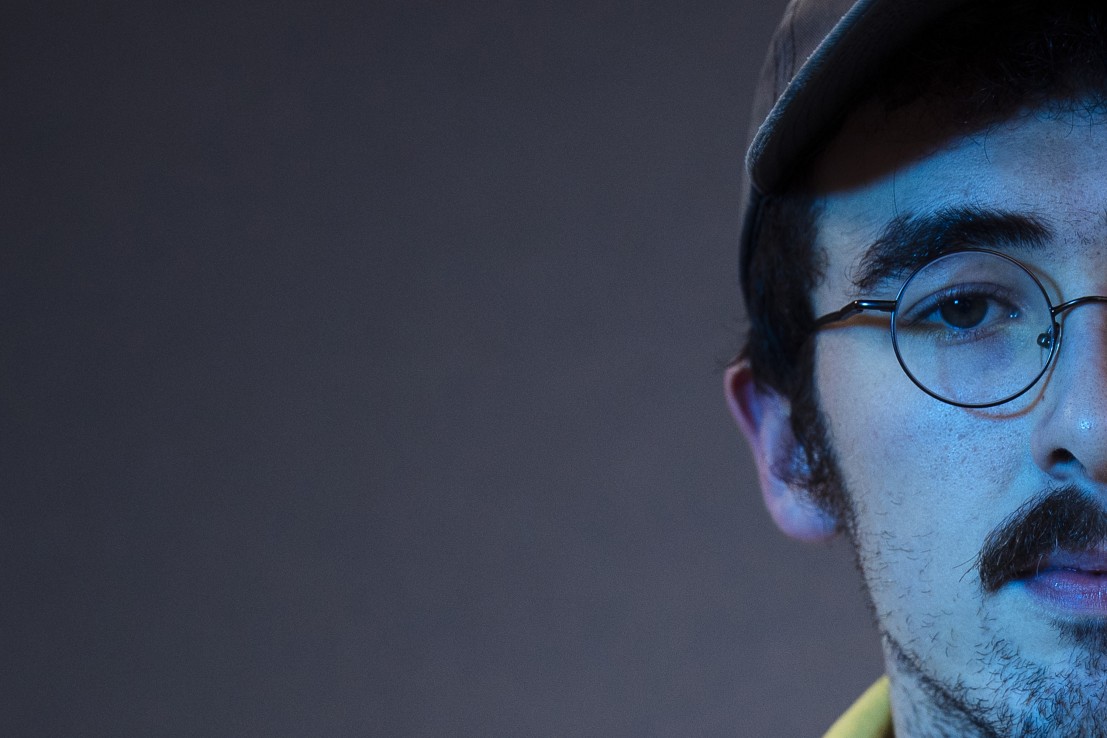 RYD is part of a generation of multi-talented artists who appear to have eschewed the traditional paths to music publication - writing, experimenting and producing from their own stripped-back bedroom set-ups and launching the result into the ether without needing the say or support of anyone else. This ease of access brings a revolutionary diversity to the music landscape but has also pricked fears of overstauration and reduction in quality: "I still think there's quite a bit of opportunity," reflects Downie. "It's just so easy to do now but I think if it's good it will get noticed." In particular he highlights SoundCloud as the platform that enabled him to reach an audience and hone his output, much like a modern-day MySpace many bands of yore still grieve the passing of: "I was big on SoundCloud, I didn't use Spotify originally. I feel like it's a great place to start because you can build a community. It inspired me and I could listen to other people in the same position as me and get feedback. It had been doing downhill. But people like Chance the Rapper are backing it and bringing it back a bit. I hope it stays."
Recording alone from his bedroom seems to be key in that it affords Downie absolute autonomy in his creative process: "I start by recording a couple of guitar chords and a beat, I produce as I go. I don't know what a song is going to be about until I start singing. I start to put chords and the melodies together and start to add a bit of lyrics and then realise 'oh, it's about this' or 'oh, it's about that.' That's the process." It's also a safe and controlled space for him to work within: "It gives me a comfortable feeling being in my own room. I can write about what I want and I don't have to talk to anyone else about it. I can get lost in my world." Though he doesn't rule out the possibility of collaborating in future: "I do like working on my own but I would really like to collaborate - with the right people it does contribute to how I write as a person and bring something different. There's so many people I'd like to work with, the list would be endless."
It some respects, it can seem contradictory that someone who is ostensibly shy and introverted would want such personal insights shared for friends, family, fans, strangers to hear. But for Downie, it is the perfect outlet: "I don't express my feelings that much in talking. Music really allows me to express perhaps what I wouldn't say to someone. It's a good emotional outlet for me." Does he ever wonder if the anonymous subject of his tales of heartbreak will ask him about being the feature of his material? "They haven't done and I hope that they don't to be honest. Although maybe it would create more songs...I feel like I've had closure from it so if they came back, I'd be like, 'shit, I have to write more about it'!"
"I don't express my feelings that much in talking. Music really allows me to express perhaps what I wouldn't say to someone. It's a good emotional outlet for me."
Finding a form of expression is also something he feels has been crucial for him and sees is increasingly important for other young people to also find, especially young men: "I was quite an emotional young person and I did struggle with that a lot," he says. "Finding artists who talked about those kinds of things was really inspiring. It was so important to me to know someone was feeling the same things as me. I went to an all-boys school which was very testosterone-filled. It wasn't cool to be upset or talk about what you were going through, you just had to bottle it up. I think it's probably quite a common thing in any young person's life but maybe as a boy you are expected to be more masculine. It's so amazing to find a way to express yourself and help others do that through your music."
A further related preoccupation that emerges for Downie is a conflicted view on our age of digital communication: recognising the opportunities the internet and social media can offer up but conversely being concerned over how they cripple, divide and foster anxiety, particularly among the young. At the risk of sounding like someone's Grandma, I ask if he thinks that social media has affected his generation more profoundly than those preceding it: "It came on quite early in my life, really growing when I was around 15. That took over a lot of my teenage years which is when you're the most vulnerable to what people are thinking about you. You're still trying to discover yourself. Luckily I had music - if I hadn't, I think it would have been harder to discover what I wanted to do with myself."
He admits: "A lot of the songs have come about from situations of social media having an affect on me." In particular, single Could've Been is acutely perceptive on the topic. I challenge those who have ever used a social media platform of any description not to be able to empathise with the opening lines: "I was falling over head and heels/To make you feel like this was real/But then everytime I shared my thoughts/You'd make me feel like it was wrong." Downie explains his thinking behind the track: "My single earlier this year could very much be about how someone can be really disheartened by what they see online, thinking that their life is not as good as someone else's, when really you're not seeing the true picture. About how that person could have been someone better than they are but because of how they've been influenced by what's online, it's clouded what they think they can do and what they could be. Which to me is a really depressing thought."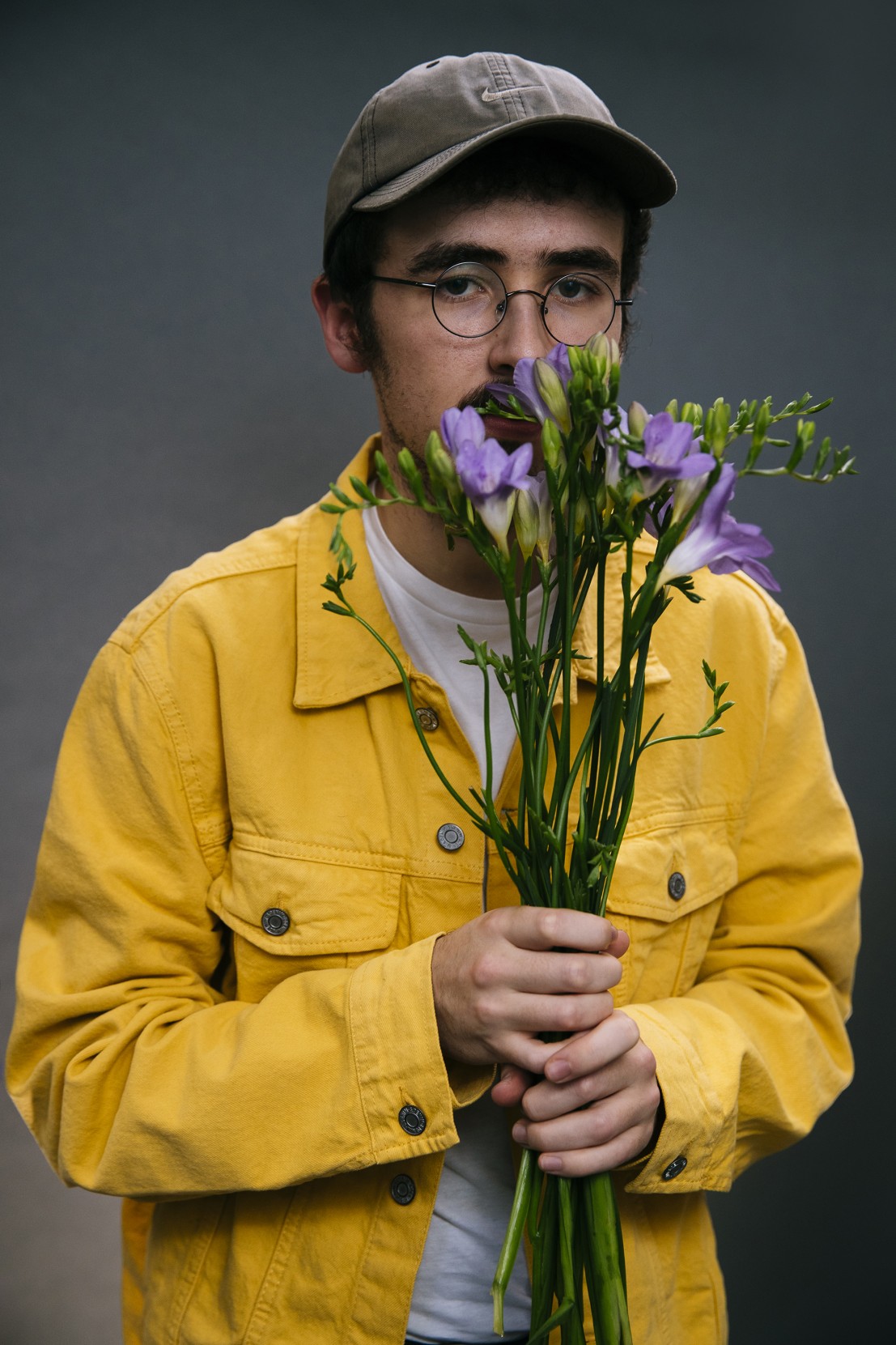 For example, discussing politics is something Downie is loath to do overtly online or through his music for fear of backlash, something that is rife and can be a sobering thought for anyone in the public eye venturing their opinion in black and white: "I don't tend to feel like voicing an opinion. I think it's good to have freedom of speech and all that but I feel like making it ambiguous doesn't close you off to a certain type of person. It's hard to explain - I would like to talk about political things I just feel like sometimes I don't even know what the answer is. Take politics in our country, for example Brexit - I don't even know what's going on with that or what the right opinion is. I feel like I don't want to give my own opinion on that because I can turn out to be wrong."
Suffice to say, social media is far from Downie's favourite thing, though he concedes it's becoming increasing integral to the careers of professional artists: "I try to stay away from it where I can but obviously as a musician you do have to use it to stay up to date. I know people like feeling connected to other people by knowing and seeing what they doing, seeing their personal life. I have an Instagram page and that's the one I enjoy the most and can express myself. I don't really mind what people think of that one whereas on Facebook I feel like everyone's trying to compete to be the best of the best. Instagram is just photos of what you're doing."
Downie's career, although starting from solid ground on the back of his EP, is still in its nascent stages. With a few gigs already under his belt, he's set to play support at a sold out show with Norwegian indie-pop band Highasakite later this month. Performing his music live is something he is more curious about and excited by than intimidated: "When I'm in my bedroom I don't know how people are going to respond to it, so it will be nice to get out and see people listening to it and be affected by it I guess. I'm doing everything solo at the moment, so it will be stripped back in a sense. But I have synths and I have a drum pad, I have guitar and sing so will try and perform the album as much as I can." He's also working on the visuals for his upcoming releases, creating a video for single "Don't" with director John Howell: "He's made some really cool stuff. It's a blunt song with quite a specific meaning, about telling this person to stop contacting me. Like, I don't want to be burdened by the image of them anymore and just want them to leave me alone. So there'll be a narrative to reflect that."
As for what comes next, Downie conveys a palpable energy, an artist with a lot more to give and an impatience to give it: "I'm already writing new stuff. Hopefully I'll have another album finished soon. I feel like I've got a really good process now, I can just write." So what can we expect? More sadness, heartache? Something more upbeat? "Well I feel like I'm feeling my emotions still! But I mean it depends what happens in my life, what things affect me. As with I See You, it's not all bleak." Ultimately, for Downie, it's about finding connection and release through authenticity and honesty: "I feel like when I do write about my emotions, it's more sincere. Rather than saying 'everything is great, yeah' but actually I really want to talk about something else. Sad music can be very appealing to people - it doesn't have to be depressing. It's good to talk about your feelings, especially if it's burning you."
What seems clear is there is a growing appetite for artist's of RYD's ilke - a new brand of pop that is free from outside tampering that is genre and stereotype resistant, bringing something personal yet relatable, inventive yet accessible, celebrating introversion over extroversion. Its calm and thoughtful pace is soothing amid an attention-deficit-inducing, superficial-seeming world. It's one to kickback with on the headphones and get lost in in your own sweet time.
RYD will be released by 37 Adventures on 18 January 2019