The South London singer and songwriter, born Rachel Keen, was a virtual unknown twelve months back with just one (amazing) EP to her name but has lived 2016 true to the rhetoric she's espoused in numerous interviews. Revealing herself as someone determined to raise the artistic bar higher for self-determined pop music, she hash pushed the envelope by increments with each project she works on.
RAYE is one of a handful of pop artists striving to establish their songwriting credentials first. She's racked up a list of writing and performance collaborations with some of music's most inspiring and creative figures - from Charli XCX and Nas to Stormzy, Avelino and Jonas Blue. She co-wrote Charli's "After the Afterparty" as well as Snakehips and MØ's "Dont' Leave", supported Jess Glynne on her arena tour and most recently guested on Jax Jones' "You Don't Know Me".
At 14, RAYE enrolled at the BRIT school, majoring in music and minoring in dance, but left before the songwriting course began and has dissed ideas of teaching structure in writing as "rubbish". It's not all talk: her songs bear the touch of someone who isn't afraid to play fast and free with the form - just check out the flows and shifts on breakup anthem "I, U, Us". Her raw talent led to signing with Polydor last year, thanks in some small part to Years and Years' Olly Alexander talking her up to the label head.
Now, at just 19, she's racked up a decent chunk of material, been high-fived by the BBC Sound of tastemakers - making number three on this week's shortlist - and is primed to take the next twelve months by storm. In person she is erudite, funny and talks with intelligence, passion and respect about her world and the music she loves. She is a distinct star in the making - and one that undoubtably throws a curveball at our perceptions of what it means to be a popstar. I talked to her back in the Autumn.
***
BEST FIT: Where exactly in South London did you grow up?
RAYE: I lived in Pollards Hill in a council estate with my parents until I was about seven and then they wanted to move to Croydon, to Purley. We got a house there and have been there ever since. It's a pretty average town but I know everyone in the same area, we all went to the same schools and go to the same parties. There's a Purley Tesco that everyone knows about!
The church was a very formative influence on you musically wasn't it?
The first thing I was really fed as a kid was gospel music and church music. I remember being so stupidly young - like three or four. My parents used to go every weekend. My dad used to play keys there and lead worship and I'd just watch and listen. I have memories of running around in that old church and listening to the songs and it just became a part of everyday life. I'd go home and there's always be some form of music playing: when we'd eat, when we'd wash the dishes and put them away, before we'd go to sleep...and when we'd wake up dad would blast some tunes.
My dad was a big Stevie Wonder fan at the same time as being a massive Wet Wet Wet fan. I've actually become really good friends with the bassist from Wet Wet Wet. He lives up our road. He was walking down the street one day and dad was always too nervous to say hi so I was like, "excuse me, are you in a band", and now my dad and him are great friends.
At the same time it was also people like Donnie McClurkin, Kirk Franklin, these big gospel heads. Musically it's another level in terms of your everyday pop radio tunes and I was hearing loads of that.
Could you spot the dotted line between gospel and secular music at that age?
Massively, yes. I think growing up as a kid in church, my parents were so open about feeding you everything. I learnt about Nina Simone when I was really young. I think that was one of the most important things I could have learnt in terms of being inspired and what being a musician is actually about. That it's not about the formula and making things that are right for radio or doing what the label want you to do. It's about your story.
"It's not about the formula and making things that are right for radio or doing what the label want you to do. It's about your story."
It was a revelation learning about Nina Simone. I learnt about Jill Scott at the same time. My uncle - my mum's brother, who lives in America, came over and played "A Long Walk". I didn't even realise how incredible it was a the time.
I actually only got into the Who Is Jill Scott? album recently. It's amazing isn't it?
It's one of the best pieces of work I've ever heard.
So how much of what you're doing now is down to the influence of church music?
Even though it's less of an actual influence in terms of what you hear in the music I'm putting out, it's a massive part of who I am and what I love and what I listen to every day. I think the openness and the emotion in gospel I really relate to. It's really powerful in understanding who I am and who I'm becoming every day - and how I got there.
Tell me about your first steps into composition.
I started learning piano when I was ten but I wasn't that good. My dad tried to teach me but I was always so bossy. I listened back to some recordings I did from around then the other day and it was so ridiculously embarrassing but it is crazy to think I was so besotted and excited about making really rubbish songs at that age.
My amazing uncle Jose got me a Mac laptop for my thirteenth birthday with Garageband. Just literally taking a loop and playing in some silly chords but I started to make songs and they were a bit different to the pop music I was hearing. I wasn't following what I was hearing on the radio. I had a blast on it, it was a revelation and I wanted to get better at it. When I was in year five I decided I wanted to go to the BRITs school and I needed to get my grade 4 or 5 piano for that. I worked really hard to make sure I could give myself the best chance to get in.
I went at 14. There were maybe 21 or 22 people in my class and I learned a lot at that school. Just in terms of working with others. It really tests you. It was just the beginning of how difficult and how many ups and downs there are actually doing this for real. When you love it so much it's nothing though against how much it satisfies you.
"The BRITs school motivated me to know what I wanted to do. I didn't want to be the 20 other people who did other jobs. I wanted to be the one that made it."
I think I got there and after a week I wanted to be there best there. It sounds big-headed but I decided I wanted to work as hard as I can so that when I left I could say I'd given it my all and I killed it, you know? I worked hard on myself as a writer and deciding what I wanted to be and do, how I wanted to get there. I met my manager right before I went to BRIT through a friend of a guitar teacher called Mark at my old school. It was really lucky how one led to another and we're still working together today, he's one of my best friends.
The BRITs school motivated me to know what I wanted to do. I didn't want to be the 20 other people who did other jobs. I wanted to be the one that made it.
What were you listening to at that age?
The BRITs is very anti-pop. All the kids think, you know, "Taylor Swift is rubbish, we listen to cool underground music and stuff." I got into LCD Soundsystem massively when I was there. I think they're just incredible. But you're throwing a bunch of people in a room, some of them love rock, one of my teachers was obsessed with Deadmaus and hardcore dance and electro. We learnt so much about so many different genres. I became so inspired by traditional Indian folk music: the tabla, the sitar. And then you begin to hear it in bands everyday, bands like Alt-J, taking pieces and throwing it together.
I loved Beyoncé. It was amazing to see her become this amazing icon. I got into jazz more. One of my best friends is a jazz pianist and I met her at BRIT. Her mum used to be in a band back in the day. They lived in Peckham and I'd sit with them and learn so much about bands like The Doors, Louis Armstong, Lauryn Hill and the Fugees, Etta James in terms of vocal delivery.
Something I love in vocals in the tone which is why your Amys and Lauryns and your Ninas and Ettas are so amazing.
I left the BRITs school because it just got to the point where I was ready to go into the big world and start my career. My manager Will had access to songwriters because he worked at Sony/ATV before he managed me, people that I could go and start sessioning with. While I was at BRIT on the weekends and the Friday after school, I'd go and do sessions. My first ever session was with Eg White. That was just crazy, he was just absolutely nuts, he had this massive studio. He was so eccentric and so talented. I was so excited and we made a really crazy song inspired by Frank Ocean's Channel Orange.
Was that a big album for you?
Lyrically more than anything yeh, it blew my mind. You know, "Pilot Jones". The first line - "we once had things in common / now the only thing we share is the refrigerator". So incredible, so incredible.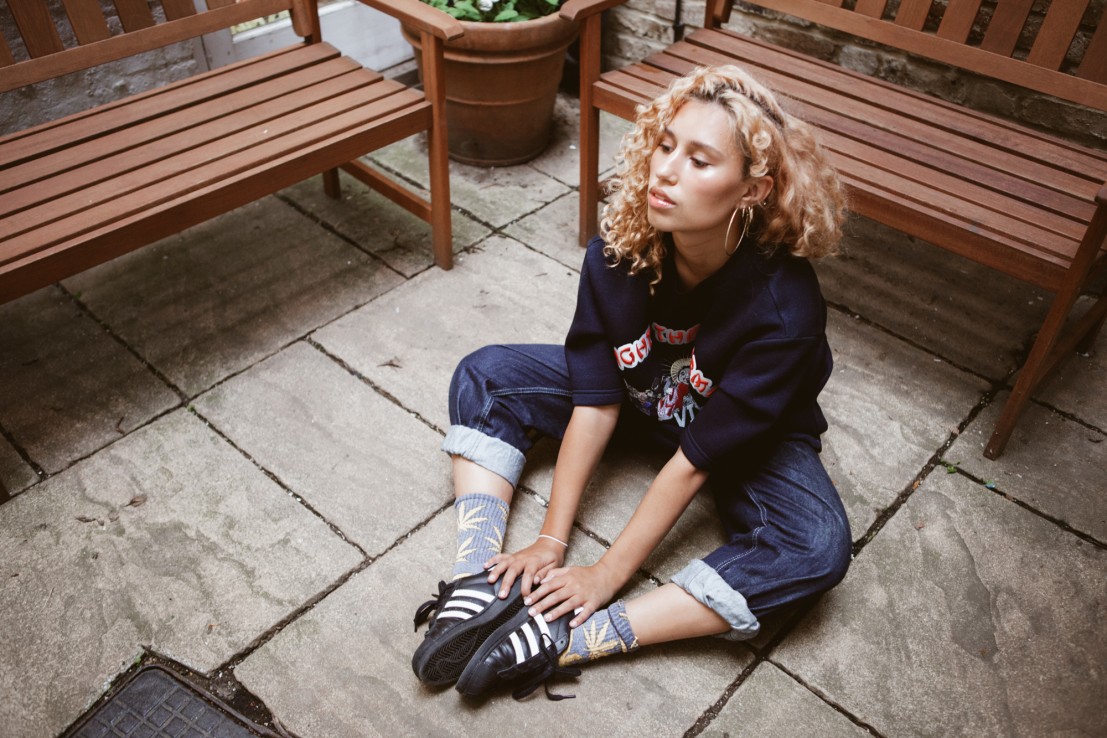 When did you sign with Polydor?
My publishing came first. I signed to Warner Chappell for that. I had no idea what publishing was six months before I signed it but I did know that I wanted to be a writer before an artist. I met Emeli Sandé for a bit and what she did was write loads before she did her own thing. I knew I was working hard enough to achieve that which is why I think publishing was so important for me and having the support of the right people, understanding what sync is and how to write for that kind of thing and writing for other artists.
It's a more sensible foundation for a career too....
Definitely. I'm a songwriter first. It made sense to get publishing first and I found the perfect person who believed in me and had continued to support me massively. We've been together for two years now.
That was in December of 2015 and I signed about four months after that with Polydor. At the end of the day, Ferdy Unger-Hamilton who was head of Polydor at the time, was so on it and it was the right vibe. I didn't know enough to know any more than what feels right, you know? I went with my gut and I don't regret it at all.
How much has your music listening changed in the last few years? Do you hear different things you never used to hear?
In becoming a better writer and learning what it is to be a better writer. I work really closely with a guy called Fred [Gibson] - and he's taught me so much about understanding a song. In my head when I used to write music before, I'd put headphone on, play the song, record, do five takes and choose a couple of melodies and I wouldn't work as hard as I do now on making something perfect. I can hear things now that I couldn't before: a pre-chorus, a middle eight, something that could be a hook if it lands here and we change the chords. Playing piano and being around incredible musicians is really helping me with that, you know? I'm 18 and it's so exciting: it's exactly what I wanted to achieve!
When you were talking about not wanting to be tied to the structure of songs, were there things that you thought you'd never do but you did because there's a reason certain things just work?
[laughs] Yeh I mean I think to limit myself and say I'm never gonna do that is just me being stupid and naive. If you wanna be successful and be the best you can be then you have to try everything. Being uncomfortable making very cheesy pop music, I had to do because, okay, let's find the balance. Or making jazz pieces that go on for ten minutes and have eight minute interludes and weird adlibs...but I'm growing up and I'm like "Raye, shut up, suck it up and enjoy it".
" It's about experimenting with structure and breaking rules a bit but becoming so attached to one way and do it a lot so you can get really good at it."
We go through phases of really, really loving something: maybe completely cutting out a pre-chorus, having a really long verse and a chorus that's similar to the verse but just a tiny tweak. And just do it for eight songs. Then change it and do a really short chorus. It's about experimenting with structure and breaking rules a bit but becoming so attached to one way and do it a lot so you can get really good at it.
Half the time it's complete rubbish and then you just hit that thing [clicks fingers] and it's like "wow, no-one's done that before, it's sick!" You just keep trying out weird things. The song "Shush" on my Second EP has six key changes, it's really emotive and intense. I've got so many ridiculously crazy songs but that was something incredible that came out of pushing the boundaries. Working with Fred and his brother - who is also his manager - I used to be so comfortable. When it was around the time of my Welcome to the Winter EP everything was mainly four chords, repetitive, really pretty. Simple drums, layered, very easy listening. That's what I liked then. I didn't like to be pushed. That was my bubble and it sounded right in my head because I didn't have anyone being like "try this, this this!" and my mind's been opened up so much since then.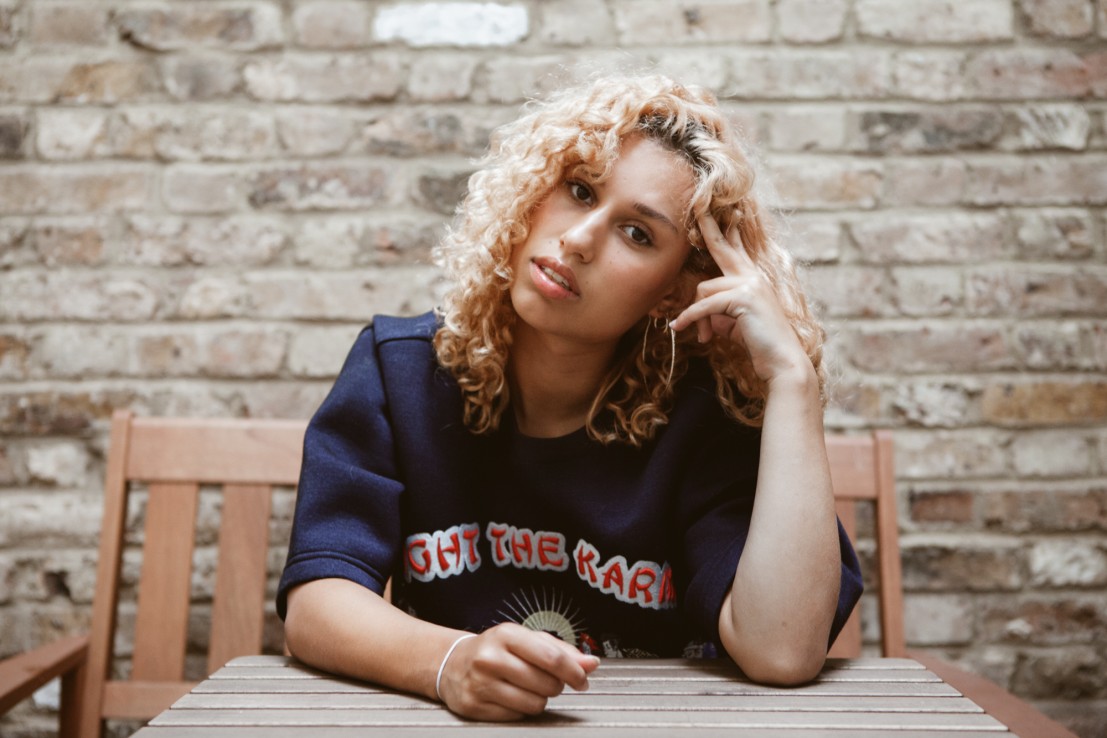 The collaborations you've been done have been quite notable. You wrote with Charli [XCX] and Noonie [Bao] didn't you?
Yeh, working with Charli was inspiring. She's done exactly what I want to do as well. It was so much fun to write with her. The first day it was me and her and Noonie. We were eating food, jumping up and down and we did three or four vibe songs in a couple of hours. Fred was in the room as well. It was the perfect balance of characters and enthusiasm and the freedom to just experiment with so many ideas.
"One thing about Charli XCX is she works bloody hard...I'm glad I got to cross paths with such an incredible person."
On the back of that Charli and got on really well and we stayed in contact. Then she asked me to come along to a writing camp she was doing. We did I think four or five songs in two days and one song got chosen for a single ["After the Afterparty"].
Can you hold your own in that kind of environment?
I come to a session with a couple of voice notes of ideas I've recored on the bus, some really cool titles, some lyrics and ideas I really like...and thinking about Charli and what she loves and sings about a lot: uplifting partying, being a bad bitch, you know what I mean? I wrote down a lot of ideas related to her and some were liked and some weren't. Through learning this whole songwriting process I think being prepared has been my best friend. Be prepared, turn up, work hard, take every opportunity, get there as early as possible, stay as late as you can...
One thing about that girl is she works bloody hard. I've never seen a treatment like the one I got from Charli for the "I, U, Us" video. With others treatments there was a couple of slides, a couple of pictures but Charli sent me forty pages, with massive paragraphs detailing each scene, what I was going to wear, the grain of the video. Everything was planned out. I couldn't have been more surprised. The thing that was her thing is it needed to look effortless and she nailed it. Obviously my label were a bit worried putting money into someone who'd never directed a video before but we did loads of planning and rehearsals beforehand. I went to her house in the middle of the countryside - it's so big and beautiful - and we were just dancing about in the mirror, practising. She really put a lot into it and I'm glad her stamp it on it and that I got to have that experience... I'm glad I got to cross paths with such an incredible person.

Writing lyrics can be quite an exposing process, I would imagine...especially collaborating with these kind of songwriters...
When I'm writing for myself it's very different but when I know I want to write for somebody else or just write a vibe you can just like take a character from a TV programme you're watching and write from her perspective or something. But when it's yourself...I don't like lying. Everything has to be real to me.
My favourite lyric is in "Four Women" by Nina Simone. It's the most incredible inspiration, it's so real. I love no bullshit and the delivery of those lyrics. If you were reading that as a poem it would be touching, not doubt, but as a song it bites you on the nose and smacks you around the face. Everyone sings about love because it's so relatable but in terms of what Nina's doing, she took racism and segregation and how people were treated differently - "My skin is black / My arms are long / My hair is woolly / My back is strong / Strong enough to take the pain / inflicted again and again".
Do you have plans for the album yet? Is there any sense of what it looks like for you at this point?
It's almost like I'm trying to take one thing at a time and not upset myself with expectation. Just for the sake of being stable. Musically there's so much I'm sitting on that I'm so happy with and my label's happy with. A sound that's uncompromising to me but at the same time meeting what my label want. It just matches, luckily! I want it to be massive! And I'm young and if it doesn't work I'll just keep trying but I want to leave a dent and be one of the best, even if it take me to when I'm forty. Sia did that - she was in it for ages and ages...
I feel like with the label it's the balance, you have to work with them. I signed with those people because they have a vision for me but it's my story and I have to go out there and it's my face on it.
RAYE features on Jax Jones' "You Don't Know Me", out now. RAYE's Second EP is available via iTunes.