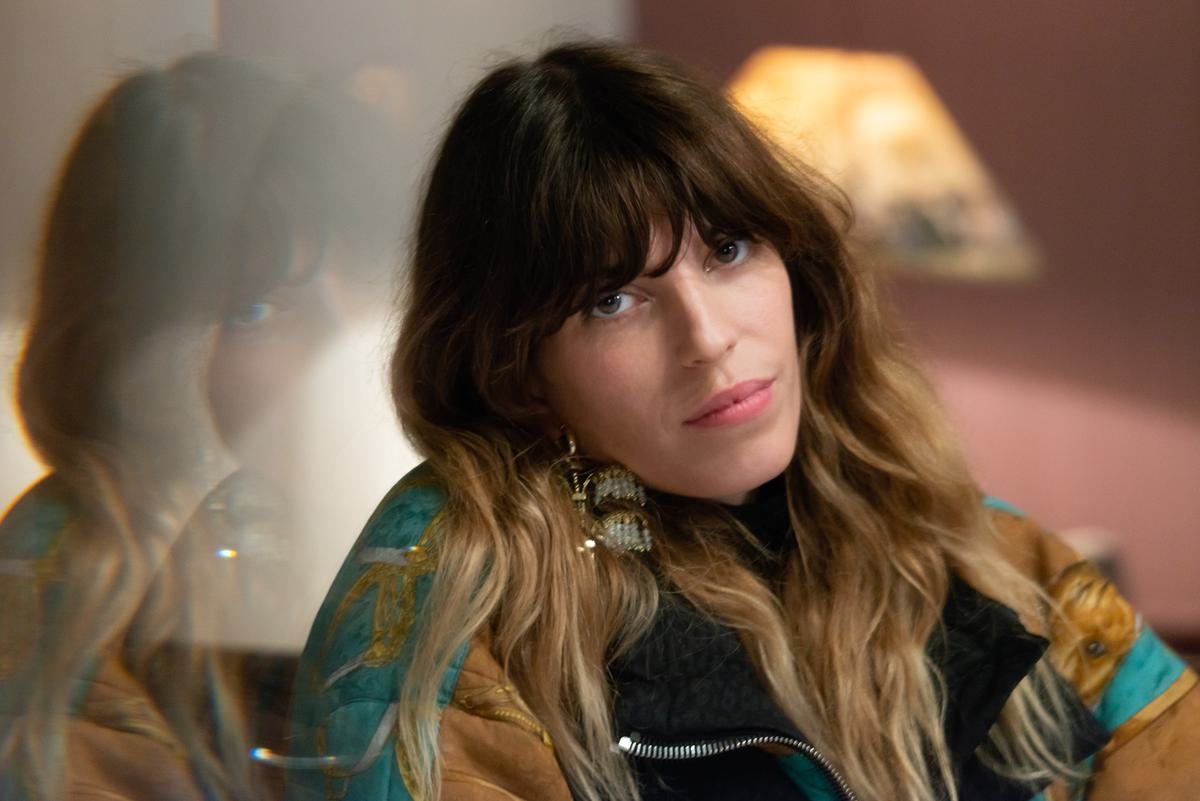 Green Tea and Soliloquy in the 12th
13 February 2019, 13:30
Lou Doillon - singer/songwriter, artist, model and a child of one of France's most famous families - talks poetry and logical imperfectionism with Em Burfitt as she releases third album Soliloquy.
I meet Lou Doillon at a café that dates back to the Belle Époque, in the 12th arrondissement of Paris. It's where Doillon considers home although one would expect the daughter of Jane Birkin and Jacques Doillon - and half-sister to Charlotte Gainsbourg and late photographer, Kate Barry - to be used to beautiful things and beautiful places.
Soliloquy is her new album and it's a record of dualities: where synth meets baroque, night meets the day, and in ways, like the signs I pass on garage doors to get here: jour/nuit. The thing with dualities is they tend to happen at once as fate, and it's fitting that we're meeting in the French capital, the city where the record came together.
Doillon and her band scurried off into a studio in Pigalle before enlisting the help of several different producers including The Shoes' Benjamin Lebeau on Soliloquy. "He's a nutcase!" Doillon says fondly of Lebeau. "I adore him, but he's an absolute nutcase. He built his studio in a warehouse on the other side of Paris. Like, this trashy warehouse where there was no electricity, no heating, and we recorded at exactly this time last year in the middle of the night. I was just dying."
To put that into perspective, Paris in January isn't only bitter when it rains; the rain is often mixed with icy slats of snow that turns your insides to stone. Where 3℃ feels more like -3℃ and your iPhone shuts down at the drop of a hat. Cold.
"Oh he's wonderful," she continues. "He's very pagan. He does stuff you don't really understand. The first night of work, I left at 4am and thought my ears were bleeding. He listens to music so loudly."
The second of the producers Doillon brought in to work with was Dan Levy of The Dø. Unlike Lebeau, Levy works in the countryside, during the day and, as Doillon tells it, could not be more opposite if he actively went out of his way to make sure of it.
Levy lives with his wife in a manner that completely disrupts the outsider view of The Artist: "They wake up in the morning, do sports, then they have lunch," explains Doillon. "They're a very perfect little couple". She laughs again at the recollection: "It was funny to go from one to the other; one who is very sweet and clean and then the other one who only works in the middle of the night, screaming."
Soliloquy's third featured producer was Chan Marshall aka Cat Power. Through the wonders of social media, all this collaboration took was a chance direct message from one side of the world to the other. Reaching out via Instagram, Doillon approached Marshall with the idea to collaborate.
To her surprise, Marshall said yes and "It's You" was conceived and treated over a course of ideas passed back and forth online. Doillon's feelings on the Internet are very much in line with the majority: "Crazy modern world," she says.
"I hate the algorithm. I hate suggestions. I literally insult iTunes when they dare suggest what music I should be listening to."
"I recorded it in Paris with the guitars, sent it to her; she went into a studio in LA, recorded over it, then sent it back and I went back into the studio. It was very much like working in a circus. Where you've got this very thin line and you just hope that you're going to get to the end and survive." She nods sagely, in which moment the world might wonder how any one person could be so cool. "It turned out alright."
"I hate the algorithm. I hate suggestions. I literally insult iTunes when they dare suggest what music I should be listening to. I'm like, 'No. You don't get it. I'm listening to Debussy right now and then I'll listen to Spinal Tap. Leave me alone!'"
"Someone was telling me about a friend who went to rehab. Media rehab. Just to stop being with her phone. I'm very cautious, although I did want to do a book on Google history. Like if you were to just check out your history after a day of internet binging and then wonder why you went from a documentary on sperm whales at 3 am and then now we're on Fritz Lang. You think, 'Stop. This has gone too far.' We only live once. Days are counted. Let's be a tiny bit aware of how we're going to spend them."
"But [the Internet] is a wonderful tool, for sure. If you're suddenly obsessed by the smallest, most detailed thing, you'll always find a nutter that's exactly like you on the other side of the world."
Doillon is also no stranger to loss. While we don't broach the subject directly, it's easy to identify which lyrics from Soliloquy are from that place; sometimes hiding behind upbeat musical turns and others, out blatantly. Other resounding themes of the album are love and realization. But weren't all three of those created together?
In 2001, her cousin, the promising poet Anno Birkin was killed with his bandmates in a car crash just outside of Milan. 12 years later, in 2013, her half-sister and famed photographer Kate Barry tragically fell from her Parisian flat. All of this in addition to the 1991 loss of her mother's former lover Serge Gainsbourg (whom Doillon affectionately refers to as 'Papa Deux') certainly had its own effect.
On the basis of 'celebrity', being part of such a connected family, one might think that Lou Doillon was destined for the spotlight. She herself isn't so sure. When her first album, Places, earned her Female Artist of the Year at the Victoires de la Musique - the French BRITs - against the likes of Gallic icon Françoise Hardy, she was surprised.
"I've never gone into a studio without having a song to record, not care, call my friends, and get drunk. It's the definition of hell. I can do that at home."
When you hear her music - particularly Soliloquy - it's easy to wonder how a chanteuse with such effortlessly smoky vocals could be surprised that outsiders might not respond accordingly. We're not all Kanye West though, and, as a Virgo myself, I have to ask her if there's any form of perfectionism that works its way in, even detrimentally? "For sure, there's an obsessive side," she admits. "It's something that's very hard to explain, which is that it's very personal. For me, I want it to be personal. If I make an apple pie - even if it's just for me - it has to be the most beautiful apple pie otherwise it will depress me. I've got this mate who's been smoking cigarettes for 30 years like me and who smokes rollies. They look like shit! I do not understand - the first thing I learned when I was smoking rollies was to do the most beautiful rolled cigarette."
Is it the same with music? "I've never gone into a studio without having a song to record, not care, call my friends, and get drunk. It's the definition of hell. I can do that at home. If I've booked studio time, there is no humor whatsoever. There's a half-hour break to eat. That's it. As soon as I see everyone kind of thinking that's normal, I get super dramatic," she laughs. "Like, actually, this isn't normal. This is a budget that could save a village and help people to eat. We're going to work."
"At the end of recording, my guitarist was like, 'You know, you're really tough when it comes to work.' I thought, yes. It's also a way of loving. My son's always saying, 'It's so hard. You put the bar so far up there. You always want me to be at my best.' I said, well, I'm your mom. Wouldn't it be terribly disappointing if I didn't?"
Doillon is whip-sharp with English as perfect as her French. When she calls you darling, it's the same feeling as being wrapped tightly in a hug that oozes maternal sensibilities. She gave birth to son Marlowe when she was just 19 and his name is also inked on her right forearm. Spending more than half of your life with somebody is nothing to be frowned upon, and when she speaks of him, dark eyes light up the way they do when she speaks of her music: arguably, they are her two greatest loves.
"I'm super critical towards myself, also. A trait of every Virgo: the critic with extreme logic." Every word, I agree with. She continues, "It [astrology] kind of makes sense. I was born on the Harvest Moon and I do believe there's a constant awareness to be sure that we survive winter. If you don't count all the crops and know exactly what's what, we will not make it through winter. I think that's where it comes from."
Doillon has been drawing and writing or as long as she remembers. She's kept diaries since she was 13, would draw to get through lessons at school, waiting around on film sets that would take forever, and eventually reaching that all-too-familiar traite d'artiste wherein she would never pick up the phone. "My movie agent got really pissed off a couple of years back. She was like, 'Why didn't you call me back? I want you to tell me the truth.' I was building this wonderful model. She was like, 'You can't pick up the phone?' I was like, no. I can't. I had 19 things to glue. I was in the middle of building a model plane from the English Air Force!"
Writing, she says, has, like drawing, just always been there. "Because I was drawing, I always had a notebook. And because I always had a notebook, I wrote down quotes and things that I love. Some of them resembled poems, but then I realized that I did love a rhyme and all of the modern poetry around me was so much more like contemporary art. Everyone was so much smarter and edgier. I realized that maybe I wasn't and that I did always go back to Dorothy Parker and other things I love, all of which had the form of rhythm. That's when I realized that maybe they were songs. Then came the guitar."
"When I'm in front of Pro Tools, I know that as soon as there are 25 things going on, I become an old lady."
In the video for "It's You", Doillon is seen on her hands and knees, painting two opposing hands on either corner of the large canvas. She has her own style, one akin to Raymond Pettibon but softer and less politically sexual with a focus on hands, wrists, and feet. Her drawings could be tattoos and, for the special edition box of Soliloquy, were made to be so.
"I was super happy last year. The people with whom I did a drawing book came to see me sing. We'd known each other for a year-and-a-half through drawing, but they had never seen me play. It was a show by myself on the acoustic guitar and at the end, the guy said, 'It's wonderful because you sing like you draw.' I thought, what a wonderful compliment. What I love the most in the process of creating something is how a little can go a long way. I draw with ink and so suddenly just that one line is the frontier between the whole and the empty. Music is the same thing."
And the whole and the empty, means of separation and balance?
She continues, "I work needing more with silence than sound. I love the thin balance. Sometimes TV, internet, or even in music, can feel like a colouring book. It's filled up everywhere; every frequency is filled. We need space. We need emptiness. All of life is a strange balance between holding on and letting go; the empty and the full. That part of my music, for sure, comes from drawing."
"When I'm in front of Pro Tools, I know that as soon as there are 25 things going on, I become an old lady. I get tired. I start cutting and throwing and throwing, which pisses people off," she grins; it's infectious. "I need to know what's happening. If there's so much happening, my brain doesn't get it. I love the moment where you decide to stop. I love Egon Schiele, for example."
"The moment where he stops is very strange. It's never a painting that's filled. There's a line and disappearance of it. You think, that's wonderful. Otherwise, we could all just go on and it becomes doodling."
Although the themes of duality that are rampant throughout Soliloquy and, perhaps, even Schiele's paintings, I ask if her songwriting is inspired at all by the existentialists. "Maybe," she ponders. On the contrary, "I love the English language as opposed to the French."
"In French, you can't make a sentence without saying what gender you are or which gender you're talking about, which I find a burden. I like the fluidity of English. On the other side of it, for sure, I believe we live in a very stained world where people are obsessed with the hero that's inside of them. I think that a majority of the sadness around is because we're not heroes all the time."
"I love the idea of having a mission when I write; a mission to talk about the pathetic, petty, small, short, jealous, mean sides of human beings. That's where I find that we're the most beautiful. If we are heroes, it's in everything that's extremely common. For example, I do love a girl who talks too much and drinks too much and is going to regret it the next day but does it every single night. I'm much more moved by that than the idea that we can only have songs of female empowerment. Songs of saying, 'I know what it is I'm doing and I know where I'm going. I don't need anyone.' You're like, wow. I wish. I have no idea where I'm going.'"
"We're all trying our best. That's what I love; we're trying. There should be a kiss on the forehead and tap on the shoulder saying, 'Yes, darling. You're doing your best." We're not told that enough. We're not told that we all stumble, we all get back up. It's the first things kids learn on the playground. Once we're adults, no one's there anymore to tell us well done."
Doillon is passionate about everything I ask her: from baroque music as an influence to snippets of self-realization and put-forth advice and poetry. "I found a Delmore Schwartz poem last night that completely made me smile. I thought, how wonderful to try to come back to that place. I'm often slightly alarmed in the sense that I can be a big amnesiac; I don't remember my childhood that much.." She pauses for a second as if tapping into the amnesiac years. "I do remember one thing, which is deeply in my music and work, is that my favourite thing to do as to put myself into a cardboard box in the garden when it was raining."
"I would put it in a way where I could see what was going on and the sound of the rain in the box," she explains. "Already, it was this idea of opposites; I can be in a box and be able to be outside. What was great was that - especially coming from a family such as mine - the adults around me were so famous. They got everyone's attention. People would literally not see me and it was wonderful because I got to see them all."
Nick Cave once told The Guardian that creative people are observers. I tend to agree, and the more that Doillon speaks of her youth and young adulthood, one could peg her creative spirit in three words. "People react in a really crazy way to stardom," she says. "I was always fascinated to see people before they had clocked on to my mum. The moment they had, there was this face they would do," she laughs.
"I could be this insane, tiny observer. Like a cat in the room." Or in a box in the garden in the rain? "For sure. Everything I do is related to that position of being under the radar, watching."
When it comes , Soliloquy, one track in particular stakes its claim on that one idea: of opposites. "All These Nights" begins with a calm vocal and builds towards a chaotic unleashing of creativity in its chorus. I ask whether or not they used a hurdy-gurdy; a song that has been picking at the back of my mind for quite some time.
"I think maybe it's because I've got a father who works so often with paradoxes, but since I was a child, he's always told me that the glass is half full. Then he would go on or five minutes telling me that, actually, it was half empty. He's not amoral, but non-moral; always saying that everything depended on a point of view," she says. "When I started 'All These Nights', the idea was to write on longing. I thought about how the queen of longing is Penelope in Homer's Odyssey."
"Everyone is always saying how he was brave, but you think, hang on. She was actually the one waiting. She's waiting every night," she goes on, the way only a true lover of reading can. "But then I thought, well, he's actually waiting every night, too. So then came the second verse. Then I thought of the sun. He's waiting and they're all waiting for nothing to happen. This is kind of weird."
Perhaps even another case of half full and half empty glasses, I say? "That's what I love. To keep changing the point of view," she responds. "You suddenly realize that no one is right or wrong, nor can they ever be.
"I very quickly fall in love with the other person's point of view during an argument. Then I twist it like a game of spinning and spinning and spinning. Most of the songs have that in them, that kind of constant spinning."
Indeed, many of the tracks on Soliloquy challenge themselves, and given the ideal album title, it would only have been strange if that weren't the case. "Too Much", for example, has a choral refrain of "so I smile a little too much". That, in itself, is the full and the empty.
"Yeah," Doillon agrees. "Like when I wrote 'Flirt', I had a very precise guy in mind. I was like, God, he's always in every club. As soon as you might go for it, he disappears. He's only interested in the chase. Then, six months after writing it, I came back home one night and my boyfriend was a bit sad because I had gone out all night. Suddenly I relistened to the song and realized that's me. I can do this horrible thing. This is a terrible thing that we all do, like cats and mice."
Passion is not something Doillon lacks, nor is it a presence lacking in any single part of her art; music or drawing. When we discuss age and the perils human beings put on ourselves to live our lives in steps from A-to-B, she recounts the movie Boyhood and the joy in its exceptional normalcy.
Mid-discussion, between lashings of autoharps, baroque, and the at times full, at times empty nature of being alive, Doillon begins to recite the Schwartz poem she had told me about earlier, "I Am Cherry Alive". As she reads, I picture the same images that are pulled from Marianne Faithfull's version of "As Tears Go By."
"That's it, I thought. That's childhood."
And the overall theme of the album, I ask?
"Opposites collide."
Soliloquy is out now