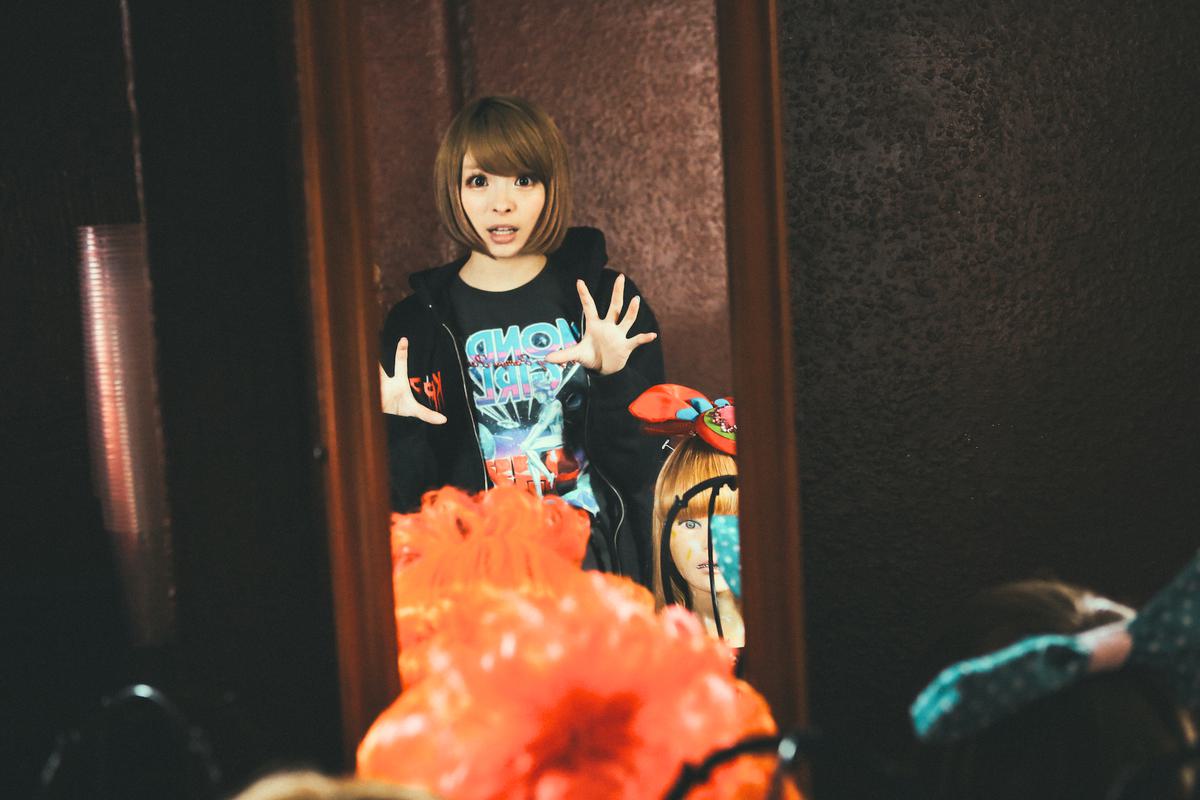 Growing Up Pop
09 August 2016, 09:30
On her way to global domination, J-pop superstar Kyary Pamyu Pamyu takes us back to her childhood and talks us through all things cute and terrifying.
Five years have passed since Kyary Pamyu Pamyu went viral with her street fashion-themed music video for dance-pop smash "Pon Pon Pon".
Since then she's more than conquered Japan: Tokyo train cars have been adorned with her image and music, she's a regular feature in commercials, variety shows, magazines and her own spectacular live performances, and rest of the world is calling out for more.
Kyary's career in music began upon her discovery by producer Yasutaka Nakata. Globally Nakata is best known for being part of the early Shibuya Kei and 8-bit electropop scenes, elements of which are evident in his Kyary tracks too. Her music is pure pop, but thanks to Nakata's background there's more than a fair share of nods to different genres throughout her catalogue. "Ninja Re Bang Bang" and "Kira Kira Killer" are filled with chiptune elements, "Invader Invader" is a total EDM blast, "Fashion Monster" is a rock-inspired anthem of rebellion and "Yumeno Hajima Ring Ring" plays with nostalgia. Kyary's second album Nanda Collection was her first to debut at the top on the Japanese charts and has since cemented itself as a J-pop staple. Nakata may have produced some of his biggest mainstream hits with Kyary, but she is not his only collaborator. He still produces music for a few other contemporary Japanese acts, including two she highly endorses.
"I can highly recommend Perfume and Capsule. Their music is also produced by Yasutaka Nakata who produces my songs. It has a really cool feel to it, I think fans of my work would also be interested in them."
Aside from being a J-pop star, Kyary is also known for being a Harajuku icon. Harajuku, one of the world's top youth culture hot spots, is Tokyo's most fashion-famous neighbourhood and has spawned thousands of street snap blogs. Style tribes meet likeminded people and showcase outfits here, music geeks shop for exclusive releases at legendary indie record shop Big Love Records and fashion trends are often seen months or even years before they make it on to the global scene. When she released her first single at the age of 18, Kyary was a fashion blogger and model for street fashion magazines like Kera and Zipper. These publications are deeply rooted in street fashion and appeal to their audience by using 'dokusha models' (reader models) that are already part of the local fashion scene - being easier to relate to and take style advice from than their out-of-reach high fashion counterparts. Aside from her outlandish stage outfits, she's still very keen on the street look, even scouring the globe for unique vintage finds which she shares with her fans on socials. This also spills into her merchandise, with metal-band t-shirts inspiring her own fan club apparel. While she always had an interest in outlandish dressing, her actual childhood was pretty normal. "I was actually extremely shy and rather reserved," she tells me. "I really loved sports though, so I mostly socialised with other kids by playing a lot of dodgeball. I loved Donkey Kong and played it together with my friends. I also had a Game Boy, and played a tons of Mario Kart, Mario games in general I really liked!"
Her pop culture interests, however, seem to link back to the sense of humour and theatrics exhibited in her live shows and music videos: "There was a TV program called Warau Inu No Bouken (Silly Go Lucky) which I really liked! I loved Japanese comedy, owarai programs. As for music, I loved a band called Morning Musume, I was a big fan. My favourite celebrity was probably their member Ai Kago."
One of the most famous Japanese idol groups, Morning Musume's origins date back to the late '90s. They were the originator of the 'graduation' system whereby older members are switched out of the line-up and replaced with younger ones, highlighting the disposable nature of the industry. If members don't adhere to a strict image - usually male-focused - the risk of losing their career and being replaced looms large.
"Personally I love Katy Perry. She's quite different from me but the pop world she creates totally appeals to me."
Kyary often gets associated with J- or K-pop idols whose level of image control is at the extreme. With a high emphasis on 'kawaii' (cute) she could mistaken as a typical J-pop idol - but the male gaze is almost absent from her videos and performances, and there is always a non-wholesome twist to everything she does. Something a bit off, mischievous or grotesque. Kyary gets a bit too drunk for her coming-of-age ceremony in the music video for "Furisodation", swings a baseball bat at pushy paparazzi in "Mondai Girl" and does what could possibly be the cutest little CG poo ever captured on film while dressed as a giant dog in "Mottai Night Land".
On stage she's even faked getting shot mid-song, complete with spurting blood, only to come back to life seconds later spritely as ever and of course, ready for another bloodstain-free costume change. Her inspirations for her contrasting image are quite diverse to say the least.
"As you'd probably expect I take a lot of inspiration from movies and comics, Japanese manga. I really love horror ones that are a bit scary and grotesque, but I like fantasy films and animation as well. I am mainly just trying to express these things that I love through my work."
Proving that she definitely has a high shock tolerance, she surprises me with her favourite horror movie - Hoste!
Aside from her tendency to mix cute with scary, another notable aspect of her image is how relatable she seems to be in real life. It could be because she started out as a blogger, but her Twitter still shows a very simple life: going out for drinks, taking road trips to amusement parks or singing at karaoke with her friends, taking on furniture DIY projects and of course, thoughts on her favourite movies, music and new fashion finds.
"I'm always looking to do things that no one else has done before"
Rather than going around in expensive sponsored clothing, Kyary dresses for herself. She's funny, speaks her mind, but is not overly concerned with always sounding intelligent. As expected, she has a lot of female fans (Grimes is one of them) that look up to her. We move on to talking about the importance of relatable female role models in music and art:
"Yes, I think it is very important! Lots of my fans are also young girls and women: they will often tell me that they really like the way I live my life and express my thoughts. At the same time when they come to my performances and I see them looking up at me with stars in their eyes I'm really really touched. They make me very happy. Personally I love Katy Perry. She's quite different from me but the pop world she creates totally appeals to me. I saw her live performance and I think it's so powerful. I have a lot of respect for her as a woman, as a person."
This doesn't mean a Kyary Pamyu Pamyu event is a girls-only club. One of her most impressive feats is the extremely diverse audience she attracts, even outside of Japan. While sparkly cosplayers do make up a significant amount of her audience, there really doesn't seem to be a set type amongst her fans. The audience is filled with everyone from children and young hipsters to serious-looking middle-aged office workers. It's quite bizarre that an artist that is so unique would appeal on such a scale to all these people that would otherwise never interact in real life, and hard to figure out what they have in common that draws them to her music.
"This is something I really wonder about too, it's actually kind of a mystery to me as well! I think perhaps that people love seeing something new, things that they have never seen before and might be interested in the kind of 'shock' sensation they get from me. If I can give them that it would make me very happy! I think I've also managed to gather a diverse fan base in this way because I don't have any real rivals or competitors in what I'm doing. It was always important to me to do something different from other people. I don't like to overlap or share the same path with other artists, I'm always looking to do things that no one else has done before."
" I also had a Game Boy, and played a tons of Mario Kart"
As expected, the crowd at Kyary's recent KOKO show in London is filled with both loyal followers and curious new fans. Since her modest first London gig in 2013, her shows have become more elaborate with every return to the capital. The stage set has grown to an actual flower garden, complete with plant DJ standing on top of a blooming DJ desk. Flanked by amazing backup dancers, the entire set is like an hour and a half long ride at Disneyland, pure fun and escapism.
Unmatched as she is in finding cuteness, humour and joy in an altogether scary world, she might be exactly the kind of pop star the world needs right now.
Kyary Pamyu Pamyu's greatest hits album
BEST
is out now via Warner Music Japan.