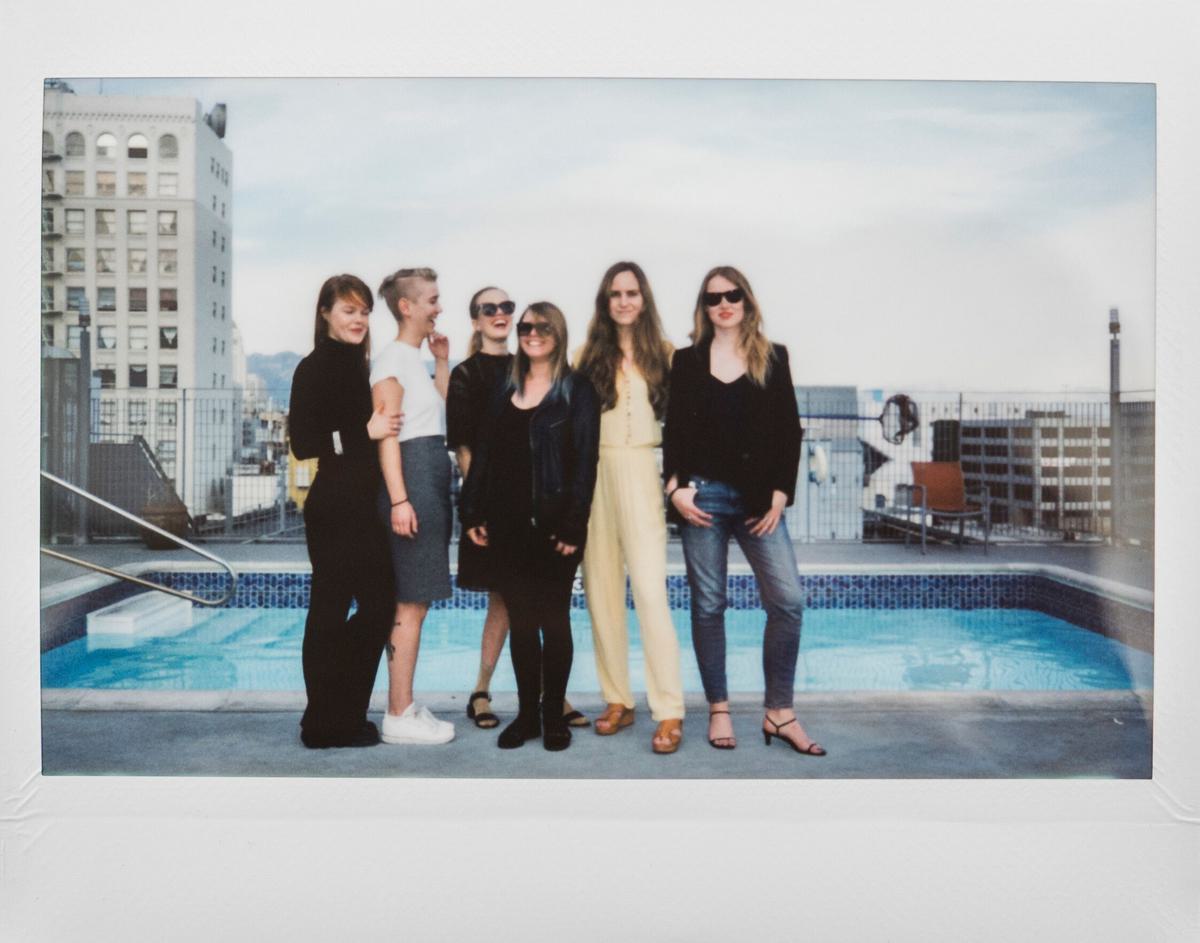 This Is A Movement
07 February 2017, 08:00
An all-female group is challenging the patriarchy in Norway. Producers, musicians, artists and designers are uniting as the incredible KOSO Collective. Andy Hannah meets the women behind it.
With greater artistic control and freedom, and with a safety net of other like­-minded women, comes greater artistic output and stronger collective bonds.
Rather than try and explain the wonderful, inspiring and vital work of the KOSO Collective in my own words, the above quote comes directly from the Oslo-based collective's website.
KOSO, simply put, is an all-female group of musicians, DJs, producers, filmmakers and designers working together to create art within a safe, supportive space. Co-founded by Juno Jensen (who records as Pieces of Juno) and Marit Soldal (who produces and DJs under her last name) it began as a creative collective and digital magazine, before going into club nights and launching a record label. I discovered KOSO through the music of Pieces of Juno a few years ago, unaware at that point of just how wide-ranging the collective's artistic endeavours were and are. I've never fallen for a label's outlook and ethos as much as I've fallen for KOSO. Yes, the music output is wonderful but it's so much more than that. KOSO is one of the most politically and socially important collectives, not just in Norway but across Europe.
Over the course of a couple of days I spoke separately to Soldal and Jensen (plus some other members of the collective) from their base in Oslo to find out more about the beginnings of the collective and where they want to go next.
"I've just come home from Berlin;" says Soldal, opening up our first conversation since a poolside chat at Øya Festival back in August last year. "I've been there DJing. I have a residency there via Music Norway, so I'm going to stay there for three months in March or April. I've met some good people and I'm looking forward to that."
Home for Soldal – and the collective – is Oslo, but she comes from slightly further afield. "I'm from a small town about two hours away called Notodden," she explains. "It's famous for its blues music and it also has a really strong black metal scene…which I was kind of into, actually."
Soldal continues: "I was playing in metal bands as a teenager haha! I started DJing really late. I've only been doing it for two and a half years maybe. It's kind of new for me!" Her KOSO co-founder Jensen was vital in Soldal's change of musical direction. "Juno was one of the first people who taught me [to DJ], one of several friends who taught me," she explains, "and I found it really interesting and I thing I could maybe master. I was going to this place called Fisk og Vilt [an Oslo nightclub]; I was there early before anyone came and hanging out both on my own and sometimes with friends, just practising!"
For Soldal, the whole scene was something completely new. She'd moved to Oslo, met people who would plot a vital course in her life for the next few years. "I wasn't that into electronic music before moving to Oslo. I was more into hard metal and stuff." I ask about suddenly finding herself in clubs where electronic music was playing rather than metal…what did that feel like. "It was a new world for me and I was super like 'wow this is so interesting'. I loved the way you could be so free and express yourself on the dancefloor. But it was hard to find a place to start…there are so many genres and it was a new way of both listening to and exploring music. It was like studying a new subject!"
Soldal's meeting with Jensen is a story almost mundane without applying future context to it. "We met at student radio, actually," she reveals. "We were working together on a programme once a week. We had been doing that for a year and then I moved to Denmark to study…when I came back we wanted to continue working together, but not in radio. We just talked a lot and the first thing that started out was the Creative Collective, actually."
KOSO is so much more than a record label, and the beginnings of it reflect this. KOSO began as a collective, as a place to simply create art in the broadest sense of the word. "We saw that a lot of our female friends were doing things on their own," begins Soldal, "and we thought it maybe would be better to something together. This would make it bigger and stronger, maybe. We started with that, and then the club nights came after that."
Marit Soldal.
Soldal continues, revealing that the dancefloors she first experienced in Oslo were the place where KOSO began: "In the beginning the club nights were a big group of people just hanging out and playing back to back…it was the collective getting together. But after a while people wanted to do their own projects and not everyone was that into DJing…so that's when I started to do that more on my own."
As the collective grew out and away from the clubs, Soldal took control of this side of KOSO. "We've been at Revolver for over a year now," explains the DJ, "and I've been hosting the parties on my own. DJ Svani [an artist on the KOSO roster] will start to host them with me now, which is really exciting."
We talk about the scene in Oslo at the time KOSO started and I ask if there was anything similar which the collective looked up to or took inspiration from. "There was something," Soldal says. "There were female DJs in collectives in Oslo at that time so we kinda looked up to them but it wasn't that strong in the scene. So for me KOSO evolved [naturally] as it went along."
A few days before we spoke, I'd returned from Bergen, on the west coast of Norway, where it turns out there was an EDM festival during the summer which had one female act across the entire event. It's indicative of the dance or electronic music scene, where being a woman is seen as a negative and if you're a woman you're not taken seriously. It's a man's world, yeah. "It was the same with the Findings festival here in Oslo," agrees Soldal. "I guess it's similar to the metal scene…it's rare to see the females there. Usually on the vocals I guess. But I became more aware of it as I spoke to people and went out more. In the beginning it was more 'wow, there's a female DJ there' and it's strange that you're thinking that, and not that it feels natural. The more I spoke to people [female DJs] I found it was really tough for some."
My follow-up to this is to ask, given the male-heavy scene, if KOSO has felt any resistance or backlash to what they are doing. "The reaction we get is mostly positive," Soldal reveals. "But then I don't think we have an aggressive approach. We want to support female and femme-identifying people. Like be a safe place for them rather than be excluded. I think that's easier for people to support than being aggressive. The thing I often hear is that 'well it has to be about quality'…well, of course we want quality but we don't think that should be a compromise. You can still have quality and be female-focused. For us, one doesn't exclude the other."
Soldal continues: "I went to this discussion the other day where the question was why there were so few female producers and DJs. One of the answers was maybe it was because it was a bit nerdy…and women just aren't nerdy. So I was thinking about why was that; I don't think women aren't nerdy, I think they can be really nerdy! But sometimes the way that some men make 'rules' about how things should be done, how to DJ for example…maybe that's not the only approach. Some of the other female DJs there were saying how they weren't that focused on different labels. They were focusing on the approach to the music, and it was different – I think that should be seen as valuable."
"We want to support female and femme-identifying people. Like be a safe place for them rather than be excluded"
I tell Soldal about Jensen's story from when she was a teenager and needed a midi cable, but was humiliated by the male in the electronics store who questioned why she needed something like that because she was a woman. Soldal agrees that something like KOSO means that this need never happen again.
"You have to start somewhere right," she affirms. "You don't start as a professional, you start as a newbie. And when you're a newbie it's good to have people who support you. That's what we do with KOSO; it's okay to be new. If you're interested we want to support you growing….I don't think that's an option in a lot of places. You can be made to feel stupid in a lot of places."
Yet as KOSO grows there's a feeling that things are slowly changing, a force stirring in various places across the world (we're speaking a day or two before the US elections, before any of the women's marches) – and Soldal agrees. "This is what I felt when I was in Berlin and London," she says. "It kinda feels like a new movement. People are more aware and using music to express political and gender questions. Well maybe it's been there all along, but I think a lot more people are talking about it now."
I mention Los Angeles-based collective Unspeakable Records, who are another female-focused collective releasing records and providing educational opportunities for young women wanting to learn about music and the industry. Soldal, Jensen and some of the KOSO crew visited Unspeakable last year, to share their knowledge and create together. "Yeah we met them when we went to Los Angeles last year," she says. "That was really inspiring. They have their own studio now and doing a lot of lectures and stuff…they're doing great things."
Soldal continues: "We're doing a lot of the same things already [as Unspeakable] with the collective. Like the collective thinking, doing projects alone and together….one of our artists did a collaboration with one of theirs. It hasn't been released yet. I like the way they do records with different artists, like a collaboration. It's a way of showcasing a whole bunch of different talents."
Now that we're talking about the music, I ask Soldal what KOSO looks for in an artist. The artists on the label do generally share a collective "sound". From Pieces of Juno, through Anana and Sara Angelica to Kine Hjeldnes these artists share a sort of relaxed take on electronic music. Sure, Pieces of Juno will always confound with stylistic changes and rapper Lille Stine is something of an outlier (and then there's the clubbier DJ and production work of Soldal and DJ Svani)…but you can see what KOSO are looking for. "Well that the sound is good, of course!" laughs Soldal. "And that we can see some potential. It can be different sounds and genres…but I think a lot of our artists are self-sufficient, in a way. Most of them do a lot of their production themselves. Like Juno, she does it all by herself. The artist has to be in control of their own music. I think it reflects that we're different people and our music will sound different because of that. I think we're a little bit in the electronic world and a lot of the music is kind of mellow, in a way…."
And what of Soldal's own work. I ask if performing as DJ Soldal has given her a thirst for releasing her own music. "I think I'm just starting out with Ableton, actually," she reveals. "That's a new thing for me so I don't know if I'm going to release anything soon…but I think it would be cool to do more club releases. That's a goal for me. It's fun at the stage where I am now; to play with others and learn the process. That's the good thing about being in KOSO. I can ask Juno, or one of the other girls, if I'm insecure about something."
She continues: "I've been focusing really hard on doing the DJ skill thing. I bought my own CDJs, and trying to focus on the technique, building the dancefloor…I'm learning as I go! But after DJing for a few years I am feeling more secure in that area."
We end by looking to the future. I ask what Soldal and her crew want from KOSO, where the want the collective to head next. She mentions the next KOSO night, a "Dancer" edition which took place in November and featured vogueing dancers. "I think that's a great way of including not only females but also transgender people."
In general though, Soldal just wants for KOSO what we all should want from the collective: "To make great music and great art!" she states. "To be able to release more and to be more out there and for people to know KOSO releases quality music…even if we're women hahaha! One thing that's really good is that we get the support from Music Norway. That helps us expand outside Norway. Just being able to go to Berlin and talk to people about our projects and have them be excited about it….that means hopefully we can do showcases outside of Norway."
A Pieces of Juno live show is more than just being about Juno Jensen and her music; it's a collective effort and perhaps the shining example of how KOSO works and what it can achieve.
I'm speaking to Jensen a few days after my conversation with Marit Soldal, and a day or two after the first Pieces of Juno live show in support of her new album, due out in a couple of months' time. Along with Jensen, I get the chance to chat to Anna Leijonhielm (a filmmaker and VJ under the name Lionhelmet), dancer Ida Frømyr Borgen and production designer Hedda "Eddy" Virik – all four make up the Pieces of Juno live show and all bring their respective creative talents to KOSO, a place where they can thrive.
The live debut came at Ekko in Bergen, and Jensen seems pleased with the outcome. "It was great!" she exclaims. "It was exciting to finally have the premiere [of the debut album]. All of these girls travelling up for it was exciting. Anna is the VJ, Eddy does production and Ida is the dancer.
Jensen explains how the quartet ended up collaborating on the live performance: "We kind of just melted together on this project," she says. "Anna [Leijonhielm] was doing visuals for one of our KOSO label nights. She made images for the background at one of Marit's (DJ Soldal) DJ gigs. Ida [Borgen] has been part of the crew since we started, she's been in all of the videos…and Eddy [Virik], she's the newest part of the team…"
"It's the first time I've been able to do a show with my girlfriends…it's been a dream for a very long time. I'd never played in a group where there's only female musicians, and it feels like a band"
Although she's described as the newest member of the KOSO crew, it's instantly noticeable just how thrilled Virik is to be part of the collective. "I've always been an avid KOSO supporter I guess!" she explains. "Me and Anna both work in film, and it kinda happened naturally that we went together…I thought Anna could use the support in music videos. But it's all very organic. There are all these great women we can use!"
"It's kind of an un-traditional band really," explains Jensen. "I love that! It's the first time I've been able to do a show with my girlfriends…it's been a dream for a very long time. I'd never played in a group where there's only female musicians, and it feels like a band even though they have their own field. So Ida is like a member of the group when we perform…it's very theatrical and so much fun."
Even at this early stage, it's clear that Jensen wants Pieces of Juno's live show to be seen as a theatrical experience where the visual and design aspects are just as important as her music. "Absolutely," she agrees. "When you bring someone else in, like Ida for the dancing, there are so many new ideas and things I've never thought of….suddenly it's a natural part of the project and it really enhances the experience." Jensen is keen to make sure the ideas-sharing goes back and forth, and doesn't always have to start with music. She continues: "I mean, I really want to work on the other side of the table – I want to work with Anna's visuals before I create music. We can see where that takes us; that could be the next step. We could do the same with Ida's dance."
On the set of Pieces of Juno's "Your Mouth Is a Dragon" video.
I'm curious as to where the starting point was for the current live show, and just how the four artists work together. "The process…for us, especially for me, Anna and Ida," begins Virik, "we already had so much material from just knowing Juno. Her music is packed with symbolism and there's a progression on the record which has its own story. They're very thematic and basically candy for me and Anna! I also know Juno is a little bit of a film nerd, so we bond over that and we definitely speak the same language…talking about how the visuals will work. We move a lot in shape, colour, form and texture, and it goes from there."
Leijonhielm adds: "Juno just gives us a free rein and we can almost make whatever we want….she trust us to make something that will fit her music –"
" – and it always fits!" interrupts Jensen. "Also, it turns out we were all goth kids when we were like 13, and we only figured this out a couple of weeks ago! Like, wait, what!! It's no coincidence [that we get along]."
From the dancer's perspective it must be slightly more tricky than with the visuals or the production side to come up with something which works with the music and doesn't become a distraction. "Working with an artist and in this case working from her music," begins dancer Borgen, "it was made before I came into it, but it still feels like a collective way of working. It's a symbiotic relationship. Juno brings us in and trusts us with our expression, and we make something together. It's still yours [she says to Juno] but I feel it's very much mine as well, and ours."
Borgen continues: "It feels really nice as a dancer to be a part of someone else's baby, and still get to have that feeling that you're an important part of the result." But what about getting it to work as a whole; that must be the hardest part, right. "Our goal is to create a kind of ambience, so I guess we all project that through our work and it comes together as this one thing," says the dancer. "I mean you could separate it and say we're all really showing off, but when it comes together we create a feeling of unity…so you can look at one aspect, but it wouldn't overrule the visuals or the music because it's such a big part of the art."
Virik picks up the theme of interaction: "You mentioned the symbiotic part of it…I do think because we're working towards a common goal and we all kind of know the narrative setup," she explains. "We've talked about the story, we've talked about the progression of the drama in the performance – there's a red thread through the story we're telling. So working towards that common goal we know what to do and we feed off each other. And definitely through Juno's music it's really nice to feed off that. Of course, she is the beacon in the middle here, and we can all feed off the energy and feel the narrative."
"I feel it's like when you're making a movie," says Leijonhielm, explaining the centrality of Jensen in the performance. "You need a main actor or actress, then you need the clothes, you need background, you need everything around it. It's almost like we're building a set. I'm the background with the visuals, the mis-en-scene, then you have Eddy doing everything surrounding the main actor, and we have a dancer who will add a lot of movement."
Jensen stress just how different this is from a normal gig experience. "We're trying to do something other than the traditional concert," she explains. "We're trying to build a performance or make it theatre, even. An experience! Rather than just song-clap-bow-next song, you know. It's more connected than that. Through this album, which is going to be released in two parts, it's a story and that's what we're trying to portray live…that journey in creating these songs. It's part of a big concept. I think these beautiful people surrounding me are into concepts as well…I'm lucky to have found them."
The Pieces of Juno show debuted in Bergen clearly wasn't thrown together. It had been road-tested but the fact it was born out of the KOSO collective meant it was destined to work. "The first time I did this material live was with Ida and Eddy this summer," says Jensen. "That was the first time we'd tested out a twenty minute set. Already then I felt it took a more theatrical turn when we put it onstage. I have a history in theatre and I've always wanted to put more theatre into the music so it becomes more alive when you put it on stage." Do you feel that adds something. "The music is more connected with the audience…and with the dance work and the singing – because I'm singing on this project [not something you get with every Pieces of Juno release] – it just becomes more alive generally. I have a station where I improvise on the piano with acoustic sounds. All the music comes from my station so I suppose in that way it can be set, but we're also going to expand with more musicians next year, which will be exciting."
I say to the quartet that if anyone needed an example of why and how KOSO works, you could point them to the way they've worked and will continue to work. "Definitely, definitely," affirms Jensen. "It's such a gigantic part of this I can't even begin…I've met these people through friends, or friends of friends and it's been coincidental - but then you have this collective force which binds it all together. In a way it forces us to join our projects, instead of just hanging out. You become alive and start creating together…and that's the exciting part."
"KOSO is very important," agrees Virik warming to the subject. "You have an environment of professional women being able to talk out loud professionally! I don't know how I can explain it other than that. You have an environment where you are encouraged to share ideas and you're never trying to climb or impress someone. You're there under the premise that 'holy shit, you're so awesome, let's work together!' [Jensen, Leijonhielm and Borgen all break into laughter here] and that is great because you really feed off each other that way. Onstage, with the process, the people you meet…you see all these fantastic, talented hard working women just going at it. And that is amazingly inspiring!"
Leijonhielm adds: "With KOSO we appreciate each other even more, in order to become better the next time."
Jensen and Sara Angelica
As much as KOSO provided a place to make art, it also created a much-needed place politically and socially too – for women who needed support in whatever they were doing. When Jensen and Soldal realised this, the collective took shape. "We wanted an excuse to find other talented women, or to bring our close friends together to work on projects," says Jensen. "And to have a hub or a safe space – somewhere you can try and fail, be in each other's projects and learn from each other. I just missed that, and I think Marit did too. It started with the club and DJing, and the digital magazine that we had. Then we decided to become a record label last year…" I ask what the reason was behind that decision. "Because music is the thing which binds it all together," she replies firmly. "We're people in film, dance, photography, graphic design, everything…and music is the thing that glues it together. And music is also the creative field which can borrow from all of those other fields."
I ask the crew the same question I asked Soldal – what's been the challenge, has there been resistance to KOSO. "That's a good question," ponders Jensen. "I really feel that there's been so much support towards KOSO, and people that we talk to really love the idea and concept - both female and male. The most challenging part for me was to realise what we really could do! It took so much time to finally realise that I have this ocean of talent surrounding me….and I discover this when I'm 25!! It's a little bit late! It was the same with music production; I didn't realise I had the talent to do this – we're kind of programmed in a way, and that's been challenging. It's a difficult subject…."
"You have an environment where you are encouraged to share ideas and you're never trying to climb or impress someone. You're there under the premise that 'holy shit, you're so awesome, let's work together!'"
Jensen tails off at this point. It's clearly still an emotive issue, and one that the collective challenges every day. It's little wonder that Jensen is exasperated by taking shit from a male-dominated industry. Having to face this every day for a decade when all you want to do is make music would make the best of us throw in the towel in despair. Not KOSO, though.
"I mostly have experience from the movie industry where it's definitely difficult," continues Virik, "and I see parallels with the music industry. There are people – not only in executive positions – you work with who always treat you differently. I don't know if it's just Norway, we are a small country and it's a small industry, but it's super difficult to get in or network."
I was about to ask Virik for an example but she's on a roll and it's brilliant to listen to. "Basic stupid shit like having a beer with someone becomes this huge thing where it's taken less seriously if it's a man and a woman than if it's two women meeting, or two men. You know it's a boys' club and there's this feeling of 'drama' if a woman is there. So simple things like networking I've found to be really difficult. And with KOSO, it's suddenly we don't have to do all these little things where we have to guard ourselves or not give the wrong impression, or not to say that. You should never put restrictions on yourself over what you want to do."
Pieces of Juno - Beethoven's 9th Symphony Remix from Anna Leijonhielm on Vimeo.
"That part I really agree with!" exclaims Jensen. "I always feel like I misbehave hahaha! And that's the programming again. I always feel like I'm doing something wrong and there's this great social anxiety…but in KOSO I always feel like I belong. Now I don't feel like I'm doing anything wrong and it creates a safe place where I can express myself the way I want to express myself, not thinking about whether or not I'm a woman. I'm just an artist. But in society I'm always a woman and that's kind of irritating."
KOSO highlights the good work that the artist does, and praises the great work done by women in the creative industries. Releasing records is simply another step in that process. "That's why we wanted to release the music and be very expressive about it being produced by women," affirms Jensen. "It's so easy to forget that women can have full creative control over their own project. Everyone's wanting to excuse something that you've done, like 'oh it's probably produced by a man, it's probably managed by a man' – all those kind of excuses when a woman does well or challenges something…we want to tear that down by doing our own thing. KOSO has helped me to unleash the beast haha! I feel a lot safer with the girls; you have a protection and you can be who you want to be without anyone telling you that's not how you should be, or whatever."
"In KOSO I always feel like I belong. Now I don't feel like I'm doing anything wrong and it creates a safe place where I can express myself the way I want to express myself, not thinking about whether or not I'm a woman. I'm just an artist. But in society I'm always a woman and that's kind of irritating."
I ask what's next for each of the quartet, but one idea stands out. "I think we want to reach out with all the artforms," says Borgen. "We were talking about schools, for example. A project where we can influence young girls--"
"Yeah me and Ida had been talking about school tours," adds Jensen. "It's still talk but we want to be visible for young girls. It'd be nice to start at a young age, like junior high where you can see that you can use your crew to create beautiful things."
Soldal and Jensen.
I mention Soldal's earlier comment, about realising it's okay to be a nerd, which provokes laughter.
"Juno's like the biggest nerd!" exclaims Borgen, who previous to this had been quietly stretching her dancer limbs in the background.
"We're never done, we still learn, I'm still learning!" laughs Jensen. "Everyone is a nerd, you just need the right place to flourish and see what the results are. When you look back at history, all the big discoveries, they're all male. It's actually just that a very large portion of female history hasn't been told right. It's a lot about building a mentality which can put you in the spot to actually visualise what you can do with your life and your team. It's like that playlist on Spotify with 1200 years of female composers – like, nobody told their story! I didn't hear about Mozart's sister and how she was his inspiration for pursuing composition. All of these stories are hidden because history is told by men and it's a big problem."
It seems like there are so many directions to head in for KOSO that the only difficult decision they have to make is how the collective will cope with being a success in so many areas. But I ask Jensen where she sees KOSO going. "We really want to reach out," she says, firmly. "We've had a couple of events inviting people who aren't directly linked to the collective. Also, we've been approached by women who really want to learn or to have other women produce their tracks. We're still small and we have to take one thing at a time but I really want to be a visible person. So that young women can see that when another woman produces it's easier to search for the same tools or explore a side of yourself. We're still young but that's definitely something we're working towards…being even more visible, being even more open."
You can find out more about the
work of KOSO here
and Pieces of Juno's debut album will be available in April. Photos courtesy of Sara Angelica Spilling, KOSO and Suzie Strong of Unspeakable Records.