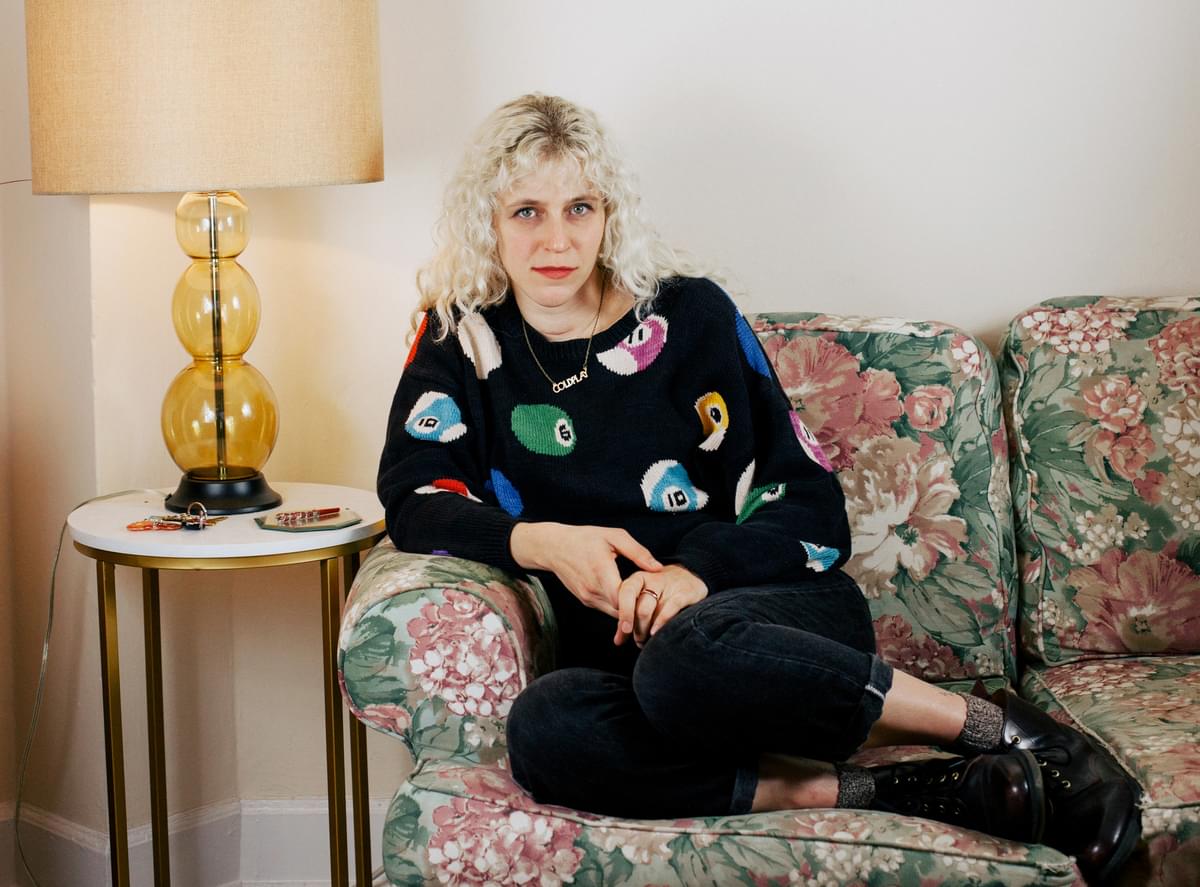 In her most natural state
06 June 2019, 14:00
A year and a half on from a personal crisis that left Julia Shapiro on the verge of an emotional breakdown, she tells us how she found her way back to make her debut solo album
About a third of the way into their headline tour of the United States in April 2018, Chastity Belt made the decision to cancel the remainder of their dates. Citing "health concerns" in a Facebook statement, paired with a sign that read "self-care", the post-punk quartet returned to Seattle and began a year of quiet, of laying low. About seven dates into their tour and somewhere in between the state lines of Tennessee and North Carolina, lead singer Julia Shapiro desperately needed a break.
Emotionally, physically, mentally. Shapiro underwent surgery to remove her thyroid because the doctors thought she had thyroid cancer, though they only figured out she didn't have it after taking it out. She was frustrated with how slowly things were going with Chastity Belt in the post-record release stage of purgatory. Bassist Annie Truscott had moved to L.A., so they didn't practice as much. She was disillusioned with the album cycle – record album, release album, lather, rinse, repeat. She was also deep in an existential crisis and finding herself questioning her role in life, and if she was doing enough to satisfy her own creative endeavours. If Chastity Belt was enough. Was she good enough? Should she take up architecture instead? Did she really want to be in a band? Did she even want to be in a band in the first place? What do you do if you've been in a band for eight years but now want to do something else with your life? How does someone get to be so confident? Not to mention she was going through a breakup at the time. She got to keep her one-bedroom in Seattle, and she lives alone, but that's the way she likes it.
"I didn't feel like I had any of my own space. I just felt as if I was losing myself a little bit," Shapiro says.
And so, Shapiro needed a creative outlet to deal with it all. A break from Chastity Belt meant she could work on her own material privately from the comforts of her own makeshift home studio. She learned how to mix her own music and the basics of sound engineering. She'd write and record all the instruments herself, to a tick. Having been afforded the privilege of time and self-reflection, she was able to mess around at her own leisure and figure out her own sound and try new things she hadn't before. "I just knew no one but me was listening," recalls Shapiro.
It resulted in her own solo full-length effort titled Perfect Version, which sees Shapiro embrace her own vulnerability – at least lyrically – but, in doing so, challenges herself to become her most capable and resolute self. Highly self-aware and thoughtful, Shapiro asks existential questions about how to become the Perfect Version of herself. Gone are the lyrics from the nascent days of Chastity Belt of "PUSSY, WEED BEER!" and lyrics poking fun at gender tropes and satirical, tongue-in-cheek humour. On Perfect Version, Shapiro is constantly soul-searching and outlining anxieties about herself, her surroundings and her own abilities. On first track "Natural," which carries similar Chastity Belt-esque reverb-soaked guitars but minus the dry wit or feminist commentary, she yearns to know what it's like to have self-confidence. It's a core theme on the record.
"How can somebody be so blindly confident? / I wanna know that trick," she laments. "How can you love yourself, so damn much? / It isn't natural." These are questions you wouldn't expect a touring musician, especially a frontwoman of a successful indie-rock band, to be asking.
Now, though, a year after the dissolution of Chastity Belt's U.S. tour, Shapiro is in a much better place. "When we called off the tour, I just wanted to hide, because I felt very exposed. It was as if everyone knew something was up and everyone was asking me about it. I took time off and actually addressed things that I hadn't addressed," Shapiro says now in the middle of Chastity Belt's first tour in more than a year, hours before performing at the Capitol Theatre in Olympia, Washington. "It was about re-evaluating everything and making sure that we, as a band, were doing things for the right reasons and that we were staying true to ourselves. It got to a point where we felt we were put into this track of what bands had to do. You still feel that way a little bit, but we're trying to fight it more and come back to our roots, where we get to do what we want. That's what makes us special."
Perfect Version is arrestingly honest, light years different from the ideologies of Chastity Belt – at least, the beginnings of Chastity Belt – whose foundations came from never taking themselves too seriously. They couldn't. They didn't know how to. Shapiro's initial approach to songwriting was one that was tinged in humour, taking a light-hearted approach to feminine stereotypes. But on Perfect Version, and even beginning with Chastity Belt's 2017 release I Used To Spend So Much Time Alone, Shapiro's lyricism became contemplative, personal – and even melancholy. "Woke up feeling sad / I should really delete my Instagram," Shapiro asks on "I Lied. "What happens when we die? I'm not sure I believe in the afterlife".
Having had no confidence as a band when starting out, Chastity Belt was the first time Shapiro ever truly wrote music or even played music with other musicians. "We didn't feel we were a good enough band to actually be serious. And also, it was fun!" she laughs. "It was funny, and it was a joke to begin with. We all gained confidence in our musical abilities and felt we could take the whole thing more seriously, including the lyrics. The way that we wrote songs also changed so that funnier lyrics didn't really match the mood of the song anymore."
"It was about re-evaluating everything and making sure that we, as a band, were doing things for the right reasons and that we were staying true to ourselves."
It was only by developing as an artist and a writer with Chastity Belt, however, that she was able to grow in confidence to become more honest and pensive as a lyricist. "Once we became more serious, I freaked out because I was like, 'Oh shit, now I can't actually hide behind on anything. I'm just being myself,'" she says. "But it definitely feels a lot better and a lot more rewarding to put out music that feels like a more realistic representation of myself."
As Chastity Belt grew, so did their audiences. Having started their career playing to drunk college kids, they were pressured to play more upbeat, party music – case in point fast-paced lo-fi numbers like "Seattle Party" and "Cool Slut". "Now, people will watch us no matter what so we can play," says Shapiro. "We felt more comfortable around each other and playing in front of other people. And more natural."
Shapiro uses the word "natural" frequently whenever she's describing herself as an artist. She uses it as a feeling to validate her own musicianship, using the word almost as it's her own moral compass. Shapiro never forces herself to do anything, and if it doesn't feel right – or "natural" – that's where she needs to re-evaluate. The post-I Used To Spend So Much Time Alone limbo didn't feel natural. Album cycles where you're supposed to write and release art based on a record label's schedule doesn't seem natural. Even performing doesn't seem natural. At one point, even being in a band like Chastity Belt, didn't seem natural. "I think, subconsciously I always wanted to be in a band, but I never fully admitted it to myself because I was afraid of it," Shapiro confesses.
On the track in question "Natural", Shapiro envisions herself leaving the confines of the city of Seattle and seeks solitude on her own in the woods. Maybe she'll have a dog. She could take up a new skill. "For me, it's what does being an adult and living in a city means if I'm not defined by playing in this band?" Shapiro says. "I was having a bit of an existential crisis. I still think about it all the time."
During the crescendo of this existential crisis, Shapiro booked a month-long trip to Melbourne just to get away from it all. She has musician friends there. She's friendly with Melbourne natives Courtney Barnett and Camp Cope, and it felt like a good idea to escape Seattle for a while. She booked a month away in April 2019 on a whim, but she ended up playing a couple of solo shows there in the outback supporting Australian folk musician Darren Hanlon on his two-week tour, whom she met through her friendship with Barnett. It was just her and her guitar, and no backing band. It was different from anything else she had ever done.
"It was almost like show boot camp!" Julia recalls. "It was like, these people are not here to see you, and they're really confused by your music. I was playing my friend's guitar. It's this really old half electric, folk sounding guitar that was really hard to play. I write all my songs on a Jaguar, which is easier. It was challenging, but it made me feel less of a perfectionist about it. I was like well, everything is out of my control anyway."
Did the lack of a known fanbase kind of ease the pressure for her a little bit, knowing that these people had no idea what to expect from her performance? "Yeah, it was less nerve-wracking because I was just like… I don't know these people. I'll probably never see them again!" she continues. "They don't expect anything from me. But then I missed having that support from fans. They'll love you blindly no matter what. I could play a really bad Chastity Belt show and people will still come up and be like, that was amazing! But most people in the outback were really nice. It was mostly in my head of me being like, this sounds really bad, right?"
Playing solo allowed Shapiro to get more comfortable with performing outside of her own comfort zone. It helped that she ran into a few familiar supportive musician friends during her time in Australia, too. Her time Down Under overlapped with Kurt Vile's – another good mutual friend of Barnett's – and she ended up opening for him in Australia. "It's always really great to meet a musician that you've looked up to and loved for so long and they don't let you down," she recalls. But how hard was it playing solo instead of playing with a band, especially immediately after she recorded her debut solo album entirely on her own?
"It is more thrilling playing with a band. I can hide more at times and it's exciting. When you're playing solo, it's almost too easy to hear yourself. I almost don't want to hear myself as well!"
"I think playing solo, I feel more in control. I can decide the setlist depending on how I feel in the moment," Shapiro acknowledges. "But it is more thrilling playing with a band. I can hide more at times and it's exciting. When you're playing solo, it's almost too easy to hear yourself. I almost don't want to hear myself as well!"
In the first part of "Natural," she questions how others can be so confident and is at a loss with her place and role in society. Once the second verse kicks in, though, you hear a much more poised Shapiro, as if she has finally figured out what she wants for herself: "I'd like to learn a skill, something useful / Then I'll support myself, and I will buy a house / I'll live alone in it, somewhere out in the woods / And I'll feel new again, I'll be my own best friend." Even her vocal delivery becomes more assured with that last line.
Her desires for escapism and anonymity are clear, but a sense of loneliness isn't. In fact, she suffers from the opposite. "It's more about not having the choice to be alone," she says. "I think it's important for me to have a balance of being alone and being with other people. I'm just the kind of person who has to reflect on things." That sense of constant self-reflection, though is a key theme on the album.
"I'm always questioning if I should keep doing something," Shapiro confesses. "I'm not the type of person who's going to be, like, this is my destiny. When I was struggling last year, I was freaking out about what my identity was outside of the band. Because all of my adult life so far, or the last eight years, has been defined by this band."
So what else is on Shapiro's mind? Graphic design, for one. Shapiro designed her solo record and does a lot of Chastity Belt posters, but has never studied it. "I think it would be fun to do some job like that or not even graphic design. I would build furniture. That sounds nice, you know," she wonders, aloud. "Just something visually creative. Something that allows for creativity and allows me to actually be invested in it."
You have to wonder, then, how something so creatively stimulating like being in such a socially aware band like Chastity Belt, writing music and lyrics isn't enough to fulfill one's creative pursuits. But it's not as if artists testing out their creative versatility isn't common. A. Savage, singer and guitarist Parquet Courts, is a noted illustrator and designs most of the band's artwork. Nick Cave writes fiction. Patti Smith paints.
"There are other things that I'm interested in," Shapiro admits. "This [being in a band] just happened to be the path that was the easiest to take! And it's continued to be the most natural one. I'm going with it because it feels like the best thing to do right now. But yeah, I'm probably going to keep questioning forever."
Part of it, admits Shapiro, comes from never actually intentionally pursuing a music career. It's safe to say that most successful artists in the music industry had it in their heads that they wanted to be musicians full-time. But not Shapiro, or even Chastity Belt, with the band having been formed out of a joke when they were just 19 years old. Chastity Belt's rise in the Seattle music scene was quick, and they didn't even have time to decide whether or not they wanted to be in a band. Just like that, the next decade of their lives were mapped out in front of them without them ever having realised it. They just went along for the ride, unaware there was no pit-stop.
"I guess I was afraid of failure. If you told my high school self that this is what I was going to end up doing I'd be like, 'What the fuck!'"
"I mean, looking back, of course, I wanted to be in a band," she says. "There's a lot that goes with it that you don't think about. I feel like we all deep down wanted this. The way it happened, we didn't really even have time to admit that we wanted it. It just happened. I guess I was afraid of failure. If you told my high school self that this is what I was going to end up doing I'd be like, 'What the fuck!'" she laughs. "I started playing guitar when I was 12, but I didn't really play with other people until Chastity Belt, or write songs until Chastity Belt."
But Shapiro is a natural musician and a gifted songwriter, and she admits that music is her main creative outlet. "I think I'll always want to keep writing music," she says. "I think even if I stopped touring or doing the band as much, I'd still continue to write songs because it just feels natural."
There's that word again.
It's interesting, though, that after eight years of touring internationally with Chastity Belt that Shapiro has never felt truly comfortable being a performer. So often that the image of a band's frontwoman is one that exudes confidence – after all, you're the face of the band. Of course, you have to exude confidence! But for Shapiro, performing hasn't really gotten easier over the years. "I've never loved performing in front of people," Shapiro explains. "And when I'm talking about male confidence in that song ["Natural"] and a little bit talking about my ex. "What makes Chastity Belt so interesting is that we're all shy girls," she continues. "We weren't drawn to performing, but our music drew us together. We love music and we love writing music. There's a huge difference between bands interested in it for the fame and then bands interested in it for the creativity. I wouldn't say that performing is always horrible, but it just doesn't come naturally to me the way that it does for other people."
Other people… like other men in bands? You've probably come across them. The likes of five-piece all-white male bands doing post-punk, thinking they're the second coming of The Fall, all exuding a limitless supply of confidence and self-esteem. How do they do it? "It must be nice to wake up in the morning and think, "I'm pretty great. Everyone wants to hear what I have to say. I'm awesome," Shapiro laughs. "It's a bizarre thing. It's hard for me to relate to those people. I'm just like, 'What planet are you living on?'"
And so when Shapiro talks about confidence, it's about having the kind of confidence that men will have and exude, naturally. With rock music having been, for the most part, dominated by men, it's no surprise that confidence and self-esteem is passed down cyclically. Male musicians are allowed to be confident by just existing, without the need to truly prove themselves. For female musicians, however, the bar is different. Whereas men don't need to prove themselves to the music industry, female musicians won't even be considered unless they feel like they have to prove themselves.
"I've played music with men before but it's never really stuck," Shapiro elaborates. "It's not to say all men are like this because I'm sure there are some out there I would really enjoy playing music with. But they'll just take over. If they're on drums, they'll just be really loud and do lots of fills. If they're on guitar they'll add lots of unnecessary notes. They won't step back and listen. I know that I know you could play more notes than me and shred more, but what would actually sound better?"
Even being part of a beloved band like Chastity Belt hasn't made Shapiro more used to the life of a recognised musician. "When fans come to a show and fan out I'm just like 'Whoa, this is kind of intense'," she says, recalling the previous night's show. "That continues to trip me out. It hasn't gotten it hasn't really gotten old."
A core part of Shapiro's Perfect Version, however, is her path to self-acceptance. In trying to carve out a Perfect Version of herself – someone naturally confident, for example – she's learned to accept herself for who she really is. Shapiro is hyper self-aware as a person, always asking herself how she can improve and do better, if she's doing enough in the world, or if there's anything else she can do as a creative. But in writing, recording and releasing her album, she's learned that the only person she has to answer to is herself.
"Now I think it's more about accepting the fact that this is how I am, rather than being like, I need to be more confident like everyone else."
"I think I'll probably always struggle with it because I'm always trying to improve myself," Shapiro says. "But now I think it's more about accepting the fact that this is how I am, rather than being like, I need to be more confident like everyone else."
In second single "A Couple Highs", Shapiro dials back on the reverb pedals and chorus and dabbles with something different. She trades the reverb-soaked, cathedral spanning guitar tones of "Natural" – and Chastity Belt – for more distorted, fuzzy guitars. "A Couple Highs" sounds like a lo-fi, grunge offering that could have been produced during a studio session for Pavement's Slanted and Enchanted.
"A summer with no plans, so much potential, a lot of disappointment / Wish I could go back to that state of mind, stuck in all that time," Shapiro divulges. The track, which she recorded herself in her own apartment, has Shapiro recalling one particular summer during university when she was living with her parents, with absolutely nothing to do. Lyrically rich with Shapiro's questions of existentialism, it's one of the more obtuse on the record that truly lays out her anxieties and vulnerabilities on the line.
"I really had nothing to do, and maybe had one friend," Shapiro says of that time. "To fill my time, I'd go to the library and read some books and then I'd go on a really long bike ride. I just felt like I had so much free time. I don't think I was that happy then, but now, looking back, I feel like I could really use that time for something amazing." "Another week of confused reality / Haven't found what truly what makes me happy," she sings on the track. "Well, I tried / Well I tried". Lyrically, it jumps back and forth from Shapiro's consciousness and state of mind during present day, remembering the freedom and availability of her youth. "It's definitely a grass is always greener thing, though," Shapiro admits.
Perfect Version allowed Shapiro to try new things she necessarily wouldn't have with Chastity Belt, where the group riff off from a single idea and write their own parts accordingly. But for Shapiro's solo record, she wrote and recorded everything on her own – including all the instruments – and she was allowed to carve out her own vision for her project.
Recording the first four songs with Ian LeSage at Vault studio, she then decided to record the last six tracks alone in her apartment and mixing them with the help of her friend David Hrivnak. Writing and recording the songs as she went along, the mixing process gave her a new sense of confidence – as well as a new skill, there you go! – that she never thought she'd be able to have.
"I wasn't paying for studio time, so I could try out a bunch of different stuff mixing," says Shapiro. "It's like math. It's a puzzle. I still don't exactly know what I'm doing. It's messing around with things and using my ears. Before I started mixing, I thought that it was really daunting. It felt like something that I just wasn't qualified to do. That goes along with men doing it with a ton of confidence."
And so Shapiro went from not believing that anyone could possibly enjoy listening to her music at all with Chastity Belt to independently releasing her own solo record, in control of every aspect of it. There's a different kind of confidence at work here. It's not necessarily the showy stage confidence that male musicians have in abundance, but it's certainly a sense of confidence to be able to have faith in your art and show it to the world. It's something, Shapiro says, she couldn't have achieved without Chastity Belt.
"Just start by jamming together until it feels good. If you feel that you're not that good, you're probably better than a lot of the men around you."
"It [Chastity Belt] definitely made me a more confident person," Shapiro says. "It's made me. I wouldn't have imagined that people would want to listen to anything by me, and I couldn't have imagined that there would be younger women looking up to me. There's a lot of impressionable women out there who see me and maybe think, 'Wow, I could do this if she's doing this. Maybe I do have enough confidence at this point to not pretend that I don't have confidence. Or that I need to have confidence'." Is that the most rewarding part of being a musician? "It's not the most but it is rewarding," Shapiro admits. "The thing that's most rewarding, for me, is feeling satisfied by my record and feeling proud. I'm my harshest critic."
Chastity Belt, including Shapiro, are all in a good place now and have plans to finish recording their follow-up to I Used To Spend So Much Time Alone. They've recorded a couple of songs, and have a few summer dates, in addition to Shapiro playing a few solo shows. "We've never been close to breaking up or anything," she assures. "If we were ever going to take a break, it would be a long hiatus. We'd just do whatever we could to keep the band together, even if that means taking a few years off. We'd rather do that than push ourselves and then break up forever."
For Shapiro, the tides started to shift gently, and over the course of the year, she rediscovered the joy of writing, recording and performing – both for herself and with Chastity Belt. "It was a gradual process," she says. "Back then, it almost felt as if I had to pretend I was someone I wasn't, and now I don't mind admitting when I feel insecure. It's okay to not feel as confident as I'd like." And if she has any advice for some young female musicians starting out who want to achieve their own Perfect Version of themselves?
"Play with other women!" she exclaims. "Just start by jamming together until it feels good. If you feel that you're not that good, you're probably better than a lot of the men around you. So just trust your instincts. Trust your woman's intuition and just with what feels good."
Amen to that.
Perfect Version is released via Hardly Art on 14 June
Get the Best Fit take on the week in music direct to your inbox every Friday