She's staring out the front row, thumping a drum pad and weaving caustic electro-pop above the audience. Quite clearly, this woman does not need handling with care.
I don't know it at the time but I'm watching Laura Bettinson graduate from Goldsmiths. It's Final Performance night and for all the raw talent and self-evaluative clichés churned through acoustic guitars, only she manages to royally out school her art school. Pomp, guts, vision, some kind of attractive fuck you and a song already picked up on BBC Radio 1. No one knows exactly what's happening on stage but it's aggressively unforgettable and that's enough.
A week after graduation she plays the BBC Introducing Stage at Glastonbury. A year later she's writing with Radiohead producer Nigel Godrich, then they're releasing an album as Ultraísta, playing Letterman and Jimmy Fallon, and going on tour. Amidst all this she sheers her university-born project Dimbleby & Capper into lithe, pop-art inspired solo persona FEMME, takes control of everything, sacrifices nothing and eventually releases - eventually becomes - eventually is the most daring pop prospect with the self-written-produced and released debut album in the UK.
The singularity of vision and measured determination Laura Bettinson executes across the breadth and eccentricity of her talent is like nothing and no one else I know.
I started interviewing her in 2009. One pale pink evening at a Camberwell house party in 2013 she asked if I'd step in for "just one music video." Then a live show. Then a tour. Three years later, I'm still one of FEMME's two touring stage performers - a "Bullet Girl" - and I've watched her single-handedly build a creative pop fortress. Welcome to FEMME world.
"I have always been that girl at home singing in front of the bedroom mirror pretending I was a pop star"
Every beat on FEMME's Debutante is hers. Wonky electronic flourishes skip across angular, clipped drum patterns and swollen basslines. She layers her voice to cat call and harmonise on lead melodies so punctuated by flashing pop immediacy that her skill as an ambidextrous inventive young producer often goes unnoticed. Studio geekery isn't top of the FEMME agenda but it is, literally and figuratively, the making of it.
"I didn't set out to be my own producer," she shrugs. "The electronics started as a portability thing. When I first arrived in London I was carting this massive stage piano around. Making your own beats gives you independence and I think any new artist should be able to record themselves. I was unsigned and sick of waiting for someone to fit me into their free time. I make all my music for me. So my producing was fuelled as much by desire as it was necessity. Since then I really haven't given myself time to sit around and think about it, I've just been getting on with it."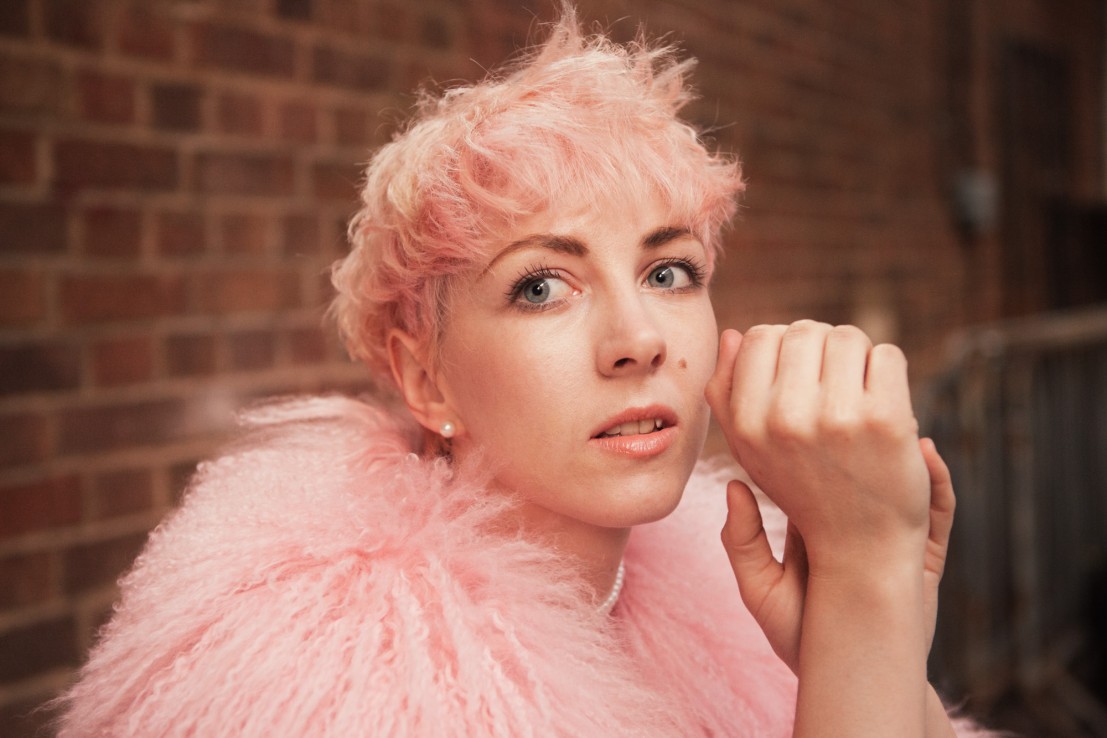 You could try and argue that what happened next was luck. Who should be digging around for an unsigned female artist to experiment with but super-producer and unofficial sixth member of one of the most acclaimed, sonically inventive bands of our generation: Radiohead's Nigel Godrich. Add to that his less than ordinary pal, super-tight Beck/R.E.M drummer Joey Waronker.
Writing sessions and studio hook-ups are a relative constant in an artist's life. Their success rate absolutely is not. For an under-twenty-something graduate to impress two fastidious pros to such an extent their collaboration becomes a full-on band (notably the first time Godrich has ever braved it away from the production desk and onto the stage) is a serious affirmation of talent. That their final self-titled and toured 2012 album as Ultraísta is as weighted by Godrich's fidgety, disconnected electronica as it is Bettinson ear-worms is even more indicative of her musical prowess. That post-Ultraísta she scrapped every label offer, changed her artist name and decided to shoot for pop stardom totally DIY is nothing short of precocious.

"Dimbleby & Capper was the first time I'd ever produced," she says, matter of fact. "Coming from there to being on a record and around a famous producer every day was tough. I love Ultraísta and I will do it again but that really was my first collaborative writing experience. I'd not been in bands at school. I did a bit at Goldsmiths but not at the level that I'd make a band out of it. It never occurred to me.
"I have always been that girl at home singing in front of the bedroom mirror pretending I was a pop star. If anything, being on the road with Ultraísta made me realise that even more. I was very much fronting the whole thing but stuck behind a keyboard and a sampler. I wanted to perform. Looking back now, even if I didn't think it at the time, FEMME exists as it is musically and live as a complete reaction to that."
"Pop to me is these overblown, stand out, once in a lifetime characters. Prince. Madonna. Michael Jackson. Adele in some ways. They just don't happen that often"
Holding your own straight out of university with an artist at Godrich's level has to do something for the ego. As much as Laura bounced off Ultraísta's sound and vision, she never let go of the certainty it gave her that she could operate and deliver at that height. She changed her artist name to FEMME for God's sake. Every time she plays to a new French crowd there are audience members watching 'WOMAN' bound across the stage. The audacity of it all still kills me.
"But my favourite pop icons do the same thing!" she retorts, laughing. "Pop to me is these overblown, stand out, once in a lifetime characters. Prince. Madonna. Michael Jackson. Adele in some ways. They just don't happen that often."

So how the hell are you meant to make it happen for yourself? Talent, determination and commitment have to be a given. To go global, to soar stratospheric, you need something much more.
What do all those artists have in common? They're expert traders in fantasy. It doesn't matter what their world is made of - soaring heartbreak ballads or virtuoso purple sex-funk, it flies to the masses because it is so singular in style and vision it becomes hyperreal: simple enough that they get it, bold enough so they'll never forget it. That's the kind of world she wants to build with FEMME.
FEMME really is Laura Bettinson souped up and gloriously unbelievable. It's the very best of her carved into a meticulous visual identity so continually ahead of the zeitgeist I honestly can't tell you what she'll do next. Case in point, when I first saw Drake's "Hotline Bling" video I was too busy reliving FEMME circa 2012 to give his invisible escalator dance the attention it deserves.
Those stylised block colours, eye-popping graphics and stark, minimal layers were her game way back on debut single "Educated". By Spring 2014 she was dressing the Bullet Girls in outfits made up of iridescent silver plastics - go check the Spring 2015 runways. Right now we're in all white - huge trousers, tiny bodices, loads of pearls. Do with that what you will...
Every photo, every outfit, every video, every thing feeds her '60s girl group referencing pop-shock futurist fantasy. She was locking down key fashion press way before the music press caught up. How does she stay so ahead?

"I don't know! I don't know! I guess I just know exactly what I like. In all aspects of my life. My clothes, my food, my live sets, my dog. Ha! The music I make. I like a fucking punchy, short, catchy tune. It's the same with visuals, with everything," she says.
"And I'm drawing a lot of my influence from sixties pop art. I'll sit for hours on YouTube and delve into all that stuff. But always, with anything we do, it's never 100% retro is it? I acknowledge those influences, but I honestly see no point in making a retro record because it's already been done. I want to look forward."

"I get quite frustrated with big mainstream artists not taking risks, not experimenting," she continues. "I feel like they have a responsibility to do that. I think pop deserves that. Just imagine!" she says, slamming both hands on the table. "Imagine! In an ideal world, if I was Adele big. I would make it my responsibility to challenge the public, to try and change the pop landscape and take it somewhere else instead of just sitting in this weird safe zone."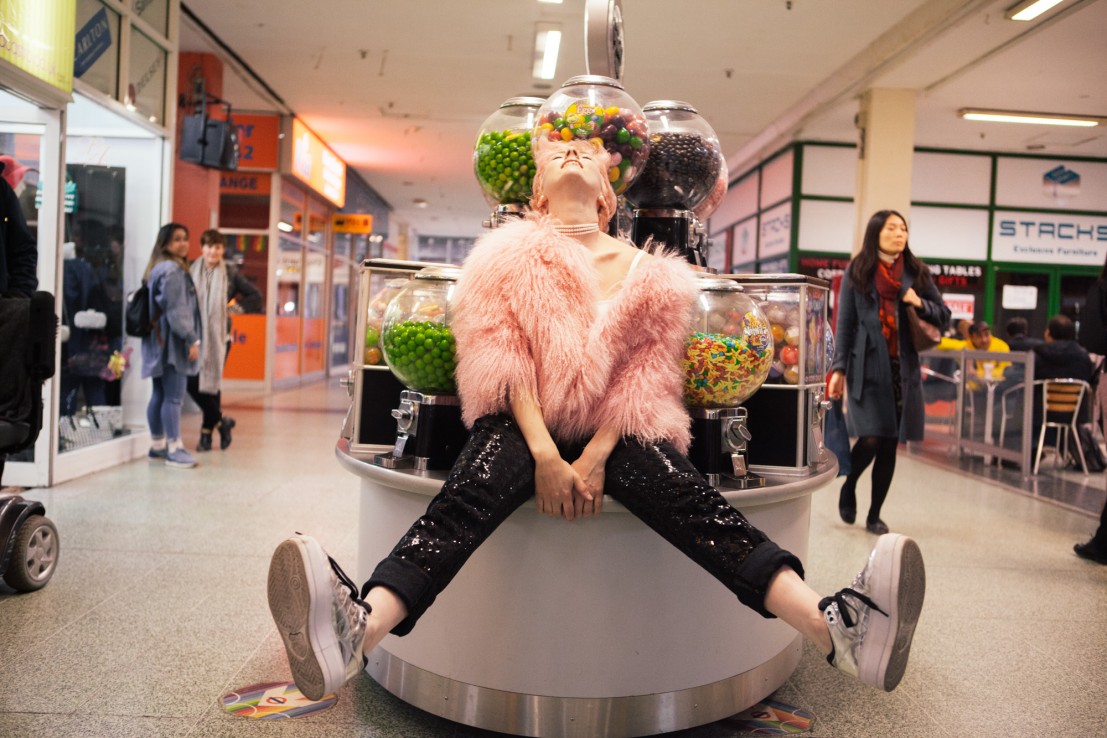 On the face of it, FEMME's biggest risk to date looks like the label offers she's turned down to keep slogging it DIY. But considering she's made it this far as a self-employed independent musician living in London - securing BPI, PRS and fan-funding plus some savvy sync deals along the way - it would seem pretty glib to hand over a chunk of her vision for the sake of quick-win cash from any one of the label offers she blankly insists were not "the right fit."

Plus, every time it looks like her unshakable self-belief could be on the rocks, something comes up. The start of 2014 was tough. Money was tight because she'd fed everything back into FEMME. All emerging artists have periods like that: grappling through the dark towards the unknown, pushing down inner voices asking why the hell you're putting yourself through it and just trying to trust your work and get on with it. Ironically, it was then that she penned one of her biggest tracks to date, "Light Me Up". She was probably writing its chorus, "Tell meeee/it's gunna get easier…" at the exact moment Charli XCX discovered "Fever Boy" online and decided to personally invite her to support her 2014 US summer tour.

XCX's six-year grind through the pop underworld exploded in 2013 with her smashy Icona Pop co-write "I Love It". By the time FEMME joined her on the road "Boom Clap" was on the soundtrack to sniffly Hollywood rom-com The Fault In Our Stars and it felt like every teenage girl in America had emerged wearing platform trainers and a choker to queue around the block for night after sold out night of her tour.
"Even when I record the vocals it doesn't really feel like it's just me. Even though it is. Sat in my room. I feel like I'm writing as a girl band"
The Bullet Girls are flown out for the East Coast shows. We're on first but the venues are full. Girls upon girls tumble towards the stage in rolling waves of up and down arms taking a thousand photos a minute. The tour set is as sweaty and stylised as the routines we made up back in New Cross but who knows whether that matters, because they won't stop screaming her name. FEMME. Every time she laughs. Or speaks. Or looks at one of them directly.

Four weeks later Laura's back in London with 20,000 new fans that want. It. All. It's not enough to build an empire but it's enough to fuel and fund the next big step, mentally and physically.

"Professionally, probably since the Charli tour, family and friends stopped saying, 'Oh, are you still trying to do that music thing?'" she smiles. "They were just happy for me, instead of looking at me like this pity case. Not that I ever let that bother me. I just worked even harder."

In the year and a half following the Charli XCX tour Laura signs a modelling contract, headlines Camden venue Koko, is flown out to meet fashion house Missoni, conceives, self-directs and edits four more music videos, designs for Uniqlo and watches her dedicated new fan base smash a Pledge Music campaign to fund her SXSW trip in less than 24 hours.

On the day she self-releases Debutante through her management company Tape Music, we meet up for this interview. How does she feel?

"People are listening and it's been insane. Years ago you wouldn't have had this kind of instant gratification, would you? It would have been labels talking to you in numbers or feedback from reviews. Yes, part of me cares what people say critically, but I care much more about what my fans think. If they'd been disappointed, I'd have been devastated."

She was never going to let them down. Ever since they arrived she's been treating them like royalty. They have their own in jokes, competitions, web chats to discuss possible next singles and the chance to be in her videos or leave voicemails she can splice up and mash into the montage that opens her album. Their loyalty is justly rewarded. But for all the insight she gives them, does she ever worry she's sharing too much, that it could become a burden?

"No! They're the guys that come to the shows, that tell their friends and support it. Of course I'm only letting them see the parts of my life that I want them to see. But I do feel like we talk and that's great for me. I genuinely want to make it exciting for them."

13 tracks and 36 minutes, Debutante doesn't hang about. Like everything she makes, it's refined to such a point there's no room for misinterpretation. You either like it or you don't. She doesn't just have a signature look, she has a signature sound. How does she make it?

"I consciously marry heavier beats and bass with stacked up vocals. The sixties Phil Spector-era of pop is my favourite era of pop ever. Same as Brian Wilson and The Beach Boys. Those are my favourite songs melodically, production wise and arrangement wise ever made. In a similar way, my production process has become completely intertwined with my writing process."
Lyrically, her songs are first person tales full of triumph over adversity. It's self-belief, strength and celebrating your differences led by comic book characters - Fever Boys and Bullet Girls - and huge catchphrase choruses "S.O.S.B.A.B.Y Baby". Just like Katy Perry's cries to "Roar" or Taylor Swift's three syllable solution to "Shake It Off", they're personal mantras ripe for mass communication. But how personal are they, really?

"They're not confessional pop tunes in any way, not consciously. They're based on other people's stories I've heard or read. I try and imagine myself in their place. I think that's why I stack up my vocals. Six at a time, ten at a time sometimes. To get that kind of wall of…power. And you know what, even when I record the vocals it doesn't really feel like it's just me. Even though it is. Sat in my room. I feel like I'm writing as a girl band. Like, I'm recording as individual little band members. I sing in different characters and I treat them all differently. That's really weird, isn't it? Maybe I'm mad."
Laura Bettinson isn't mad, she just trusts herself. I roll my eyes every time she's asked to articulate why more women don't produce their own music or how, exactly, does she consider herself a feminist? Look at what she's built! On her own! For all the fantasy, the answer to both those questions, to her success, to her inevitable longevity - whichever creative field she should end up in, is rooted firmly in reality. From the night she graduated wrapped in Royal Mail's finest to the release of Debutante, Laura Bettinson refused to doubt herself. She's got her own back, that's enough.
"I guess it's what you project," she shrugs. "I project that I know what I'm doing. I know what I like. I know my stuff. I know how I work and yeah, I don't question it. I don't really give anyone else the chance to question it. I guess the last time someone was like, 'ohhh, do you need a hand producing any of your tracks?' was probably when I was nineteen. And I was like, 'Nahhhh.' Ever since then I've just been cracking on."
Debutante is out now via Tape Music