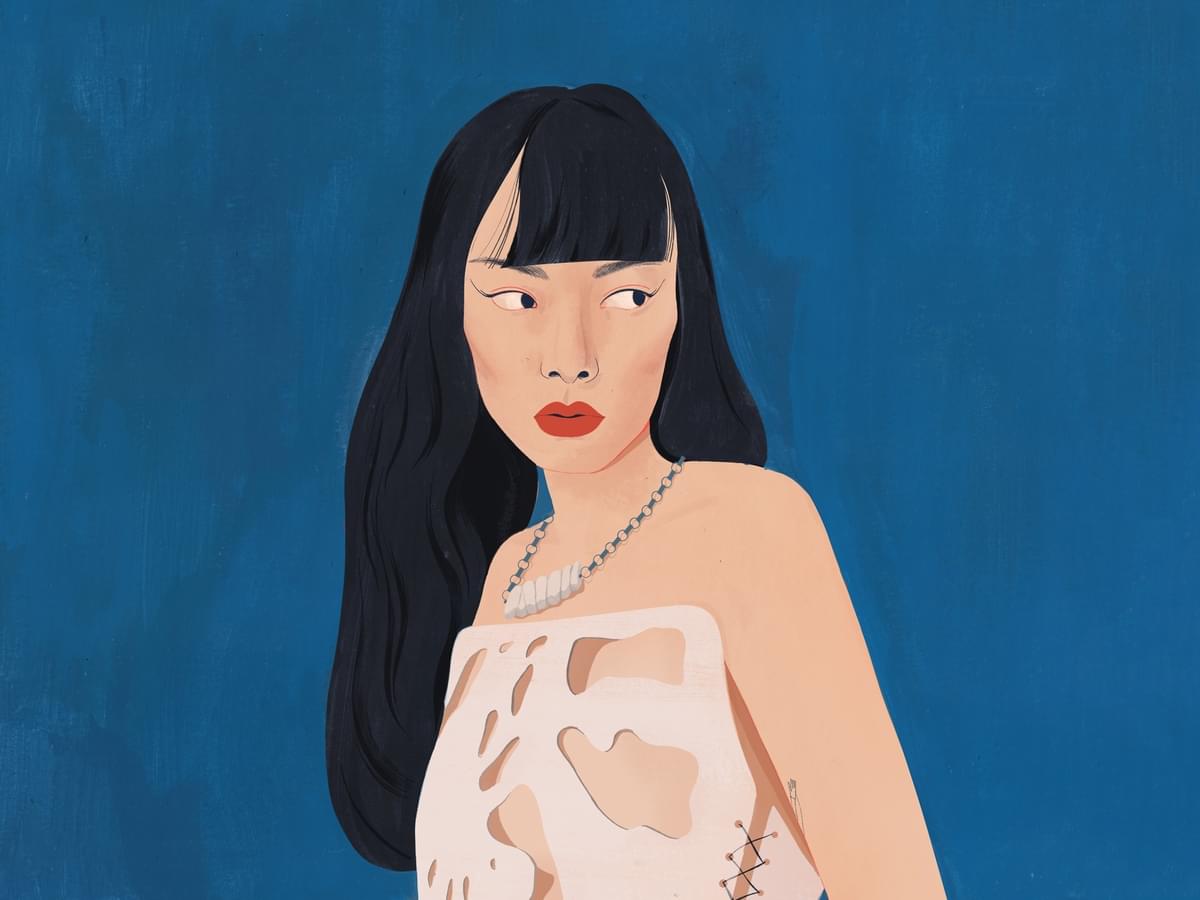 How Rina became SAWAYAMA
03 December 2020, 11:25
"It feels insane. I never thought I could," she says over Zoom one Thursday morning from the kitchen of said house. "I had been saving for years and I was able to buy it. Obviously not cash – I still have a mortgage, don't be silly. But I did it without any parental support. I'm just super grateful.
Homeownership, of course, isn't the only big milestone that Rina has achieved this year. In April, shortly after much of the world was plunged into lockdown, she released her long-awaited debut album, the critically-acclaimed Sawayama, which has – quite rightly — been named Best Fit's album of the year. Such moments should have been an opportunity for poppin' bottles, launch parties, house warmings and touring. Unfortunately, the events of 2020 have put a pin in all of that.
"I haven't even celebrated the record at all with my team or my friends," Rina laments. She also hasn't seen her mum, who lives in Japan, for over a year. "We've been celebrating everything online, but it's just not the same. I've been trying not to think about just how much I miss her. I do worry about her because she's alone. We live so far apart; Japan is, like, twelve hours away. I try not to think about it."
It's not been a total wash out, though. Just under a month before our chat, Rina made her US TV debut on The Tonight Show Starring Jimmy Fallon. Performing the song "XS" complete with choreography, impeccable vocals and styling that was like something lifted from Camden Market circa 2002, it was a superstar making moment. Almost immediately after, the hashtag #RinaOnFallon began trending worldwide, and at the time of writing the video of the performance on YouTube has over half-a-million views. "God, it was so fun," Rina gushes. "It was a dream. Seeing it and seeing Jimmy hold up the album…" She lets out an excitable yelp: "I think I have imposter syndrome because the first question I said to them when they asked was 'Why me?'"
Owing to travel restrictions, the performance was recorded in London. Essentially given carte blanche to create whatever she wanted, Rina looked at other TV performances recorded during the pandemic and felt that they lacked a live element. "They were too polished and too like a music video," she explains. "I wanted to do something that felt raw. The [whole performance] is just one take, other than those cuts into the band. But the audio around the video is all one take. That was something I really insisted on. I don't care if there are flaws in the audio. When I perform live, I don't auto-tune anyway. I would rather be a bit off than give a performance that doesn't feel live. For me, I like to hear the flaws and I don't like to hear it being perfectly in tune."
This mentality is perhaps what separates Rina from many of her peers in pop, who carefully manicure every aspect of their careers so that imperfections are erased. It speaks to a life, career and musical journey that have been unconventional from the beginning, but which have ultimately coalesced to create one of pop's most vibrant and essential artists.
Born in Niigata, Japan, Rina and her family emigrated to the UK when she was five years old. It was a difficult transition, complicated by indecision regarding the type education her parents wanted for her. "The idea was that I would go back to Japan after five years, and so they wanted me to continue my Japanese education so I wouldn't miss out," she recalls. "When we decided to stay, I was ten and my English was quite bad. I remember feeling like I couldn't say what I wanted. My mum didn't speak English. My earliest memory is that I was told by my school that I needed to get a copy of Five Children and It. And this is how fresh I was: I went home to my mum and said, 'Mum, I need a copy. I think it means that I need to photocopy the book.' I borrowed the book from school and I photocopied the chapter. When I came in, they explained that's not what it meant. I didn't know. I remember feeling so embarrassed and confused."
For Rina, pop music became a way to connect with people at school. "I joke that I missed out on the whole of the Spice Girls and I really did," she says. "I got the tail end of it and I loved it, but my thing was when Britney was coming out. And Kylie. I remember the first Number One that I really connected with was 'Kiss Kiss' by Holly Valance. And it was genuinely a way for me to connect with my friends. At that point, I had moved school about four times. I didn't have friends, basically. I remember assembling girls to make an S Club 7 tribute band. That was such an amazing way to get over that cultural barrier that was there."
Bridging that cultural divide was a one-way transaction, though, and Rina remembers her reluctance to ingratiate her Japanese culture into the life that she had begun building for herself in England. This dissonance was further complicated after her parents separated and Rina was left sharing a room with her mother due to financial difficulties. As she entered her teen years, tensions were rising.
"I think my mum was just struggling. She didn't get London," Rina says. "She grew up in the countryside and there are no clubs and stuff. Whereas, I was going to Koko and going to gigs and getting drunk. We'd get WKDs and get pissed. It was really fun, but it was so foreign to her and she was really worried. She would always say, 'I'm going to send you to a Swiss boarding school.' At first I was upset, but then I thought, 'You can't afford that!'
"I just kept asking: why aren't you like the other parents?" she continues. "Why aren't you sending me to school with ham sandwiches? Why can't I have nice crisps? Why can't you speak English? She genuinely wouldn't understand the things I was saying. Even though I did go to a state school, there were kids who were wealthy and I remember being exposed to that. Also, the big thing was: why don't I have two parents? I was exposed to the white middle class and we are not that. I found it annoying that we weren't that and, at the time, it was all my mum's fault, obviously."
"If something is political, it's also psychological and sociological... songwriting is a way to explore that."
Pursuing a career in the creative industries had ever been encouraged, although Rina does have fond memories of car rides with her mum listening to Evanescence and trips to Woolworths to buy CD singles. Still, "I never thought I was a creative person or that [music] was something that I deserved to do," she says. "I didn't grow up being encouraged to do creative jobs. I follow these Asian meme accounts and I saw a meme that really cracked me up: 'They make us do ballet, which is dance. And they make us do piano lessons, which is music. But if we tell them we want to become a dancer or a musician they say, "You're a failure."' Why make us do it then?"
Nevertheless, aged sixteen, Rina began uploading covers to MySpace and recruiting band members from the back pages of NME: "So fresh," she laughs. "You would never do that these days." In sixth form, she formed a band, Lazy Lion, with rapper and singer Jelani Blackman, musician Theo Ellis, who would later go on to join Wolf Alice, and a producer, Rowan. "Our school had a music tech facility, so we would make music. I wouldn't write the verses, only the hooks and the chorus. It actually got me quite good at maximising that amount of time that I had to write the best melody."
Dappling in music at this stage didn't curtail Rina's academic goals, however, and after school she went to read Politics, Psychology and Sociology at the University of Cambridge. The environment was a stark contrast to the diverse, multiculturalism of her London state school education. She says she was bullied by her fellow students, which severely affected her mental health, and remembers being "so depressed and crying every day".
"I think I was just really naive going into it," she says now. "No one told me that the college you pick is really important. My school was just hellbent on getting the people in there, so they'd suggest a college because it had less people trying to apply. But my college only let girls in in 1990 and was horribly patriarchal. No one prepares you for the culture there, and I like to highlight all the bad things that happened in Cambridge because I think it really informs what's really going on in politics right now. There were actual young boys, 19-year-old boys, setting fire to money in front of homeless people. I'd never seen that sort of behaviour before. It was a completely different world. It's no coincidence that all the Conservative politicians graduated from the same universities and do the same degrees. I saw that culture."
Relief came in her final year, when Rina found her "queerdos". After going to a gay night, she met a group of creative LGBTQ+ people, including members of the drag band Denim. "I don't want to overstate it, but I feel like something really bad would have happened to me if I hadn't found them," she says. "I feel like I genuinely owe my life to the community."
Cambridge also provided the bedrock for the inquisitive and analytical nature of Rina's music, although it would be a few years before the dots would connect. Broke and scarred by her experience at university, Rina found herself picking up various temp jobs while also battling a serious bout of depression. She recalls what felt like "three years of depression naps" and the already fraught relationship with her mother had reached breaking point.
"She had basically kicked me out of the house, saying, 'You're poor, get out of my house. You have no money. Your music career is not going to go anywhere,'" Rina says. Yet it was a blessing in disguise. "I always think it's important to support people through mental illness. But I think it's also important for the people in your life, the closest people in your life, to always tell you how it's affecting them as well, because sometimes that can be the catalyst for you to get help," she explains. "For me, that was my mum saying, 'I can't deal with you anymore.' In hindsight, and we have talked about this, I really wish that she had financially supported my recovery. But it taught me that it was my own problem and that I needed to deal with it myself. My mum paying for my therapy might have made me feel like it was also her problem as well."
During this period, Rina had been experimenting musically, sharing a number of R&B songs on Soundcloud, including the underrated "Sleeping In Waking", and working with various producers. Nothing was really connecting, though, until she met Adam Crisp, aka Clarence Clarity. "I love R&B and I love listening to R&B. But I don't feel like it represented my sound," she Rina explains, "not that I knew what that really meant. Then I met Clarence. We did a session together, which produced 'Alterlife', and he really encouraged me to keep pushing the references I had. Before I used to think talking about Britney and stuff in sessions was really uncool so I wouldn't do it. But here was a straight guy going, 'Hell yeah, I love Max Martin. Let's do that kind of vibe.'"
While it took a hot minute to get on board – "I didn't reply to him after that first session for half a year. It was so rude" – their collaborative relationship blossomed, resulting in 2017's RINA EP, an inquisitive, ambitious and exemplary collection of songs that straddled '00s nostalgia and future-pop. It was perhaps the most exciting pop release since Lady Gaga's The Fame, and dug deep into themes of mental illness, social media anxiety and Asian representation in pop culture.
"My degree was Politics, Psychology and Sociology, so I see everything as being this interconnected thing," she says of the themes her music covers. "If something is political, it's also psychological and sociological. That really helped me see songwriting as a way to explore that, rather than, 'I have my feelings and this is what I'm going to write about.' I love songs like that, but for me it didn't feel right to write those types of songs. I really enjoy getting a phrase that I like and seeing that it comes from a bigger problem. I think when you do that it naturally gives the song more depth."
For the next year, Rina went to work. Unsigned and managing all aspects of her career herself, she started touring, playing shows around the UK and, eventually, a tour around America. It was an undertaking, financing and planning every aspect without the help of a major label. "I don't know how I did it, to be honest with you," she gasps. "During touring I would pick up different jobs. I did stuff that I didn't publicise, basically, so I could keep going as an independent artist."
Touring, especially, was costly. A pop concert costs serious money to put on, and for those not selling out the O2 it can offer diminishing returns. "Unless I'm standing there with one DJ and no tour manager and I'm selling so much merch, I'm not making money on that," Rina explains. "Pop acts are expected to put on a show. You have to pay everyone on stage. I remember at one point saying, 'I think we should go on tour again', but we just couldn't afford it." What that does, Rina says, is take your focus away from the creative aspects of what you're doing. What was feeding her was the response she was seeing from her fans, the Pixels. "I was gaining a fanbase. It gave me hope that I could keep going and that the music was good."
And keep going she did. After releasing a couple of loosie singles like "Cherry", a song that explored Rina's pansexuality and queerness, she got to work on writing and recording what would become her debut album, SAWAYAMA, with her manager, Will Frost, acting as A&R and Clarence on board as co-executive producer. It's a process she documented in her two-part YouTube series, The Making of Sawayama.
Written in the wake of Donald Trump's successful campaign for election as President of the United States, the album is broader politically than the RINA EP, and it packs a much sharper bite. "I was seeing all these things that are in place to keep power in check being completely ignored," she says of Trump's presidency and the inspiration for the record. "Whether it was the Paris agreement or anything where the environment was being ignored. I had never seen anything like that. There was such disrespect for systems that make sure that the world doesn't explode."
At the same time, Rina was beginning to see threads forming between what was happening globally and politically and her own familial difficulties and cultural displacement. While songs like "10-20-40" and "Take Me As I Am" were based around or inspired by lived experiences, Rina had mostly shied away from integrating her own personal narrative into her music (she has still yet to write a stereotypical love song). But with SAWAYAMA's album opener, the thrilling and anthemic "Dynasty", she crawled into the crevices of her and her family's trauma to try and make sense of the things that had happened.
"That was the first time that I had used a song as a tool for understanding what was going on in my life. I guess I never thought that writing about that stuff would be useful or that you could do it," she says, her tone still incredulous. She says she was inspired by how drag performers "wear their trauma" in their work, "and making that song into this theatrical thing, I was able to carry through an important message. Without that understanding, I don't think I would have written that song."
In fact, the whole song feels like drag, in a way. While lyrically it deals with heavy trauma, Rina's voice seeped in pain and longing, sonically it's dressed up in this dramatic costume that pays homage to Evanescence and Christina Aguilera's "Fighter".
It's a practice that is repeated throughout SAWAYAMA, each song's meaning masked by the war paint of drag. And like the best drag, if you look closely you can see the details of a story woven in among the finery. The sugary highs of "XS" seems surface, a braggadocio bop about "luxury and opulence", but it's distorted by the addition of metallic guitars and the sickly aftertaste of shameless capitalist consumption. On "S.T.F.U.", Rina head bangs to nu-metal while kicking out against the fetishization of Asian bodies and culture, while the bounce of "Comme Des Garçon (Like The Boys)" speaks to sexism and male privilege. The fraught teenage relationship between her and her mother is played out like a movie on "Paradisin'", a song so propulsive that you'd think Nintendo had used it to soundtrack a game of Mario Kart, while grief and despair about climate change infects the watery textures of interlude "Fuck This World".
"I don't want to be another stereotype and I don't want to do the same thing that people have heard about Japan. I have lived in the UK all my life and so I bring a unique perspective."
SAWAYAMA also explores Rina's evolving relationship with Japan and Japanese culture. On "Akasaka Sad", she touches on the lingering spectre of depression and the displacement she sometimes feels when she visits the country. Likewise, "Tokyo Love Hotel", a song that sounds like the shimmering lights of a cityscape, explores the lack of ownership Rina feels over Japanese culture.
"I've said since the beginning that I don't want to be another stereotype and I don't want to do the same thing that people have heard about Japan," she says. "I have lived [in the UK] all my life and so I bring a unique perspective. I don't think I'm this 'kawaii' person or whatever it is people want to impose on me. I remember being so careful about my marketing and branding from the beginning to not be that way. I was trying to carve this place out for myself, yet so many people have gone into that [cultural] space and taken so much that I feel, like, should belong to me that's now been weaponised. I can't use that culture anymore as it's then seen as basic. I think other POC think about this. Like when Black culture gets used to make an artist edgy and then they safely retreat back into a different genre. It's so typical of that."
Rina is respected in Japan; in 2019 she was honoured as one of Vogue Japan's "Women of the Year". However, she says that she is still considered "foreign" when she visits. "I have foreign ideas," she adds. "Things that I think are really basic here are not considered basic there. It's all about trying not to get angry at either side. It's okay to sit in a grey area. And if you look around there are a lot of people who sit in that grey area. A lot of my friends who are Asian grew up [in the UK], or are half-white, or a non-binary, or don't present a certain way. I think when you surround yourself with people like that, I think you understand that it's amazing and beautiful to exist in that grey area."
Yet that grey area does have its complications. After this year's Mercury Prize nominations were announced, Rina gave an interview with Vice about how SAWAYAMA wasn't eligible because she doesn't hold a UK passport, despite having grown up here and having indefinite leave to remain in the UK. (Japan doesn't allow its citizens to hold dual passports and Rina is reluctant to relinquish up her Japanese citizenship.) The same applies to the BRIT Awards. With Brexit approaching, this issue is only going to affect more artists as some European countries don't allow people to hold two passports outside of the EU.
Rina says she has since spoken to the BPI, the body that organises both the Mercury and BRIT Awards, about these exclusionary policies and that "things are looking good" about a potential shift in the future. She also has the full backing from her record label, Dirty Hit, who she signed with towards the end of the recording process for SAWAYAMA.
Then there are Rina's fans: the Pixels. "They support me so hard, and I don't want their efforts to go without results," she says. "I just didn't think that people would care. It's amazing that they do. Also, I am a stan. I started off as a stan. I'm still a pop stan. I looked at my Twitter yesterday and it is basically a stan page, so I know how it feels to love an artist so much. But they trust me with their feelings, so I try to respect that. I feel like they are the same sort of people as my friends, who are all pop fans and queer."
"SAWAYAMA was a lot of emotional stuff but I've dealt with the family stuff now; I've closed that book."
Given the unique nature of a year like 2020 and all the baggage that will forever be associated with it, it would be understandable that, as the year draws to a close, Rina may want to round up the SAWAYAMA era. But she's not done. Along with a deluxe re-release of the record, which features new songs like the pulsing Blood Pop collaboration "Lucid", a track called "Bees in Honey" and "We Out Here", which is reminiscent of the RINA EP, she plans to work the album. Touring is at the top of the agenda, and dates (which have been reshuffled multiple times due to Covid-19) are tentatively pencilled in for March 2021. There's even a headline show planned for the Roundhouse in London in November, which will be Rina's largest headline show.
First off, though, is a fuck-off party. "Obviously insane things have happened. I've had co-signs from Elton John and spoken to Mel C. I haven't been able to process it. Every day I write in my journal to try and process it so I can be grateful rather than overwhelmed or stressed. But I miss my friends and I miss my team. I have plans when this is all over. It's just about celebrating the hard work that people put in."
And what about work on album two? Rina says she's in no rush. "I think if I start writing when I'm touring it'll all make sense," she says. "SAWAYAMA was a lot of emotional stuff but I've dealt with the family stuff now; I've closed that book. I kind of want to make a chill album, although I've been writing and that's not what is coming out. I still have a lot of things to say. I'm really glad that I lived through a lot of trauma and bullying. I have so much that I want to say and there's so much that the teenage Rina didn't process and wasn't able to be vindicated for."
Then she laughs: "But it would be so iconic if I came out with, like, a bossa nova moment. I should just do a record like that." You sort of believe she will.
The deluxe edition of SAWAYAMA is released on 4 December via Dirty Hit
Get the Best Fit take on the week in music direct to your inbox every Friday