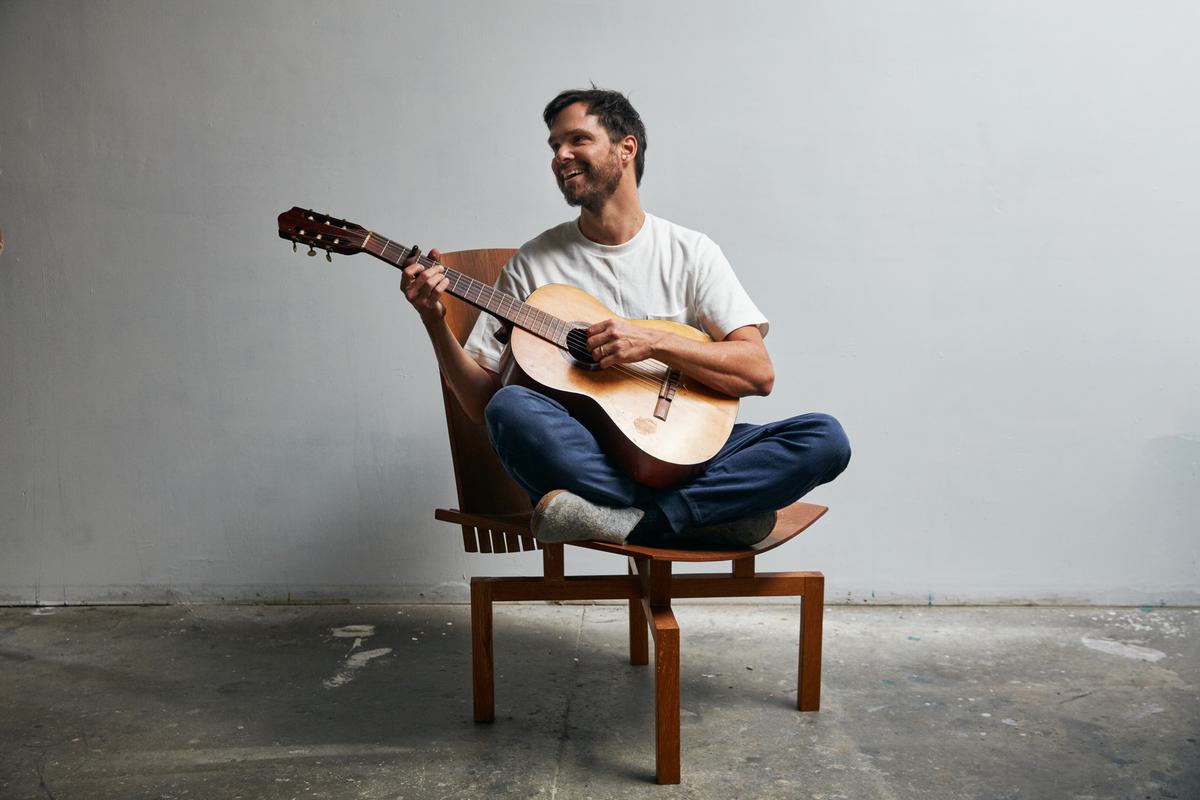 Dirty Projectors are Starting Again
15 December 2020, 09:00
2020 saw Dirty Projectors introducing three new band members with five EPs, recreating and reviving their sound with ambitious conviction.
The first: the creators of one of the most distinct and acclaimed catalogues of any band this century. From their intricate masterpiece Bitte Orca to the cool R&B of 2017's self-titled break-up album, Dirty Projectors style is defined by shape-shifting songs led by sharp percussion and baroque counter-melodies. Front and centre is Dave Longstreth, singing in an affected, undulating pitch. He is the source of their other reputation, one of being 'difficult'. If you search for Longstreth's name the first thing you'll find is a 2012 article ominously titled "We Tried to Interview David Longstreth. Probably Won't Do That Again". Well, I did try again.
When Longstreth answered the Zoom call he does so with a grin, a corduroy Dirty Projectors cap and thick knitted sweater. It turns out that I don't need to ask him about the context of that 2012 interview, because his effusive mood thoroughly proves that times have changed.
It's strange to write 'Dirty Projectors' as if it's one concrete group. The moniker covers two decades of music recorded by a dozen configurations of band members, often with Longstreth recording with no set band at all. After dropping out of Yale in his sophomore year, Longstreth moved in with his older brother in Portland, Oregon and started Dirty Projectors as a new outlet for his solo work. Those early albums have notoriety as indie-rock whose intellectualism kept the listener at a distance, defined by Longstreth's knotty compositions and novelty album concepts. 2005's The Getty Address, for example, is a "glitch opera" about Eagles frontman Don Henley, while 2007's Rise Above is an album-long cover of hardcore band Black Flags album Damaged, recorded from memory in twee, indie-rock style. This opening word was met with acclaim, and is often more fun than their difficult reputation would suggest: resplendent with harmonies and bright guitars.
In 2008 Dirty Projectors signed to Domino Records and became a full band rather than a Longstreth namesake, and a year later released their fifth album Bitte Orca. Heavily featuring the vocals of Amber Coffman and Angel Deradoorian, the record was their most accessible, and received a rapturous critical response. Dirty Projectors would spend the next decade changing lineups and venturing further from their lo-fi roots. By 2017 Dirty Projectors was a Longstreth solo act again, while he worked with Joanna Newsom and Solange on their albums from that year. In a twist unimaginable for fans of The Getty Address back in 2005, he also wrote the hook for Rhianna, Kanye West and Paul McCartney's hit "FourFiveSeconds". The release of 2018's Lamp Lit Prose was another distinct shift: an album packed with collaborations with Syd, HAIM and Fleet Foxes' Robin Pecknold which, more than ever before, put a pop-directness front and centre.
"The germ of the new band came when we were putting together the live show for Lamp Lit Prose" Longstreth confirms. "It's a new band with three new members: Kristen, Maia and Felicia. We first came together for the live shows. All of our voices are so different but our music has three and four part harmonies, so playing in a group makes complete sense. More than anything else, I was just so enthralled with everyone's artistry. That made me think about turning the band into a collective, one which can come together but also break out into these solo sectionals".
With Maia Friedman (guitar, keyboards, vocals), Felicia Douglass (percussion, keyboards, vocals) and Kristin Slipp (keyboards, vocals) joining, the new act feels alien to the perception of Dirty Projectors as a Longstreth solo act. Alongside long standing member Mike Johnson (drums), each tells me about the joy of recording music as a new band, in a way which makes it sound more like a giant love-in. "We have formed into a tightly-knit family over the last couple of years, and it's a joy when we're all together," Freidman says. "I am certainly my silliest around Kristin, Felicia, Mike and Dave. Of course there have been difficult moments as well, but that's only natural. I feel really lucky to have spent so much time with them since joining the band".
The new shape of Dirty Projectors was a long time coming, with each new member introduced to Longstreth through various interactions across their touring years. Slipp met Longstreth through the band's previous bassist, Nat Baldwin, who had shared bills with her band Cuddle Magic. Baldwin also recommended Johnson during the Swing Lo Magellan tour. As for Douglass: "my Dad worked with Dave while mixing the Dirty Projectors album, so he first heard my band at his studio. In 2018 he caught a solo show of mine in Brooklyn and we kept in touch after that".
"These songs are from different periods for me as a songwriter. Every song has a different life and some of them are ideas which I loved but weren't getting finished."
Longstreth speaks of his new bandmates like a revelation, and it's clear that each of them helped to resurrect songs which were stuck in arrested development. "These songs are from different periods for me as a songwriter. Every song has a different life and some of them are ideas which I loved but weren't getting finished. "Inner World" is like that. I wrote it on the guitar in 2014, loved it, had the production idea for it, but it wasn't until I sat down with Felicia I was like 'this is actually a song'". He explains excitedly that "on the other hand there's 'My Possession' off the Ring Road EP. We started production the week that I wrote it. Some of these songs had a shorter timeline from writing to release than anything I've done before".
The feeling of inspiration is mutual: Freidman tells me how much of a fan she was before joining the band. "In my freshman year of college, I got a call on my dorm phone from my friend Alex Bleeker who lived upstairs [Real Estate] to tell me there was something I had to hear, and to come up right away. We sat in his room and listened to the entirety of The Getty Address and I was blown away. I think the record I heard after that was New Attitude, which holds a very special place in my heart". Similarly, Douglass tells me: "People often harp on about the music sounding so difficult, but Dave is incredibly patient and great to work with".
Thanks to the nature of the releases, the resultant five EPs are incredibly eclectic. The Douglass-centric Ring Road EP is straight-down-the-line Pop, while Longstreth's acoustic Super João EP sees him channeling the spirit of Brazilian bossa nova pioneer João Gilberto. "There's a funny thing happening with scope releasing music in this way rather than just putting out an album" he explains, "the EPs are small and unassuming but it allows you [the listener], in a granular sense, to focus on details to make each individual piece large in its own way".
Relinquishing control of his music clearly excites Longstreth more as he ventures deeper into his career, and the fourth EP of the year saw him ceding control of some of Dirty Projector's back catalogue. The ecologically-minded Earth Crisis plunders tracks first recorded in 2008: orchestral renditions of the Rise Above album intended for a tour which never manifested. The files lay dormant on Longstreth's hard-drive for years. "That was surprising, because I had forgotten that those sessions even existed," he tells me. "Again, it's something which wasn't done yet, I found it at the right time to be able to finish it. It didn't feel like some forgotten world, it was more 'here's some paper I left on the desk and forgot about'. It's a little bit surreal! Kristen helped to put the final touches to it. It felt like we were writing this weird post-apocalyptic-collapse movie," he laughs.
The music was turned into the score of a full film: an animated short which debuted on Adult Swim. The film is one of the most hopeful pieces of art to be released this year; a psychedelic-odyssey in miniature created by the collective Encyclopedia Ventura. "Isaiah Saxon [from Ventura] is an old friend of mine" Longstreth enthuses. "I got to know him in New York forever ago when he moved here to work on Björk's 'Wanderlust' video. He and I are working on a separate film together, and he was looking for some useful references to pair with the images he was making, so I gave him a rough version of these Earth Crisis songs and he loved them. I am so moved by the short film, I think it's beautiful and I'm proud that we were able to make something which inspired it. It's really one of my favourite things which has ever come out of Dirty Projectors. He worked with a team which was spread all over the globe from New York to Santa Barbra and St. Petersburg, they worked 12 hours a day for months to bring it all together". He is careful to tell me that the finished film was all theirs.
While some acts contemporary to Dirty Projectors' breakout years have fallen off the radar or somewhat lost their cool; an embrace of collaboration and reinvention has helped others, such as Fleet Foxes and Vampire Weekend, continue to thrive. Longstreth has ties to the latter: he played on their 2019 LP Father of the Bride and his brother, Jake, hosts Apple Music's Time Crisis with lead singer Ezra Koenig. Both bands have survived the end of the indie-rock hegemony.
Five years Longstreth's senior, his brother is also 5EP's final major non-musical collaborator: a renowned painter of bright, American corporate-landscapes, Jake's artwork appears on the covers of each of the EPs. I asked Dave why this project was the right time for their first collaboration. "A little bit like João Gilberto, my brother's art has been a formative and deep inspiration this whole time, but you wouldn't necessarily gather that from the music. You may not draw the connection between Dirty Projectors and these paintings of ex-urban scenes and big-box retail architecture," he laughs. "I think this was just a moment where the two did link: he's working in series and we're working in series… Also we live two miles away from each other in LA. Like any set of brothers, we've been super close for our whole lives but we have our years when we're closer, and this year was clearly one of those, it happened pretty organically".
"It's really easy to not even regard the unremarkable, like a parking lot by an Office Max, but by focusing on it he allows us to think about presence, in the sense of awake-ness."
And what about his brother's art moves him? "Nobody's ever asked me that!" he exclaims. After a pause for thought he continues: "To me there's what's in the paintings, and Jake as an artist. Jake is so inspiring as an older brother because he has a way of seeing. It's as simple as that. He sees and he's able to make us see. As much as his work has changed or grown, there's a constant kernel which is his way of seeing the world. That's the way the word looks to me too: It's really easy to not even regard the unremarkable, like a parking lot by an Office Max, but by focusing on it he allows us to think about presence, in the sense of awake-ness. It makes me feel more alive to see someone reclaim those spaces and make us think about them".
Presence and gratitude are both lyrical themes of 5EPs and of Longstreth's new approach to making music generally. For the first time some Dirty Projectors songs don't feature his vocals at all. I asked whether it was hard to relinquish part of his band's creative process. "Honestly it feels the way playing with Dirty Projectors was always supposed to have felt. I'll sing a song, then Maia will sing a song… it's really nice to step back and just be a guitar player sometimes. With us, the music can be dense and there's a lot going on in terms of playing crazy guitar parts and singing crazy shit live. The fact that we're now not all doing the same thing over and over again, instead switching between different roles… it's made it feel really fresh.
"There's a tension in the music between Dirty Projectors as my solo avatar and it being a full band, I struggle with it sometimes. But I think that playing live is definitely at its most enjoyable when everyone on stage feels a sense of togetherness and ownership of the music. As a songwriter, I sometimes want to figure out the layering of every harmony, write every drum pattern but, right now, I'm enjoying the character of us all coming together".
Of course, playing new music live is one thing which didn't go to plan for the band this year. All five members say to me separately that playing the music live is the one thing they look forward to most. "For the Windows Open EP release in March, we were going to play a special show in the round at Thalia Hall in Chicago," Freidman tells me "one of my very favourite venues in one of my favourite cities. That was a hard one for me personally to see cancelled and swallowed up by the pandemic". But Longstreth has other ideas in the meantime. "Originally we were going to go on tour before all this stuff came out, which we will… but that'll be a little bit in the future. The next thing now is to make an album", he tells me. "This was meant to feel like an introduction".