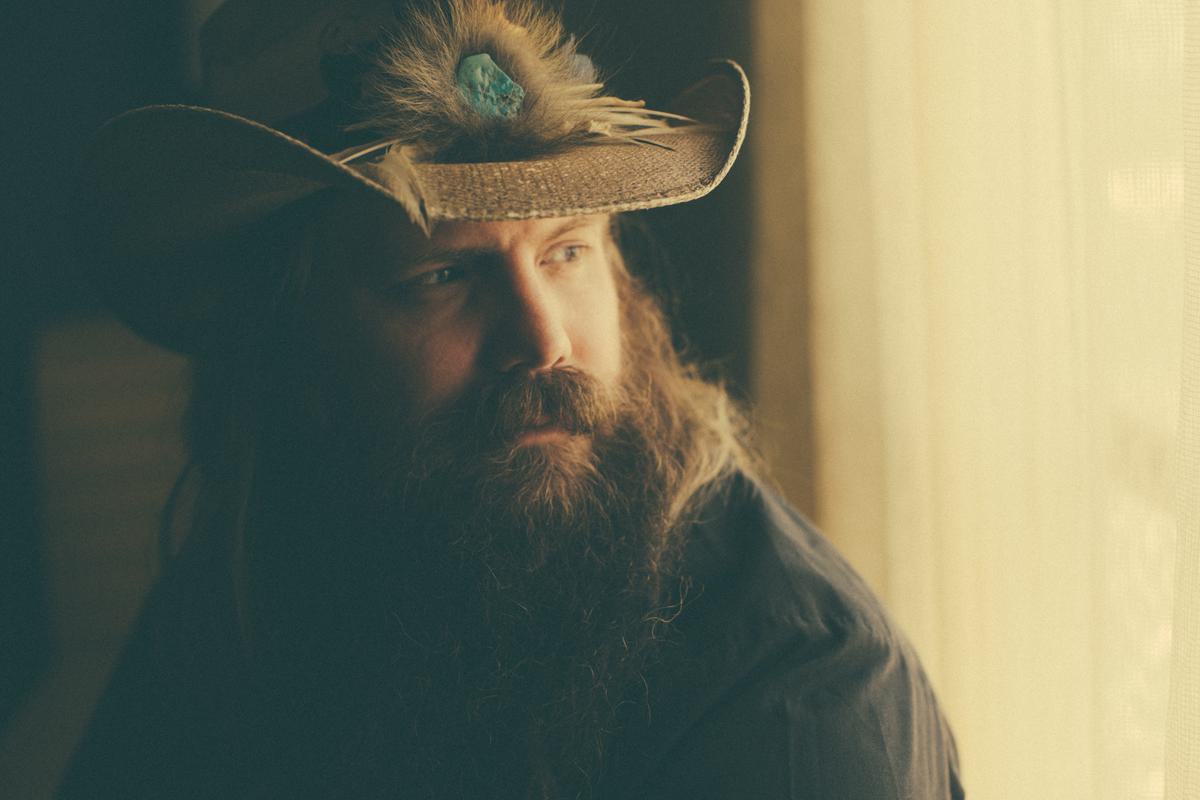 An Outlaw State Of Mind
31 March 2016, 10:00
From Nashville's best kept secret to performing with Justin Timberlake, Chris Stapleton is leading the way for a new wave of country traditionalists and finding a whole new audience outside of the Grand Ole Opry along the way. He spoke to Best Fit about his fifteen year journey to overnight success.
There's a scene about half way through David Lynch's The Straight Story where the 73 year old World War II veteran Alvin Straight pulls his lawnmower off the road for a while, and ends up talking to some cyclists about everything that he's learnt over the course of his life. "You don't think about getting old when you're young," he tells them. "You shouldn't. At my age I've seen about all that life has to dish out. I know to separate the wheat from the chaff, and let the small stuff fall away."
At 37 years old, it feels like Chris Stapleton might already have seen a lot of what life has to dish out, and the songs on his debut solo album Traveller, which finally got a full release in the UK last week, are documents of what truly matters along the way when you take out all the small stuff. It almost feels like the soundtrack to a gentle road trip across America on a lawnmower, but like all the best country music, it carries a great weight - the weight of a life lived, regrets and all – over fourteen songs, Stapleton tells his story with the casualness and familiarity of an old friend sitting up next to you on a barstool come closing time.
His story in this case is a country rock fairytale that began fifteen years ago when the Kentucky born Stapleton arrived in Music City, and ended up with him reshaping Nashville and country music to fit in with what he is rather than reshaping himself to fit in with what it's become. After finding acclaim behind the scenes as a songwriter, as well as in the bluegrass band The Steeldrivers, Traveller came out in the US last May, and its full release over here comes off the back of his show stealing performances at the recent Country To Country festival. Like the original outlaws in the 1970s, Stapleton has bucked the current Music Row standard by using his own band, including wife and backing vocalist Morgane, in the studio. It's the same band that he uses for live performances, stripped back and threadbare as they huddle together centre stage. Stapleton describes the set up as "just me, the two guys and my wife", and it really isn't much more than that, but it doesn't take into account the incredible emotional power of his voice during live performances, or his own ability to take a simple melody to some otherworldly place and completely transform the atmosphere of even the most sterile auditoriums. As with the live show, the record feels natural and unforced and the space left in the sound adds to the overwhelming intimacy of the songs. It feels like an intensely personal record, even when perhaps it isn't. From the specifically autobiographical "Outlaw State Of Mind", with its references to the friend of his who killed a snake to make him a guitar strap or the acoustic guitar that his late father handed down to him, to the tales of drugs, drink and regret or the enduring romance of his marriage. "There was a time when I thought I could write everything fictitiously and I thought I was," explains Stapleton. "Then you get ten years past it and the songs inherently wind up being personal whether you think they are or not."
When the album was released last year in the US, Stapleton was already Music Row's best kept country secret, but it wasn't until later on in the year at the annual Country Music Association awards that Stapletonmania went national and really took a hold. Against all odds, he won three awards and stole the show performing a duet with Justin Timberlake of the George Jones classic "Tennessee Whiskey" and Timberlake's own 'Drink You Away', transformed for the night into a stone cold country soul classic. The duet came about simply enough, as Stapleton describes it, "I knew Justin and I called him. I knew we were going to have the opportunity for a slot to play on the show, and he and I are always just sitting around looking for something to do together. Any excuse, and this was an excuse". The day after the CMA awards it felt like the world of country music had been turned upside down. Stapleton swept all three of the categories in which he was nominated, winning New Artist of the Year, Male Vocalist of the Year and Album of the Year. Country radio stations, who up until that point had almost completely ignored Stapleton, just as they had fellow big hitting traditionalists like Sturgill Simpson and Kacey Musgraves in recent years, suddenly seemed woefully out of touch with what was actually happening in country music, and Stapleton proved that you could still have a successful critically acclaimed country album without the support of the almighty country radio. When the same thing happened in February at the Grammys, this time without a Justin Timberlake endorsed duet, Stapleton proved it was no fluke and he became the big bearded, big hatted, big voiced embodiment of a timely sea change in country music.
Casting Stapleton as simply a country traditionalist isn't anywhere near that simple though. Already a household name in everything but name, he's been writing songs in Nashville for the last fifteen years, and he's had over fifty of his songs cut by established mainstream country singers. Traveller might be full of straight down the line classic sounding country, but he's also written some huge radio friendly pop country hits: Current Radio 2 favourite Thomas Rhett's "Crash and Burn" was written by Stapleton, as was Darius Rucker's "Come Back Song", Kenny Chesney's "Never Wanted Nothing More", Josh Turner's "Your Man" and Luke Bryan's "Drink a Beer", as well as songs for Tim McGraw, George Strait, Lee Ann Womack and Alan Jackson. Even Adele has a Chris Stapleton song in her repertoire – "If It Hadn't Been For Love", a song which Stapleton wrote with his former band, the Steeldrivers, was included on the deluxe edition of her 21 album. He admits to having written probably over a thousand songs, but he isn't precious about them. "I can write six songs in a day if it's happening. I've never had a problem writing songs. That's not an issue for me, which is probably why they don't feel as precious to me. Some people are like, I wrote this song and it's my song and I want to hang on to it. I don't do that. I just kind of write songs and put them out into the world and see what happens with them. One of the songs on the record was on a Tim McGraw record, and other songs have been floated with being cut but never were. Some of the songs on the record are 14 or 15 years old at this point. I don't sit around and cherry pick songs. I always feel like I could still sing them if somebody else were to record them."
Stapleton teamed up with producer Dave Cobb, the man behind Sturgill Simpson's first two albums and the last two by Jason Isbell, to record the album after Stapleton had purposely tracked him down. His importance in making the record shouldn't be understated, and it was fitting that he should take the stage with Stapleton at the Grammys to collect the awards for the album. Cobb, who will take over the lease for the legendary RCA Studio A in Nashville this week, has been imperative in the resurgence of a particular sound of relatively unadorned classic country that's fighting back against the slick, overproduced and processed country sound that's dominated country music for the last two decades. After breaking through at the helm for records by Shooter Jennings and Jamey Johnson, it took the albums he made with Simpson and Isbell to really put his peculiar brand of outlaw country on the map. It probably would have been called "Alt-country" a decade ago, and more recently the "Americana" tag has been applied to artists like this operating outside of the country mainstream, but the success of Traveller has proved to be something of a watershed for a loose collection of more traditional country artists and for Cobb's rough and unpolished sound. "I sought him out", Stapleton explains, "I heard about half of a song off that last Sturgill Simpson record, Metamodern Sounds In Country Music, and I just loved the sound of it. And I was just like, who is the guy that can make records sound like this, and it was Dave Cobb and that solidified my need to find this guy who could make records sound… old. Not that that's to say what Dave does is antiquated in any way. He's completely fearless and will try things that have never been done before, like one of the songs we did on the record we recorded outside. He works without fear in the studio and that's what I like. He's not trying to hold himself up to what somebody else is doing or what the industry standard would be."
It's this fearlessness from both Cobb and Stapleton that's turning country music on its head right now. Paired up with Stapleton's gravelly soulful voice, Cobb's timeless and seemingly effortless production fills the record with a warmth and familiarity that brings to mind the late seventies country records that Stapleton so admires. The song they recorded outside is the album's standout big weeper, "Daddy Doesn't Pray Anymore", which Stapleton wrote after his usually devout father had skipped saying grace before a meal towards the end of his life. Recorded on the lawn outside RCA Studio A, you can hear the emotion rising up in Stapleton's voice, almost feeling like it's choking him as it cracks towards the end. Stapleton's father died in 2013, and his death was the unlikely inspiration behind a road trip that would go on to inspire the title track to the album. "My dad had just passed away and my wife decided that I needed some kind of rebooting. Just some time away, and I love old cars and she found this old jeep out in Phoenix and she suggested we fly out there and drive it home. So under the encouragement of my wife and Becky Fluke, who did a lot of the visuals for the record - all the pictures and the videos - we all flew out to Phoenix. I was thinking this thing's from 1979 it's probably going to break down, but we went. It was kind of a dumb trip to take in December, but we did it and we drove the jeep halfway back across the country to Nashville. It was fun. We took pictures along the way and just enjoyed being on the road, driving through the desert. I only wrote one song on that trip and it was Traveller".
The song "Traveller" became the title track to an extraordinarily ambitious record, deliberate and tightly controlled, but also loose and refreshingly imperfect. It has an enormous weightiness to it and an innate sense of greatness. Listening to it, it has the immediate feel of a masterpiece. Bringing to mind not just classic country records from an earlier time, like Red Headed Stranger and Honky Tonk Heroes, but also an older America; evoking the mythopoeic imagery of John Ford westerns, John Steinbeck and William Faulkner, Look Homeward, Angel and The Dharma Bums. Full of American ambition and delusions, American dreams and American dreams-gone-wrong, American loneliness and life on the road. The album is like a journey through the vastness of the American landscape, with Stapleton cast as the latest in a long line of itinerant cowboys and existential outsiders.
Country music has pretty much always been music made by adults, for adults and about adults, and Traveller is no exception. I always think that everyone eventually ends up getting into country music. The older you get the less pop music means to you. It's only natural. It's not that grown ups don't want anything to do with pop music, it's that pop music doesn't want anything to do with grown ups. Pop music won't ever grow up with you, that's what makes it mean so much to you when you're young . Country music has always been there to fill the gap that pop music leaves behind in adult lives and with the current resurgence of country music and so many genuine country stars coming through again, it feels like perhaps there aren't so many holes to fill after all right now. Thematically Traveller never goes back much further than Stapleton's mid twenties, and then only on the Charlie Daniels Band cover "Was It 26". The album's themes of love, loss, loneliness, family, faith, life and death are firmly placed in the adult world. Stapleton himself describes it as being very much a "grown-up record, meant for grown-ups to sit around and listen to", and after witnessing the crowd response in London during the C2C performance it seems like those grown ups are more than up for some teenage-like recklessness and abandon of their own when it comes to Chris Stapleton.
Stapleton's success has been the most notable victory so far in a quiet country music coup d'état that's taken place over the last few years. The only worrying thing about it all is the effect it might have on Stapleton himself; gentle and genuinely humble and unassuming off stage, it almost feels like an imposition to make him play the part of the big country star, even though on stage he doesn't seem to have any trouble slipping into that role. Like most things, the success of Traveller doesn't seem to particularly phase him, "I wouldn't say the success has gotten in the way. It's just changed what reality is for a minute. We'll just figure out that reality and then when it's time to get back to writing songs we'll do that. We've blocked off time in November and December of this year to record again. Well, that's the plan. A few new songs and we'll go back to 'the well'. There's plenty there to pick from". I guess when you've written over a thousand songs, it isn't going to be that difficult to find another fourteen every couple of years. Let's just hope that well doesn't dry up anytime soon.