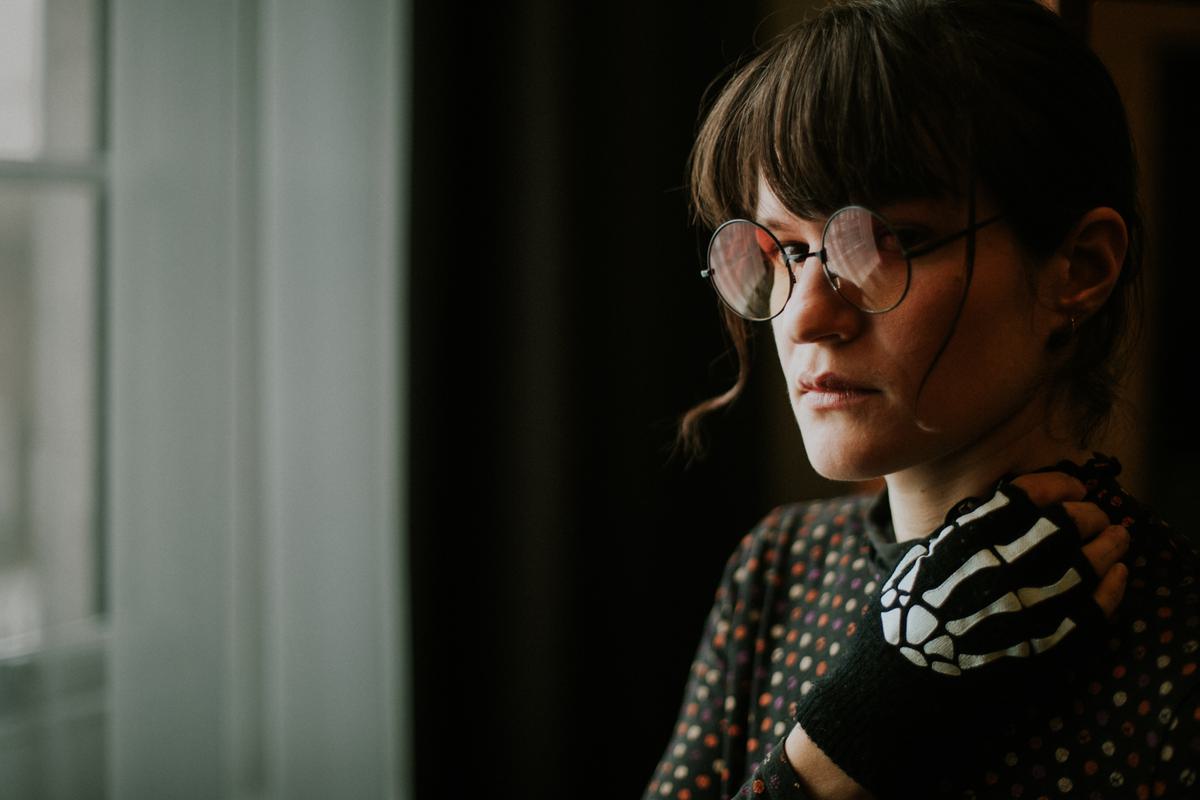 Intimacy With The Untold
06 May 2019, 08:00
Adrianne Lenker digs into the existential truths that underlie her creative career high with Big Thief on new record U.F.O.F
Indigenous to North America, the Lunar moth is a spectacular species to behold. With a wingspan of around 4.5 inches, it's one of the larger moths in the continent; golden, feather-like antennae crown its fuzzy, pure white body that sits elegantly between two brilliant, viridescent wings painted with moon-like eyespots.
A nocturnal flyer, those lucky to steal a glimpse of one when the morning light illuminates its golden-green glow might be forgiven for believing to have seen a fairy.
For Adrianne Lenker, singer, songwriter and leader of New York's Big Thief, the difference is unimportant: "It's only because we think we know what a moth is that it becomes less magical to us, like 'Oh, it's just a moth.' But what is it really, if you take off all associations with it? It's fluttering, glowing, iridescent... it's amazing.
"There is magic everywhere. What's a sunset? How does an orange or an orange tree come out of the ground? What is a baby coming out of a womb? What is that?"
It's one of several moments in our conversation where we return to questions and ideas that, on the face of them, seem slippery and abstract, but at their heart are rudimentary and foundational to the human experience. Throughout U.F.O.F - Big Thief's third album and their debut on 4AD - there are flutterings of angels and fairies and lunar moths and whisperings of worms, silkworms and flies. Both fantastical and grotesque, a loose life cycle of birth, death and regeneration is in flux at every turn.
But the meeting of life and death, order and chaos, is a thread that has run throughout Lenker's work. "I feel like there's duality inherent in everything" she tells me from the start, "at least in the human experience of everything. I think it's all throughout everything that I've ever written and in many ways I feel like I've been writing about the same thing since I was little. Looking into the void, or the unknown mystery, and accepting it, I guess as a symbol of sort of communion with it?"
Towards the end of U.F.O.F is "Terminal Paradise", a song as lucidly bittersweet as its name stipulates. "See my death become a trail," she sings, "And the trail leads to a flower / I will blossom in your sail / Every dreamed and waking hour." The connotations are romantic, not an expression of everlasting love but rather an embrace, the embrace of the everpresent impermanence; death becomes a flower as it dances together with new life to the gentle, waltz-like beat of the song.
"Terminal Paradise" also appeared on Lenker's second solo album abyskiss, released last year on Saddle Creek, where depictions of this inherent union are manifested throughout, albeit oftentimes more tense, darker and ominous. Its title captures the sentiment perfectly: abyss-kiss, a show of affection, a moment of intimacy with the untold, the unknown, the inescapable. But for the 27-year-old, communication with it isn't just an artistic trait but a necessary outlook on life. "Half of being a human is understanding and perceiving things through our finite physical forms or flesh or sensory perception. Everything's passing and transient in that space, all of the sensations and experiences, even just the things that we find attachment and bonds with like other humans, relationships with those you love. Being born, dying, the loss and decay of all of nature surrounding us; it's in everything, even just in thoughts and ideas.
"So I feel like there are these little births and little deaths, and some of it is physical and tangible and seeable but a huge part of it is so mysterious and intangible, so I feel like being alive is this bridging between the two."
Though these existential examinations are hardly revolutionary, Lenker makes no pretense that they are; there's no clutching at straws for an angle to promote the new record. She speaks with a tone that acknowledges that these are ancient, universal beliefs but with the gentle excitement of someone discovering them for herself. When we meet at an East London hotel we encounter each other by chance on the stairs whilst she's having a smoke. There are no professional niceties, at least from her side, but instead a peaceful and collected welcome, person to person: "Adrianne," she offers with a hand. She's a little stiff from the January air and there's a little awkwardness at the beginning that in hindsight seems natural when meeting a stranger in a hotel room to discuss the ephemeral nature of our existence, but she soon seems to thaw as she warmly describes her bandmates – Max Oleartchik, James Krivchenia and Buck Meek – or continues to expound on the importance of confronting darkness, and the effect is calming.
"People live in different sorts of ways and at different levels of consciousness, and there's probably endless variations in perception, in how people perceive things and what people choose to focus on. I think what we focus on creates the experience that we have and I think it's a beautiful way to live, to have an awareness of the pain and," she pauses, "the struggle and the void, emptiness, loss, all of that, to invite it in to look at it and face it, I think that's pretty cool."
Lenker's humbling outlook on life is an approach she and the band take to writing and recording, too. As much as they build to far-reaching moments where guitars wail and shriek in a wall of reverb à la "Shark Smile", or crash with grizzly folk-rock bravado in the vein of their debut Masterpiece's title track, Big Thief might be more accurately defined by their relationship with space and treating dynamics with the same worth as melody and rhythm. "Century", the final single revealed from before its release last Friday, has this quiet groove that fuels the song with an enigmatic, heartwarming quality, and yet it is so understated it demands care to listen to.
"We have a collective goal to get out of the way of the music and not impose our egos, just trying to stay open to listening to what the song is asking for"
This sonic characteristic is captured in no small part by the texturally-minded production of Andrew Solo, who has worked on each Big Thief record, but it's an aspect they bring to their live performances too. Halfway through a session of "Mary" from the band's 2017 sophomore Capacity for the Twin Cities radio station The Current, drummer James Krivchenia begins to brush sticks sporadically against a bed of pebbles and what looks like a Thermos flask, before pouring out a container of children's fruit-shaped toys as well as the contents of his wallet onto the floor as Buck and Adrianne try to hide their grins. It's goofy, but somehow its natural rhythm works and adds to the song's innocent sheen.
When I mention that session Lenker giggles quietly, and goes on to explain their group philosophy. "We have a collective goal to get out of the way of the music and not impose our egos, just trying to stay open to listening to what the song is asking for. Sometimes that requires us to not play or to change something, but simply by the feeling that it's giving us. I feel fortunate that everyone in the band is very good about stepping out of the way, removing themselves and trying to listen to the song as a whole and what's serving and enhancing it." Though they may be open to checking their own egos and stepping back when it comes to serving the song, she is keen to emphasise their equal importance.
When Lenker turned twenty one she moved to New York and on the first day bumped into Meek, who she'd met briefly once before at a show. They became friends instantly and began to tour as a duo, but after a while they hungered for "being part of a whole." Again, by chance, walking down a New York street they bumped into bassist Max Oleartchick, a childhood friend of Buck's, though they hadn't seen each other for ten years, since their summer programme at Berklee College of Music, which Lenker had also coincidentally attended. Along with friend and original drummer Jason Berger they booked a month-long tour themselves, but soon realised they needed an album. Gathering their resources together they blagged twelve days at a house on Lake Champlain in Upstate New York that belonged to a friend's great aunt. The result was their debut Masterpiece, untouched and unchanged when it was soon released on Saddle Creek. Berger had to part ways from the band, but friend James Krivchenia was a drummer who was helping to engineer the record and had been going to their shows. "James knew all of the music and was like 'I'll drop everything to be in Big Thief,'" Lenker recounts fondly.
Big Thief had assembled, and were offered a national tour supporting fellow Brooklyn band Here We Go Magic:. "From the time that we toured with Here We Go Magic about three years ago, we put out Masterpiece and we've been on the road ever since. We left New York, we left our apartments, and we've all been living on the road for the last three years and touring pretty much non-stop since that point."
It's not hyperbole: in three years Big Thief have released three albums and have toured around the world relentlessly. Learning to write in front of the band was a learning process, she tells me, necessary not only in a practical sense but also for her own personal development: "Writing has been an exercise for me, it's a way I can really connect to myself, to my spirit, so I've felt the need to keep doing it." Throughout our conversation Max, James and Buck are referred to in more familial terms than bandmates, and if there's any proof that learning to write in front of them was not a practicality but an enrichment, U.F.O.F is it. Recorded in a cabin in rural Washington, most of its twelve tracks took only a couple of takes to nail down; the rosy folk single "Cattails" was recorded the day it was written and its first take made the cut. The intimacy of these four individuals is evident in that in spite of the apparent ease with which it was recorded, there's no feeling of the polished but drab professionalism that comes from endless rehearsals in soundcheck on tour. Far from it, each track seems to capture the excited nerves of hitting record knowing the next take will be different from the last; it's the gasp of immediate, uninterrogated feeling being released like a moth from a jar.
This impulsive approach to art where choosing what not to say or include is as important as what is can seem idealised when trying to explain with words, something she seems to acknowledge and address, but it's an incredibly personal phenomenon that has developed since writing songs as a child. "Over time I think I've just developed this way of editing myself, but it's such a specific relationship with myself and with my creativity that it would be hard to explain, because it's not formulaic, it's just instinct and intuition. If I'm singing something and it can be cool or fine or pretty or something, but I know what it feels like when it resonates in a very deep way.
"I know what it feels like to be singing something that feels true to me, like it's coming from my core, from the depths of my being, or when it's touching upon something I don't understand but that still just feels right, I can't settle for anything else than that."
The result is probably the band's most impressionistic record to date. Towards the end of the opener "Contact" Lenker releases a guttural scream at odds with the repeated, soothing lines "And dream" that precede it, and yet it feels natural, a resting place between a dream and a nightmare. The dark, candlelit vignettes that characterised Capacity have become more blurred around the edges, the tales more abstract and the feeling more potent. Flashes of colour surface occasionally, each tied to a different emotion. Orange is nostalgia, flesh, life and vulnerability, "The colour of my love / Fragile Orange winds in the garden"; white is vacant, nothingness and pure, the "light of the waiting room / leaking through the crack in the door"; Auburn is warm and comforting, "Betsy's auburn, auburn hair".
Human names have had a grounding quality amongst the fragmented and poetic backdrop of each record. There's Mary, Paul, Haley, Randy and Loraine, and in U.F.O.F we meet Jodi, Caroline, Jenni and of course Betsy. For someone who easily acknowledges the protean quality of life, I wonder if these are actually individuals in her life or ways of unpackaging different layers of her own identity? "Sometimes it's referring specifically to a relationship I have with somebody in a more literal sense, and then sometimes I think it's just different aspects of myself that I'm speaking to. Sometimes I speak to the same people but I give them different names, some people appear in multiple songs but they have a different name each time."
Identity is clearly a fluid concept for Lenker, one that experiences and projects the dancing of chaos and order as much as the external world, but one that can be empowering in its subjectivity. Another track from abyskiss that finds a new form on U.F.O.F is "From", in which she dizzyingly declares that 'No one can be my man be my man be my man / Be my man be my man be my man / No one can be my woman be my woman be my woman." Man and woman spiral together leaving only the self perceptible, a sentiment echoed earlier in "Pretty Things", the opening track of Capacity: "Don't take me for a fool / There's a woman inside of me / There's one inside of you, too."
Male and female aren't two set moulds but two different energies inside of all of us, and acknowledging and tending to both is paramount, Lenker argues, since both have been so historically out of sync. "It's not just through thinking about and feeding the feminine energy that we bring power through, I think it's about looking at the wounds of both feminine and masculines energies. We've been in this patriarchal paradigm for such a long time where women and the feminine spirit has been oppressed; but it's not only been oppressed in women, but also in men.
"By being oppressors I feel like men have wounded themselves, because your whole spirit can't really thrive if one part of it is completely stifled and cut off. It becomes a tyrant and consumes and eats that other part of you."
Keeping this in mind and seeking to harness both energies and live more attuned and balanced has also brought Big Thief closer together, as Lenker tells me how lucky she is to have met three men devoted to becoming one. "I'm not aware of my woman-ness and their men-ness. They're focussed on nourishing their femininities and I'm also focussed on my masculinity and we heal and learn from those parts of each other. I've learned about my femininity through my relationships with Max, James and Buck. They have mothers inside of them, mother spirits".
"Truly, I think I write about the same things all the time, and am just on my own exploration in life"
The last F in U.F.O.F stands for "friend", and so it's easy to see it as an extension of the poetical sentiment behind abyskiss, this intimacy with the unknown, though admittedly the metaphor is less William Blake and more New Age. She admits the similarities – both records were written around the same time – but in the midst of the duality of birth and death, love and loss, there is a focus on "little details" that are just as profound. "The inner and outer infinities; the closer you look at something the more mysterious it becomes, and then the further out you look the more mysterious it becomes, and then it's only this little in between place where we have defined definitions for things, all these relationships between things, I guess, the relativity between things. Truly, I think I write about the same things all the time, and am just on my own exploration in life."
It's an exploration that she tells me she's been on since a child, one that has fought against the human tendency in this in between place to push away the reality of chaotic extremes and forces in an attempt to create a feeling of stability and permanence. "But I don't think that we have access to the same amount of beauty and joy if we ignore the contrasting forces, so it feels to me like the full way of living. I don't think there's much conversation integrated when we're children about death, like real conversation you know? It's something that I've longed for since I was a kid, to have a connection with the real stuff, whatever that is?"
Indeed, much of the young artist's spiritual journey is owed to her relationship with her parents, who nurtured her questions of mortality that we all stumble upon as a child but are too often sedated with palatable fables and fairytales. Rather than depicting death as a horror or unnatural, Lenker's parents helped her to see it as 'an experience of being human; it's a glimpse, a part of an indefinitely expanding, intricately woven web of mysteries, and there's much more that we don't understand and can't know." Her mother and father set her on a path with a key principle of seeking her own truth and understanding not accepting everything else as fact. Unsurprisingly, Lenker found school and its obsession with memorising history books, timeliness and other people's ideas frustrating, especially the lack of space to question beyond the borders of the curriculum and express alternative views. "There's so much that's like not allowed to be there, it's wrong or taboo, everyone just gets frightened as soon as there's something real happening, and it's like 'oh are you disturbed child?''" she says in a mocking impersonating tone.
"There's a lot of talk about the future as well, preparing for high school or college or a career and all of these things that become truth and the purpose and point of life, to be following along on this thread of human constructs and just accepting this web as home. I always felt dissatisfied by that, it always felt like somewhat of an illusion to me".
Beyond having open-minded parents willing to engage in meaningful and spiritual discourse their daughter, Lenker's childhood was far from conventional. Her parents were young and met through a church commune in Indianapolis that turned eventually out to be a cult. Fleeing with their four-year-old daughter, they lived essentially out of a van for the next few years, drifting from house to house around the Midwest states with other families or in rented accommodation. When we're discussing "Mary" I mention almost in passing that it feels different to the rest of her work. Whereas most of her songs begin on the guitar and are born from a deep stream of consciousness, edited only by the guidance of what feels right, this shimmering, piano-lead song feels more stylistically and poetically considered, even when her fragmented images topple and cascade into each other in a gentle crescendo: "Marching up some mountain / With our aching planning / High and smiling / Cheap drink / Dark and violent / Full of butterflies / The violent tenderness / The sweetest silence". She takes a sip of her tea and stumbles a moment before telling me she wrote that on a keyboard one of the last times she visited her grandparents' house, which was the only representation of stability in her life. "It was the one place that didn't change throughout my childhood. It was a sanctuary, it was the cosiest, warmest, most beautiful place ever. I loved that house."
In one way or another, then, Lenker has been on the move for most of her 27 years. After a couple of months rest, with U.F.O.F now released the band are days away from beginning the festival circuit and touring cycle all over again. She tells me that the band try to create as much consistency as they can on the road – staying at Airbnbs, cooking meals themselves, going on morning runs – but it's inevitably a challenge. In keeping with her philosophy of duality, Lenker acknowledges the relationship between the body and soul. "My spirit is being so nourished from making this art and music that I care about and having a connection with audiences; in a way I get such incredible bursts of that, I get fed that so much in that way, probably more than a lot of people get to experience. But then I find that my relationship with my body suffers. You kind of need both; if you're body is in a really good place then you have all the more energy to create or to give to other people."
Big Thief certainly feel in the midst of a creative and energetic zenith; the reviews of U.F.O.F reflect this, but you can feel empirically, too. When you meet a Big Thief fan you know you appreciate the same qualities even if neither of you can adequately name them; they're spoken about on mystical terms far more than just another good band you should check out.
Though her life has so far lacked stability in a concrete sense, I realise in the context of our conversation that perhaps I'm missing a trick. Is stability really a rock or a house in physical terms? How can anything be solid for someone seemingly so aware of the vulnerable and precarious place we inhabit amidst the swirling forces of chaos? Perhaps her endless physical journeying has been apt teacher on her path of exploration? "I think that everyone is in transit in a way, from birth to death everything is in flux, everything is changing. There's a certain amount that you can create in your life through intention and will, then there's a certain amount that's just the grace of the flow and connectedness of everything else.
"You can say I want to be a mother, I want to have kids and have a family, but I could also die tomorrow, and truly that's the reality. You don't know when you'll pass or when other people will pass. We do know that we will, and that they will, that everyone will. The nature of existence is impermanence. Change is in our nature and to feel settled I think has less to do with finding a fixed environment or set up that you feel is permanent, but more so to find an acceptance of that change.
"Finding that balance and fulfillment and comfort has more to do with an internal process of being able to accept the fluidity. In a way, being on the road as a touring musician has given me a kind of crash course, a high intensity therapy of learning that lesson."
It's beautifully apt that the end of our conversation returns to where it began. In another example of duality, the appeal of Big Thief and its leader comes from the union between what is at the heart of their music and what is at the heart of the human experience. They're deep, inherent and universal tales, but no one tells them quite like Lenker.
U.F.O.F. is out now via 4AD