A lot has been said about the musician-come-producer Geoff Barrow over the years. It's hard not to indulge when he is basically everywhere all the time. Will a year go past without him seeing out a ludicrous idea he somehow got someone to commission? From meeting a political journalist and producing her debut album, to then producing a breakthrough alternative album before soundtracking a couple of British blockbusters, the man's talents perfectly illustrate the variety the creative mind enjoys.
One question maybe still needs answering though. How do you continue to push yourself after accomplishing your wildest ambition on your first attempt? Most of us will never know, but no doubt we still think we would strive to accomplish more and more with every step. More than likely we would just kick back, enjoy the attention and bathe in the eternal recognition of our name. Or continue to churn out copies of that first move never breaking any more ground.
Geoff Barrow is the hope and dream in all of us. He helped create a genre immortalised in British music history with his first proper release and has never looked back. It's almost as if it doesn't exist anymore. Every day is a step away from that album and a step in the right direction. Like a superhero who is only as good as the last supervillain they defeated (all of them), Barrow will continue to strive and always tread unknown territory. He's conquered many of his childhood ambitions and everyone who's been paying attention knows it. Even walking around my room, it's hard not to be reminded of his presence. The Horrors' Primary Colours record. The soundtrack by Jonny Greenwood on vinyl. An Ex Machina DVD.
So how does it happen? Stepping away from the limelight and the commercial industry it would seem. Putting yourself in a situation where you can fly free from anything anyone wants you to be. That flight is Beak> for Barrow.
"I've got a mate who's a DJ and he's signed to a Universal affiliated label. He is used to putting his own stuff out, and it's almost kind of like now it's just magnetically sucked the energy out of him. He's like 'I can't be bothered to write. I've been trying to get messages back from them and I've been trying to pass this artwork'," Barrow explains. "It's like mate, you know, you've just got to do it yourself. Because you can't do it properly you'll create something really odd and the recordings will sound odd. It won't sound specifically you. We need that so much at the moment, with the homogenisation of the whole planet to keep it art and to keep it interesting and wrong is brilliant."
As time went on for Barrow and Beak> began in January 2009, he found himself gradually pulled away from the expectations of the commercial world and felt happier with fewer burdens. Less pressure in his vocation. "The idea of that freedom is utterly brilliant. It means when you go into a gig, there's no confusion. The only confusion there's been is that with Beak>, its the whole thing of it being my side project. As with Portishead, we haven't done anything in such a long time, it's disappearing, do you know what I mean?" says Barrow. "When people say Geoff Barrow, they don't say that guy, they say who the fuck is Geoff Barrow? Which is really nice. We'll always take the piss with anyone who says it but it's a band. It's more of a band than any of us have been in and we've been doing it for ten years now."
"When people say Geoff Barrow, they don't say that guy, they say who the fuck is Geoff Barrow?" - Geoff Barrow
Enough about Barrow, we're here for Beak>. A three-piece who play whatever the hell they feel like playing. From doom to krautrock, noise to poignant soundtrack and now dance with their latest EP, Life Goes On, limited ground has been left untouched by the three lads known for their eclectic tastes. Barrow, of Portishead and film soundtrack fame, Billy Fuller, who plays with Robert Plant, and Will Young, better known as Moon Gangs, an eastern influenced, spaced-out ambient project.
"I think what happens is we're just not particularly afraid or held back by stuff like 'Oh we're this band and we have to be that like we're heavy metal or I'm getting out the band.' We just write tunes, Will and Bill feel exactly the same way about it," Barrow tells me.
"We've done albums and lots of music where it's a lot of noise and discordant stuff. You know sometimes it's more fulfilling and actually harder to write a song than it is just to be atonal, discordant doom," he continues. "You kind of hide behind extreme music. I know people that actually do that, they're really good songwriters but they actually hide behind really discordant music because it's almost like they're too scared to write a song."
Beak> are definitely not hiding anywhere with their latest offering. Title track "Life Goes On" sits somewhere between Sonic Youth's poppier stuff and a floating foray into a moody skyline. The second of the four-track record, "We Can Go", is the band's Barrow-confessed "most normal song". It paints a melancholic scene in what sounds like an Acid Western scored by Alexander 'Skip' Spence at his lucid best. A far cry from the ethereal second album, >>, or the spontaneous first, Beak>, supposedly recorded with no overdubs over 13 days. Barrows vocals are at their best on "We Can Go". You still can't understand what he's saying without close inspection but, whatever it is, it carries the same magnetism as Neil Young or Joni Mitchell or Leonard Cohen. Of which Barrow said: "It's my first time dipping my toe into writing lyrics that are rough and ready and most probably very sixth-form like."
He claims the melody was created while driving to work and if Barrow's commute is anything like my sleepy affair you can see it so clearly. It's the kind of song you want to slowly roll your head around your neck socket to and really feel the flow of energy inside your sedated body. Like Thee Oh Sees, a Barrow favourite, managed on "Will We Be Scared", it could be submerged in water. There's a vibrancy to the production that has to be done just right, and it is.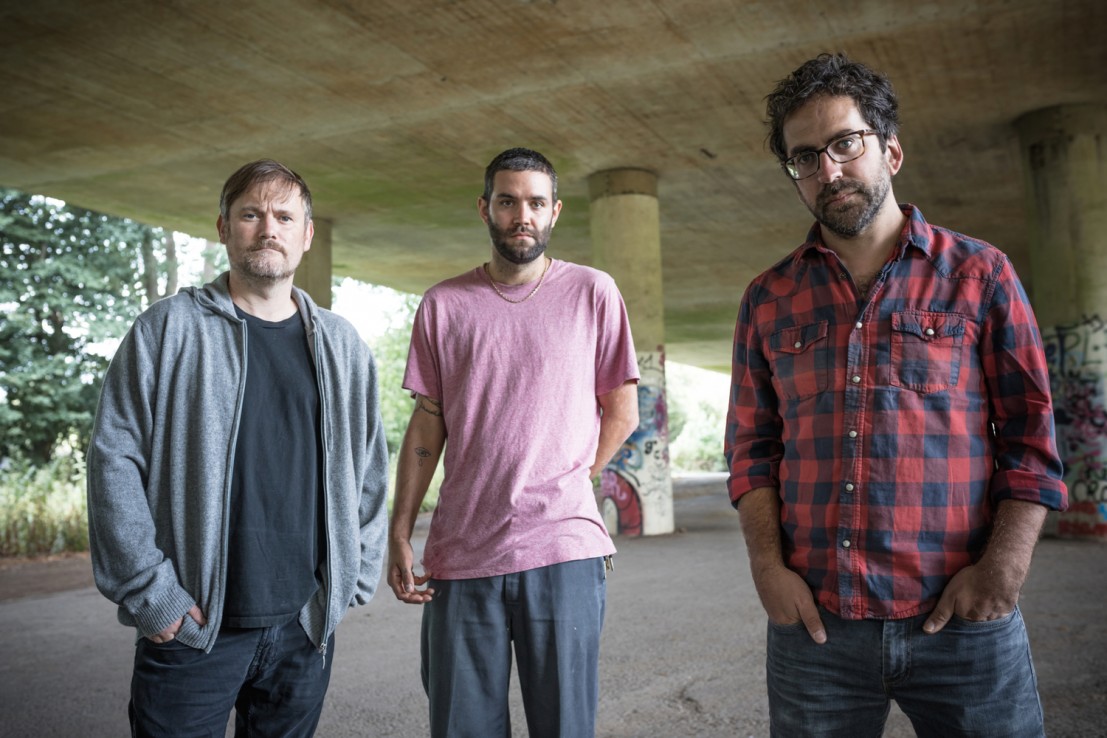 The third track, "Minus Pillow", is a blazing, italo disco banger sent back from a robot future we can probably all see coming. Prompted by someone's purchase of a new bit of gear, a common excuse for the band to go back into recording, Young's synth work is extraordinary on this one. It stabs like a piercing bullet and echoes around the corner, perfect for a wobbling bass and the point when post-punk drums go disco.
Since breaking ground with the spread of trip-hop on Portishead's debut Dummy, Barrow has been mindful of the position it has put him in. Hey, he got a studio and a record label out of it but the world that album created left him with a sour taste.
"I'm lucky that when I was part of that industry I obviously gained a studio as a producer so I've got a record company. The record label has been going for a long time now. We've had a lot of failures but we've never taken money off of a major or a distributor to fund the Invada aesthetic. It's something we purely love doing."
Although it is never explicitly exhibited, Beak> typify the D.I.Y clamour new bands are all too keen to shout about and label themselves with. All three studio albums so far have been released on Invada Records which Barrow co-owns and have been self-produced.
"We do it on Invada because we can pretty much do what we want. Even if we were signed to someone else, they would have to put 'well, we've got a schedule and oh, you can come out next May or something'. With Invada, because I run it with Reg, we can just say we want to release an EP in two months time and he'll go, do what you want."
"We've had a lot of failures but we've never taken money off of a major or a distributor to fund the Invada aesthetic". - Geoff Barrow
Unfortunately, this means it could never be a full-time job. There's no livelihood in Beak>. But what a position to be in. They can literally book in studio time whenever they want and release whatever comes out of it. "When we're recording we just get onto something, or someone has a riff in their head," states Barrow. "There's a new tune we're gonna do where Will was just tuning up his guitar with these two chords and it was like get them on your phone."
This translates to an interesting situation live. On the one hand, there's the temptation for each gig to be a long jam, like in the studio, occasionally mimicking the recorded songs. That creates a tendency for noise though. Something, as Barrow explained earlier, they're trying not to be. "It's really strange, there's improvisation in the studio and then that turns into tracks that we edit and we learn the improvisations for live shows. It's a weird way of working, most bands write an actual song then go out and improvise live versions with extended bits and we do the opposite," says Barrow. "I would like to think we went out there and created these improvisations that went on for days and were amazing and took people on trips and all that stuff but I think we'd be pretty shit."
It would seem this way of working suits Barrow. He started out playing drums before he turned 10 and upon hearing the motorik beats prevalent in all krautrock sometime after, wished to be able to play like Can drummer, Jaki Liebezeit. Now, he proudly believes he well, can. "It's a very different way of working as I have traditionally worked," he tells me reminiscing about his deep roots in Bristol's underground hip-hop scene producing tracks for the likes of Tricky and Neneh Cherry. "I used to sit there with a sampler and just hours and hours of programming and stuff like that. I was never really a good enough kind of drummer to play that stuff myself so it's based on samples." Remembering the past is easy for Barrow. "We had a whole hip hop aesthetic really. I feel I'm now doing the same stuff but I'm actually playing drums which is really nice. I also feel I'm the happiest I've been in making music because I feel like I'm doing something I really liked doing when I was 15. Playing drums in a band."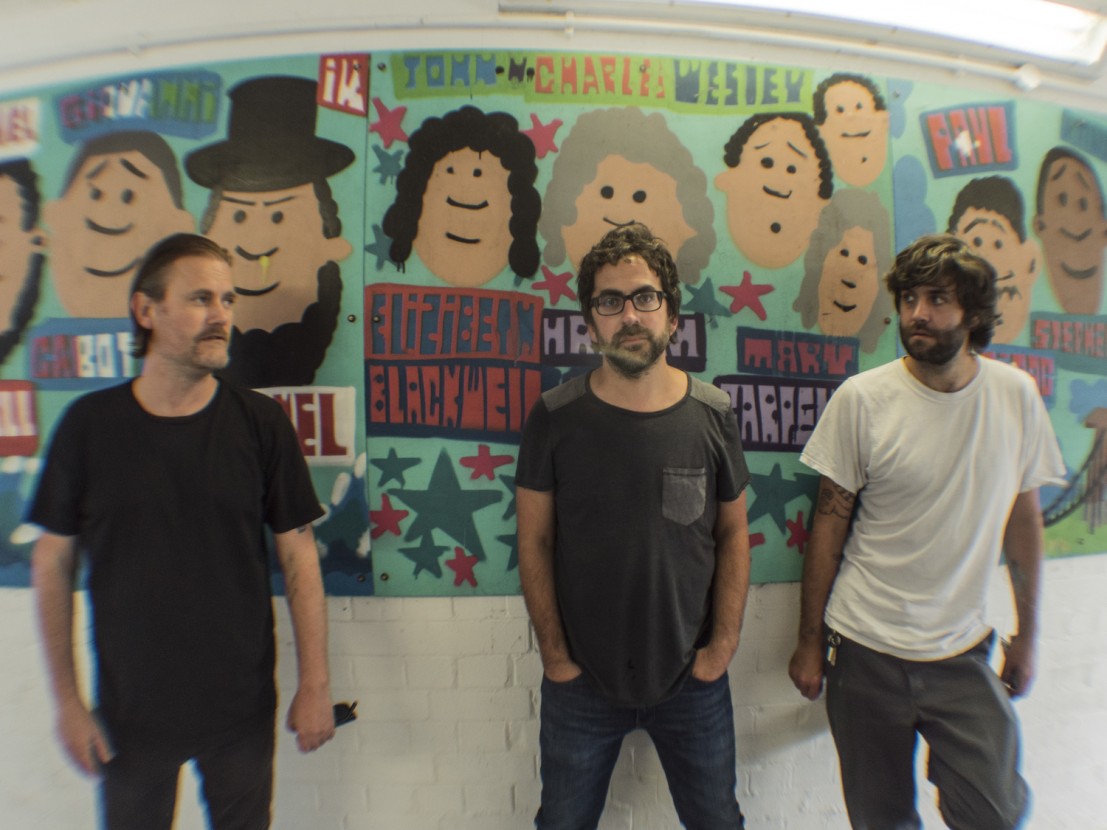 Tracing Beak>'s roots takes you to a defunct studio in Easton, Bristol. This is where those fateful 13 days, January 5 to 17 2009, took place and the pivotal self-titled album was created. It ebbs and flows like any good alternative album. There's pulsing bass, drums that could have been played by a funky robot, erratic vocals, Gameboy synths and guitars that send me west. First song "Backwell" sets the wobbling, orbiting meter and then we're off, gliding far above a dystopia in a makeshift astronave. Before long and seemingly unexpectedly, we've crashed in a sparse desert as the all-encompassing doom of "Ham Green" kicks in. After a synth masterclass from ex-member Matt Williams in "I Know", the album continues in this vein, mixing up the tempos, instruments, and styles. There's even a glint of The Horrors' krautier stuff in there, something Barrow was more than happy to facilitate while producing their second album Primary Colours.
Somehow, Beak>'s first album didn't quite land as it should have in Britain. "We've actually played Europe an awful lot more than we have England and we're a bigger band in Europe than we've ever been in England. The British music industry is kind of odd. Artists aren't respected the same way as they are in Europe." Early failures in Britain never put the band off though. "It's a tiny industry but it works. We get booked to do festivals and people have got us playing quite high up the chain now and all of our shows are selling out. It's really unexpected because we know how difficult it is to get people out to spend their money." Barrow thinks it's down to a little bit of radio play Beak> have seen recently as to why people are paying attention over here now. Even if that's true, they're just off the back of a sold-out tour across the UK and Europe. Although it was a brief trip to Mexico to play a festival that inspired the desire to make the new EP.
"The British music industry is kind of odd. Artists aren't respected the same way as they are in Europe." - Geoff Barrow
The title song of the EP Life Goes On begins with a child shouting a haunting, nursery rhyme-like chant in Spanish. A pre-recorded call from this young girl to bring spare appliances to the van it is emanating from. Apparently it's used all over South America and, according to Barrow, must have been originally made because the "fella who owned the van" and fathered the child became "fed up of shouting it out." It's foreboding, almost off-balancing. A beacon to the band to return to the studio as much as it is a summon for the grifters of Mexico City.
"I could hear this girl's voice bellowing through a PA system and I thought 'what is it? Is it ice cream?' Then I thought it was some woman shouting some political thing." It wasn't just this strange scene in an unknown place that inspired the sessions which would become Life Goes On. "I really didn't want to go. I was knackered from work. It's a long flight but we were just chuffed to be playing it and really we were all knackered," Barrow says. "We got there and it was just amazing. Sometimes you play festivals and you think the people behind them are just not into music. I dunno whether that's the stress of trying to make money out the festival because it's a hard game."
"It just felt really, incredibly positive and the other thing, a million miles away from the UK music scene. We've been there and done it a bit. It's the same old faces and the same old kind of regulations. You've got to fit into it, you've got to tick the boxes but this was a whole new ground." Their first of two days in the city consisted of beers and tacos when they landed, visiting independent record shops in which one had a "mad" Columbian band doing an in-store gig and an interview on a local radio station. "When you do a really short trip you get thrown into this alien universe and then you're back home again," he continues. "As soon as we got back we were like let's do a tune. To be inspired like an old grumpy fucker like myself, like all of us actually, it was something."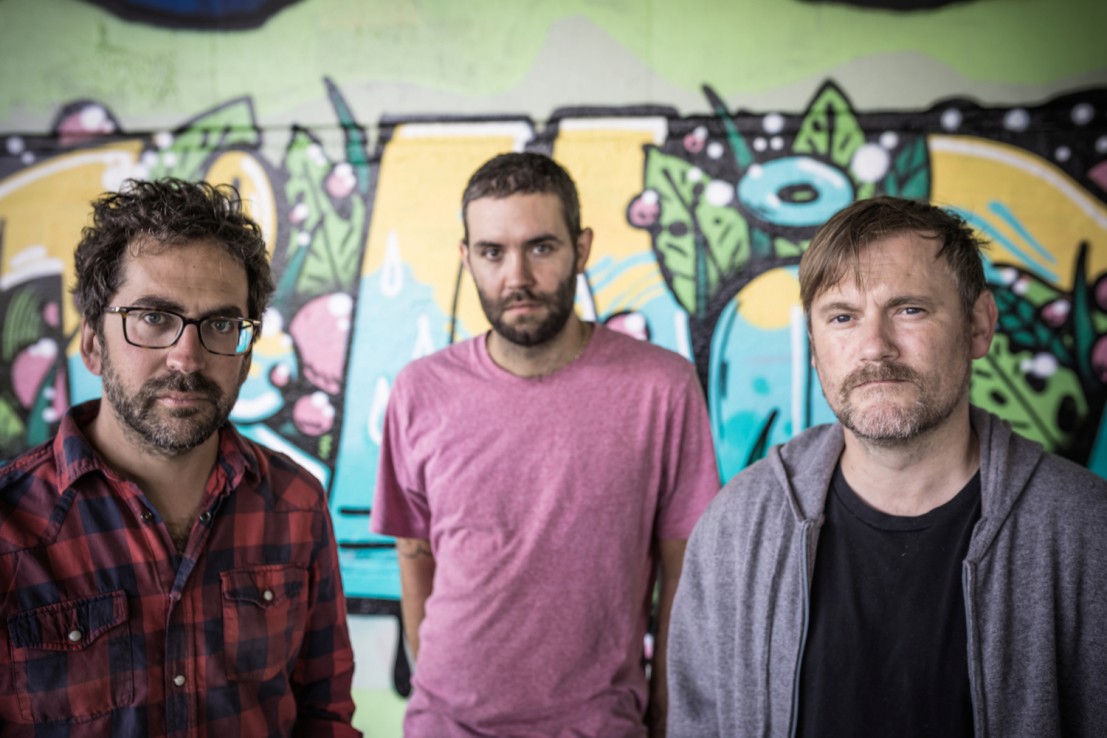 Upon releasing the track, a radio presenter asked them to cut the child's chant off the beginning, in which Barrow described as "back to the rules" in his unreserved demeanour. A reminder of returning to the society he has long resented but has driven much of his career. He says: "My music has always been born out of frustration with the feudal system with wealth and with neglect and poverty. The total injustice of rules that most of British people live under. It really winds me up and it winds us all up. It drives me to be creative, I don't know whether I can sing properly or not but that's what the songs are about. If you're not affected by your outside world then I just don't quite understand you. You are literally just a commercial vehicle."
This distaste at what is really going on in the country feeds directly into Barrow's much publicised 2000AD fandom. When asked if there's a chance we, as a society, are slipping into the murky depths seen in Mega-City-One, Judge Dredd's habitat, he replied: "Well we are."
"I've always been into science-fiction, mainly because it's the ultimate fear of nuclear annihilation," he continues. "Growing up in the late 70s, early 80s that's what you were told and I became obsessed with it. That was Public Enemy and 2000AD. It was dysphoric, tyrant futures." What a fantasy to then almost makes the soundtrack for the most recent Judge Dredd film, Garland's Dredd, but release the music anyway as a stand-alone project under the name Drokk, in reference to the inhabitants of Mega-City-One's favourite curse. Barrow has previously stated the producers were looking for something more "commercial" than what he and Ben Salisbury had created. Well anyway, it unlocked childhood ambitions for Barrow. "That's why me getting into the film world has really been brilliant. I'm just really chuffed to be doing what I'm doing," he admits.
If you're not affected by your outside world then I just don't quite understand you. You are literally just a commercial vehicle". - Geoff Barrow
As Beak>'s audience grew, so did the mastery of their sound. The records became more refined, >> improving on Beak> but >>> being a production treasure. It breaks heavily into synth soundscapes and electronic movers Moebius would be pleased with. There's less of the grit seen in Beak> and >>. Not that grit is a bad thing. "Wulfstan II" on >> illustrates this side to the band in its most accessible form. Something the single from >>>, "Brean Down", builds on but is a more pissed-off Can than droney Black Sabbath.
The final track of Life Goes On isn't actually performed by Beak>. It's a Beak> song, Allé Sauvage from >>>, but is performed by long-time Beak> collaborator and Invada roster, Mario Batkovic. The original starts with the swirling arpeggio synth line in a muffled meditative state before stepping it up as the drums fully join. Batkovic's version lights up his accordion-like an Eno ambient extraordinaire. It could be an organ, it could be a synth but it's definitely an accordion. And that's that, the record ends with a fade out.
Something Beak> will never follow and neither will Barrow. The band are just about to play a number of festivals in the UK and one in Belgium, they have plans for more music, Barrow's still making scores and is currently in the process of developing a film idea he created. For someone who sees the world, our future and the "industry" with such pessimism, Barrow is in a good place at the moment. Like a bird, he will only stop singing his songs when he no longer can and will always throw caution to the wind and fly forward.