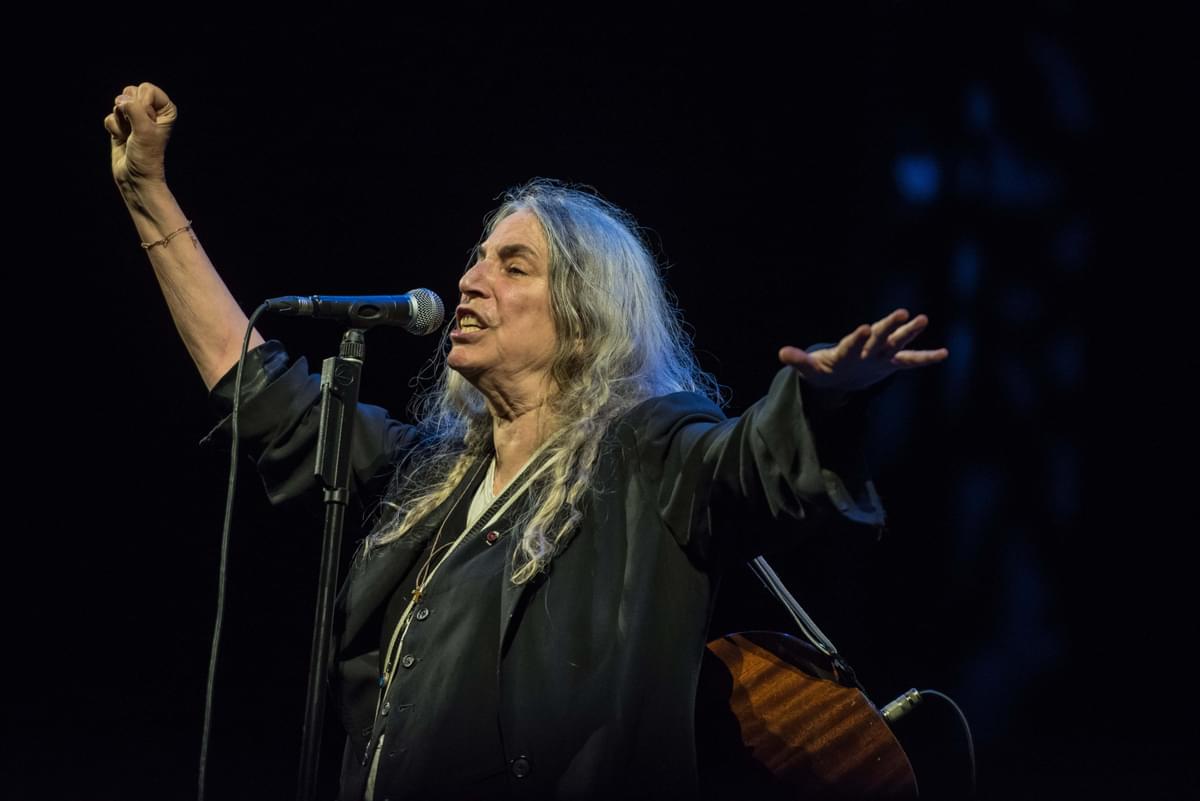 Patti Smith delves into a treasure trove of punk, politics and poetry live in London
25 July 2022, 10:00
Patti Smith pauses unexpectedly midway through 'Redondo Beach.' "Sorry, I had to belch," she smiles, only slightly derailing the first track of her set, the 1975 punk reggae suicide love song. Her honesty is endearing, but even unfortunate bodily functions can't detract from the magic the punk poet laureate conjures onstage.
Smith is headlining Higher Ground at London Palladium, which is ostensibly a festival celebrating women in music, but essentially a gig with support – there are only three acts on the lineup. Warming up for Smith, breakout indie artist Connie Constance lights up the stage with her lively brand of British punk while Nadine Shah's performance is soulful yet restrained.
When it's her turn to take the stage, Smith invokes a world of Romantic poets and counterculture icons, paying homage through music and poetry to her many famous friends, influences and collaborators. In honour of the 25th anniversary of the death of poet Allen Ginsberg, she recites "Footnote to Howl" a fierce incantation on the holiness of the universe. Later, to celebrate the year of the tiger, William Blake's "The Tyger" gets an a capella rendition. Covers of Bob Dylan, Iggy Pop and Neil Young also feature.
Elsewhere, she drawls and roars her way through tracks from her own decade-spanning career. Hits like 'Dancing Barefoot', 'Because The Night' and 'People Have The Power' are high points, rousing the previously sleepy and seated Sunday night crowd. Smith entreats the room to hold their hands in the air for her call to arms, railing against governments, pollution and corporations in favour of nature, art and humanity. In these unifying moments, she casts a spell as cult-like echoes and chaotic guitar reverb clash in the background. "Feel your humanity!" she bellows. "The future is fucking now!"
Quiet moments are filled with shouts from the crowd and she engages with them all. While her name might evoke offbeat New York cool, she's anything but aloof. "You're an icon!" someone shouts. "I'm a what? If I'm an icon, I'm the sorriest icon I ever saw," Smith quips. "I'm just whatever." Each interaction cultivates an atmosphere of spontaneity, the feeling that this could only happen once, only on this night.
As the entire venue sings along to an extended version of "Gloria", she is draped in a Ukrainian flag, pulling wildly at the strings of her electric guitar, "the weapon of [her] generation which never kills or runs out of ammunition." The show is a captivating medley of frenetic energy and quietly passionate sensitivity, of dry humour and righteous anger. Whether the crowd is silent and clinging to her every word or ecstatically singing and dancing in the aisles, Smith has them under her spell, asserting the eternal, intangible power of punk and poetry to bring people together.
Setlist
Redondo Beach
Footnote to Howl (Allen Ginsberg cover)
The Wicked Messenger (Bob Dylan cover)
Dancing Barefoot
The Tyger (William Blake cover)
My Blakean Year
Nine
Free Money
Beneath the Southern Cross
I Wanna Be Your Dog (The Stooges cover)
After the Gold Rush (Neil Young cover)
Because the Night
Pissing in a River
Gloria
People Have the Power (Encore)
Get the Best Fit take on the week in music direct to your inbox every Friday