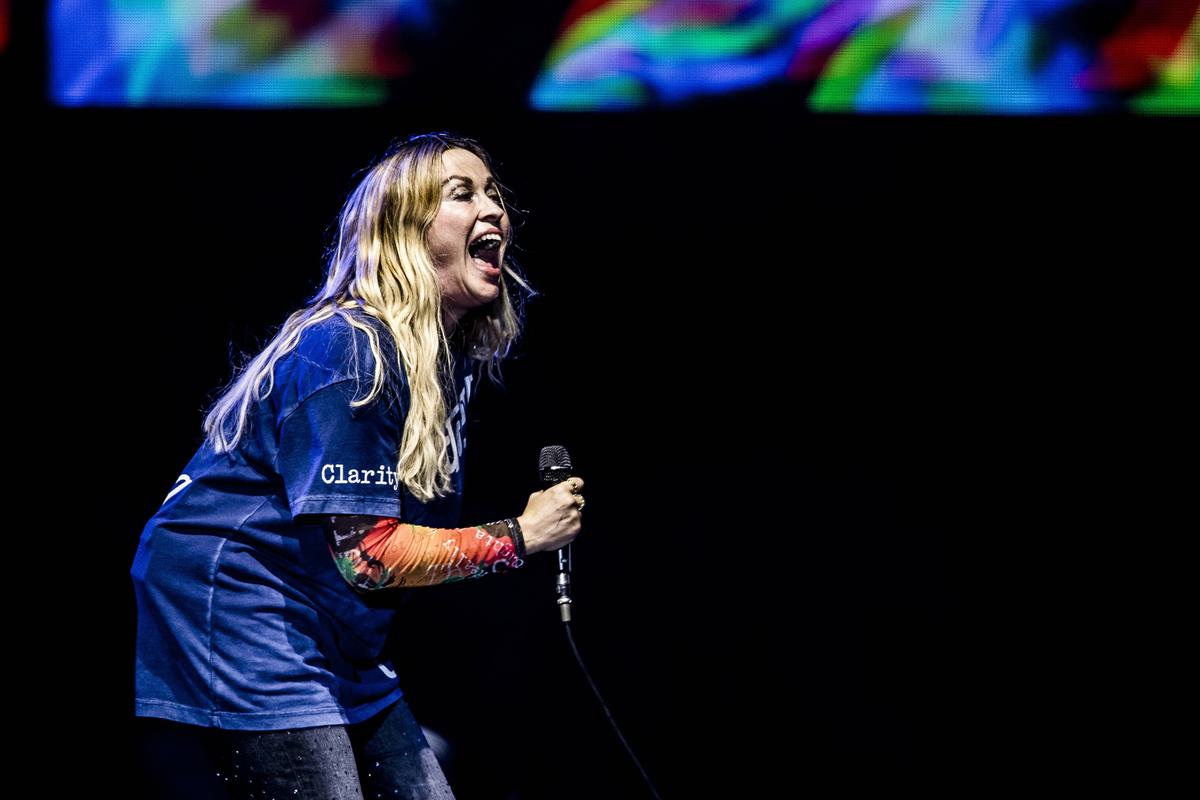 In Copenhagen, Alanis Morissette proves her enduring appeal goes way beyond nostalgia
11 June 2022, 11:00
After all this time, much about Morissette remains unchanged.
She still paces the stage like a stalking lioness, huffing into a harmonica. Her voice still has the gravity of an outsized planet; when she belts, she really belts, leaning far back from the mic so as not to blow the speakers. She still whips and flips her hair, at one point going full whirling dervish before falling to the floor. She still does the gay rights thing when playing "Ironic" ("It's like meeting the man of my dreams and then meeting his beautiful husband"). And there's still nobody quite like her.
Twenty-seven years of swallowing it down and Jagged Little Pill still has the power to be as jarring and uncomfortable as it is nostalgic and anthemic. The feels began even before Morissette comes bounding on stage, with a sweetly emotional montage flashing on the video screens. A fast-paced mashup of clips of her film and TV roles, covers of her songs – including Beyoncé's "You Oughta Know" – and more, it shows a playful side to Morissette that is often overlooked. The 'self-indulgent psychobabble' tag often used to disparage her post-Pill work has always been lazy at best, at worst misogynistic, entirely missing the humour and therefore much of the point.
The projections throughout the rest of the show are not always so memorable. One sequence that really cuts through is a slideshow of Morissette's changing body shape during "Mary Jane", hinting at her past struggles with anorexia and bulimia. She alludes to it again in the deceptively bouncy "Reasons I Drink", which, along with two other full songs from 2020's Such Pretty Forks In The Road, adds some welcome diversions to the setlist. These are Morissette's middle-aged mother-of-three songs; at 48, she's been through the wringer and come out the other side, largely at peace with the woman in the mirror and the bruised but grateful heart on her sleeve.
Jagged Little Pill is not a flawless album. It's not even her best album (hi, Supposed Former Infatuation Junkie). But, in 1995, it absolutely was the moment and deserves its milestone flowers. It was a pity, though, that some of her best songs are relegated to minor segues, while some of Pill's weaker tracks have their full time in the spotlight. "Hands Clean", a riveting song about male abuse of power, and "Sympathetic Character", simply one of Morissette's darkest and most violent songs, are the most egregiously cut short. But most fans will get what they came for, and more.
After ending the main set with "You Oughta Know", Morissette and band comes back out for a goofy take on Jagged Little Pill bonus track, "Your House". Playing each verse in a different style – reggae, jazz, punk, and the original a cappella – they are hammy and hilarious. That they follow it with the always stunning "Uninvited", perhaps her most opaque and atmospheric single, is some real whiplash. Then, with the inevitable 'Thank U' from Junkie, the show comes to an end. "Have a great night," shouts Morissette over the applause of 15,000. "Forgive each other!"
Setlist
"All I Really Want""Hand in My Pocket"
"Right Through You"
"You Learn"
"Hands Clean" intro / "Forgiven"
"Everything" intro / "Mary Jane"
"Diagnosis" intro / "Reasons I Drink"
"Head Over Feet"
"So Unsexy" intro / "Ablaze"
"Nemesis" intro / "Perfect"
"Losing The Plot" intro / "Wake Up"
"Not The Doctor"
"Ironic"
"Sympathetic Character" intro / "Smiling"
"I Remain" intro / "You Oughta Know"
"Your House"
"Uninvited"
"Thank U"