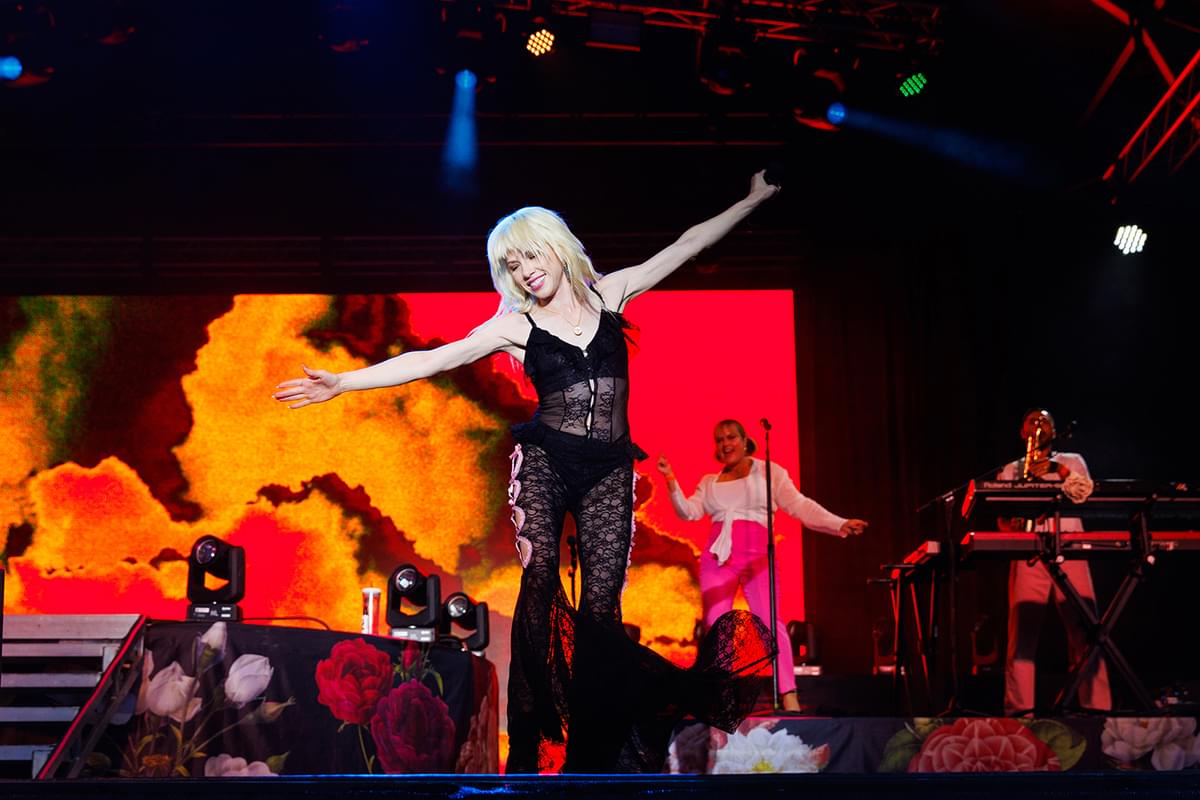 Carly Rae Jepsen perfects the pop formula live at Somerset House
12 July 2022, 09:03
Hemmed in by the ivory splendour of London's Somerset House, with her near-rapturously devoted fans clamouring at her feet and her band clad in baby pink dungarees, she may be pop's wild card outside the palace walls, but for tonight, she has been sworn in as its princess.
It's the final date of the Canadian singer-songwriter's European tour, where she has been stirring up an appetite for her fifth studio album later this year. And so, for us, she has crafted a setlist as if she were taking care to pick the right pop confection from a box of chocolates, all of them dusted with synths, sugar and moreish sincerity.
Tell anyone you're seeing Carly Rae Jepsen and you'll be met, at best, with a raised eyebrow and a sniffy remark: "Oh, the 'Call Me Maybe' girl?' Trying to make the case for her cult classic album, E•MO•TION, in all its giddy euphoria, or its successor, Dedicated, with its disco-charged elegance, will often be a wasted effort, falling on unwilling ears. Yet while, in the wider pop landscape, she is consigned to the rank of an underdog (or worse, grossly misjudged as a 'one-hit wonder'), the adoration she inspires among those who know – and the sheer intensity of that adoration – is honestly quite incredible.
That's why, tonight, it's interesting to see just what, exactly, a typical Carly Rae Jepsen fan looks like. And in truth, there is no single answer. As an artist in the business of emotion, she is interested only in great heights, of being either lovesick or lovelorn in the extreme, and depicts these universal sensations in broad, instantly recognisable brushstrokes. Anyone at all can see themselves reflected in her lyrics, and with her self-aware innocence and lack of ego – all qualities so at odds with the territory of a pop star - she is impossible to dislike.
A middle-aged man proudly sports his Dedicated t-shirt. A woman with a shock of cropped, green hair wears an enormous bubblegum-pink necklace which spells, 'Call Me Maybe'. Young men weave through the crowd in their fishnet crop tops with glitter around their eyes and painted nails. A teenage girl clings to the barrier, and a bearded man who, at first, looks like he may have been dragged here against his will sings with the most vigour of all, even chiming in with the finer detail of the backing vocal.
As far as pop shows go, this is far from the standard fare. There is no intricate choreography: Jepsen instead draws from the more subtle, lyric-reflective moves typical of a 60s girl group, preferring to exhaust her energy by bouncing across the length of the stage and leaning into the crowd, flashing a grin that you could've sworn was meant for you. There are no outfit changes, either: while her band wears baby pink, she contrasts in a black lace body suit with flared hems and peroxide-blonde hair. And there is hardly any contrivance to it at all – it has all a Disney-like sense of joy that makes you feel that you're still watching a teenage girl in her bedroom, singing into her hairbrush.
The set only underlines just how many hits Jepsen commands in her repertoire. The crowd responds just as hungrily to the album treasures "Julian" and "Gimmie Love" as they do the more recognisable hits, like "I Really Like You" and "Run Away With Me". And while "Call me Maybe" is, of course, still a banger – and is honoured as such – there is just as much passion for her closing performance of "Cut to the Feeling". No one is here lightly or with half-interest – they're going all in.
But besides a performance of "Western Wind", the forerunning single from her upcoming album, a far more delicate song which is still not yet embraced by her fans ("I should've gone to the toilet when she played 'Western Wind'", one said), she teases no more new material.
The entire night feels dream-like in the best, but also the worst, way. It seems that Jepsen only just twirled her way on stage before she's wrapping up the encore, with a 16-track setlist which still only amounted to an hour – a little short, perhaps, for a headline show. But while she is here, Jepsen is immaculate. Her voice is every bit as honeyed as it is on record, almost heaven-sent for pop, and while her songs are at points impossible to sing along to, she makes it look like light work.
"Someone asked me today what the biggest lesson was that I have learned on the road," Jepsen shares, her voice almost helium sweet. "I used to think I was too loud, too crazy, too emotional – but there's no such thing." She leans into a pocket of the crowd, almost breathless from her own excitement, and tells them: "Give me your too-muchness!" And as if they were drunk on her magic, they not only naturally - but passionately – give her exactly that.
Setlist
No Drug Like Me
E•MO•TION
Run Away With Me
Julien
Now That I Found You
Gimmie Love
Call Me Maybe
Western Wind
Want You in My Room
Feels Right
Too Much
Everything He Needs
Boy Problems
I Really Like You
When I Needed You (encore)
Cut to the Feeling
Get the Best Fit take on the week in music direct to your inbox every Friday