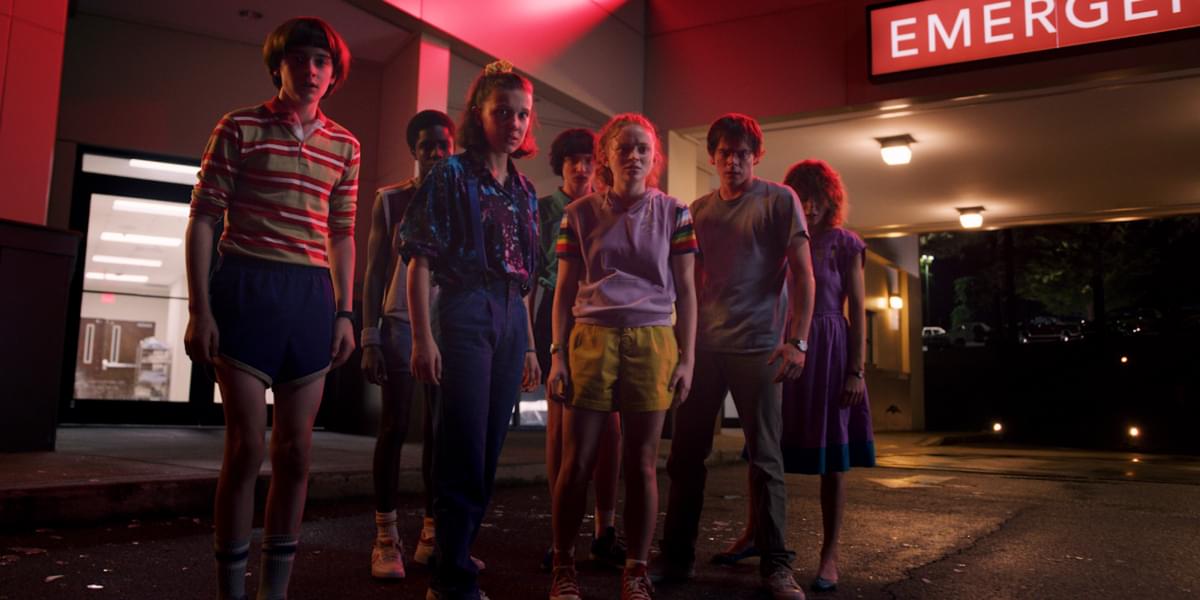 What we want from the Stranger Things season three soundtrack
20 March 2019, 12:27
The Stranger Things season three trailer is here, and the gang are growing up. Here's a list of tracks we want to hear in the next season to accompany their journey through adolescence.
The Who's "Baba O'Riley" is at the forefront of the Stranger Things season three trailer, so we thought we'd take on the music supervisor role over at the production company and offer up our vision of what the soundtrack for season three could be (just as we did for season two).
"Panama" would be perfect for a tooling-up-for-battle montage as Lucas gets all Sly Stallone in Rambo with a headband, while Eleven dons her badassiest kicks and Mike sweats nervously in the corner. Overdriven guitars, hair metal chic, and battering ram drums - perhaps a perfect opportunity for Max's brother Billy to join the good guys like he's definitely gonna have to at some point.
X-Ray Spex - "Germfree Adolescents"
"Germfree Adolescents" is a a woozy punk track that could accompany Eleven as she learns about going to school and trying and live alongside her powers that she's still bound to explore. We might see Will having flashbacks of his dark time in season two to this punk ballad, or maybe Will's mother Joyce still struggling following her turbulent journey with her family throughout the show so far.
The Undertones - "Teenage Kicks"
As the trailer shows, the heart of the gang are angsty teenagers now. "Teenage Kicks" would accompany Eleven learning how to live in her own skin, or even soundtrack Nancy and Jonathan blowing off some steam after the events of last season, or Will trying to overcome his anxiety from being the perpetual monster-bait.
The upbeat '80s anthem could easily soundtrack the calmer points of the next season where the group is enjoying some downtime as the fairground shown in the trailer. It would make a great fit to for some double denim dancing and karaoke for Steve too - not to mention Mike's cameo in the Weezer cover that came out earlier this year...
Whitney Houston - "How Will I Know"
Billy is still rockin' his mullet and no doubt the girls are swooning at the now lifeguard. Whitney Houston's pop hit would be a great fit for some young romance, and maybe even Eleven's first school dance kinda setting, or Max and Eleven becoming closer friends as she teaches Eleven how to act "normal".
R.E.M. - "Pretty Persuasion"
There's bound to be some lust-filled moments for the older characters in the show that R.E.M.'s "Pretty Persuasion" can soundtrack. Perhaps Billy will find another mother that catches his eye, or Hopper will gather some courage to let his guard down a bit now he's really connected and grasped the whole concept of the Upside Down. Hopefully he can escape it, but Dustin could fall even harder for Max after last season's bittersweet ending, and he might hold a tiny bit of resentment towards Lucas - but one thing's for sure, R.E.M. have got the riffs to accompany the confusion of lust.
The Buggles - "Video Killed The Radio Star
The trailer has presented lots of neon lights, diners, arcades, and fairground vibes, so it only seems right that The Buggles should have their chance to soundtrack some competitive gaming between the gang. Lucas might get a high score on the pinball machine, or maybe Max and Mike will teach Eleven how to win air hockey, before she utilises her powers to surprise the gang and win it anyway. Dustin might be left on his own at the fairground and could spot Max and Lucas on the ferris wheel, crushing his dreams imminently before he returns to the coconut shy in frustration to the infectious, near-whiney chorus.
Kate Bush - "The Man With The Child In His Eyes"
OG drama queen Kate Bush could be a fitting addition to the Stranger Things OST. Although there are plenty of numbers that could fit into Hawkins, there's a certain Englishness in Kate Bush that distracts from the small-town USA in the show - but on swooning, sweeping ballad "The Man With The Child In His Eyes", that detail takes a backseat. This is cinematic emotion that's perfect for a weepy Hopper moment.
Tears For Fears - "Shout"
Teenage angst seems to be a theme that could pop up quite a lot on season three, so Tears For Fears' "Shout" (a mega-hit during the summer the season is set) could be a great accompaniment for some lonely moments - if Will is trying to reconnect with who he is after last season's ordeal, and feels like he's beginning to drift away from the group and his family.
Elton John - "I'm Still Standing"
"I'm Still Standing" is a defiant, '80s power-pop track, and seems a perfect fit to accompany Eleven through her adolescent discoveries and connecting with her humanity. It could also soundtrack her beginning to grasp her own capabilities as she grows further into her nothing-can-bring-me-down badass attitude. Could also be an excellent hairbrush moment for Dustin...
Huey Lewis and the News - "The Power Of Love"
"The Power of Love" is a great synth sizzler that brings Steve's quiff and Ray-Bans to mind. He might think he's Marty McFly as he's cruising around Hawkins, especially as the film comes out in the summer of 1985 when this season is set, or maybe Jim is trying desperately to connect with Joyce with some serious serenading. The anthem could accompany Lucas as he chases after Max through a house of mirrors to the jaunty bursts of synths - or it could deliver a great moment of Dustin trying to act as cool as a cucumber as he attempts to seduce Max before Lucas is inevitably going to win their love triangle battle.
The Go-Go's - "Head Over Heels"
Before "Heaven Is A Place On Earth", which took the breath from our lungs on fellow Netflix show Black Mirror, Belinda Carlisle fronted power-pop-slash-punk outfit The Go-Go's. This' distinctly '80s affair is a superb supermall soundtrack with its sights set on adolescent shenanigans and tearaway escapades.
Is there any better track for an unnerving throwback to the gang's dalliance with the Upside Down in season one? No. Gothic-rock troopers The Cure nail it with this one, and the grinding, growling pace will set adrenaline coursing.
Get the Best Fit take on the week in music direct to your inbox every Friday