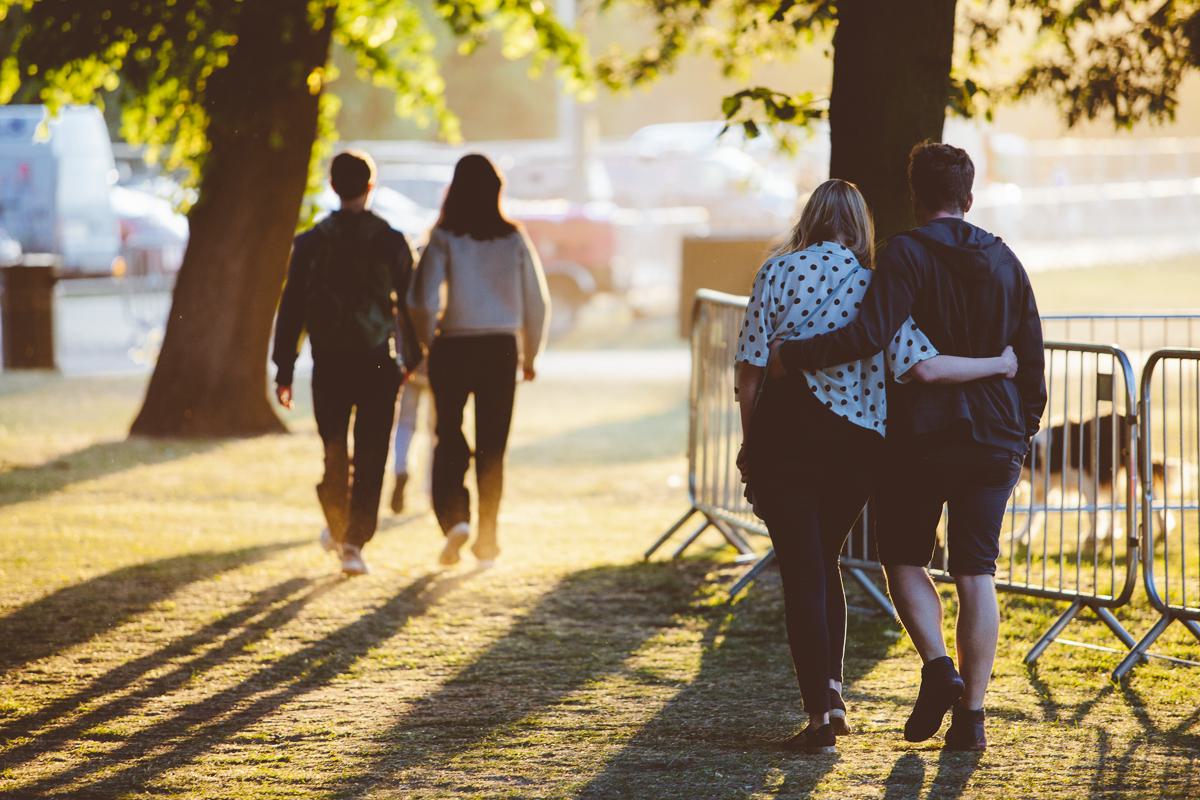 Best Love Songs Ever: 20 Songs For The Hopeless Romantic
14 February 2022, 12:00
The best love songs aren't always the biggest and brightest (although they're great too), and sometimes it's a potent moment of tenderness that makes you miss a breath.
Some songs have a power to knock you into a romance-addled haze, lost in fantasy or memory with hearts in your eyes - and we're talking full-on love here, not lust. Others make you wanna pick up the phone to call your S.O. immediately, or spill your guts to a fresh flame. Others sound like they were written for you and your beau (they probably weren't), or speak directly to your soul. Music is the universal language of lurve, and like manipulative marionette master tugging at your heartstrings, it can make you bawl or beam or float through the air like (the now surely cancelled) Pepé Le Pew.
A staggering amount of music concerns love in one form or another - we've not done the maths but it's surely most music, right? - and while some is utter dross, there's plenty to rave about. In fact, there are a lot of brilliant love songs to rave about and it's no simple feat to whittle the mammoth pile into a succinct collection - but we've done it. We've waded in and battered our brains for the bestest best ones that make us feel all gooey inside - the ones that ignite proper butterfly moments and make you too dizzy to stand.
20
Carly Rae Jepsen - "Run Away With Me"
This song sounds like new love feels. Saxophones flare up like rushing blood, beats pulse in time to racing hearts, and Jepsen's unrestrained voice bursts forth in a wild torrent of pure e-mo-tion and glee - it's a mental and physical release after a prolonged build up.
"The song's about being away from someone for so long and having to make this one weekend together count," the Canadian star says. "It's totally romantic and not very real-life, but there's something kind of magical in that."
The lyric to break you: "Hold on to me, I never wanna let you go / over the weekend we could turn the world to gold..."
19
Belinda Carlisle - "Heaven Is A Place On Earth"
The "San Junipero" episode of Black Mirror recently walloped this song back into the public consciousness (did it ever leave?). With its bizarre, globe-toting music video, "Heaven Is A Place On Earth" has hardly aged in the 30 years since its release, and still manages to be an anthemic declaration of the redeeming power of love.
The lyric to break you: "And you bring me home when I'm lost at sea / I hear your voice and it carries me..."
18
Dire Straits - "Romeo and Juliet"
It's guitar playing Mark Knopfler is most famous for, with his lyricism often going underrated. "Romeo and Juliet" is perhaps the most poignant example, its melodies coupled to the tender story of a young couple from the wrong side of town. Subtle allusions to both West Side Story and Knopfler's own failed relationship with Holly Vincent see him using cultural references as cornerstones within his own unfolding narrative. Knopfler's characters may have a fate only slightly better than that of Shakespeare's, but "Romeo and Juliet" still contains some of the most romantic lyrics of all time.
The lyric to break you: "All I do is kiss you through the bars of a rhyme / Julie I'd do the stars with you any time..."
17
Lana Del Rey - "Young And Beautiful"
Lana Del Rey's swooning anthem is an anachronistic delight - the track was written with Rick Nowels and Baz Luhrmann and served as one of the key songs in the latter's stylish adaptation of classic novel The Great Gatsby. Del Rey's attention to detail and peerless melodramatic streak made her a shoo-in for the aesthetic-heavy flick - who better to capture Jazz Age excess and the unadulterated angst of youth?
The book and film's tumultuous love affair is woven into every note of Del Rey's song, and although it misses F. Scott Fitzgerald's incisive socio-political commentary, it's managed to find life outside of the Gatsby OST. Now a belter on its own two feet, "Young And Beautiful" is a monument to wobbly moments and panics about the future - getting older is terrifying, but having someone you love make the trip with you makes it feel easy.
The lyric to break you: "Will you still love me when I'm no longer young and beautiful? / Will you still love me when I got nothing but my aching soul?"
A highlight from the singer/songwriter's debut album Closing Time, it follows an elderly Mr. Tom Frost reconnecting (or attempting to reconnect) with a former flame as he reaches his waning years. Originally released in the '70s when Waits was a wee twentysomething, it managed to be affecting thanks to the icon's grizzled tones, but it's a more poignant number now that Waits is in his late 60s, with the song being released some 40+ years ago - it's got a renewed resonance and sincerity that takes your breath away. Waits/Frost offer up a worldly, all-too-mortal take on love, free from the shackles of perfection - it's a spine-tingling opus rife with regret-tinged memories and moments of tender realness.
The lyric to break you: "Lucky that you found someone to make you feel secure / 'cause we were all so young and foolish, now we are mature..."
15
Lauryn Hill and D'Angelo - "Nothing Even Matters"
"I wanted to make a love song, á la Roberta Flack and Donny Hathaway, and give people a humanistic approach to love again without all the physicality and overt sexuality," Hill has said of the song, which is partly inspired by her relationship with Rohan Marley and appears on magnificent LP The Miseducation Of Lauryn Hill. It's pretty straightforward, with Hill and guest vocalist D'Angelo taking turns to talk straight - there are big feelings at play, and they don't waste time beating around the bush.
The lyric to break you: "The world it seems so very small / 'cause nothing even matters, at all..."
14
The Knife - "Heartbeats"
The Knife's best-known cut is a heady bloom of passion and desire perfectly paired with lilting electro bliss and steel pans - a far cry from their usual esoteric fare. José González's stripped-down acoustic take is arguably the more famous version of "Heartbeats", but it's impossible to top the unbridled power of the original. Swedish siblings Karin Dreijer Andersson and Olof Dreijer threaten to soar into the stratosphere during their indie-disco staple, with wild sentiment and youthful optimism carrying them further than anything else possibly could.
The lyric to break you: "Ten days of perfect tunes / the colours red and blue / we had a promise made / we were in love..."
13
The Postal Service - "Such Great Heights"
The short-lived indie supergroup achieved a lot in their brief existence, but "Such Great Heights" is their highest point (no pun intended), spawning countless covers and popping up on far too many ads and TV shows. Nevertheless, its potency remains intact - Ben Gibbard's beautifully poetic lyrics hit hard, floating gracefully across the synthpop backdrop, taking on love and long-distance relationships with honest aplomb.
The lyric to break you: "And I have to speculate that God himself did make / us into corresponding shapes, like puzzle pieces from the clay..."
12
Beyoncé - "Crazy In Love"
The lead single from Beyoncé's debut solo record is the best of Bey and Jay's many collaborations, with big beats and brass samples upping the ante from the off - it's a classic pop anthem no doubt about it, but it's also one of the greatest love songs ever, chronicling the frenzied honeymoon phase when you can't keep your hands to yourself. "Crazy In Love" came a few years into Beyoncé and Jay Z's relationship ("I was 18 when we first met, 19 when we first started dating...") and it's clear that the spark is still burning bright - this isn't a track about abstract nobodies, it comes from the infinite love between music's strongest partnership. It's timeless (except the "got me hoping you'll page me right now" bit in the chorus).
The lyric to break you: "When you leave I'm begging you not to go / call your name two or three times in a row..."
"Hyperballad" is a love song of a different kind. It's not about the uncontrollable passion of early days, or the spark that explodes into an inferno - it's significantly grittier. The Icelandic star conjures leviathan sounds and a one-of-a-kind euphoria steeped in bitterness on the cut, delving into the complexities of adult relationships and the human condition.
"I guess that song is about when you're in a relationship and it's going really well and you're really happy and maybe you have given up parts of yourself," Björk says in an interview with David Hemingway. "To fall in love and be in a relationship for a long time is like giving a lot of parts of you away because the relationship becomes more important than you as individuals. It's a bit of a tricky balance. I think everyone in a relationship needs to know not to forget themselves..."
The lyric to break you: "I go through all this before you wake up / so I can feel happier to be safe up here with you..."