-
Photograph by Sonny Malhotra.
The extent to which the Independent Label Market has grown within the space of a year is really rather remarkable, from a handful of stalls set up by slightly bewildered looking label bosses in amongst the weathered fruit and veg pedlers of Berwick street to the 48-strong list of labels and authors setting up shop today. From indie giants such as Domino and XL to the comparatively fledging efforts of labels like Double Denim and Transgressive everyone is thrown in at the deep end, rummaging around for floats and coveting anyone who possesses double-sided sellotape. Although their daily working lives often put them at odds, the air today is filled with nothing but camaraderie as old friends and new great each other with smiles, hugs and coffee. Approaching 11am as tarpaulins settled and vinyls were laid out Old Spitalfields Market was suddenly as busy as we'd ever seen it and even though not one single cry of "two for a pound" was heard, crowds swarmed and Josh Hall and Lauren Down took the plunge.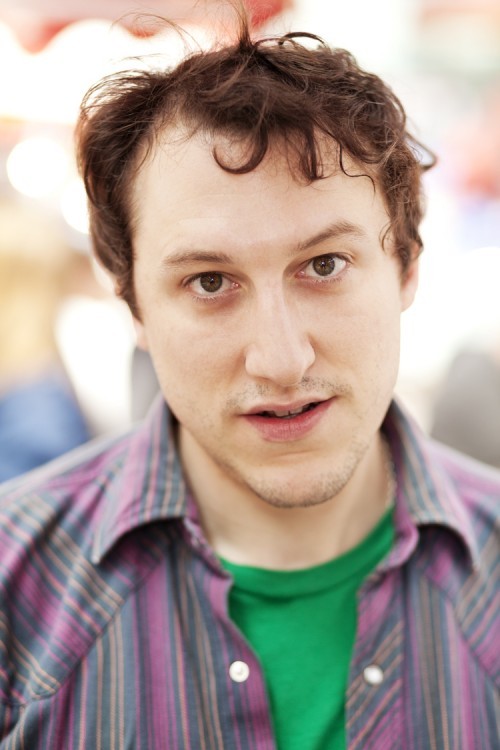 Joe of Angular Records. Photograph by Phil Sharp.
"I used to work at Music and Video exchange and I got sacked after a month, but yeah now I've got my own little record store! I think I'm probably the only person who has been to all three and today is about three times bigger than it was last summer. We've got This Many Boyfriends' new single, which isn't out until Monday and is the first time we've printed using special risograph paper so I'm pretty excited about selling that."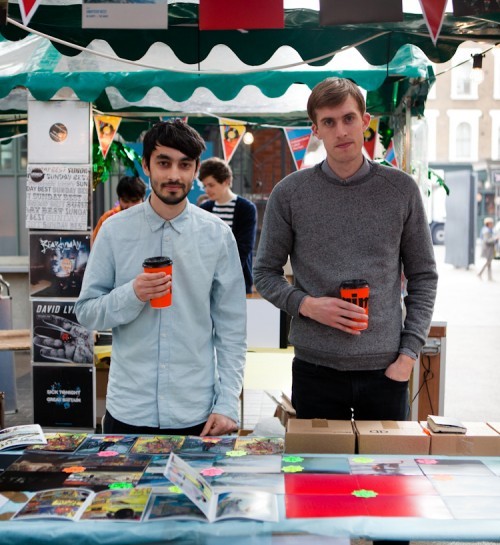 Hari Ashurst and Jack Thomas of Double Denim Records. Photograph by Sonny Malhotra.

Hari Ashurst: "We're most excited by the Outfit 12", which should arrive today. They started it in November or December, and they recorded it all themselves. It's quite a hands on thing. There's an album coming too, which we're hoping to do. We spend loads of time on our singles. Some of the stuff that we've done has taken six months from discovering them to actually releasing."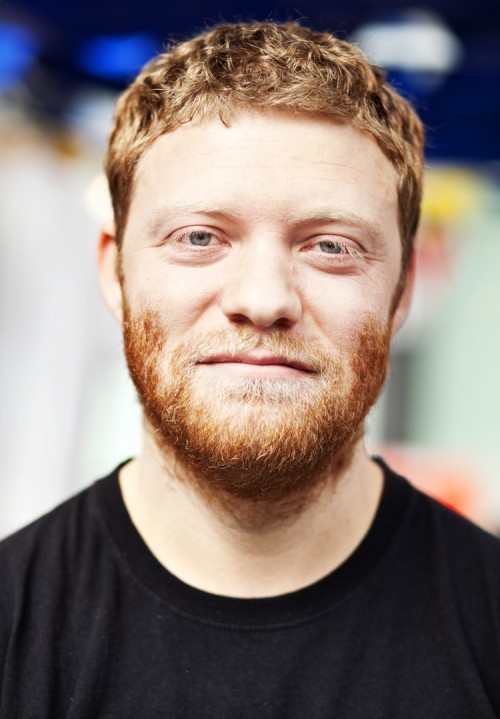 Joe Howden of One Little Indian. Photograph by Phil Sharp.
"The first one we did was just before Christmas and we were just desperate to do it again because we had such a good time. When you sit in an office all day you don't really get that chance to sort of meet the people that you're actually selling too so having that bit of market banter with somebody like "oh if you like that you'll probably like this" is really nice. We've got loads of stuff to sell today, I'm particularly excited about the Flats vinyl because it is not out for another two weeks and it's on orange vinyl as well and it's lovely. We've got loads of Björk records because last time we sold so many we had to run back to the office half way through to fetch more."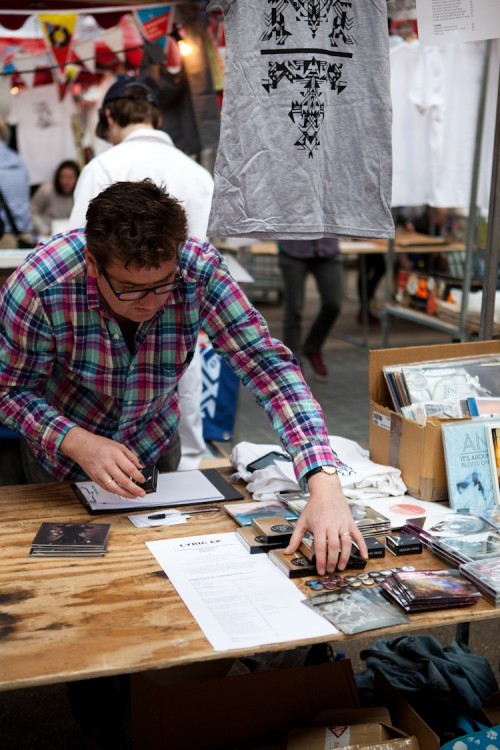 David Laurie of Something in Construction Records. Photograph by Sonny Malhotra.
"Our most exciting new release is probably the Visions Of Trees album, which is out in a couple of weeks. It's been in the making almost a year. They made it at home. I suppose that's where everyone makes records now."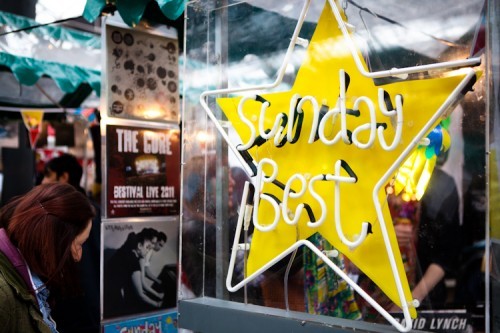 Photograph by Sonny Malhotra.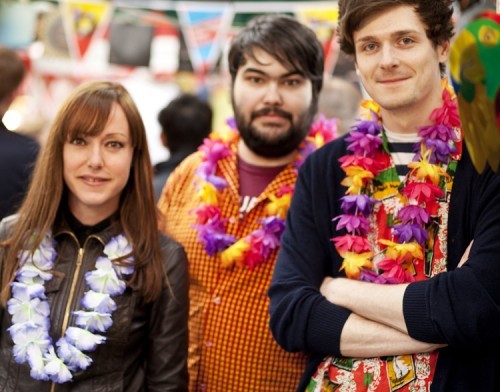 Sunday Best. Photograph by Phil Sharp.
Sarah Bolshi of Sunday Best: "We didn't come to the one in Berwick street but we did the one last December, and were very Christmassy. It was a really good day actually, really great fun and really nice to kind of bond with all the other labels, it is a great initiative that Angular and Katie have brought together. We've got a David Lynch signed vinyl with us today which is kind of our key selling point today I guess and obviously our deluxe very touchy-feely box set. We're selling some single promos and we've got the new handmade Skinny Lister records. Sunday Best is very much about good packaging as you can see."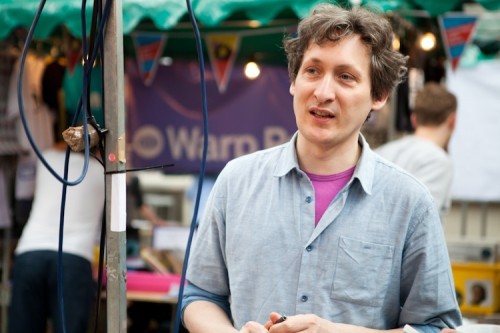 Richard King author of 'How Soon is Now?'. Photograph by Sonny Malhotra.

"I still don't seem to have got the word 'indie' out of my system. The more I talk to people about it, the more I realise the perniciousness of the word. I think people are amazed at what went on. It's amazing how many labels started in shops. Warp did, Rough Trade did, Beggars Banquet did. I think what's really exciting about today is that it puts people back in direct contact with the customers. People talk about brands, but really were brands before brands existed. They just trusted their instincts, and trusted the people that bought from them. It's a shame that everything's a startup now. The fact that don't have shareholders, the fact that they're not listed on the stock market, the fact that they're not part of bigger corporations, that's important. I think all those bigger labels still really admire independence."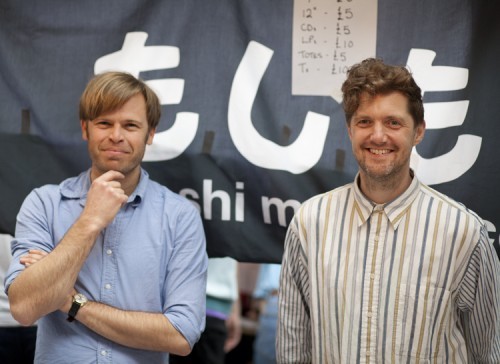 Michael Mc Clatchey and Stephen Bass of Moshi Moshi Records. Photograph by Phil Sharp.
Michael Mc Clatchey: "We took part in the inaugural Berwick Street event and I haven't had a chance to look around properly yet but I imagine people are probably a bit more organised than the first time. I don't think any of us knew what to expect then so at least this time around we got a better notion of what to bring – things like gaffer tape and a sharpie. We spent a day going through our back catalogue. Stephen was piling things up to take and I was putting them back on the shelves saying "that is the last one of them" or " I don't think we're going to sell all of those." And well actually we've got a copy of Moshi 1 today from a band called Suckpatch which we released in 1998, doesn't go back any further than that. We've got a signed Summer Camp album, the new Wave Pictures and yeah loads of stuff. It is just great interacting with people, getting to explain to them what we do."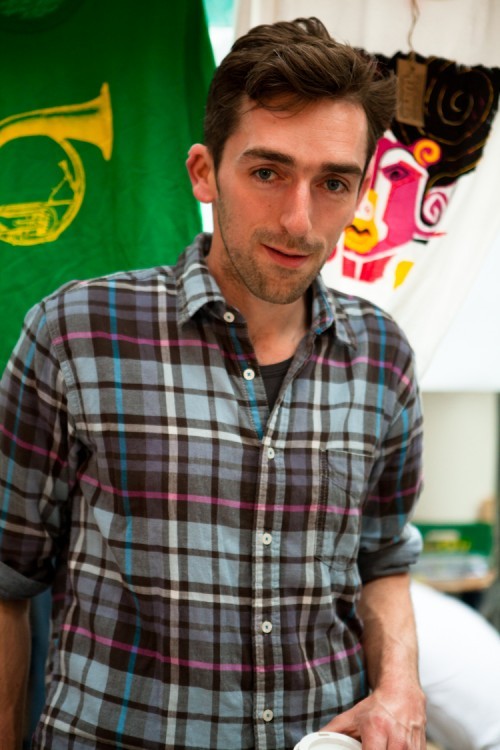 Charles Kirby-Welch of Soundway Records. Photograph by Sonny Malhotra.

"We're ten this year, and we're releasing almost as many records this year as we've released in ten. was the biggest party we've done, and the first party where we've had our own live bands. Part of Soundway being ten is us starting to work with active bands. So we had Los Miticos del Ritmo with a pickup band from the UK which was great, and then Batida playing, who I hadn't seen live, but he absolutely smashed it. A really amazing show – lots of dancers. That was the first time we'd had electronic music at a Soundway party. Batida's been DJing for a while. He's a radio DJ; he has three or four radio shows. He's been in music for quite a while, but this is his debut. His account was that he's running out of the kind of music he wants to play, so why not make it yourself? Rob's] Make It Fast Make It Slow is a strange record. I can't really put my finger on it. Rob's quite a character. Soundway featured him on the very first Ghana Soundz compilation. He phones the office and asks, 'Is my record number one? When are you going to send me a million pounds?' And we're like, 'Er, yeah, on the Juno chart. Well, number three actually.'"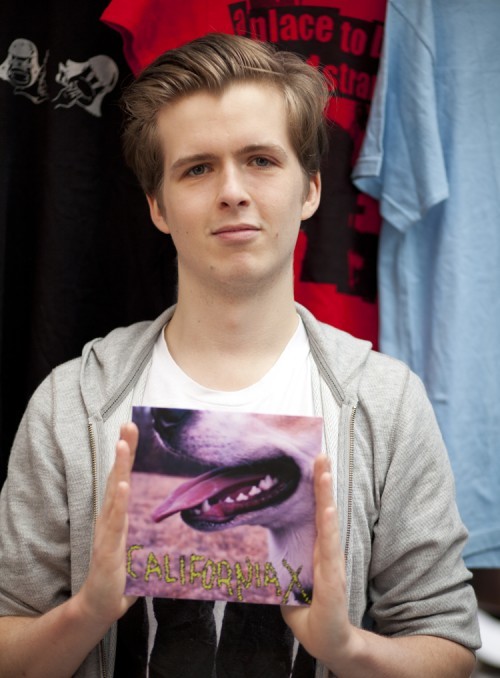 Ned Hodge of The Sounds of Sweet Nothing. Photograph by Phil Sharp.
"We've organised our own label fairs in the past with Double Denim but this is the first time we've been involved with something on such a scale and yeah we're pretty excited to be here amongst people like Domino's Laurence Bell. Everyone is banding together for the same reason and I think that a bunch of slightly eccentric, influential people all together is one place is worth checking out."

Will Street of Chess Club Records. Photograph by Sonny Malhotra.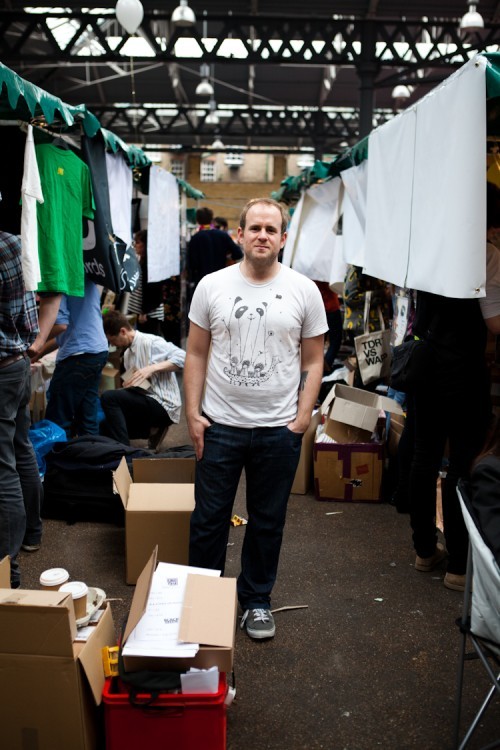 Adam Brooks of Warp Records. Photograph by Sonny Malhotra.
"This is actually the first time we've come down. I don't know what happened before, I've always wanted to come along but it has never happened. It is great because we're quite proud of the physical music that we make – the vinyl and the box sets and so on – we take a lot of care to make them look as good as possible and good value so this was a good opportunity to get all the special releases in one place. It's good because there are some mis-conceptions about Warp, you know a lot of people still believe that we're still entirely based in Sheffield or that we're a purely techno label, neither of which are no longer really relavent descriptions and it is a good way to kind of counter act that. It is a good community spirit and it is a lot of fun. It is also nice to be in one place and see what every else has been up to because by the nature of our business we don't mix very much."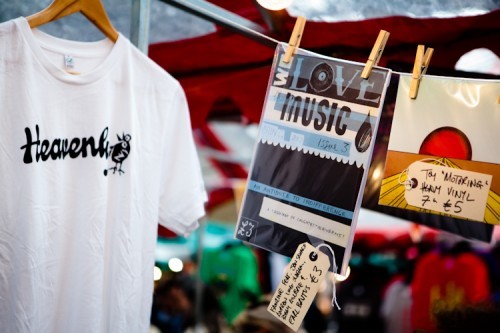 Heavenly Records Stall. Photograph by Sonny Malhotra.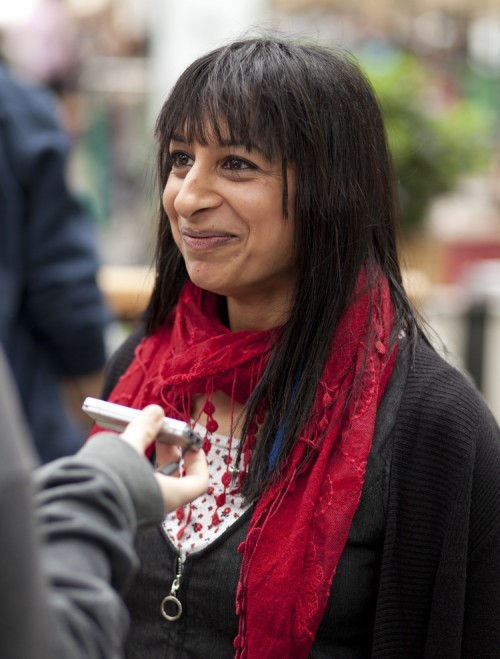 Vanita Joshi of Rocket Girl Records. Photograph by Phil Sharp.
"I started Rocket Girl in '98 having been at Cheree Records and Shay Records before that, I set up on my own to have more freedom. I also run an online mail order record store so yeah I have a bunch of records, test pressings, fanzines etc to sell from the shop, Cheree, Shay and Rocket Girl. I've done a few record fairs but nothing that is as tailored as this, or angled towards the kind of kids that will be coming today and it is very much my crowd. Not forgetting the labels too, I've already got my eye on the Dirty Three badge from Bella Union."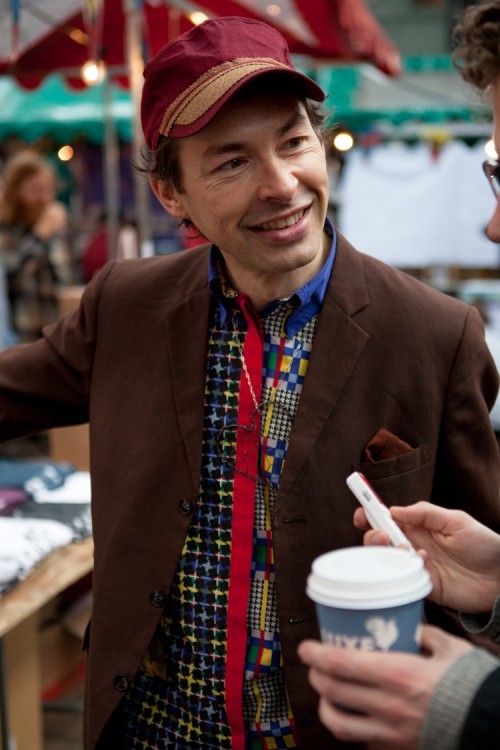 Michael Morley of Lucky Number Music. Photograph by Sonny Malhotra.
"I think we're at a significant point, where I could see us being a really unique label. But it's up to us to push it on and go further. You don't ever want to settle for what you've got. Our job is to keep building. We want to have the records that get played on the radio but which shouldn't really be played on the radio because they're not formatted for it. But they're good enough that they have to get played."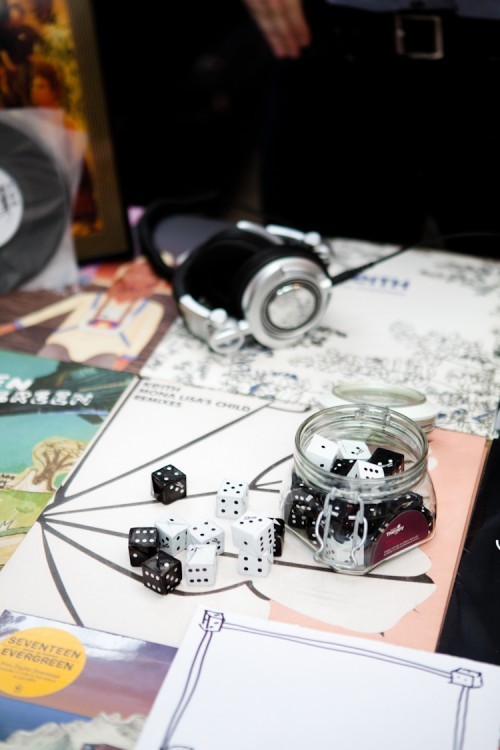 Lucky Number Music's stall. Photograph by Sonny Malhotra.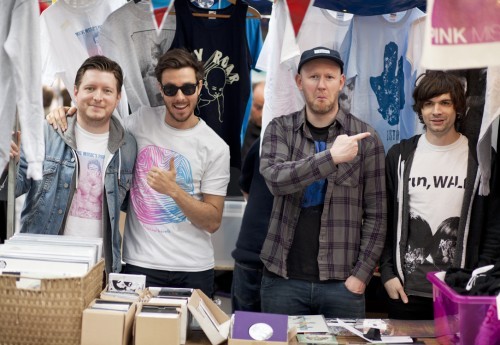 Pink Mist Collective featuring Big Scary Monsters, Simon Morley of Blood and Biscuits, Alex Fitzpatrick of Holy Roar and Andrej Presern of Tangled Talk. Photograph by Phil Sharp.
Simon Morley: "This is our first Independent Label Market."
Alex Fitzpatrick: "We did a stall at Groezrock and I did a stall at Heavy Fest last year but yeah the reason we sort of got together is because it is just better for all of us. It makes having a stall here cheaper, and in terms of distribution and advertising we can club together and get more done than we would be able to individually. The idea of the collective was to make everything better for everyone."
SM: "There is a strong pink vibe running through all our merch!"
AF: "We've even got stuff dating all the way back to 2006, I mean I don't even think the internet was invented then, that was like when people used Myspace or something so you know, pretty vintage stuff. Kev might be trying to flog some tat from like 1996 or something but he's in Poland so he's got excuses I guess. There is new stuff from Three Trapped Tigers, what have you got?"
Andrej Presern: "Listener, The James Cleaver Quintet, The Long Haul"
AF: "Then I've got new stuff by Last Witness, Nibiru – loads of stuff, it is all fresh, fresh forever, the t-shirts are fresh as fuck, fresh forever – well at least until they're sold."
AP: "We've got CD's, 7 inches, 10 inches, 12 inches, 5 inches…"
AF: "Credit card vinyl – that's fresh. If it's a format I've done it."
SM: "Mini Disc?"
AF: "I haven't done Mini Disc."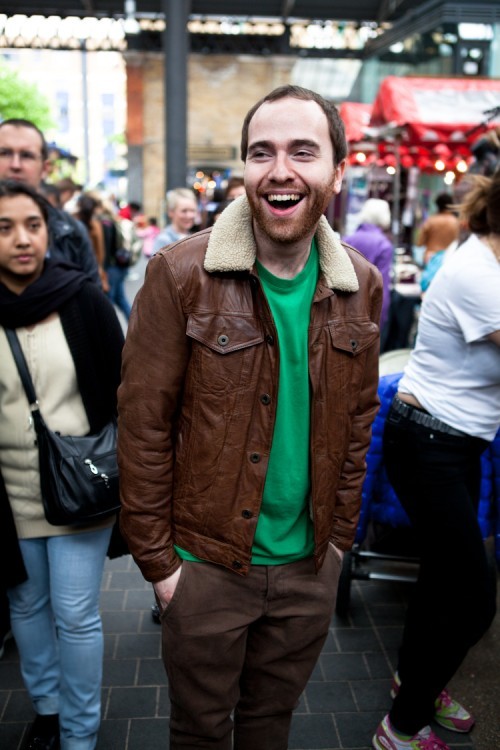 Toby L of Transgressive Records. Photograph by Sonny Malhotra.

"I'm really excited about the Gaggle album. It's been a long time coming, and it's the most literally insane thing I've ever heard. It's like a hurricane of chaos. It's musically brilliant, it's political, it's funny, and it's tragic in equal measure. But looking at this I'm really proud to see people buying some of the more obscure releases. It's been almost 10 years and we've put out almost 200 records. We don't think about recouping enough. I think our personal belief is that if something is brilliant, whether it finds immediate prominence or eventual relevance or commercial success, you just have to look at music as an ongoing creative process and not focus too much on that. It's always been a struggle . It's good that there's maybe more of a reverence now. There's an aficionado that's willing to invest a bit more. But in the history of every indie there have been ups and downs. No one has a great run through all their career. You just have to enjoy it when the going's good and there are hits, and know that when it's quiet it doesn't mean the music isn't as good."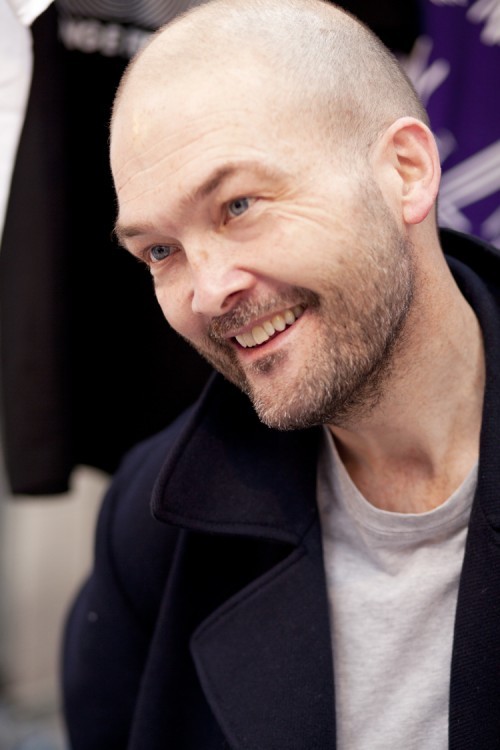 Ben Watt of Buzzin' Fly. Photograph by Phil Sharp.
"We started in 2003 when I was DJing, and you know I was getting so many things passed through my hands that weren't getting released and I just thought this is ridiculous and it was a really great opportunity. And it's great, we've like a little nursery or seed bed for people. This is our first Independent Label Market and it is just really nice to get the tangible stuff out in front of people. The artwork has won graphic design awards and it is just really nice to get it into people's hands so they can see what it is all about really."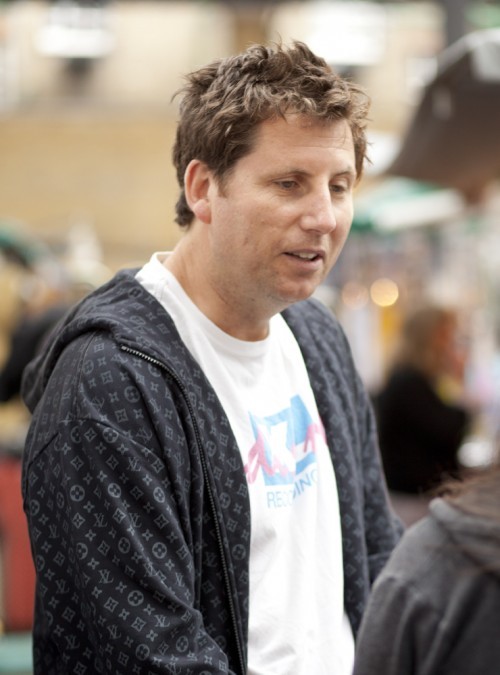 Ben Beardsworth of XL Recordings. Photograph by Phil Sharp.
"It is brilliant for us, because we don't normally get to see who buys our records. Being a record label we're a few steps removed from record shops and it is quite magical to see people physically heaving through the racks and picking out LPs and seeing which ones they loiter on and what prompts them to buy what they do. It is so much more tangible than seeing a spread with some numbers on it or a chart position. We've rifled through the back catalogues and we've had tremendous fun this week making some one-offs, we're turned our office into a bit of a workshop this week so we've been screen-printing these white labels of Womack and Jai Paul and that has been really fun. It is another thing that connects you with the real end of the business really. And we've made this kind of audio visual spaceman experience. The thing I'm looking forward to most is seeing which ones sell."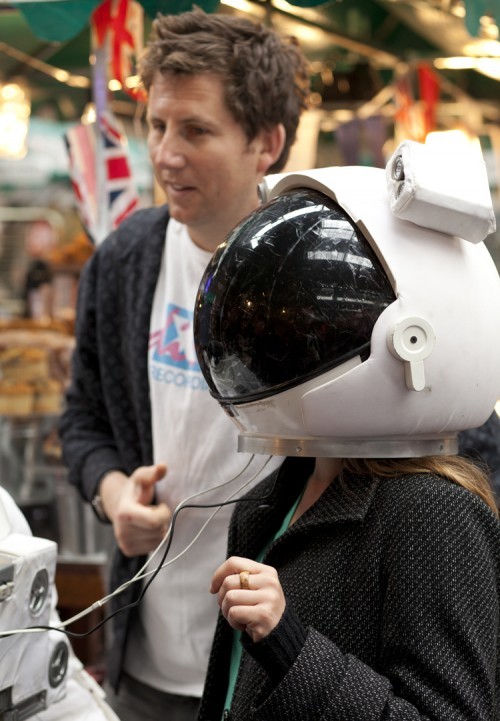 XL Recordings listening station. Photograph by Phil Sharp.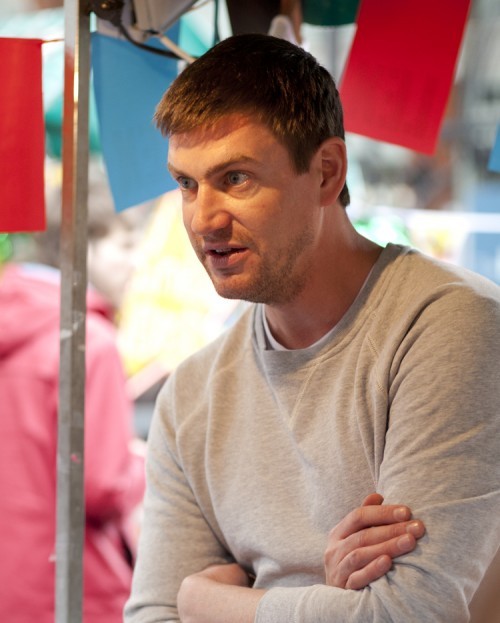 Tom Brown of Lex Records. Photograph by Phil Sharp.
"We used to be part of Warp but we've just had our 10th anniversary. The remit with Lex at the beginning was to do anything that Warp wasn't already doing. Similar but what they wouldn't cover so we ended up with a lot of hip hop and early Danger Mouse and MF Doom stuff, which we've got with us today. We've never dropped anyone, we just work with the same guys on multiple projects over time, supporting them doing what they want to do, watching them grow. We've got a 10th anniversary compilation with us, and it took Will 10 years to come up with the pun 'Complex' so it's more a celebration of that than anything else really! But really it is 10 really cool tracks you can't get anywhere else – an exclusive from Danger Mouse and track with Doom, Thom Yorke and Jonny Greenwood and an exclusive Neon Neon track."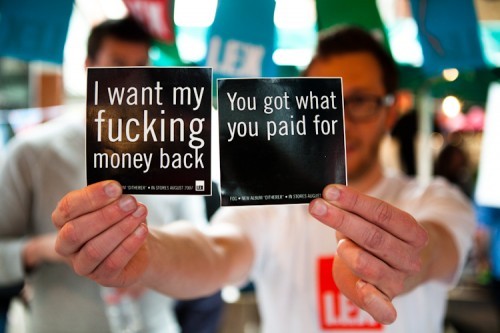 Photograph by Sonny Malhotra.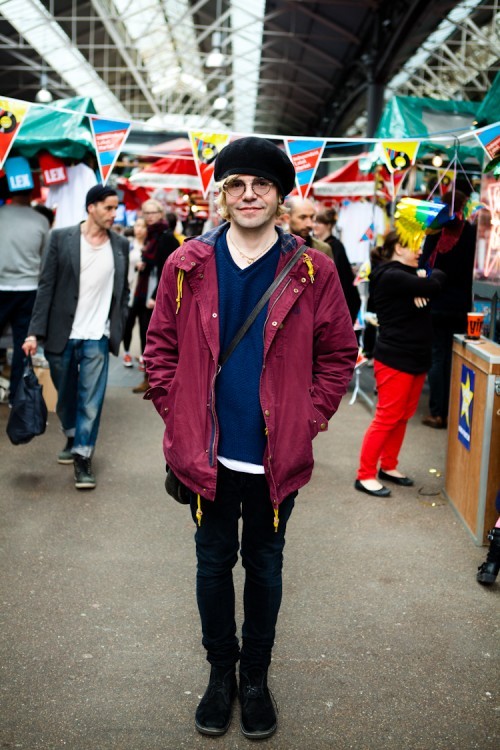 Tim Burgess of O. Genesis Records. Photograph by Sonny Malhotra.
"I think if you didn't know we were a young label it is quite obvious by our stall that this is the first time we've been along to one of these. I kind of quite like the idea of it not being that professional but you know there is a positive atmosphere. I think it is great, the spirit is brilliant and we're only a couple of hours in so far but it's going to be a great day. We've got a Nik Colk Void record and the sleeve is playable. It is made from the record and you can play it but it degrades over time but we cast the record and Nik handmade all of them. When they came out we made them as fast as possible but we only got to 270 so there were 30 actual records left so we made 30 more sleeves over the past two days and we're selling them today and that will be it for those."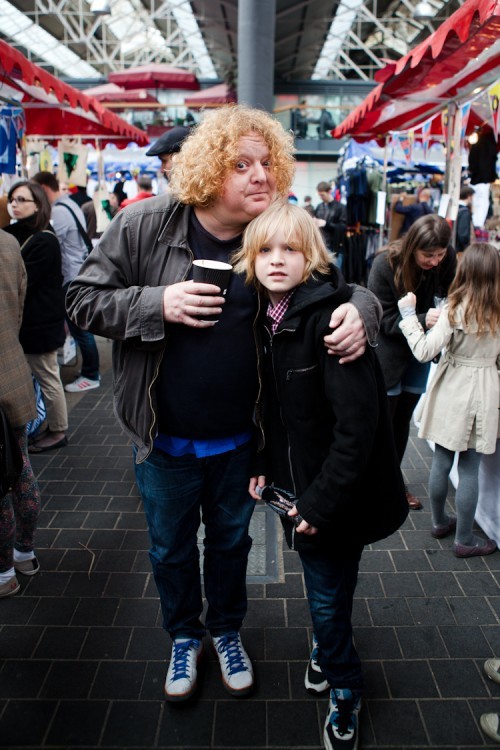 James Endeacott of Analogue Enhanced Digital Records with his son Webster. Photograph by Sonny Malhotra.
"I came to the one in Spitalfield's market over Christmas and it was freezing cold but it was brilliant. I just realised I knew so many people here. It was like a wedding reception you know, where you can't move for saying hello to someone so you know me and Edwyn Collins do this record label AED records and they invited us along. There's so many great labels here. Thank god I haven't really got that much money on me today otherwise I would have spent a bloody fortune. It is going really well, I mean we've got Edwyn's prints and mugs, badges, posters and sweets…and some records too! We've got a really great 10″ by a band called Pink Flamingos, which is on pink vinyl and it looks beautiful and it sounds great as well. Edwyn should be coming down later and hopefully we'll get him to sign a couple of records as a little added incentive to the punters."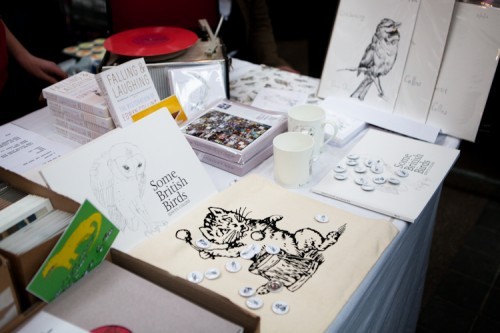 Analogue Enhanced Digital's stall. Photograph by Sonny Malhotra.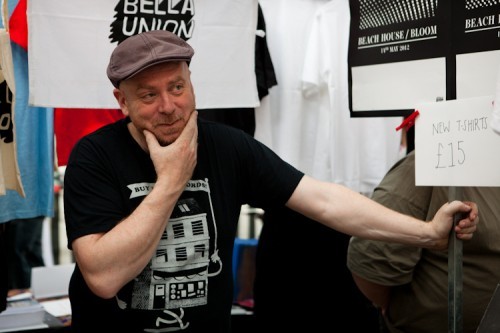 Simon Raymonde of Bella Union Records. Photograph by Sonny Malhotra.
" tends to be the one you just got delivered. Running a label you're in the privileged position of getting everything about four months before the rest of the world. The main principle was always that I want to run a label that I would have liked to have been signed to. I wanted to be looked after and cared for by a bunch of people I get on with. I guess that's familial."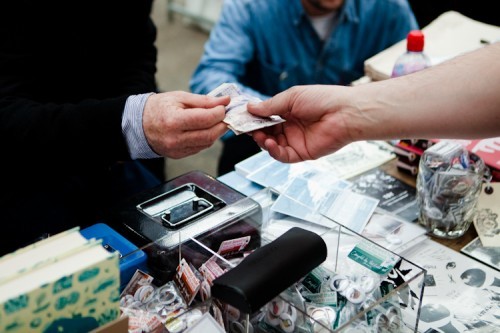 Photograph by Sonny Malhotra.